The Lehigh Valley Health Network (LVHN) has been part of an ongoing trend in the healthcare industry, acquiring neighboring hospitals and physicians groups as it pursues scale to manage the relentless increases in healthcare costs. For instance, in 2016, it merged with Pocono Health System, which includes Pocono Medical Center in East Stroudsburg PA. It's not only one of the biggest organizations of its type in the US, but also the largest employer in Lehigh Valley PA, with a reported payroll of more than 14,000 workers across a network that includes four hospitals—in Salisbury Township PA, Allentown PA, Bethlehem PA and Hazleton PA—as well as a dozen health centers in five counties and numerous primary- and specialty-care physician practices in the region. Its practitioners log about two million patient interactions annually in practices, hospitals and dozens of other affiliated locations.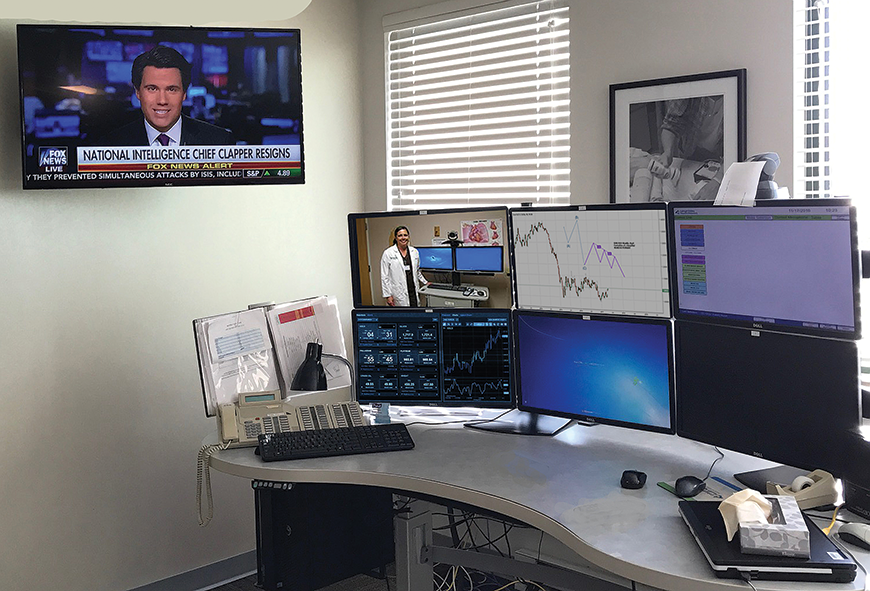 Keeping with society's overall migration to the digital world, more and more of these sessions are virtual, however. Using AV and networked electronic medical record (EMR) systems, LVHN's advanced intensive-care unit (AICU) employs network-based streaming and integrated audiovisual systems that enable intensivists (i.e., critical-care specialists) in other locations to see a patient, as well as talk with other doctors, nurses and families in the patient's room. Each evening, and on throughout the night, one tele-intensivist and three critical-care nurses monitor more than 130 patients in various locations, responding whenever intervention is necessary, rather than waiting until a crisis has already arisen.
Healthcare is one of the most specialized and heavily regulated environments in the US, and to bring AV into it requires a substantial and industry-specific knowledge base. That includes knowing the boundaries of legislative and regulatory concerns, such as the patient-confidentiality rules of the Health Insurance Portability and Accountability Act (HIPAA), and the equally stringent vicissitudes of the infection control and risk assessment (ICRA) protocol.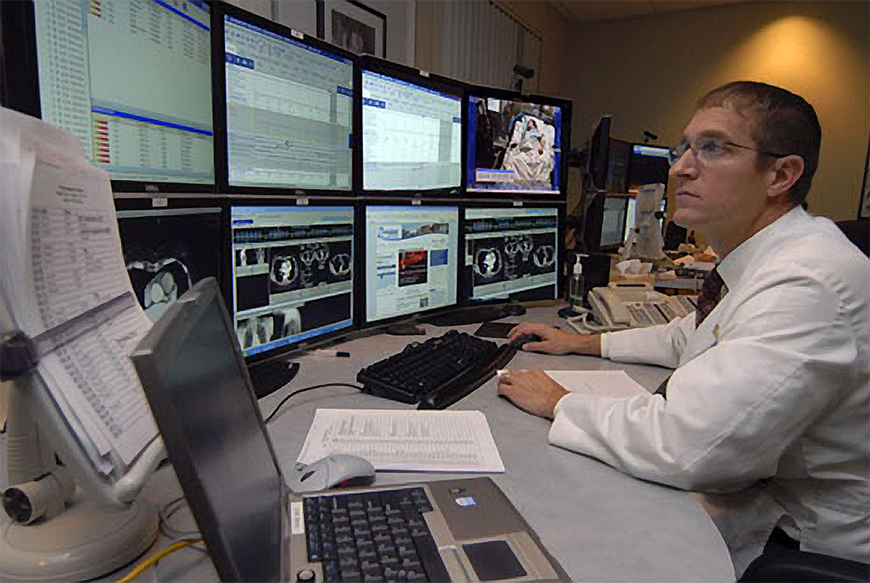 "When utilizing technology in the critical-care environment of a hospital, you have to carefully select AV technology that will maintain the sterility of the hospital setting," Rich Mullen, CTS, of Vistacom, said. Vistacom is the Lehigh Valley-based systems integrator that has partnered with LVHN since the inception of its telemedicine program in 2004. Continuing, he said, "Those are the kinds of things you have to be aware of when you're deploying AV equipment into an occupied ICU. It's a highly contagious environment, and everything—including AV—has to be able to be sterilized. So, we'll have to work with other contractors, such as the ones that install negative air barriers, on maintaining that environment."
Mullen continued, "When you deploy technology in an operational environment like an AICU, the systems cannot just be installed. They need to be pretested and validated as fully operational before they are authorized for use. At this point of the installation, the technology cannot fail. This requires close coordination between the client's network team and the actual environment where the systems are being installed. The pre-deployment planning process is just as critical as the actual system that's being integrated."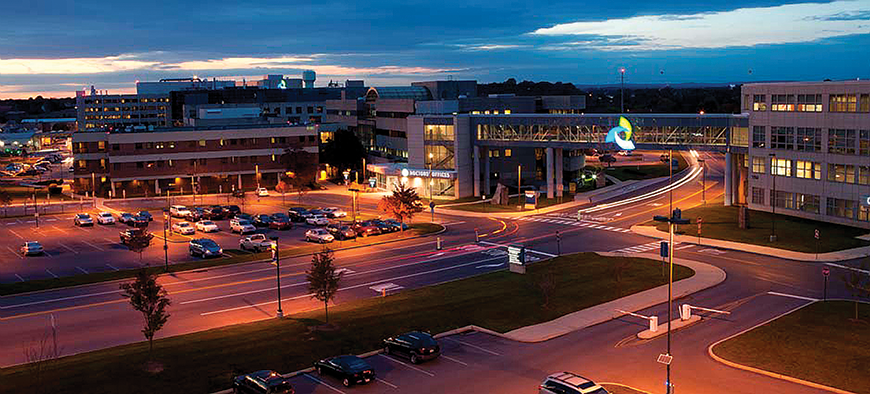 According to Mullen, any number of major corporations have tried to build and market the equivalent of off-the-shelf AV systems for telemedicine applications (including, curiously, Rubbermaid, which markets a ready-to-roll telemedicine cart); however, assembling a one-size-fits-all solution for healthcare applications might not be possible at the high end of functionality. "We're still at the point where to do this right requires a customized solution," he stated. "There are a lot of other systems to tie into, including EMR systems such as Epic." (This refers to Epic Systems Corp., a healthcare software company whose systems manage the medical records of more than half the patients in the US.) "Our systems have interfaces with each one, and they can differentiate the various thresholds each of these platforms sets for access and analytics," he added. "Placing AV in this environment is more than just hanging speakers and programming control systems."
Getting Up Close
LVHN connects its ICU practitioners to the network's ICU patients from a remote location, the AICU, through a combination of installed AV systems in the patient rooms of seven ICUs as well as remotely operated telemedicine carts that bring AV up close to patients who are connected to the network through RJ-45 jacks in the rooms. (Nicknamed "Bruce" carts, they memorialize the late Bruce Bobo, a Subject Matter Expert at the health network and one of the original innovators credited with establishing the AICU.) The carts' technology consists of a 24-inch Samsung monitor, Apple and Netgear router and switcher, and a Cisco SX10 codec with integrated HD camera and microphone, all managed using a Cisco eight-inch touchscreen. New products are added as new models come out. The carts make networked remote health services available to patients even if their rooms haven't yet been fitted with installed AV components.
Although the LVHN system has been evolving since 2004, LVHN's Lorraine Valeriano, Director, AICU & Remote Patient Monitoring, said the last two years have seen an inflection point in the sector, marked by a completed "makeover" of the AICU monitoring system with the integration of Epic as the network's electronic medical record system. "We no longer use paper at the patient's bedside," Valeriano said. "Now, everything, including provider notes and test results, are accessible in one comprehensive medical record. One can also synchronize the AV system to the ICU rooms via an embedded link within the medical record."
To support the efficient and comprehensive monitoring of more than 100 patients each night, patient monitoring systems feed the medical record with vital signs and other device-driven data at one-minute intervals. Data alerts based on heart rates, respiratory rates, blood pressures, ventilator and lab data can be created to notify AICU clinicians that there are changes in patient conditions. Proactive interventions can be implemented to support better patient outcomes.
Valeriano emphasized that this networked data and remote support is not meant to replace skilled bedside clinicians but, rather, to add an additional layer of care to the ICU. The technology is intended to reduce the time between when actionable symptoms are noted and when medical personnel can respond to them, while also enabling care to be given without travel being required. "The goal," Valeriano said, "is to keep the patient at the remote site and provide specialized care where they are located. This is cost effective, as ambulance or helicopter transport is not necessary."
The Network Evolves
A major change in the AICU network in the last year is its migration from a standalone LAN to the LVHN's own production network. "As LVHN grows by acquiring more hospitals, we're moving it from a purpose-built OC3 fiber-ring LAN to their IT department's own 10Gb wide-area network, which can accommodate more AV and control data," Mullen said, adding that Vistacom IT engineers are working with LVHN's IT team, as well as engineers from Service Electric and Penn Teledata, LVHN's cable and IT-backbone providers, respectively, to make sure the AV portion of the network is adequately provisioned for the AV bandwidth needs. That has required the team to begin to move from the analog audio and video they had been using on the tele-health network to digital formats.
For now, cameras remain analog. According to Mullen, their image quality is substantially better than the older digital cameras they had been experimenting with some time ago, when the switch to digital was first brought to the table. "The analog cameras can zoom in on a dilated eye across the room, and they convey color very accurately, which is critical," he explained. However, experimentation with newer digital cameras is ongoing.
Another significant shift is centered on streaming the AV information. "We're now deploying network-based streaming, using a Haivision backbone and their best-of-breed secure reliable transport (SRT) technology, versus the matrixed routing we used to use," Mullen said, adding that this modality is the same solution used to stream the Olympics, and that it's compliant with the security requirements imposed by HIPAA. The bidirectional streamed data, collected in each hospital's own rack room—for instance, the Cedar Crest PA location has a pair of 128×128 core switches, whereas smaller locations range between 16 and 64 ports—are sent back to one of the five control hubs (known locally as tele-intensivist pods), all located at 2024 Lehigh St. in Allentown, and into multiple Haivision encoders in each of their racks.
If the Epic software senses a biometric threshold has been crossed in a patient, it sets off an alert in the appropriate pod, activating a camera, microphone and speakers in the room, through which the intensivist can engage in two-way communication, complete with full-duplex audio and video with 720p resolution, with those in the hospital room. Each room's AV complement includes a wall-mounted Sony EVI-D70 PTZ camera; a wall-mounted, four-inch AtlasIED FC104 loudspeaker; and an Orion 19RCE 19-inch display panel.
The networks are very much IT in nature. According to Mullen, newer protocols and standards, such as Dante and AES67, are under consideration for future iterations. For instance, he said, they first need to evaluate the effects of artifacts such as compression on the data—the criticality of the network's mission has thus far compelled the use of more conventional components.
Audio and video in the AICU's rooms were also mocked up and tested at Vistacom's facility before final installation. Speaker placement was based to a large extent on achieving maximum gain before feedback, along with installed ClearOne audio DSP, whose intent was to maximize intelligibility and sensitivity throughout the room. Video-wise, Sony EVI-series PTZ cameras stream over Haivision codecs. These are mounted lower than a typical security camera would be—closer to eye level—to improve interaction between nurses, patients and remote intensivists. The entire AV system is managed by an AMX control system and is powered through Leibert UPS devices to ensure instant switchover in case of power interruption.
LVHN's Valeriano analogized the entire networked topology to an air-traffic control system, with a central command location that's able to give each node on its network the attention it needs when a situation reaches a critical point, stepping in when local resources need assistance. In addition, it's a force multiplier for doctors and nurses, who can do rounds virtually instead of having to commute physically within a rapidly expanding multi-site campus. If room mics and cams aren't enough, a Bruce cart can be wheeled in with specialized appurtenances like a Bluetooth-enabled stethoscope, which puts the doctor's ear to the patient's chest. Voilà!—virtual consultation.
"Using the AV technology in our larger campus ICU rooms and the telemedicine carts at remote sites, we can bring the doctors to the patients and vice versa, without either of them having to travel to do it," she concluded. "It's taken over a decade of collaboration, with Vistacom and others, to bring the system to its current state, and it will continue to evolve into the future."