The landscape for AV integration in the government vertical is vastly different today as compared to just a decade ago. In 2011, Washington DC implemented the Budget Control Act of 2011, which paved the way for across-the-board spending cuts for the years 2013 to 2021. The authorized cuts affected both mandatory spending and discretionary spending. (Congressional action in the last couple of years has effectively neutered the military cuts.) Annual spending caps were also part of the fiscal-restraint drive spurred by the debt-ceiling crisis of 2011.
As it turned out, the initial era of budgetary parsimony was followed by what has become the longest, most robust bull market in the history of equities. Even as the federal government and state governments experienced self-imposed and circumstance-dictated penny pinching—and even as cities that include San Bernardino CA and Detroit MI, and counties that include Jefferson County, Alabama and Boise County, Idaho actually filed for bankruptcy—many AV verticals were spending like sailors during a weekend in Bali.
Ours has been the age of sleek Silicon Valley/Silicon Alley-style corporate campuses; of rampant healthcare mergers that created "destination medicine" facilities; of major-league and collegiate-level sports going on multi-billion-dollar tears creating new buildings; and of higher-education institutions ramping up their technology to attract students (and their loan-cosigning parents).
It's no surprise, then, that AVIXA's numbers for the government vertical's AV spend show this segment is starting to catch up. The organization's Industry Outlook and Trends Analysis (IOTA) report for last year estimated global government and military spend as $15.1 billion in 2019, growing to $22.2 billion by 2024—that's a roughly 7.9-percent compound annual growth rate (CAGR) over a five-year period. And that comes at a time when the cost of many AV products and technologies—everything from flatpanel displays to digital audio products—seems to be steadily declining.
Another wrinkle is the arrival of the Republican administration that entered Washington DC in 2017. President Donald Trump has drawn many of his cabinet leaders from the private sector—Treasury Secretary Steven Mnuchin, a former Goldman Sachs executive and hedge-fund manager, is just one example—and they arrive in the nation's capital expecting that many of the conferencing and other platforms they've become accustomed to will translate to their new digs. Against that backdrop, a perfect storm for AV in government facilities has been brewing.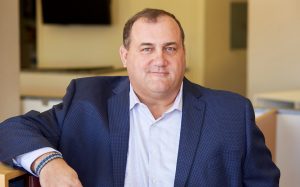 Government clients tend to lag behind the trend curve in most areas, and AV implementation is no exception. For example, VHS tapes and audiocassettes remained staples of some government offices well into the 21st century. But that inertia has been thwarted by the extent and speed of our society's computerized foundation. Now, media formats and software-based processes are compelled to move forward by external forces like manufacturers updating operating systems.
"We're still coming out of the sequestration phase in many ways," Ron Willis, Senior Associate at consultancy Shen Milsom & Wilke, observed. "At the same time, governments have migrated to more software-based processes, such as moving from hardware codecs to platforms like GoToMeeting and Skype." He noted that the shift to software-based conferencing platforms was prompted by the need to reduce costs, but also by a somewhat-jumbled upgrade rush to move from older operating systems to ones that are more current. That process is now a regular occurrence, as software developers and agency IT departments jockey to keep their systems compatible. "Software-based meeting applications are widespread now in government offices," Willis affirmed. "I have meetings with government clients every day on Webex and systems like that. But they often have to coordinate to keep their computer operating systems up to date for the latest versions of those products."
In that sense, the conferencing experience for government end users is similar to that found in the civilian corporate sector. They diverge in one notable area, however: Whereas corporate usersincreasingly integrate personal mobile devices into online and networked conferencing systems, government users often find that avenue highly restricted because of tight security measures.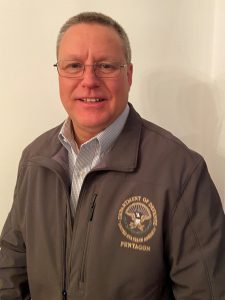 Rich Mullen, Government Accounts Manager at AV integrator Vistacom, noted that the federal government, in particular, has a wide range of security classifications. All devices—in particular, wireless devices—have to comply with a highly compartmentalized intelligence environment. "You can't just walk in with bring-your-own-device (BYOD) when it comes to government communications," he stressed. "This is also true at the state and even local levels when you're talking about police and security apparatus, in the field, and in network and emergency operations centers (EOCs). Government communications have to be secure." (At the very highest security echelon, and for military applications, the Joint Interoperability Test Command (JITC), a wing of the Department of Defense (DOD), tests and certifies information-technology products for military use.)
Signs Of The Times
Along with unified communications (UC) and other collaboration applications, digital signage has likely seen the greatest uptake increase by governments in recent years. This stems largely from a renewed political emphasis on infrastructure expansion, renewal and maintenance. Comments from former Vice President and current presidential contender Joe Biden illustrate the point; indeed, in 2014, he likened New York NY's LaGuardia Airport to "some third-world country." He added, "Just in the last decade, the United States has fallen 20 spots when it comes to the quality of infrastructure. It's embarrassing, and it's stupid."
In recent years, transportation infrastructure has leaned heavily on AV and digital signage, integrating those technologies with networked systems that have made very visible differences in the airport, train-station and bus-depot user experience, Willis remarked. He cited real-time networked signage that announces arriving subway trains in cities like New York and Washington DC. He added that applications like these are an instance in which AV's convergence with IT has helped. "AV often tends to be the thing that many planners will want to cut first," he conceded. "But, now that it's part of the network design [for real-time signage], the IT people won't let them because it's made AV and IT much more closely aligned." In fact, Willis added, this dynamic makes AV's place in infrastructure even more solid, as audio, video and control converge onto dedicated networks.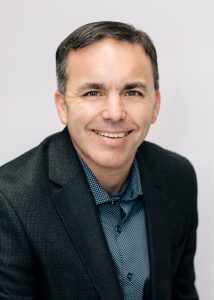 Rob Meiner, Technical Sales Engineer at display-mount maker Peerless-AV, said that digital signage has proliferated within government infrastructure, serving applications such as community outreach and wayfinding. However, a notable trend—in particular, for smaller towns and counties—is an increased reliance on advertising generated through those displays and kiosks to support their procurement, installation, maintenance and content distribution. Although the digital-signage installations in local government buildings and transportation hubs are used to promote nearby businesses, Meiner said that they are increasingly being leveraged by national brands that can look at the demographics and analytics of a particular area to see if it might fit their needs. "A lot of national and regional advertisers are looking at municipal and county digital signage to extend their brands into appropriate markets, and those towns and counties are looking at that advertising as a way to pay for buying and installing that digital signage," he explained. "That's why we're seeing a lot more interest in digital signage at that level."
Perhaps the edgiest application for municipal digital signage has been LinkNYC, the ambitious project to replace New York's massive payphone infrastructure, which has been chronically beset by vandalism and, more recently, rendered irrelevant by mobile phones, with kiosks that offer free Wi-Fi and voice services, device charging and 55-inch HD displays on both sides of the 9.5-foot-tall kiosks. They began to be installed in 2015. The city plans to have 7,500 of them installed by 2024, in the process replacing 13,000 payphones. They'll be built and installed by the CityBridge consortium, which includes Qualcomm, display maker Comark, and media-and-technology company Intersection.
According to Meiner, Peerless-AV has been developing its own urban kiosks for the past four years, working with other suppliers and vendors for software and advertising relationships. Several of them have been installed in suburbs of Boston MA and Portland OR thus far. "We've added solar panels to these to provide independent power supplies," he added. "Kiosks like these are becoming very popular and useful in cities of all sizes."
An aside: "Terminal tourism"—a trend whereby people enter airports and pass through security, even if they're not flying—could generate an even bigger boost for AV as the transportation and retail sectors synergize. Pittsburgh International Airport, located in Moon Township PA, implemented a program for "terminal tourists" in 2017. As conventional shopping malls continue to close, this trend offers a glimpse at a possible replacement—one likely replete with AV-infused experiences.
Talking To Citizens
A range of influences—from the ascendance of social media to the disruptions of the Trump presidency—combine to influence how governments implement and use AV. Robin Heywood, a Sales Manager at Ford AV, who is familiar with the vertical, said that he's seen a sharp increase in AV systems being used by governments to communicate directly with citizens and constituents. "What used to [be] done in person or on the telephone now has to [be] done online, using video and audio," he averred. "And the quality of that video and audio has to be able to compete with what everyone consumes everywhere else in life." He continued, "Even a few years ago, you'd see standard-def, 4:3 video; now, even your parents won't accept that. It doesn't have to compete with "Monday Night Football," but it does have to look and sound good."
However, making the AV elements look and sound too good could actually be a problem. After all, although constituents want to be proud of how a city or county portrays itself, taxpayers are often skeptical if it begins to seem technologically "indulgent" or if video communications intended to inform citizens about government actions begin to look too slick and overproduced.
"It can be a fine line," Heywood concurred. "Taxpayers want to see value for their money, but they also don't want it to appear that their money is being thrown around. What government has to do is point out that the cost of AV and media has dropped through the floor. Whatever they do—[be it] wayfinding signage at an airport or video in a school—they need to point out that it costs half of what it did a decade ago. [At the same time,] they're getting 10 times the bang for the buck that they once did."
As disasters, both natural and otherwise, seemingly increase in number and intensity, government is having more touchpoints with its citizens at times when it's needed most. That, in turn, is accelerating AV's implementation within government infrastructure. Jeremy Button, Crestron's Director of Federal Sales, noted that one of the biggest growth areas he's seen in the last two years has been in the number and complexity of EOCs, driven by an increase in weather- and terrorism-related occurrences. "It blew my doors off…the number of EOC-type projects we've been seeing," he exclaimed. Those projects are funded by both local dollars and federal monies via routes that include the Federal Emergency Management Agency (FEMA), the DOD and state National Guard budgets.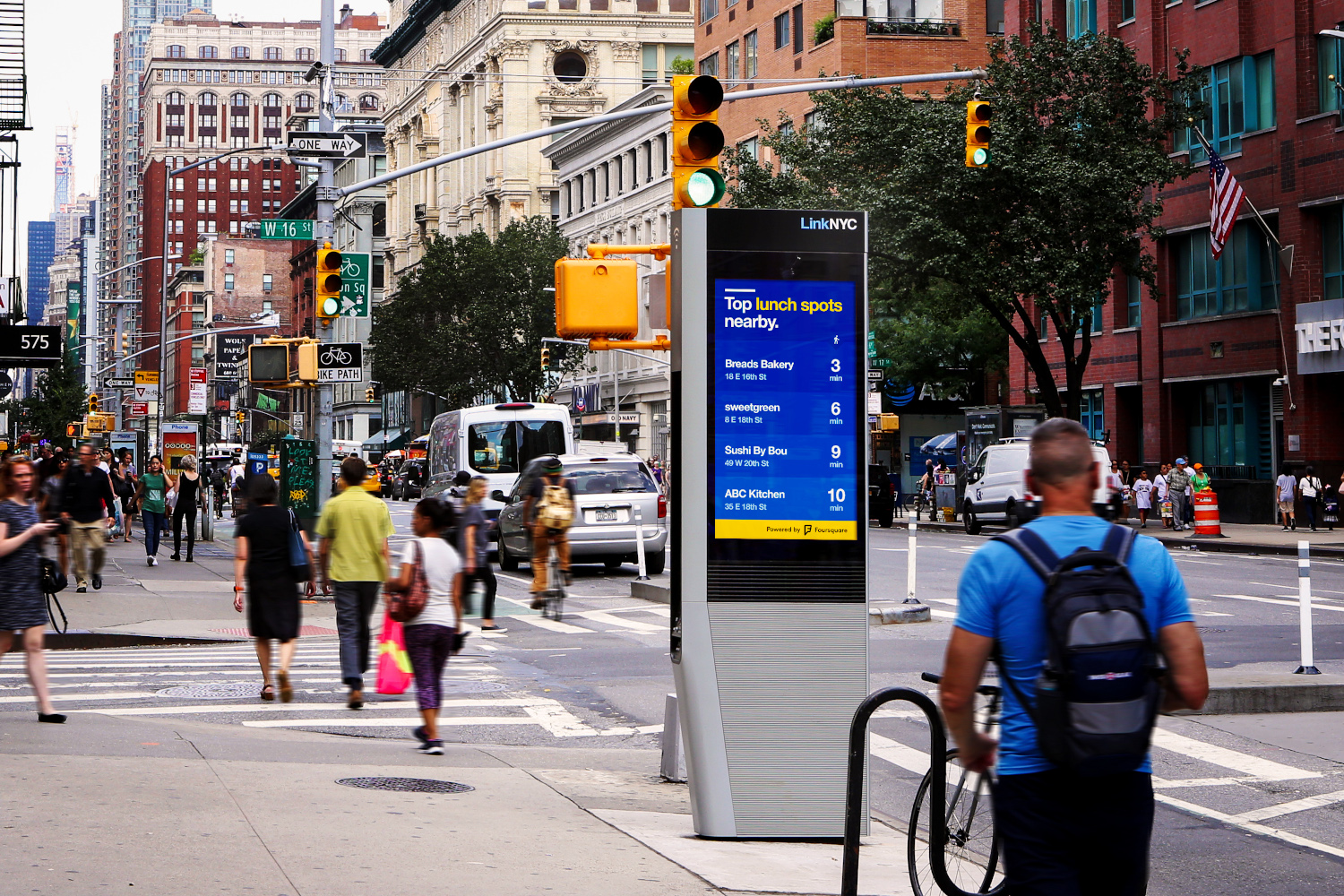 What has surprised Button even more is how that dynamic is driving the technology of those EOCs forward. "They can open up and do things that [departments] like the DOD can't because of security issues," he explained. "They can be more innovative by, for instance, becoming more reliant on the cloud to deliver their systems." In fact, Button said, he's happy to see government in general becoming more integrated with cloud-based operations, citing Microsoft's win late last year of a $10 billion cloud-computing contract with the DOD for the Joint Enterprise Defense Infrastructure (JEDI) program using its Azure cloud services. He added, "I'm glad to see government moving further into cloud operations."
However, at the same time, Button, a former Army combat engineer, has noticed that government is shifting toward servicing more of its own programming and integration requirements. That has meant that some integrators that once would have sold equipment and services are now just selling hardware. "It's turned some of these projects into just box sales," he noted, saying a recent project involving nine sites for the US Army's Home Station Mission Command Center went that way. And, yes, it's a function of the usual government cost-cutting measures, but, in addition, it's a function of more and more AV technology being plug-and-play out of the box.
In response, Button said that manufacturers have to offer more technology solutions that don't require a lot of programming; meanwhile, integrators have to become more fluent in cloud technology. "It's a huge change in the way [that] AV interacts with government customers, and those who adapt to it are the ones who will survive," he predicted.
One of the characteristics of the government vertical is how it can mirror virtually every other major AV market segment—from healthcare, to higher education, to hospitality, to retail. Vistacom's Mullen pointed to the healthcare system of the Department of Veterans Affairs (VA) and how it takes its cues from civilian AV applications. "The VA is looking for efficiencies, and it can get them from things like medical carts, which have built-in audio and video capabilities, [that are used] for telemedicine applications," he said.
Finally, improved AV might become necessary to attract the workers necessary to populate the next generation of government, while also keeping digital-savvy citizens engaged. "A 25-year-old coming into a city office is going to look at a paper form and ask, 'What's this? Don't you have a screen I can fill out?'" Ford AV's Heywood predicted. "Millennials are going to expect touchscreens."
Meanwhile, Willis added, "It's already something the DOD has figured out: Young people want screens." Mullen agreed with that sentiment, saying, "The government sector needs to attract and retain these highly skilled and technology-aware workers, and improved AV systems is one of the ways to do this."
Just as cutting-edge AV will be necessary to attract the best minds to government service in coming years—whether to train frontline war-fighters or to battle climate change in the scientific arena—advances in AV technology are now pulling government itself into the future. The Obama Administration drew in workers from Silicon Valley just as the Trump Administration has attracted those from Wall Street; in both cases, they brought a new set of expectations as regards how AV technology is used to communicate and collaborate. It's a dynamic that's also trickling down to the state, county and municipal levels.
And, as Button pointed out, new outposts of government, such as the reestablished United States Space Command, which won't be as burdened by long histories of technological complacency, will want the same ability that the private sector has to make faster technology choices. "The next generation of government workers will become the next generation of government leaders," he concluded. "And they'll be expecting touchscreens."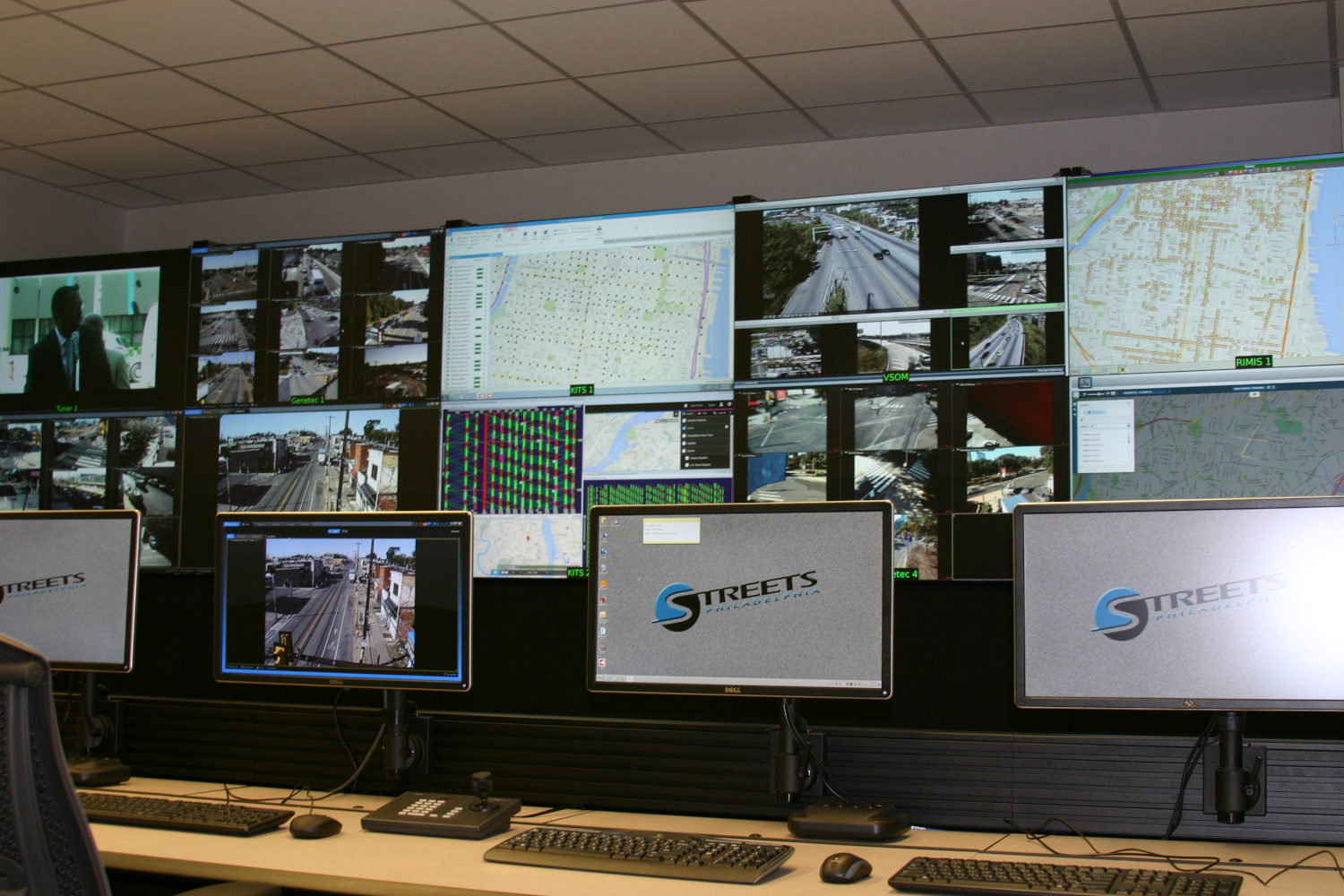 Case Study: The City Of Philadelphia's Traffic Operations Center
Philadelphia PA's new Traffic Operations Center (TOC) serves as a traffic-control nerve center, receiving live traffic-camera feeds and roadway-monitoring data from around the city. Integrated by Vistacom (www.vistacominc.com), the TOC includes a 10-monitor Barco videowall to display traffic-camera feeds and signal-management software. Tying into Philadelphia's federated Genetec video-management system allows the TOC to send and receive critical information to and from other agencies and stakeholders. For the Genetec integration, Vistacom worked closely with Tyco Integrated Security and Philadelphia's IT team. The engineers in the TOC collect traffic-flow data so as better to time signals such as traffic lights. Live video streams from a network of more than 5,000 cameras owned by the city, the Pennsylvania Department of Transportation (PennDOT), the Philadelphia Police Department, the Southeastern Pennsylvania Transportation Authority (SEPTA) and other agencies are accessible to help facilitate better decision-making and a more efficient response. Also available are various mapping and geographic information system (GIS) data, social-media analytics and other diagnostic information. "We have brought the capability to handle traffic problems in real time to the city, and they now have the ability to monitor traffic patterns and respond immediately to issues," Jim Ferlino, President of Vistacom, stated.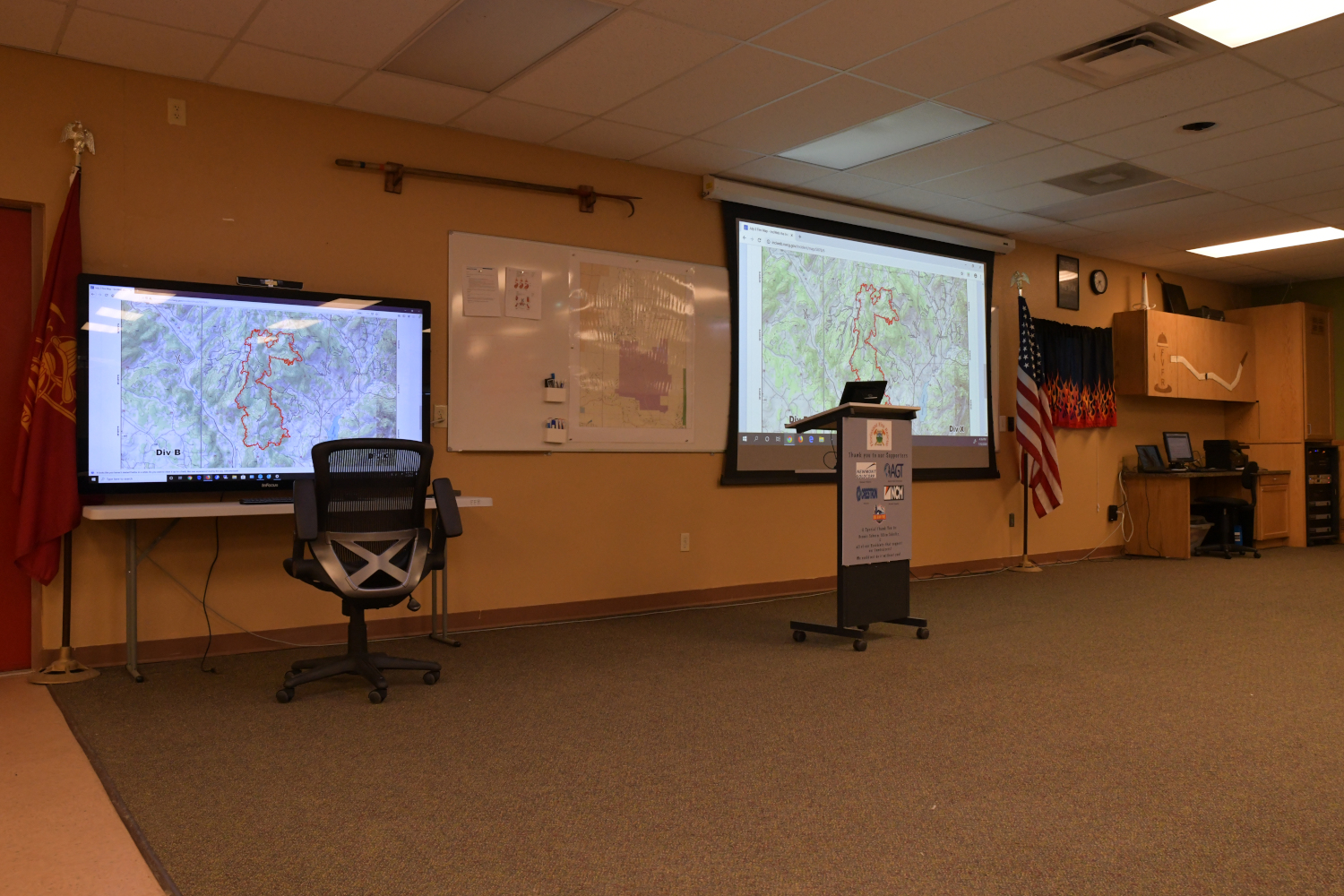 Case Study: The Florissant Valley Fire Protection District
The Florissant Valley Fire Protection District, in Florissant MO, had to update its emergency operations center (EOC) and training facility for use not only as a hub for training, but also as a command center for multiple agencies, such as the Federal Bureau of Investigation (FBI), during emergencies. By utilizing Crestron's DMPS3-4K-350-C 3-Series 4K DigitalMedia Presentation System 350 with AirMedia and other components, photos and videos from the scene of the emergency can now be transmitted to the station and instantly displayed on large screens, wirelessly, via AirMedia. The system was installed by integrator Applied Global Technologies (www.appliedglobal.com) last summer. This technology-infused setup enables officers to assess an event in less time, better anticipate needs, properly allocate resources and provide real-time direction to first responders.
Case Study: The Stillwater City Council Chambers & Municipal Court
The Stillwater City Council Chambers & Municipal Court, located in Stillwater OK, is a multipurpose space that's used for city-council meetings, the planning commission, the municipal court and other functions. The city wanted an AV system that could meet all the needs the facility might present, while also improving the experience that meeting attendees and staff would have. As installed by integrator Ford AV (www.fordav.com) of Oklahoma City OK, the facility's video-production system includes HD cameras, a mixing console, HD video distribution over Cat5 cabling, HD video recording and archiving, and HD encoding for broadcasting council and planning meetings. The control booth includes camera control, a windowed preview monitor and audio monitoring, and it's invisible to room users so as to enable a seamless in-room experience. Advanced audio control allows operators to switch between audio sources easily, enabling various types of meetings to occur.