The home of the Texas Rangers and the 2020 MLB playoffs proves AV is key to live sports.
When the Texas Rangers began the process of building a new home, Globe Life Field, the organization never could have predicted the course of the stadium's debut season. The novel coronavirus (COVID-19) pandemic put Major League Baseball (MLB)'s 2020 season in jeopardy. And, even after the decision was made to play a shortened, 60-game season, MLB—like all professional sports leagues—had to make some serious adjustments. As a result, the Rangers played all 30 home games this year in a brand new stadium, but in front of crowds of cardboard cutouts. Globe Life Field was designed to provide a major-league fan experience, but the pandemic removed the "fan" part of the equation.
However, thanks to the circumstances of its inaugural season, Globe Life Field serves as a prime example of high-quality audio and video's importance to the professional sports experience, even when there are no fans in the stands. The stadium's audio and video systems have been an integral part in creating a high-energy environment for baseball—complete with simulated crowd noise—throughout the 2020 season. And, as the home of the National League Championship Series (NLCS) and the World Series, Globe Life Field was also the first MLB stadium to welcome fans back to baseball, the stadium's cutting-edge AV systems significantly contributing to an unforgettable return to the ballpark.
Globe Life Field's AV system design was based on a specification by architectural consultant WJHW, with Diversified having integrated the majority of the system. Daktronics, which worked closely with Diversified on the project, provided the stadium's large-format displays, Internet Protocol television (IPTV) system and video-production platform.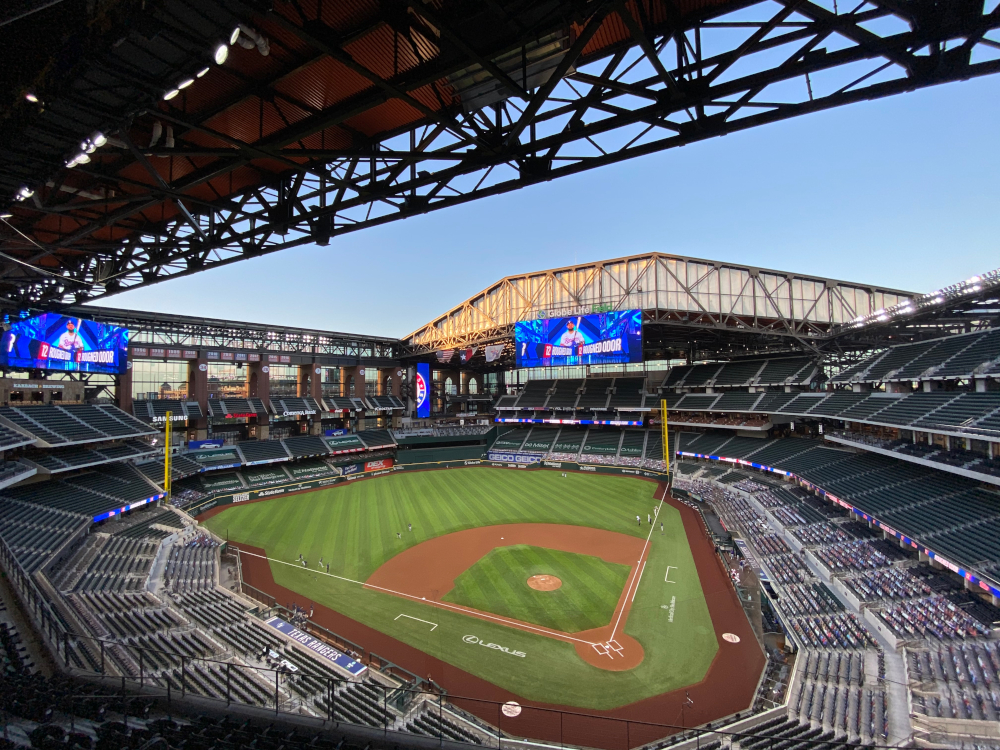 ST-2110 IP Video
Globe Life Field represents a significant step up in terms of AV technology compared to the Rangers' previous home. The new stadium features an SMPTE ST-2110 IP video backbone, and its displays run at 1080p 60 resolution with high dynamic range (HDR).
According to Duane Yoslov, Senior VP of Diversified's Sports & Live Events specialty, the client's decision to go with 1080p resolution, as opposed to 4K, for the new stadium was the practical choice. "They were focused on a 1080p system that was ST-2110 capable," Yoslov said. "Generally speaking, we concur with that philosophy. The benefit of moving up the chain to 4K HDR, I think, minimizes return on investment at this stage in the game in a 2110 world. It really comes down to fan engagement, and, for these rooms, that's what's most important. And the visual acuity doesn't really allow for much beyond 1080p for the majority of the seating in these venues."
Implementing the ST-2110 standard necessitated a fair amount of training for the Rangers production staff, and that process was further complicated by some restrictions imposed in the wake of the coronavirus pandemic. "It's a full 2110 backbone, which was new to the Rangers. So, it was a learning experience for the group, coming from baseband to 2110, but they really embraced it and found it easy to use," Chris Sullivan, Diversified's VP of Business Development for Sports & Live Events, shared. "A little thing called COVID-19 made it a little more difficult, because people were not able to come on-site and really get hands on the way they would have. So, a lot of [training] was done virtually, which was a learning experience in itself. Some vendors were able to send people on-site. Others that came from out of the country were restricted, so they couldn't. It was kind of a mix. But in the end, all hands on deck, and it all worked out."
Yoslov added that the step up to ST-2110 did present some challenges, but solving these challenges allowed both Diversified and the Rangers production team to get a better handle on the technology. "I'd say the biggest challenge was the troubleshooting process is much different than in SDI," he explained. "We found issues that were head scratchers for a little while, and it oftentimes was related to things that are harder to see in a 2110 world than in SDI video world. SDI video tends to be there or not. But with IP, challenges materialize in strange ways sometimes." Yoslov credited Lawo, whose V_matrix system provided the ST-2110 backbone, with being an indispensable partner in overcoming these challenges.
Live content is captured using Sony HDC series cameras equipped with Canon lenses. "The cameras were specified by WJHW and embraced by the Rangers. [Senior Director of Ballpark Entertainment, Productions and Promotions] Chris DeRuyscher and his team really wanted the Sony system," Sullivan said. "So, we put that forward in our RFP [request for proposal] response. And they seem to be very happy with that system as it's working right now."
Video Production & IPTV
Globe Life Field's production team relies on a Ross Video Acuity production switcher and EVS XT series production servers. Daktronics Show Control software is used for production of in-house video, including the creation of graphics and animations, player bios, replays of the action on the field, advertising messages and everything else shown onscreen. The Show Control software also features Live Clips, which is Daktronics' specialized game-entertainment and live-production server environment, as well as the Camino 3D template-altering program. Control room furniture was provided by Laguna Designs.
According to DeRuyscher, Daktronics has continued to train the Rangers' production team on the Show Control platform even as the company continues to refine the platform itself through software updates. "[Texas Rangers PA Announcer and EVP of Ballpark Entertainment] Chuck Morgan and I have been working with Daktronics for years and years, and have developed a level of trust and respect with them that made us feel that going with them for this new project was the way to go," DeRuyscher said. "We knew going in that [Live Clips and Camino were newer products], but we had trust that, even if there were kinks, we'd get them sorted out between Daktronics and us—although, I can happily report that we haven't had any kinks, and that [Show Control, Live Clips and Camino] have been good as advertised." He continued, "The flexibility, production-wise, that all three provide has been fantastic, and the new updates that have been made to the Show Control system have allowed us to control more and provide more content then we had originally thought to."
Dan Fjeldheim, Large Sports Venues Sales Representative for Daktronics, added that the scalability of the Show Control system will allow the Rangers organization to continue to expand its production capabilities for years to come. "One of the nice features of Show Control is that it is scalable," he explained. "So, if they were to say, 'We need some more [DMP-8000] players; we need some more horsepower to distribute additional content,' we can add onto the system very easily. It doesn't change the user interface at all; they'll just have more content buttons to choose from."
A VITEC IPTV signal distribution system is used to send the video feeds to the various displays around the stadium. "We are using VITEC as an IPTV system provider, and it has been a great upgrade," DeRuyscher said. "To be able to turn TVs on and off and do content updates with a push of a button has been amazing. I know some folks would laugh, as I know the technology has been around for a while now; [however,] when you haven't done an upgrade in years, it's great when you can finally catch up. VITEC has been great to work with, and [the company] has continued to be on the ground with us as we continue to fashion this system to provide for all of our different types of events."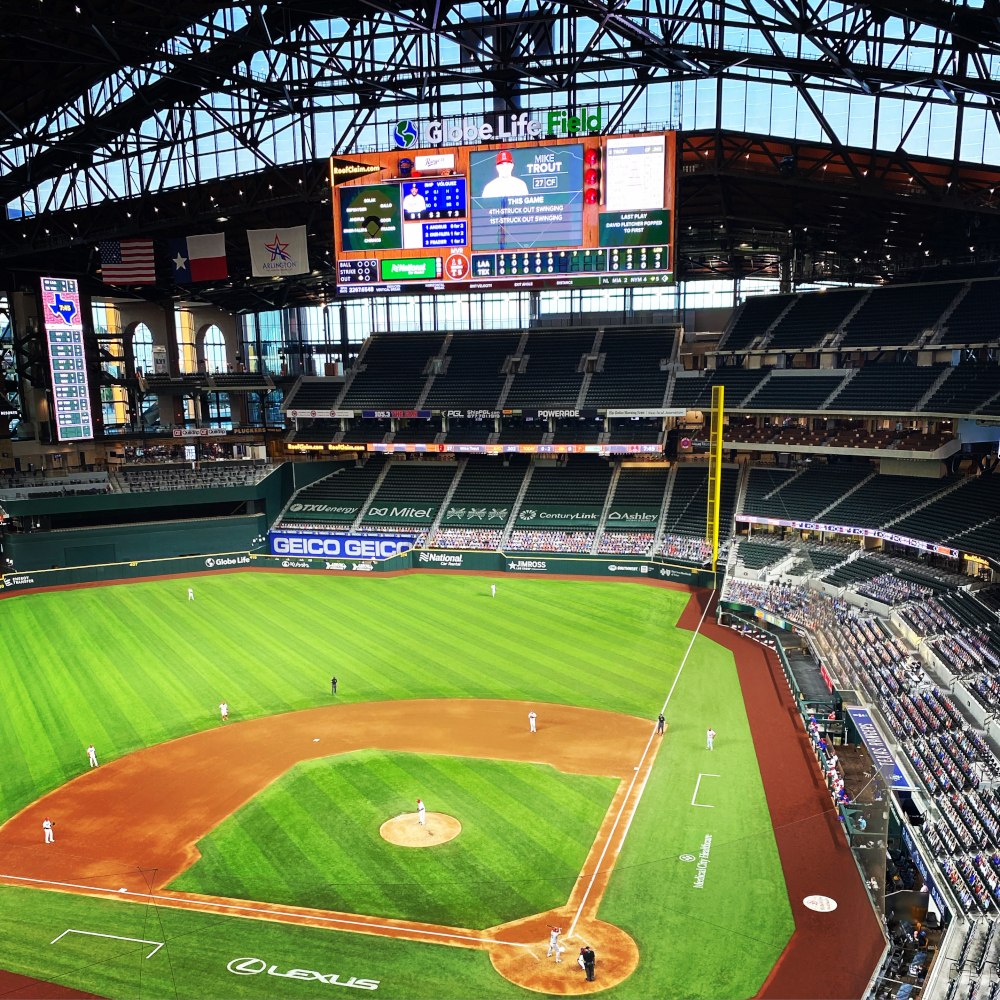 Large-Format Displays
From the fan perspective, the standout feature of Globe Life Field's AV systems is arguably its many large-format LED displays. The stadium boasts a total of eight such displays, seven of which are composed of Daktronics' HDR-capable SMD technology. "Each individual SMD LED has a red, green and a blue diode all in one chip. That's one way we are able to create the color depth that they're looking for with HDR," Fjeldheim explained. The "surface-mount diodes" that make up an SMD display are mounted directly to the facing of the display, in contrast to traditional "through-hole" LED modules, which feature three individual red, green and blue diodes that protrude through the front of the display housing.
The two largest of Globe Life Field's displays are hung above the left- and right-field stands. These are used to show the most dynamic content of all the large-format displays in the stadium, frequently cycling between different graphical layouts with a mixture of images, text, animations and video. Both outfield displays are composed of 15mm-pixel-pitch SMD LEDs; the left-field display measures 111'x40′ (WxH), whereas the right-field display, the larger of the two, measures 150'x58′ (WxH).
The unique location of the right-field display required some coordination between trades. "The retractable roof slides along two giant trusses on tracks, and the right-field main video display actually hangs off of one of those giant trusses. We had to coordinate with the general contractor, Manhattan Construction, and their steel providers," Fjeldheim recalled. "We sent Manhattan the design of our video board structure, and they in turn installed the steel work necessary to mount the displays on. There was a lot of coordination on that with Manhattan and their steel contractor to make sure we had all of our ducks in a row before we started flying our video panels."
The 20'x80′ (WxH) center-field display is primarily used as an out-of-town scoreboard that shows the scores from other MLB games. Because this display is mainly used for text, and because it is positioned at a long viewing distance from most of the seats in the stands, it is the only large-format display in Globe Life Field that is not composed of HDR-capable SMD LEDs; instead, it is made up of Daktronics' through-hole-style LEDs, and features a pixel pitch of 15mm.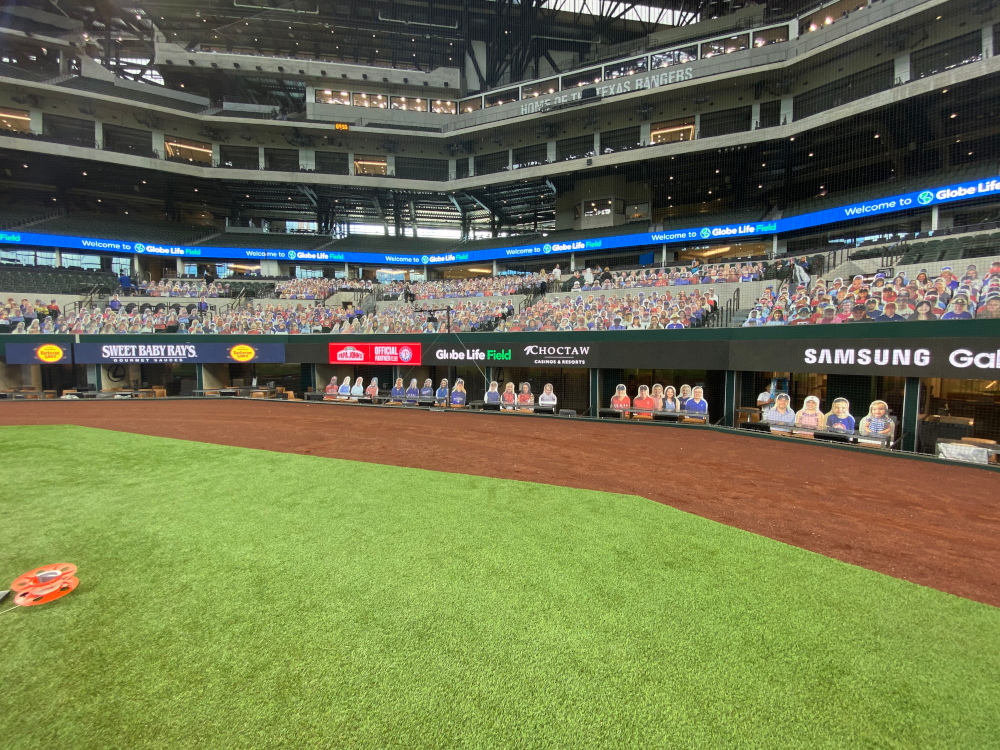 There are also a total of three ribbon displays, which are mainly used to display animations, advertisements and in-game statistics. The largest of these ribbons, which measures 924'x2.5′ (WxH), runs from foul pole to foul pole along the façade of the second deck in the main seating area. Another ribbon display that measures 211'x3.5′ (WxH) runs along the façade of the mezzanine seating level in right field. Both of these ribbons are composed of 15mm-pixel-pitch SMD LEDs.
The third ribbon display is located at field level, mounted along the first row of seats behind home plate (and just above the Field Suites, which are built into a dugout-like sublevel that offers a close-up view of the on-field action). A portion of this ribbon functionally takes the place of traditional signage that would be located behind home plate and seen on TV in the ubiquitous "behind the pitcher" center-field camera shot. This display measures 116'x2.5′ (WxH) and is composed of SMD LEDs with a much tighter pixel pitch of 6mm; because of the fact that this ribbon is more likely to be captured on camera, there is a tighter pixel pitch to help prevent the moiré effect when it appears on TV.
Regarding the ribbon display behind home plate, DeRuyscher said, "We are the first MLB team to deploy digital home-plate rotational signage. Normally, this is provided by a machine and rollers to which a vinyl sign is attached. We wanted to do something different and decided to give LED a try. The biggest fear on something like that is that the board would be too bright for pitchers and fielders, but that hasn't been an issue at all, and running it at 10-percent brightness makes it look like a fixed sign, which is perfect. The flexibility that being digital provides is priceless, and it makes it very easy for on-the-fly corrections." Positioning the display just right so that advertiser messages appeared as intended on TV screens proved to be a moving target. "We literally were moving the signs up, down, left and right with our sponsorship team on-air during a few of the first Rangers games [this season] when we realized that parts of the signs were being cut off slightly depending on which kind of TV you were watching the game on," DeRuyscher shared.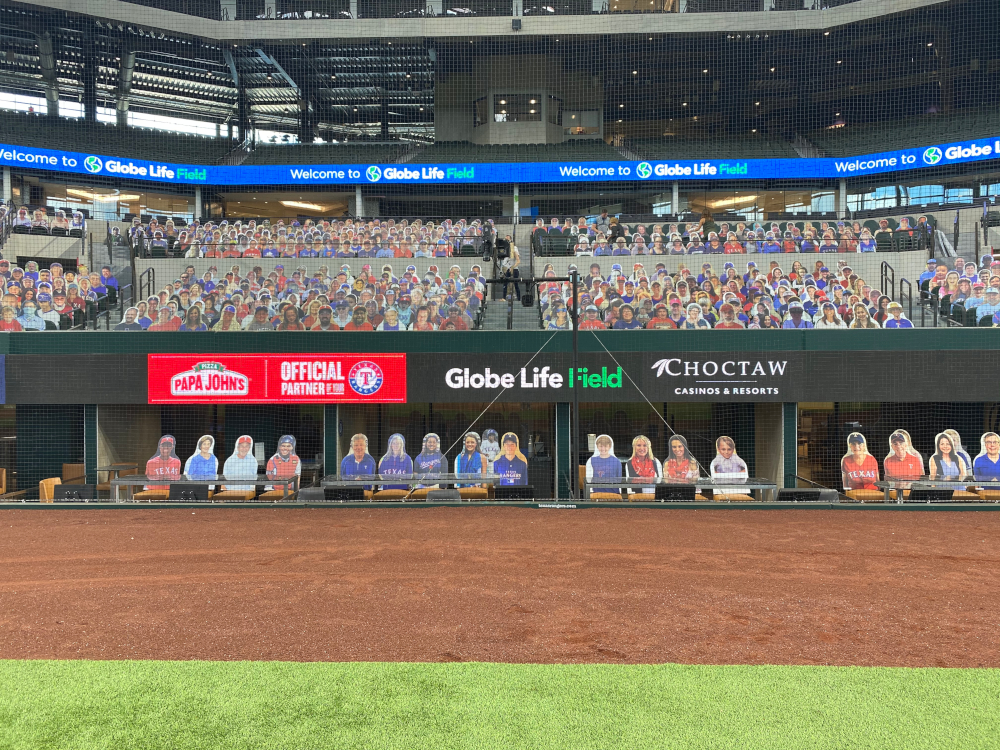 Another large-format LED display is located at the Texas Sky Porch, which is an open deck-style concourse area in left field. The Sky Porch display measures 20'x11′ (WxH) and is composed of SMD LEDs; because this display is positioned at a short viewing distance from the fans, it features a narrow pixel pitch of 3.9mm.
Rounding out the list of large-format displays is an LED backdrop located in the Rangers' press room. It is positioned behind where players and coaches sit during pre- and post-game press conferences and is used to display team logos and other graphics. It measures 13'x6.5′ (WxH) and is also composed of SMD LEDs. (This type of LED backdrop is becoming a common fixture of press rooms in new stadiums and arenas at the professional level.) Since the press room display is regularly captured on camera at close range, it features the tightest pixel pitch of all the LED displays at 2.5mm.
In addition to the large-format displays, Globe Life Field features approximately 1,450 LCD displays located throughout the stadium. These displays serve a variety of purposes, and are used as televisions in the concourses and suites, as menu boards in the concession areas, and as informational displays in high-traffic areas. "The Rangers are able to set up the IPTV system in zones," Fjeldheim said. "Obviously different sections of the stadium might want different content, so they can control all of that through Show Control."
Local AV Control
Each fan suite in the stadium offers local control of the suite's displays via an iPad mounted on the wall. "The iPad runs a Crestron app tied to our Crestron control system that controls, typically, two displays in each suite," Jeff Sanderson, Diversified's Senior Design Engineer for Large Venue Sound, Sports & Live Events, explained. "There's a local HDMI and audio port input local to each suite. So, you might have a kid bring their Xbox and plug it in and play their video game while Dad's watching the game. Or, if you're hosting a business meeting or presentation to a client, you can use those inputs." He added, "There's also wireless Bluetooth access to each suite as well. So, the fans can connect their phone or portable device via Bluetooth and play back their own music through the suite. Each suite amplifier is local to its suite; we're using Dante as the backbone to send and receive audio signals to and from the suite." The AV systems for Globe Life Field's bar, restaurant and club areas can be locally controlled in a similar fashion, as well.
The displays in the players' home and visiting clubhouses are also tied into the IPTV system, and the players and personnel have local control over the audio and video inputs in those spaces. "From the Rangers' clubhouse presentation meeting room, which has a projector system with presentation control similar to a conference room or meeting space, to the locker room and the weight room and all the other clubhouse spaces, there is sound and video control," Sanderson said. "Using iPads, you're controlling the IPTV system and all of the different displays they have throughout the clubhouses. They are able to select the IPTV or internal content and push it out to any of the displays within the clubhouse. And, of course, there's built-in sound and Bluetooth connectivity for the players to be able to play their own content. And they have several portrait-mounted displays throughout the clubhouse for schedules and [similar content] that come from baseball ops."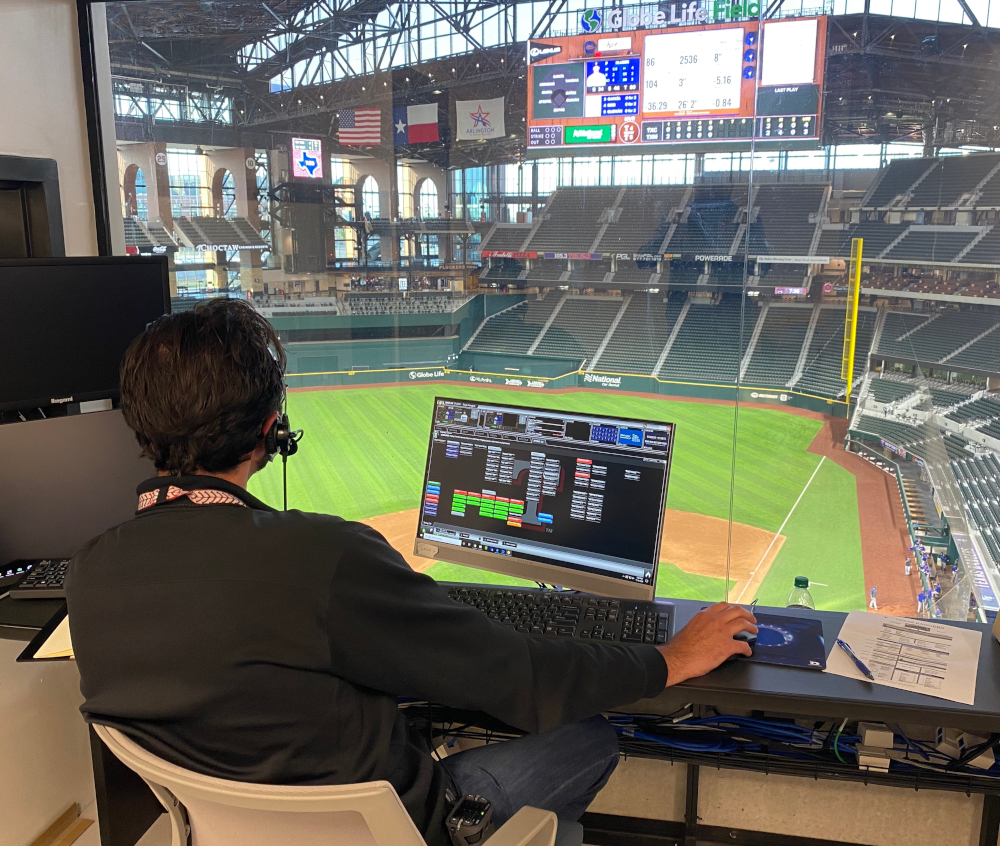 Surround-Sound System
The sound system, like the video system, is controlled from the ballpark's central control room (although both systems can be controlled remotely via iPad, as well). The mixing console is a Yamaha CL-5, and a QSC Q-SYS platform handles digital signal processing (DSP). Audio signals are sent via a dedicated network system; the QSC components are connected via Q-LAN, and all other components are connected via a Dante network. The stadium intercom system leverages RTS OMNEO audio-over-IP technology, and the production teams communicate via a wireless Riedel Bolera intercom system.
"We have six primary DSP core systems in the stadium for Q-SYS control," Sanderson explained. "We have a dedicated core system for the bowl; a dedicated core system for back of house, which covers all the public spaces; and then the rest of the DSP core systems handle different club spaces, including the Rangers' clubhouse areas." He continued, "We are using Stewart [FLX] amplifiers for all the suites; QSC [CXD], which is powering all of the back-of-house spaces; and Dynacord [IPX] amps for the bowl. It's all network-based. The Dynacord and the Stewart amps are all Dante protocol, and the QSC amplifiers are Q-LAN protocol."
The main bowl features eight JBL VLA series line arrays, which are the centerpiece of the stadium's surround-sound system. "[The Rangers were looking for] a high-quality reproduction of sound, not just from a PA standpoint, but for music. The first requirement was to make the system in stereo, and then the second part of the system design is unique and really hasn't been used yet," Sanderson said. "There are eight line arrays built into the ballpark, and, rather than the arrays facing the fans, they face away from the fans. So, you're listening to the arrays opposite of the stadium in a circular fashion, and the Medialon MAS Pro software plays prerecorded music or sound effects across those eight arrays. The fans experience a spatial effect from the movement of the sound."
Sanderson offered some examples of how this surround-sound system will be used to further immerse fans in the live game experience. "One of the sound effects that we did for the Rangers was a horse galloping. It starts at home plate, so you hear the horse neighing, and then as it gallops around the stadium, the sound moves from array to array around the stadium till it comes back to the home plate speaker to finish out," he described. "And then the other key effect is the song from 'The Natural,' which they play for every home run. We have that set up in the surround system, too. And we had a number of Rangers staff down on the field listening to it with very big smiles on their faces, like, 'Wow, this is incredible!'"
Sanderson also gave a breakdown of the remaining speakers in the stadium. "There's a mixture of JBL, Community, Electro-Voice and Fulcrum for the remainder of the main-bowl system. All the concourses are Community, and all of the suites and club spaces are Electro-Voice," he said.
In addition to providing high-quality sound reinforcement throughout the fan-facing areas, providing wireless microphone coverage for the entire stadium was also a priority. "We have six channels of Shure Axient digital wireless," Sanderson said. "They were looking to be able to have roving microphones that they can do interviews with, so [we had to] make sure the RF was covering the whole bowl."
He added, "They also have a handful of handheld, hard-wired microphones, from Electro-Voice RE20s for the PA announcers to your standard allotment of Shure and Electro-Voice microphones that they use for the writing press in the interview room and in club spaces around the park."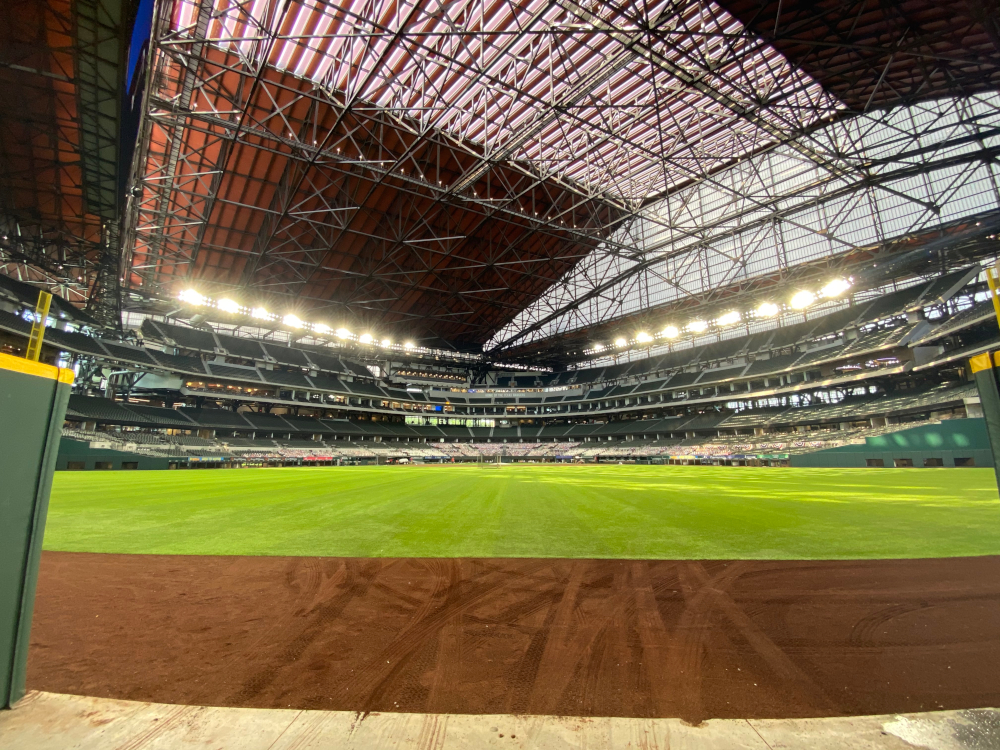 Simulated Crowd Noise
One of the most interesting aspects of televised sports in the age of COVID-19 has been the many ways in which the professional leagues have relied on AV technology to simulate the feel of a game being played in front of a crowd packed with fans. Although MLB has not gone as far as some other pro sports leagues have (with their LED boards of video-chat heads), all the teams in the league have made use of prerecorded crowd noise sourced from the "MLB: The Show" series of video games. An iPad running software provided by MLB triggers the crowd noise, and the audio clips play over the stadium's speakers.
For the Rangers' part, the production team had already begun carrying out its own plans to add simulated crowd noise before MLB implemented a league-wide solution. "When we found out that we were going to have a season with no fans, Chuck Morgan immediately reached out to our in-game DJ, Michael 'Grubes' Gruber, and had him start pulling crowd sounds from Rangers TV broadcasts so that we could get an authentic feel in the seating bowl when our team was playing. We also knew that drowning out the 'chatter' that happens in the dugouts was key as well. So, we were prepared either way for games before MLB made a decision to tackle the fan sound issue from a league level," DeRuyscher said. "We're very thankful they did it, too, because what they were able to work out sound-wise with the folks who did 'MLB: The Show' and Sony was a game-changer. They created crowd sound for just about every moment you can possibly think of. From murmurs, to gasping, to raucous cheering—we have it all. So, we took the iPad they provided with all of these elements and then added in our own 'Rangers sounds'—cheers and chants that Rangers fans have grown accustomed to over the years—and more."
DeRuyscher elaborated on the actual day-to-day operation of the crowd-noise system. "We use the iPad that MLB provided and run it as a separate source into our Yamaha mixer," he described. "Within the iPad, a GUI [graphical user interface] was created that has buttons on different pages with tabs that separate the different crowd sounds. Some of the sounds include large, medium and small reactions, with six different levels within each. There are 'build up' beds as well as 'disappointed' beds, 'fast ramp-up emotion' beds and 'ovation' beds—just about anything you can imagine."
Of course, to simulate the feel of a live baseball crowd convincingly, the person operating the system has to have a firm grasp of how a real crowd would react to any number of possible in-game situations. Fortunately, according to DeRuyscher, "Our in-game audio DJ is a lifelong Rangers and baseball fan, and [he] has as good of a feel for the game of baseball as anyone I've been around."
Regarding the effectiveness of simulated crowd noise in recreating the feel of a live baseball crowd, DeRuyscher added, "We're very proud of the atmosphere that our team has provided and feel that it's as good as any team out there doing it. However, at the end of the day, we cannot wait to be done with it and get our fans back in here, because if we learned anything, it's that the fans and the passion and noise they bring can never be truly replicated."
Non-Baseball Events
In addition to being designed for a top-tier live baseball experience, Globe Life Field was also designed to support a wide variety of non-baseball events as well. According to DeRuyscher, "The main goal was to provide world-class [AV] for Rangers baseball, but to also attract high-end entertainment acts, such as top-of-the-industry musical acts; other sports, such as football, basketball, etc.; WWE events; and more."
As part of its contract with the Rangers, Diversified lends production support for certain major events on an as-needed basis. For example, just before the pandemic-related shutdowns hit and live events were canceled worldwide, Diversified had already been at work tuning the system for a Chris Stapleton concert that was meant to be one of the first events held at Globe Life Field.
"[Using] the Q-SYS and Dynacord software and working with the consultant on their array model, we're able to input delay times to the upper-deck areas where we would need delays for a concert. We actually had gotten to a point where we set that up for Chris Stapleton right before that concert was canceled. I mean, literally, they were setting up the stage, and it got canceled," Sanderson recalled.
Regarding the process of tuning the system for such a concert, Sanderson added, "It's simple. Well, for the end user, it's simple. For us, it was a hundred datapoints or more of entry to get each delay point set to a specific array point, working in conjunction with the concert tour company. But for the end user, they just push it to concert mode, and, boom, delays are set."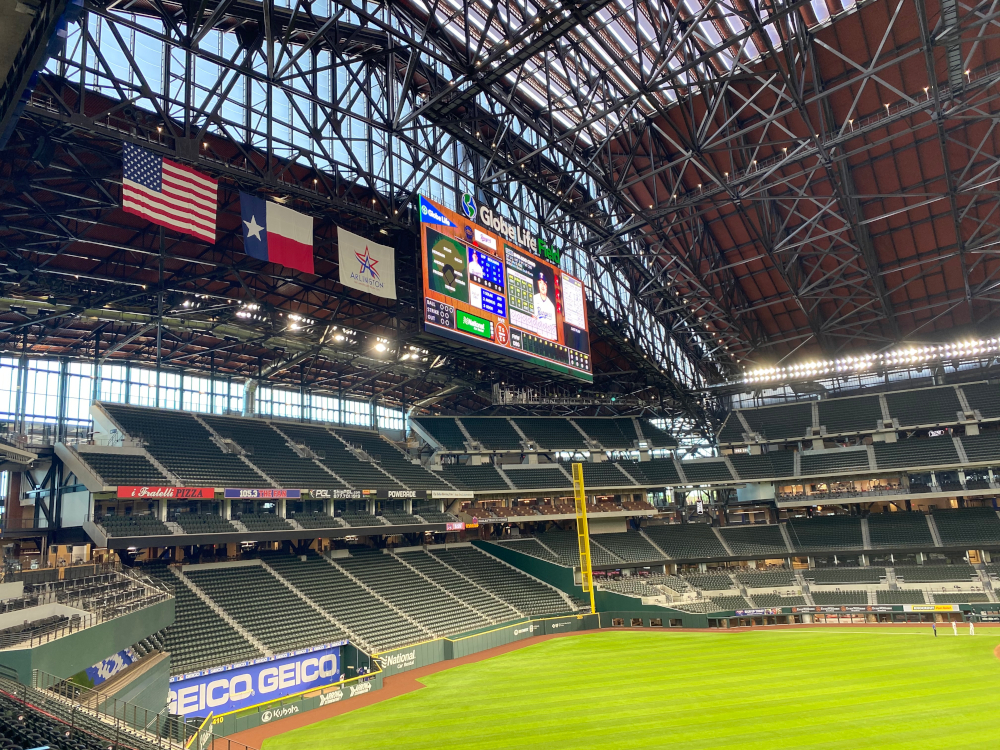 The Return Of Fans
The Rangers' heavy investment in Globe Life Field's AV systems left the stadium well positioned to provide an unforgettable experience for the first fans to return to MLB baseball during the NLCS and the World Series.
"We were very honored to be selected to host MLB's biggest crown jewel event, the World Series, as well as the [National League Division Series] and NLCS," DeRuyscher said. "It's insane to think about the path this year set us on. In March we were having a concert, opening our ballpark with some exhibition games, and then our Rangers Opening Day was to follow. Then none of that happened, our season was in jeopardy, and we were all working from home with no idea of what the future held. Now, we have completed a 60-game season, 30 of those here at Globe Life Field; we are hosting the aforementioned MLB playoff games; and then we are bringing in the National Finals Rodeo in December. Whew, what a year!"
DeRuyscher believes Globe Life Field will likewise wow Rangers fans when they (hopefully) attend games during the 2021 season. "Our fans will have never heard a sound system like we have here at Globe Life Field before," he said. "We wanted to provide a complete surround-sound experience for fans. This system makes it feel like you have your own little personal speaker sitting on your shoulder. [And] the fact that we can pinpoint audio to different sections of the ballpark for different simultaneous events is one of the most impressive aspects to our team. We couldn't be happier with it." He added, "I also believe that the video board and LED ribbon board experience that we provide is as good as any out there. Everything is sharp and really pops off the boards. Some images on the video boards even look like they are hanging off the board in 3D, if you will."
And when it came to the various parties involved in designing Globe Life Field's AV, DeRuyscher had nothing but praise. "WJHW, the lead consultant on the project, put together a great game plan for the AV system we have in place, and then from there Diversified came in and nailed the integration of it. We couldn't be more proud working with these two great outfits," he said. "We are proud of all of the partners that we worked with on this project, including Lawo, EVS, Ross, Sony, Canon, Laguna Design, Riedel, Yamaha, JBL and others. Our relationship with Daktronics goes back decades, and we couldn't be prouder to partner up with them again. Their amazing work goes way beyond their product. And, in a year like this, with a project the magnitude of this one, that was key."
Sidebar: Key Project Personnel
Texas Rangers
Chuck Morgan, Executive Vice President of Ballpark Entertainment, Productions and Promotions
Chris DeRuyscher, Senior Director of Ballpark Entertainment, Productions and Promotions
Michael 'Grubes' Gruber, In-House DJ
Chuck Primrose, Production Engineer
Production Team Members Colin Drake, Hugo Carbajal, Mandy Lawson, Dani Wilkerson, David Foster and Amanda Kent
Diversified
Duane Yoslov, Senior VP, Sports & Live Events
Chris Sullivan, VP of Business Development, Sports & Live Events
Jeff Sanderson, Senior Design Engineer for Large Venue Sound, Sports & Live Events
Rachel Baehr, Director of Corporate Communications
Justo Gutierrez, Director, AV & Sound
Keith Pintner, Senior Project Manager (Project Program Manager)
Lane Baird, Project Manager (Video Control Room)
Rick Koralewski, Site Supervisor
Tom Sullivan, Managing Engineer (Video Control Room Engineer)
Justin Guzman, Design Engineer (Broadcast Cabling)
Andy Prager, Senior Design Engineer (Sound Control Room Engineer)
Kevin McAleer, Project Engineer (AV Systems)
Scott Durham, Field Operations Manager (AV Systems Commissioning  Lead)
Page Dickinson, Field Engineer (AV System Commissioning Engineer)
Nathan Kirk, Field Engineer (AV System Commissioning Engineer)
Jacob Kirk, Field Engineer (AV System Commissioning Engineer)
Dan Whidden, Programmer (Crestron Programmer)
Laurie Koralewski, Warehouse Supervisor
Ann Millerick, CAD Engineer
Jeff Dykhouse, Senior Design Engineer (Q-SYS programmer)
Daktronics
Dan Fjeldheim, Large Sports Venues Sales Representative
Brent Dunkel, Senior Project Manager
Michael Cruz, Applications Engineer
Jared Coon, Site Superintendent
Will Ukrainetz, Field Service Engineer
Kyle Kruse, IPTV Applications Engineer
Ashley Cummings, Control Systems Specialist
To read more from Sound & Communications, click here.