Editor's Note: This piece will be published as the monthly "Wavelength" in the January 20, 2020 edition of Sound & Communications. This online preview offers exclusive photos of these eye-popping LEDs.
Having lived in New York for 34 of my 37 years, I have a pretty good feel for the rhythms of the US' most populous city. When New Yorkers walk from place to place, we make a beeline, narrowly avoiding collisions as we sidestep tourists gazing skyward. And, befitting New Yorkers' storied lack of patience, when we enter the workplace and look to collaborate—say, conduct a videoconference or present to clients—we want to be sure we have the tools we need, when we need them, without having to generate a support ticket. My decades of Empire State experience swirled in my mind earlier this month when Samsung hosted other media members and me for a tour of some of the Big Apple's most outstanding LED implementations.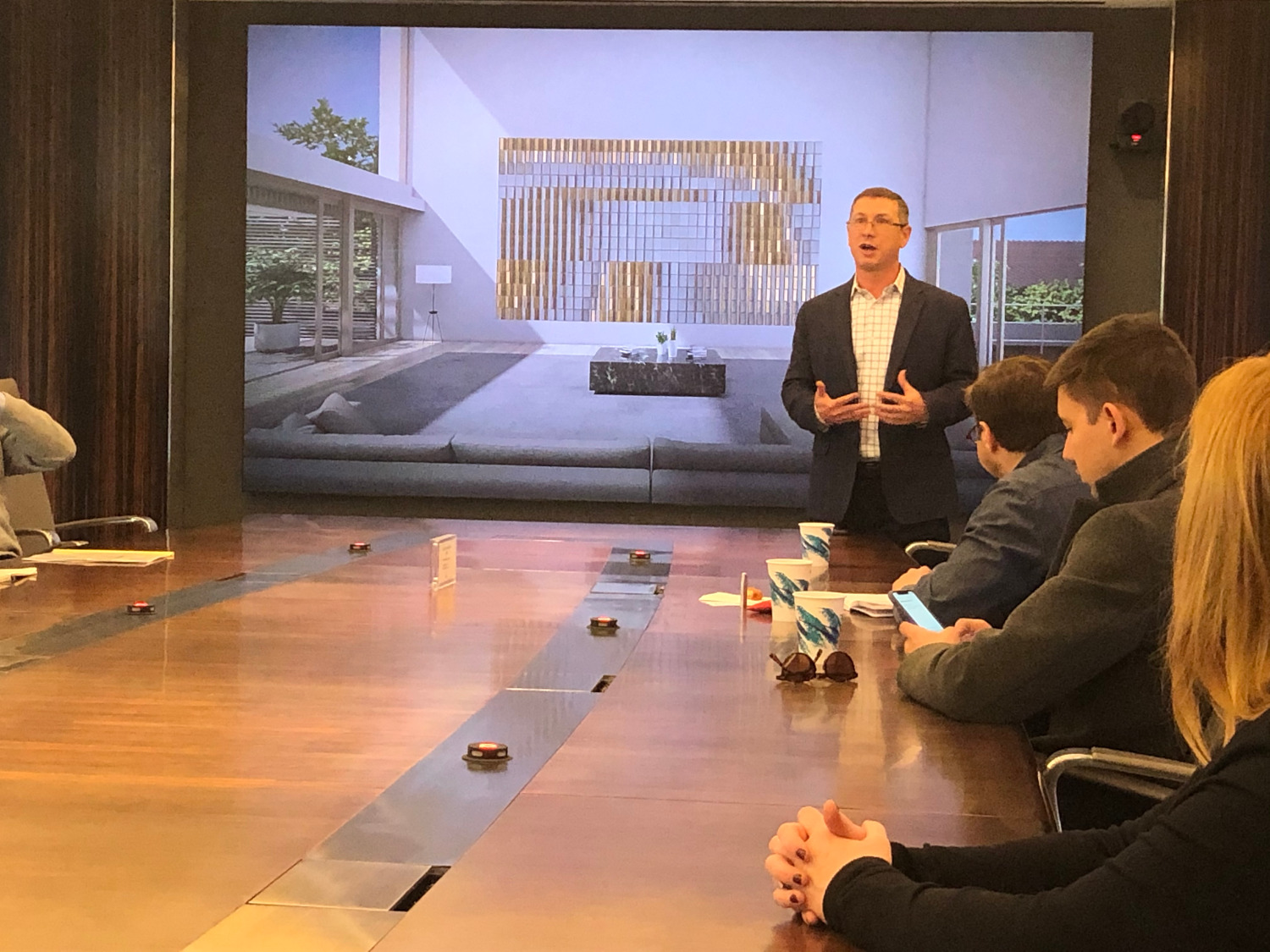 Our tour kicked off at Fisher Brothers, a 104-year-old real-estate company on posh Park Ave. Ken and Crystal Fisher welcomed us to their corporate conference room, proudly showcasing their implementation of Samsung's The Wall, a modular microLED display that can deliver 4K images. The firm uses it for everything from conferencing to displaying PowerPoint slides. The Fishers explained that a historically rooted company like Fisher Brothers' embrace of the newest LED technology can be something of a juxtaposition, but it's an incredibly important move in the firm's attempts to attract and retain clients for its high-end buildings.
The next stop was advertising, marketing and public-relations agency Ogilvy. For its primary flex space, which accommodates events, webcasts, parties and more, the company decommissioned its existing projection system and implemented two 1.2mm-pixel-pitch LED displays from Samsung. The installation we saw was literally days old—not even commissioned yet. Ogilvy executives noted that its clients want to see branded materials and campaign assets with the fullest, brightest color spectrum possible; this inspired them to turn to LED technology. Indeed, the company is considering eliminating a rear-projection setup in another meeting space and implementing more LEDs.
Then, we stopped by the Museum of Modern Art (MoMA) to see a mounted Samsung LED display that reacts, using subtle washes of color, to the activity occurring in the lobby space. Another artistic LED implementation shines brightly onto the sidewalk on 53rd St., catching passersby's attention even in bright sunlight. We ended the day at One Times Square and gawked at a 20-plus-story LED signage implementation that's so attention grabbing that the New Year's Eve ball might be jealous.
Seeing product demos at trade shows is always fun and informative, but engaging in real-world technology experiences takes it to another level. Applications like these make even a New Yorker like me stop and take notice.