Sports teams might be fighting it out on the playing fields in arenas and stadiums, but the bigger battle in this century might be the tug-of-war between those venues and broadcast sports for fans' attention—and their wallets. Television consumption of sports has reached a remarkable level of engagement, with elements such as 70-inch, high-definition screens and 5.1 surround sound in living rooms. And new inducements are looming, such as Dolby Atmos audio and high-dynamic- range (HDR) video. As a result, the venues in which those games are played have had to step up their own game, so to speak, to convince fans to keep buying ever-more-expensive tickets (and beer and parking).
The initial front in that battle was the bowl, where ever-bigger video screens are buttressed by concert-level line-array sound systems and special effects, such as whiplash-inducing LED leaderboards that ring the mezzanines and video halos above. Most recently, however, venues, teams and leagues have been turning to the concourses and other back-of-house areas—and to the areas around the venue itself—in an attempt to deepen fan engagement before they even make it to their seats. An excellent example of that is found at the 18,300-seat Vivint Smart Home Arena, in Salt Lake City UT, the home of the NBA's Utah Jazz. There, a dazzling array of digital signage has capped a recent $125 million renovation of the facility.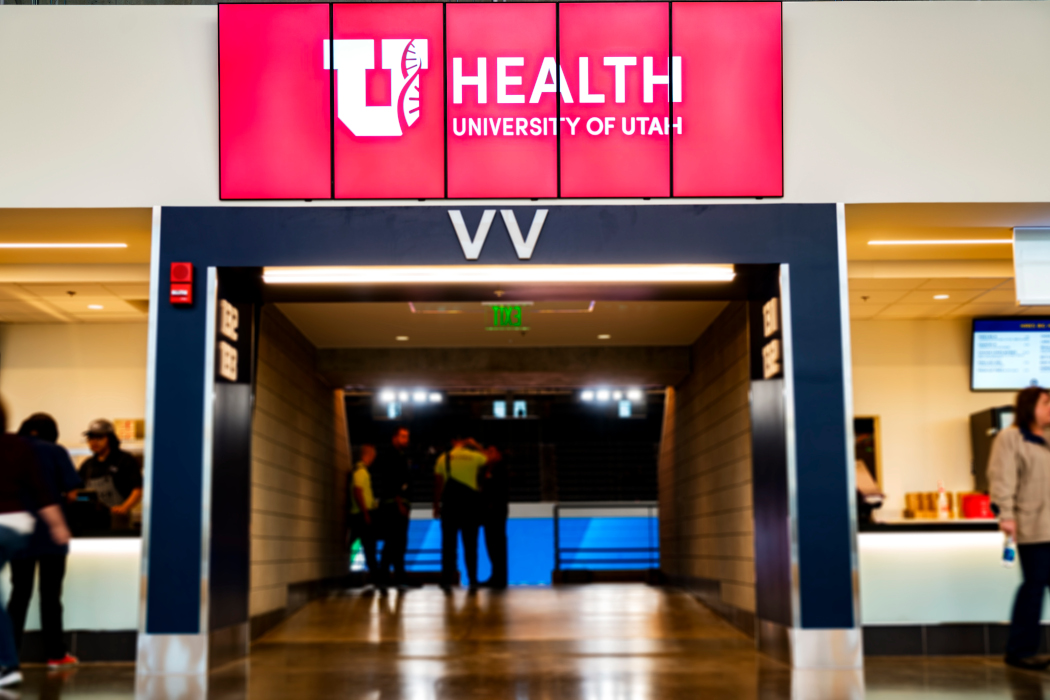 "What's happening now is, the teams are realizing they need to bring fans to the venue for more than just the action on the court," Brian Fitzpatrick, President and CEO of Revel Media Group, said. The Salt Lake City-area AV integrator and design firm integrated most of the digital signage AV that was installed in the concourse areas in Vivint Smart Home Arena as part of that major renovation. He continued, "They were able to [wow in-person fans] in the past with really phenomenal bowl experiences, with big video screens and big sound systems. But now, the sports venue also has to be a place to hang out before, during and after the game. We're using AV to do that, too." He added, "The big push is to get fans here one to two hours before the game—to spend time and money—and to increase dwell time on the concourses, which increases the value of the [digital] signage for the advertisers."
In fact, Vivint Smart Home Arena now has 600-plus digital signage displays, including 27 videowalls, throughout the concourses and elsewhere in the venue; that technology complement creates a dynamic and cost-effective advertising environment that's as visually dazzling and engaging as the high-definition, 10-million-pixel LED video scoreboard above the center court. The newly integrated displays begin in the venue's 12,000-square-foot America First Atrium and extend throughout the redesigned lower- and upper-bowl concourses, where destination-dining restaurants are interspersed with retail, such as the Utah Jazz Team Store.
Lots Of Signage, Tastefully Done
The overarching goal, according to Jamie Galileo, SVP of Facilities at Vivint Smart Home Arena, was to update and modernize the concourses and other areas of the venue, while not overpowering them with technology. "The arena is an iconic part of Salt Lake City and it was built by a family," he explained, "so we wanted to keep it family friendly while also making the concourses more contemporary." Galileo continued, "Six hundred is a lot, but not [when spread] over the amount of square footage here—and not the way they've been installed, which is very tastefully and functionally."
Digital signage, Fitzpatrick noted, is in high demand among arenas and sports teams. What sets apart its implementation at Vivint Smart Home Arena, he said, is the use of IPTV as the distribution platform, connecting Samsung displays using embedded system-on-a-chip (SoC) media players and running the Tizen operating system. This creates a system capable of instant, highly targeted messaging that can change as often as needed, and that only requires power and a dedicated local area network (LAN).
This approach, Fitzpatrick stated, is both technically elegant and hugely cost effective. "Traditionally," he began, "you'd have a media player or a set-top box at each display that delivers the content to the screen. Using networked IPTV and SoC eliminates all that." He estimated the savings from hardware elimination alone in the millions of dollars. "You're also eliminating thousand of potential points of failure by getting rid of the media players and the HDMI and RS232 connectors," Fitzpatrick added. It also helped reduce the amount of cabling used on the digital signage system, with just a single Cat6 connection to each display needed.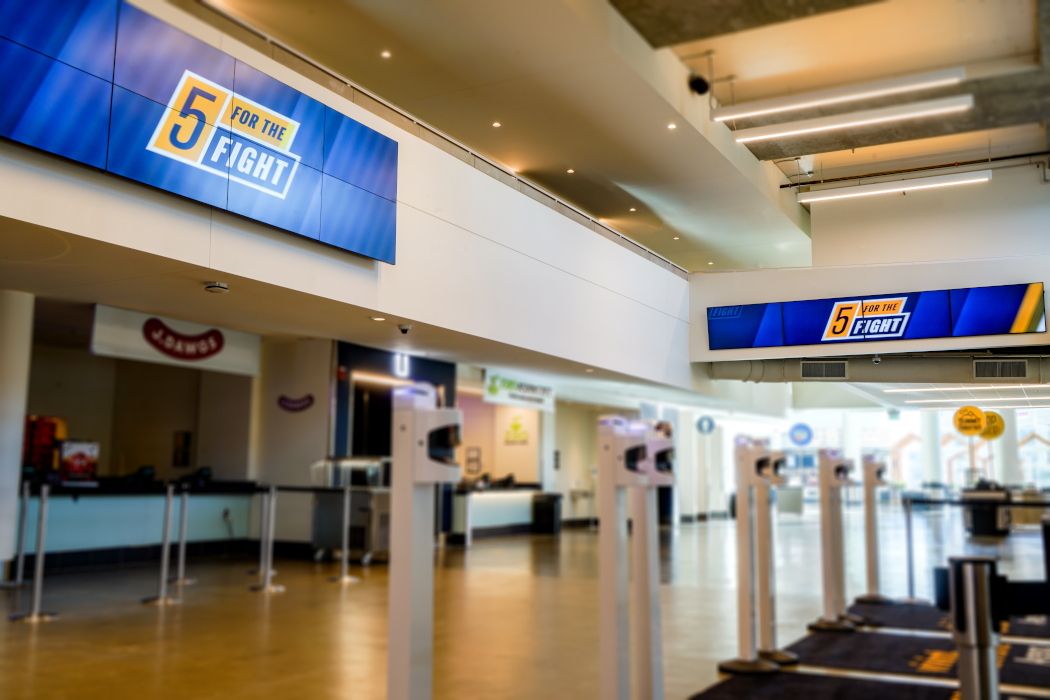 The Samsung displays come in an array of sizes—from 22 inches to 82 inches—with the majority of them being the 65-inch QM65H model; all of them have an integrated SoC player. The displays are mounted using a variety of mounts from SnapAV, Crimson AV and Solid Mounts. Fitzpatrick said the variety of applications—from menu boards to retail—dictated the need for many types of mounts.
Fitzpatrick said the scale of the IPTV deployment and a short timeline were the two main challenges that the team encountered for the project. Due to the start of the NBA season, the entire renovation project, which included 78 subcontractors, had to be finished in just the 129 days between the end of the 2016- 2017 NBA season and the start of the following season. "We got about five weeks of that, and we needed every minute [of it] because no one had ever done a full SoC IPTV digital signage deployment in a sports arena before," he explained. "And, on top of that, we were doing things that aren't usually done in IPTV systems, such as allowing some of the displays to be able to change channels locally…in the suites, for instance."
A Whole New Ballgame
The AV deployment extends to the venue's 56 luxury suites, and executing the task involved working with partner contractors and using Revel's own digital signage content-delivery platform, Channel Valet. That's the cloud-based platform through which Revel creates and manages content for its clients. The IPTV deployment was further enabled by firmware updates to Samsung's SoC technology, which helped with content management. "We worked with Samsung to optimize the new firmware for this deployment," Fitzpatrick confirmed.
As programmed now, all the digital signage displays in the venue show sponsors' messages before the national anthem is played or performed; after the anthem, content is synched between screens in the bowl and in the concourses. In addition, some videowalls are reconfigured; for instance, a 3×1 wall shows sponsor messages before the game, but, during the game, although two of the screens continue to display advertising, one displays a feed of the game from the bowl. Other videowalls are located in the venue concourse's "Home Court" areas and a series of displays runs a variety of NBA content.
Integration Process
If Vivint Smart Home Arena's concourses resemble retail and hospitality environments, the venue's renovated suites and clubs, as well as the coaches' and players' areas, now have AV and control aspects that would feel completely at home in a corporate or event milieu. Several dozen suites surrounding the bowl on several floors—and four so-called "super" clubs, such as the Jazz 100 Club and the Lexus Club—all have Extron DTP twisted-pair AV systems controlled via an Extron IP Link Pro control system, with seven-inch Extron TLP Pro 725M wall-mounted TouchLink Pro touchpanels to provide a consistent user experience.
"Someone could walk from one club to another, or a player could go from the players' lounge to the locker room, and [they would] be able to control the televisions and the speakers in the exact same way," Brent Parker, a Sales and Design Engineer at TVS Pro, the proaudio division of TV Specialists, Inc., said. The Salt Lake City-based integrator installed the DTP and control systems in those areas of the arena. This part of the project, Parker added, was because of an earlier experience with a different control system, which had been in place prior to the renovation. "Before, if someone had to change out a television or a Blu-ray player, they had to call in a certified programmer, too," he explained. "With the Extron Pro Series control system, their own in-house AV technicians can do those kinds of [component] replacements, without having to reprogram the control system. It's much easier for them."
Elevating the user experience is at the heart of Vivint Smart Home Arena's renovation. Parker pointed out that the venue has fewer seats than it did before the overhaul process—about 18,300, as compared to the 19,900-plus it seated before—but that the upgraded experience in the new suites and other events areas are intended to offset any revenue diminution related to ticket sales—and, potentially, to increase overall, facility-wide revenue.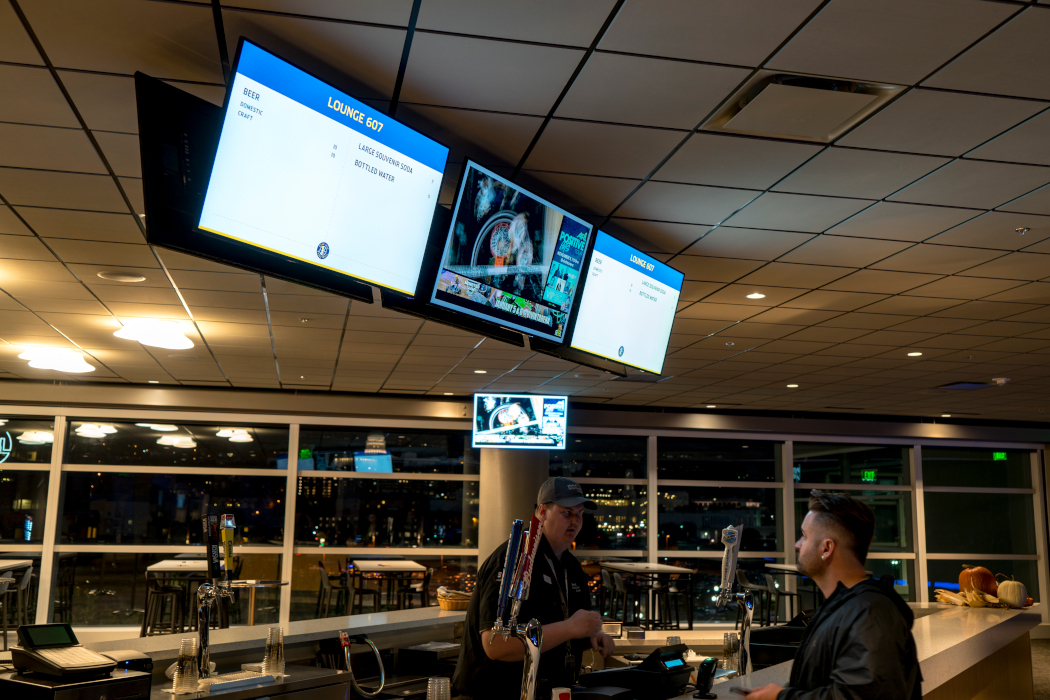 Dalton Parker, Project Manager and Lead Automation Programmer for TVS Pro (and the son of Brent Parker), said timelines/schedules and value engineering were challenges throughout. With respect to schedules, for instance, he recalled that certain ceiling speakers (there are more than 600 speakers in the system…mostly JBL ceiling and pendant types) that are painted to match one style of tiles had to wait for those tiles to arrive before they could be installed. In addition, midpoint cost reductions narrowed the original video matrices in the suites from 32×32 to 8×4 or smaller. "It was scaled back from one-to-one routing to having to put a VITEC IPTV tuner behind each of the eight to 11 televisions in each area," Parker said. "It still provided the feel of a large-scale matrix—of being able to route any video signal anywhere—but it required manual tuning."
Electrical contractor Cache Valley Electric (CVE) installed the Cat5 and Cat6 structured cabling, whereas TVS Pro put in what Brent Parker estimated was about 17,000 feet of speaker wire and another 3,000 feet of control wiring. That's in addition to the television tuners the team connected to the cabling that CVE ran from the IPTV system, as well as VGA and HDMI inputs in the suites. In addition, the entire arena's audio is running on a Dante network that lets each club and suite pull in audio from the arena's PA system; as a result, the real-time sound of the game (versus the broadcast-audio feed, which is also available) can fill the suites. That same Dante network allows broadcasters to plug a microphone into XLR input panels in the coaches' interview room to send audio from interviews out to network feeds. "It's a very versatile system for audio," Dalton Parker affirmed. "They can also send the bowl sound out to the patio around the entrance to the arena to extend the activity inside to people waiting to get in."
It's possible, Brent Parker said, that many of those enjoying the suites are encountering the same AV and control platform they're also using in their offices, as well as in their meeting and event spaces. "The percentage of corporate users has increased among all the people who come to the games, so they'll probably be pretty familiar with a lot of it," he stated.
Although the action on the court remains the focus in sports venues, the concourses that surround the court are having new emphasis placed on them. And, as those concourses become retail, food and entertainment destinations in and of themselves, their AV increasingly reflects that emphasis. "This is not," Fitzpatrick concluded, "what a sports-venue project would have looked like even a few years ago."
Technology Serving The Fans
Given the Extron DTP twisted pair AV systems in several dozen suites surrounding the bowl and in a few "super" clubs at Vivint Smart Home Arena, we sought Extron's perspective on the underlying technologies and products that TVS Pro installed, which serve the arena's loyal and enthusiastic patrons.
The DTP Systems comprise an integration platform that supports 4K, accommodates a variety of video formats and provides all the components that are essential to building commercial AV systems. Because many installations require spanning long distances that are not achievable with native HDMI or Display- Port cabling, the DTP products extend video, audio and control signals using up to 330 feet of shielded Catx cable. Twisted pair cable, which is comparatively economical, can be cut into custom lengths and terminated in the field.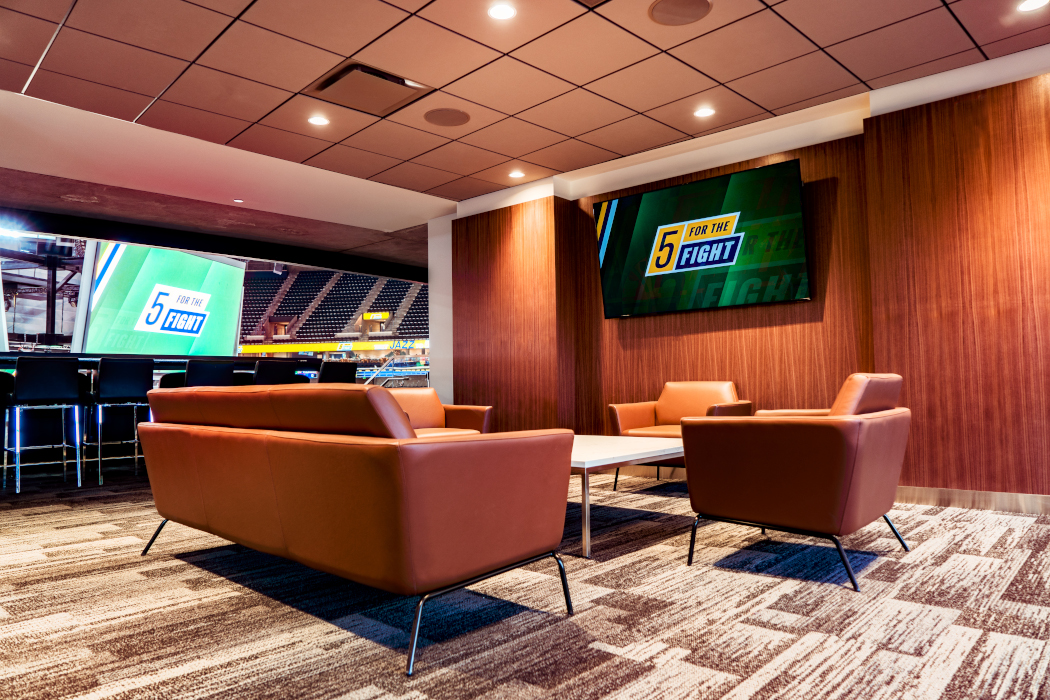 In addition to point-to-point signal extension, the DTP products enable centralized AV switching and distribution, signal processing and system control to function as the AV system's heart. The designer can choose from a range of video switchers, from 2×1 up to 10×8 matrix configurations. DTP distribution amplifiers are in 1×4 and 1×8 sizes. All DTP CrossPoint matrix switchers and 4K presentation switchers feature Extron Vector 4K video scaling technology to convert incoming video signals to match the display's native resolution, facilitating fast video switching and high image quality. This technology incorporates bicubic scaling, 30-bit color depth and 4:4:4 chroma sampling. Vector 4K scaling ensures high image quality while preserving image and color detail from the original source material.
The DTP Systems include extender models in a variety of form factors and video formats. Products are available to support video formats such as HDMI, DisplayPort, DVI, SDI and VGA, at resolutions up to 4K. The DTP products have built-in video conversion to ensure compatibility between any DTP transmitter and any DTP receiver, regardless of video format, allowing designers to build streamlined systems without extraneous adapters or video converters. For situations where maximum signal extension is not needed, there are DTP transmitters, receivers and DAs with 230 feet of maximum signal extension. To control remotely located displays and other video equipment, DTP products transport RS232 and IR signals, along with video, over a single twisted pair cable. Larger DTP switching products, such as the IN1808, IN1608 xi and DTP CrossPoint matrix switchers, have built-in Extron IPCP Pro control processors for an all-in-one solution. The IPCP Pro control processor delivers high-speed processing and abundant control port capacity for customizable control of the entire AV system. This includes all source devices and displays, plus lighting, window shades, projection screens and occupancy sensing.