The Academy Museum of Motion Pictures creates a unique experience.
The earliest surviving motion picture, made in France in 1888, shows four people taking a few sputtering steps; it runs all of two seconds. Not much compared to, say, "The Godfather" or the "Star Wars" franchise, but it was the seed from which entire cultural, economic and entertainment universes grew. That arc is the basis for the Academy of Motion Picture Arts and Sciences' new Academy Museum of Motion Pictures in Los Angeles CA. It's situated close enough to hear a director's call for "action!" in nearby Hollywood CA, where the industry established its current roots a century ago.
Designed as "the premier institution devoted to the art and science of movies and movie-making," the museum's sprawling 300,000-square-foot campus is an architectural blockbuster. Designed by star architect Renzo Piano, it builds on the renovated husk of the Streamline Moderne-styled 1939 May Company building at the corner of Fairfax Ave. and Wilshire Blvd. Embellishments include a titanic spherical addition, housing one of the venue's two cinemas. Inside what has now been dubbed the Saban Building (in honor of its benefactors), between the theaters and dozens of cinema-culture and technology highlights—among them, the massive "Bruce The Shark" model from "Jaws" and a space suit from "2001: A Space Odyssey"—is a paean to what made the movies our collective dream machine.
It's a cinematic celebration that pushes the boundaries of where audio and video technologies can take us—just like the movies do.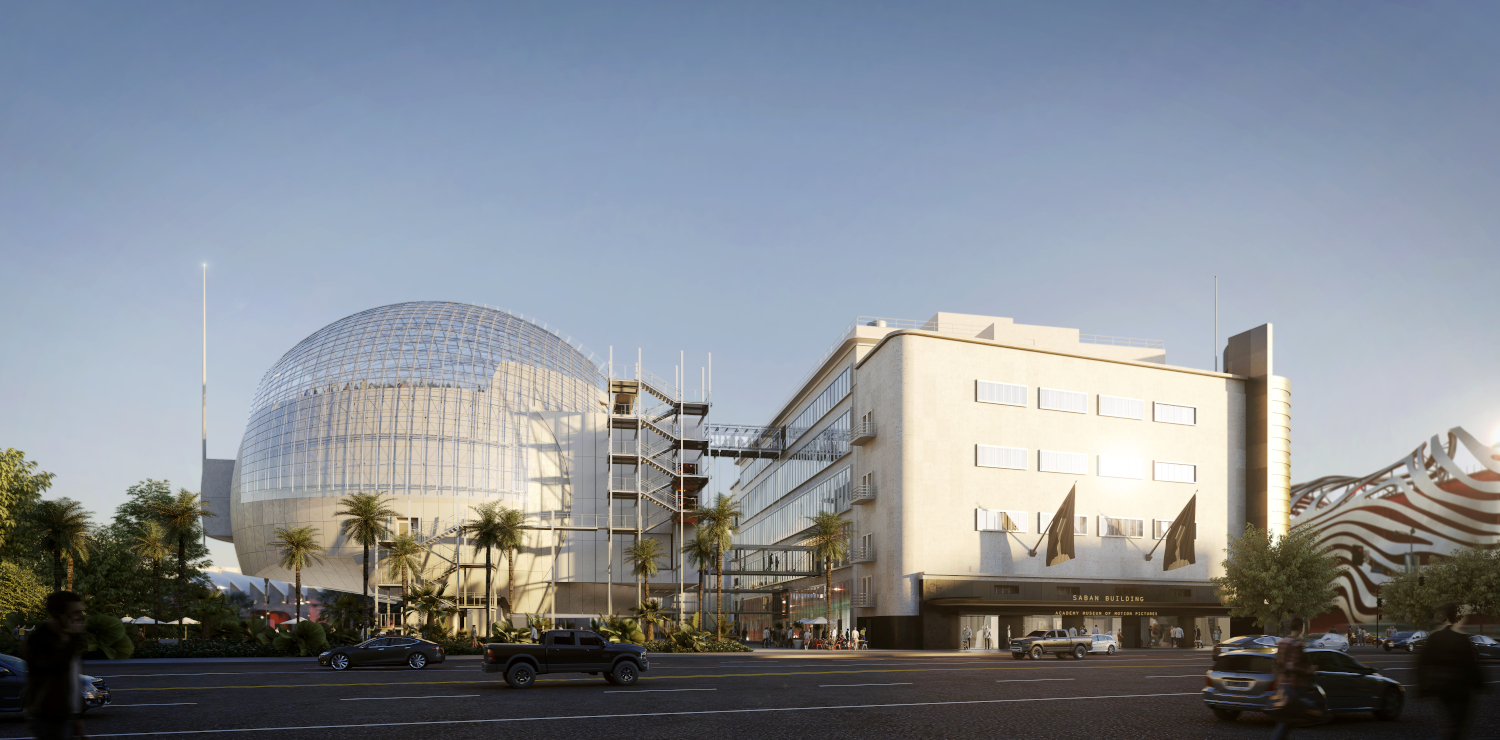 An Acoustical Adventure
Jaffe Holden was tasked with designing the AV systems used both in the 1,000-seat David Geffen Theater, which occupies the massive sphere at one end of the building, and in the 288-seat Ted Mann Theater. Its responsibilities also included the room acoustics, sound isolation, and heating, ventilation and air-conditioning (HVAC) noise control for the entire campus, including the theaters, public spaces, classrooms, exhibit spaces, back of house and museum event spaces. Pro Sound & Video installed and integrated the theater systems, whereas AV integrator Electrosonic handled the exhibit AV as a design/build.
Ben Bausher, who led the AV design for Jaffe Holden, explained that the Geffen Theater was a challenge before it ever left the blueprints. Its globular architectural design seemed at odds with cinema loudspeaker conventions. Both the acousticians and the Academy's Theater Standards Committee agreed that a line-array loudspeaker system would be necessary to fill the cavernous space with sufficient sound. "Typical cinema-sound systems aren't designed for rooms this large," Bausher said. "There are virtually no right angles. And it's very much the design language of Renzo Piano," which seeks to reveal the elements of design—in this case, for instance, the horizontal structural elements that are used as catwalks, which also act as conduit framework for the miles of cable necessary to equip the space with enough wire to feed a huge Dolby Atmos sound system, supported by hollow hangers that transport the cabling vertically.
The line-array system is composed of eight cabinets of JBL VTX A12 speakers per array for each of the five main L-Lc-C-Rc-R arrays behind the 66'x33′ (WxH) projection screen, powered by various Crown I-Tech and DCi Series amplifiers. These main arrays are coupled with dozens of self-powered Meyer Sound HMS-15AC, 500-HP, JM-1P, UPQ-1P and UPM-1P speakers for the side and rear surround and the overhead arrays. The JBL speakers are on a Harman BLU Link network, connected via AES to a Meyer Sound GALAXY 408 processor, as well as via Dante to the Dolby, DTS and SDDS film-sound processors that allow the theater to accommodate major film-sound formats.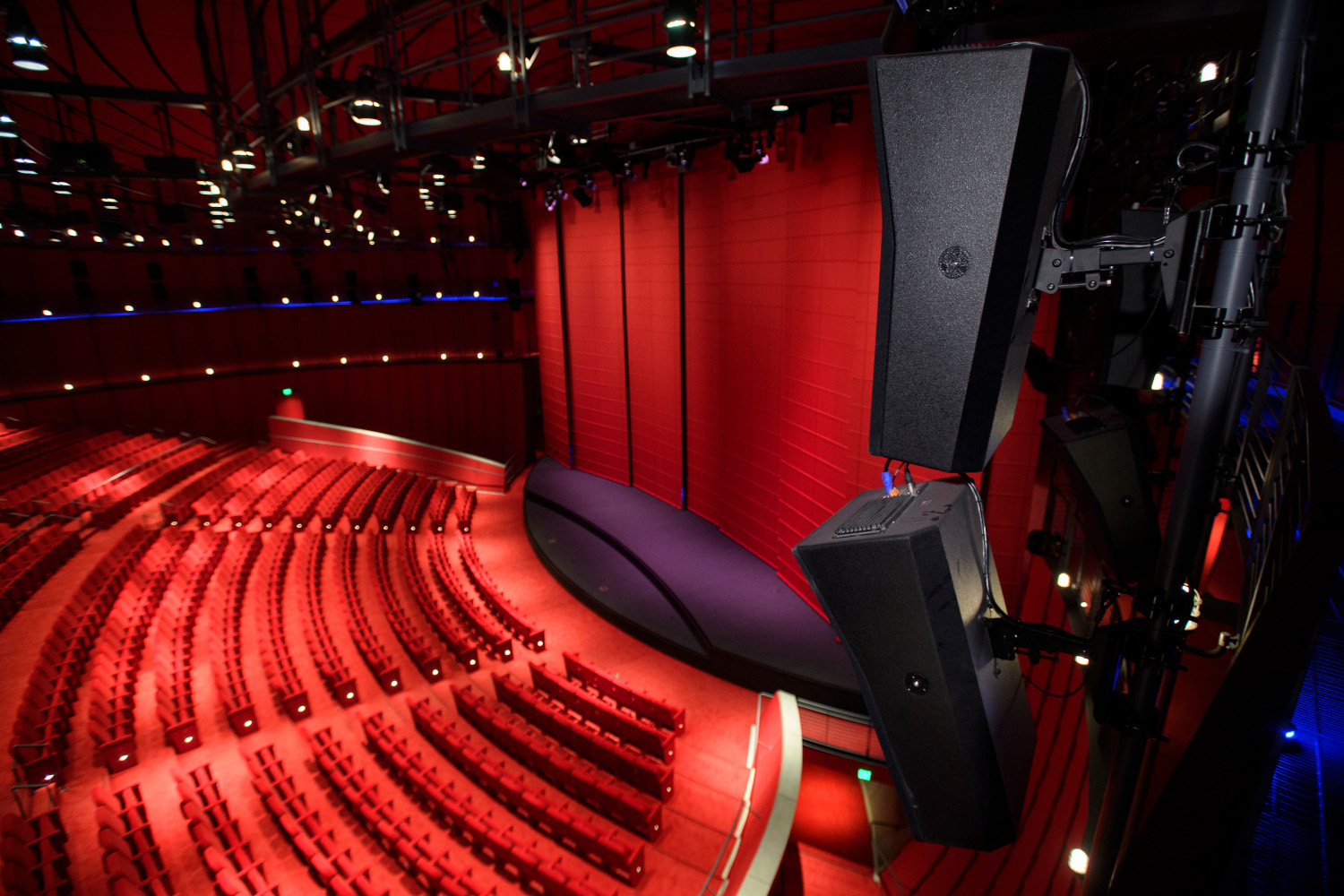 In addition, 10 custom JBL subwoofers are arrayed in a progressive, time-delayed configuration below the projection screen—each sub enclosure is on its own, dedicated driver—to fill the entire space with sufficient and properly time-aligned low-frequency energy to give every seat a consistent experience. "We designed the subs to work like horizontal line arrays to prevent [the] beaming of LF energy in the center of the room and, [instead, to] horizontally distribute it evenly throughout the room," Bausher said. "We'd never done that before in a cinema application, but this project has a lot of one-of-a-kind solutions."
Bausher continued, "We also had to work closely with Dolby on the Atmos specifications because they were designed with more conventional, rectilinear, raked-seating spaces in mind. In fact, when we first saw the plans for this theater in 2015, Atmos itself was still in its first version, so the format underwent its own evolution even as the design of the theater developed."
Baffle Wall
The Geffen Theater's baffle wall presented one of the venue's main challenges. Mark Holden, one of Jaffe Holden's Principals and the Lead Acoustical Designer for the project, noted that, for a project of this scale, it's critical that the AV designer determine exactly who the client is. In the case of the Geffen Theater, it was definitely the Academy's Theater Standards Committee, whose members are the cream of Hollywood's technical crop. "This was going to be the crown jewel for film and film audio presentation," Holden said. And the committee decided that, along with the unconventional use of a line array as the main screen-channel speaker arrays, the theater would utilize a baffle wall.
In cinema sound, this has long been the solution for dealing with reflections and cancellations from the main speaker arrays behind the screen. Screen-channel loudspeakers and subwoofers are usually flush-mounted into the baffle wall to minimize or eliminate energy reaching and reflecting from the rear wall. And a full baffle wall can also reinforce low-frequency energy and provide a 3dB or more increase of acoustical output, without extra amplifier power. However, baffle walls are linear by nature, and it would take some effort to fit one into the curvature of the five line arrays.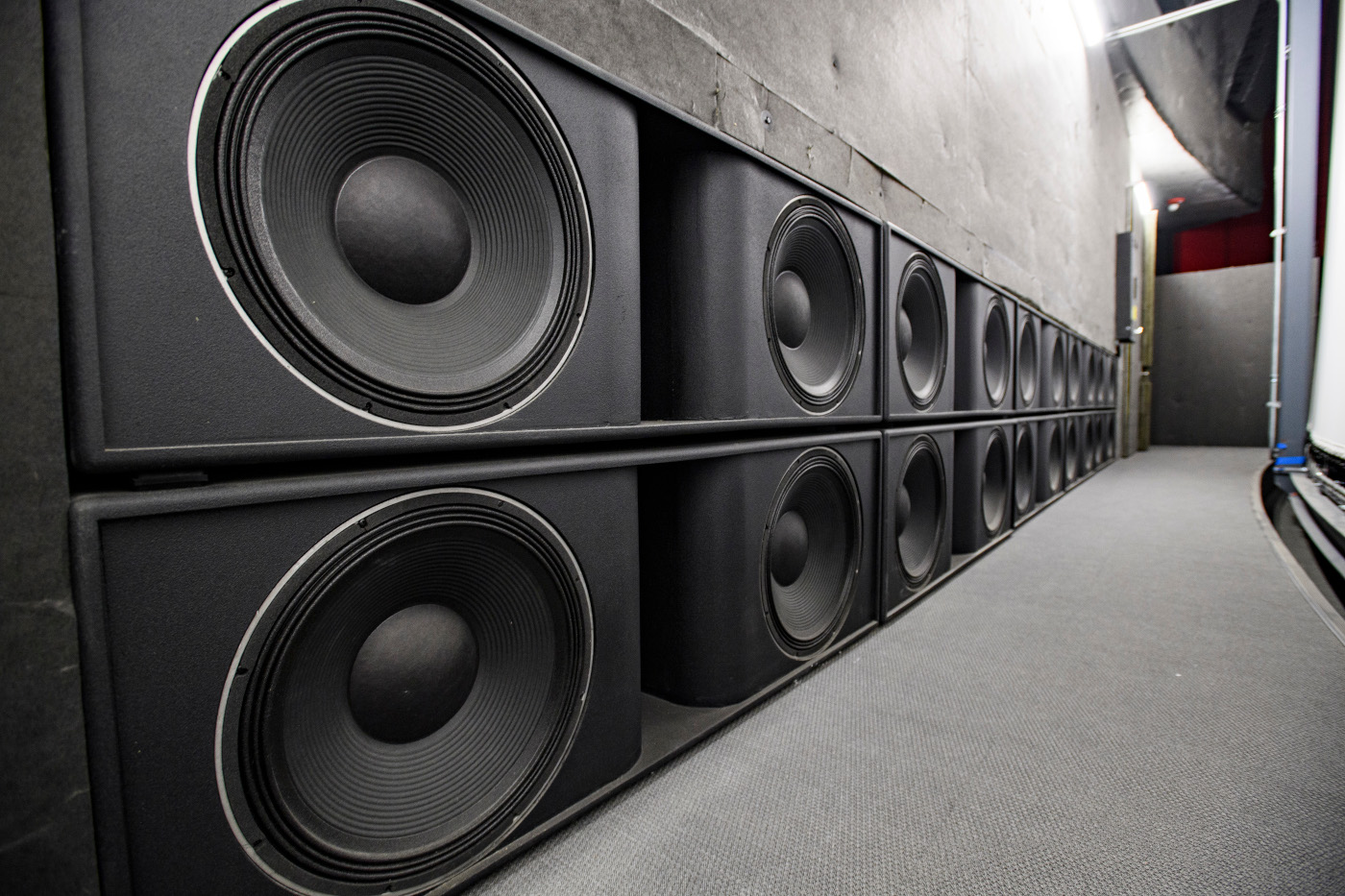 "It was the right way to go, but it was complicated geometrically because of the size and the shape," Holden explained. He related that the solution was to make the baffle wall for the theater thicker and heavier, with layers of gypsum and plywood, and to offset the baffle wall so it coincided with the line array with a slight downward tilt across the vertical axis. "It was heavily damped and covered in fiberglass, and it covers the entirety of the space behind the screen," Bausher added. "It
covers the entire speaker box behind the screen."
The Geffen Theater's projection room is as unique as the rest of the venue is. The large space accommodates an array of projectors that range from three Norelco AA2 units capable of handling 70mm prints—two of them are retrofitted with a fireproof film path to accommodate 35mm nitrate prints—to dual Christie-manufactured Dolby Vision laser projectors.
To the (house) left of the projectors is the theater's Yamaha CL5 front-of-house (FOH) audio mixer, used for live events for the PA, which also uses some of the installed Meyer Sound speakers; on the opposite side is the lighting console. Cabling out of the control room runs to a broadcast connection outside, into which production trucks can tap. "This room is one of the few places left that can handle nitrate film," Bausher remarked, citing a format that dates back to film's beginnings and that hasn't been used commercially since 1952.
The Ted Mann Theater, with its 44'x22′ (WxH) projection screen, could only be called conventional when compared to the Geffen Theater. However, even the smaller cinema has its unique aspects. For instance, whereas the Geffen floats like the bulbous leading end of a spaceship, riding on massive, rubberized pucks that isolate it from street-noise shocks (and Los Angeles' occasional temblors), the Ted Mann Theater is constructed underground. And it's not under just any ground—it's beneath the La Brea Tar Pits, a gooey, methane-rich antediluvian fossil repository. "It's the first time we ever collaborated with a methane consultant," Bausher marveled. They positioned the facility 30 feet below ground using room-in-room isolation construction to shield it from subterranean noise, such as from the Wilshire/Fairfax subway station of the LA Metro's Purple Line, which is slated to open in 2023.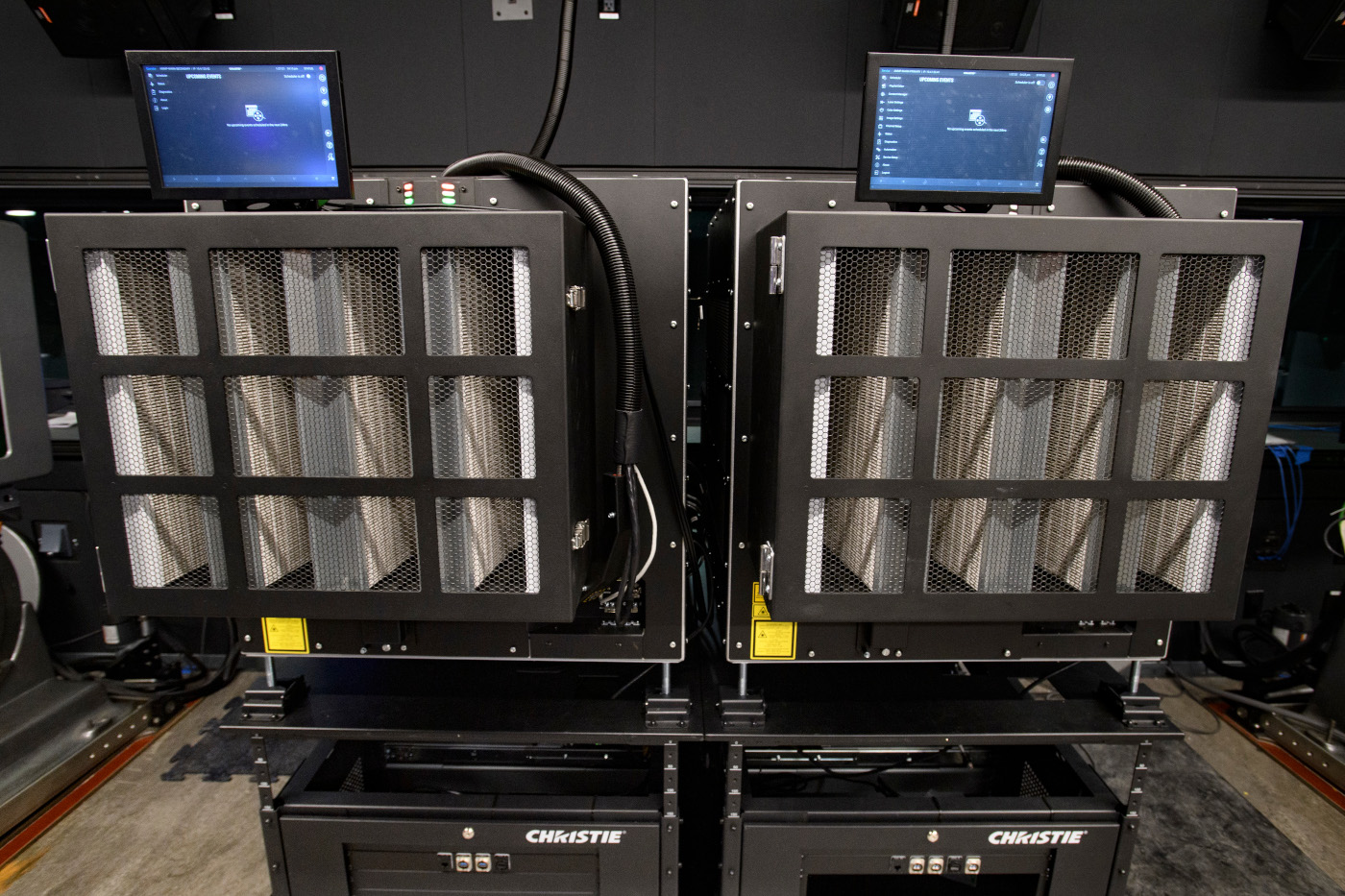 Acoustical Challenges
The acoustics in the theaters were a primary concern, and the radical architecture and sheer size of the Geffen Theater, in particular, would significantly stretch conventional acoustical approaches. "When we got our first look at the spherical room, it gave us pause, but not panic," Holden acknowledged. (He had also worked on other unique acoustical spaces, such as Lincoln Center's Alice Tully Hall, a similarly sized, though conventionally shaped, concert venue also often used for high-profile film premieres, including several of the "Harry Potter" films' US releases.) "It was going to take a lot of work, and it would be tricky," he added, "but we could do it."
The main challenge was the venue's lack of right-angled or parallel walls, whose acoustical concerns, such as flutter echoes, tend at least to be predictable. The spherical interior, by contrast, lends itself to the creation of less predictable and often excessive acoustical hotspots and nulls; this can lead to uneven sound quality throughout the seating area. "In this kind of environment, the unevenness of the frequency responses means that the sound might be louder and more intense nearer the center of the room, and [it] will dissipate as it moves toward the edges," Holden explained. "In the worst case, you can get imaging where the sound appears
to be coming from the ceiling or the walls instead of the screen."
Solving that riddle fell largely to Matt Nichols, the firm's Associate Principal of Acoustics, with Holden serving as the liaison to the Academy's and the architect's acoustical teams. Initially, the space was modeled using the CATT-Acoustic program, in which virtual impulse responses (IRs) were fired at every type of surface used in the theater—from hard walls and glass to absorptive seats and carpeting—to predict reflections. (This even extended to the hollow channels used to clip the stretched fabric, as their cores could create sonic anomalies.) Subsequently, all materials and acoustical solutions were physically tested at the Western Electro-Acoustic Laboratory in Santa Clarita CA.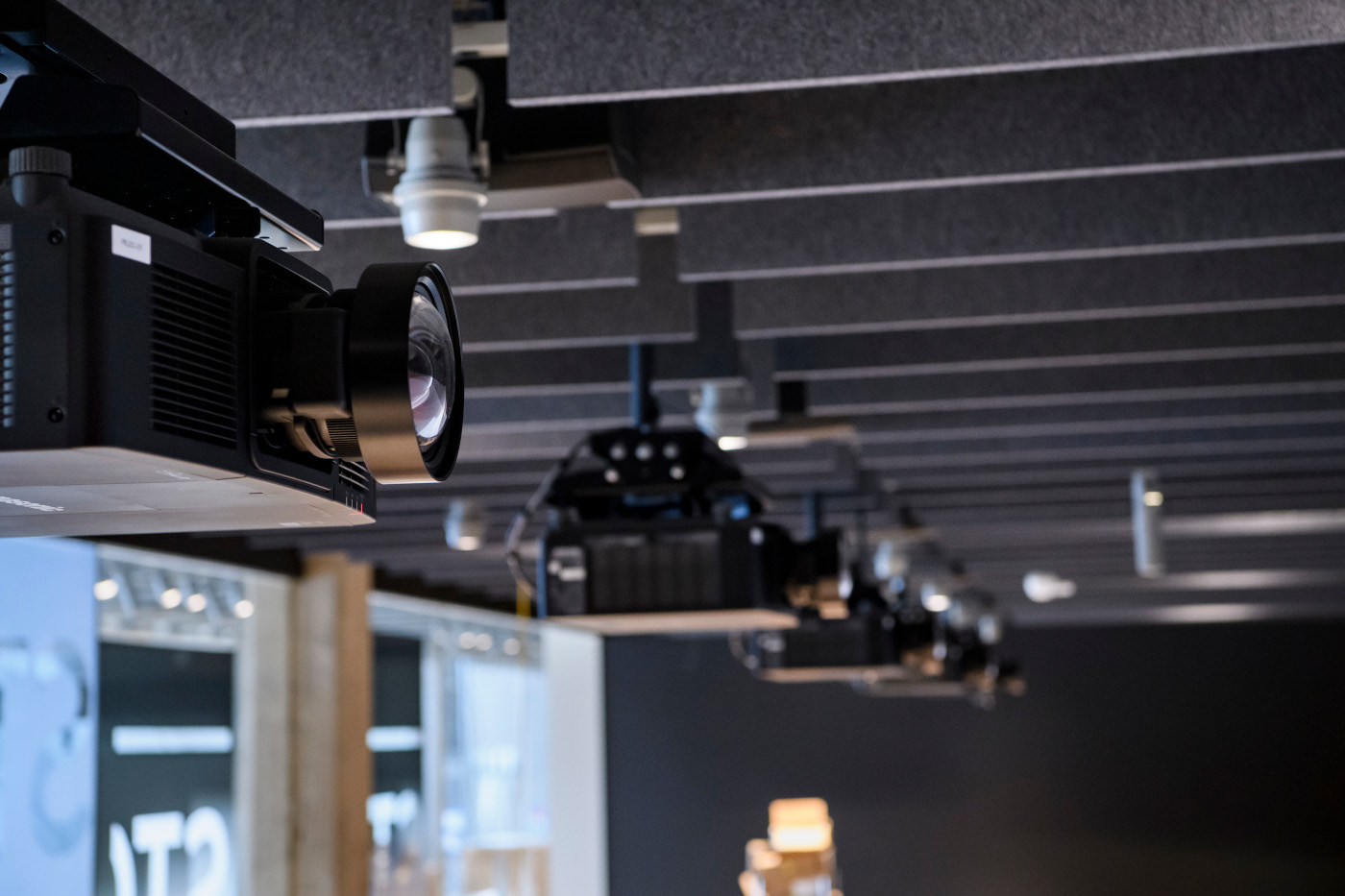 The first mitigation area centered on the low frequencies, of which contemporary films have plenty and which can be exacerbated by the dense concrete construction of the theater. Those were addressed with a series of bass traps in the form of off-the-shelf products heavily customized by Nichols to meet the room's specific needs. Midrange and higher frequencies had focusing issues, which were addressed using RPG's QRD Modfuser 875 diffusion elements, placed behind the stretched-fabric wall coverings and situated based on geometry and nearby speaker positions (something complicated by Atmos' huge ceiling-mounted speaker array). "[It] was important to have symmetry of the sound at each seat," Holden said. Some of the acoustical solutions were further tested to check on their potential to rattle—a real concern with the kind of low-frequency energy that the theater would experience.
"We put them in a room with speakers playing pure sine waves," Holden added. "That's the real acid test for rattles." The Ted Mann Theater underwent similar acoustical vetting. Its underground location also necessitated room-in-room construction and floating floor slabs to isolate it from surface noise and vibrations. Its interior acoustical treatment centers on dozens of custom, 15-inchdeep, wedge-shaped panels composed of both metal and fiberglass. These are clipped to the walls and ceiling, and they were designed by Nichols to absorb and/ or to diffuse at various frequencies.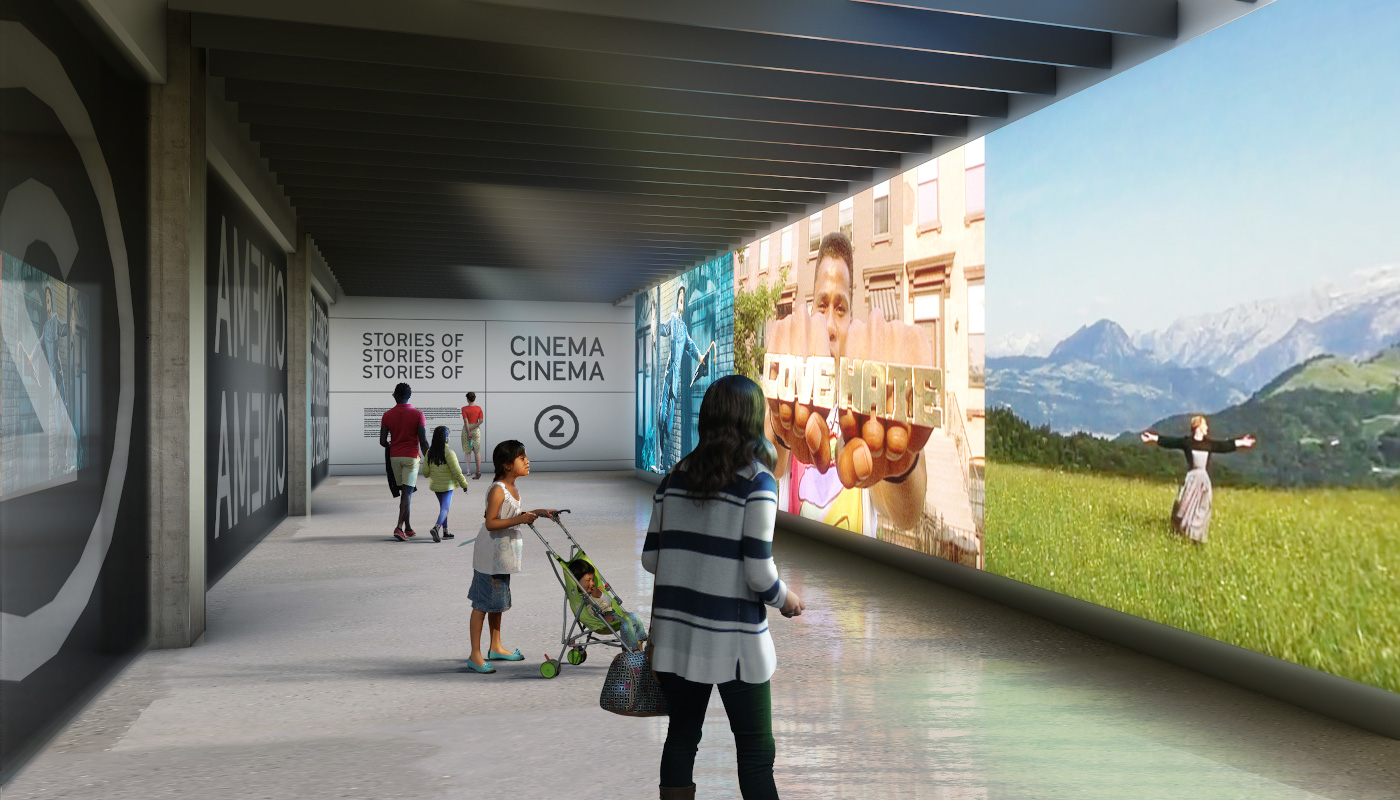 'Stories Of Cinema'
The David Geffen Theater occupies one side of the huge museum campus; a pair of glass-enclosed bridges acts as the transition to the exhibition side of the venue. The
movement between spaces is marked by a change in both visual and aural ambience. Holden described it as "a reveal," going in either direction, from the reverential palace of the theater to the brighter sound and light of the glass bridges and circulation spine.
And bright they are, indeed. Once visitors enter the galleries, they first encounter the introductory corridor to the museum's core exhibition, "Stories of Cinema," a 54-foot-long projected wall illuminated by five Panasonic PT-MZ16KLBU 16,000-lumen WUXGA projectors, equipped with ET-EMW300 0.55-0.69:1 zoom lenses, and using a 7thSense Infinity Media Server with camera-based auto calibration. They are ceiling-mounted between baffles, edge blended and connected via fiber to create a triptych of ever-changing film clips. Visitors are fully immersed in the three montages.
"This was one of the more challenging spaces," Josh Cottrell, Senior Account Manager at Electrosonic, commented. The AV integrator was responsible for the exhibitions' technology, and Cottrell collaborated with the following colleagues: Project Manager Scott Decker, Design Manager Andy Batwinas, Design Consultant Jeff Folschinsky and Project Engineer Peter Alexander. Cottrell continued, "It's one big, floor-to-ceiling blended wall, but the challenge…was that the left side is a glass interior wall that allows a significant amount of daylight to pour into the space. There were definitely some challenges with specifying these projectors. We worked with the exhibition designer [WHY Architecture], producing multiple projection studies to look at [ultra-short-throw] lenses versus conventional lenses. The goal was to provide an image that is the full height of the wall, while minimizing the shadows created by the guests and trying to minimize the amount of keystoning so that we didn't throw away pixels or lumens. We specified 7thSense Media Servers for their superior image quality, auto calibration and control over pixel management so that we can do the warping and blending that's needed for this big canvas."
Cottrell added, "We also supported multiple mockups onsite so the team could determine the proper window tinting needed to address the daylight issue, ensuring that these projected images would look great." The tinting was cleverly incorporated into an Academy-related graphic image, with its gradients calibrated to minimize light intrusion while, at the same time, letting visitors see the projected images through the glass.
The entire museum is managed by Medialon Manager show-control software running within an ISAAC (Integrated Scheduling and Automation Control) platform by Smart Monkeys, which Electrosonic supplied to the museum. ISAAC's Nemesis component is a multi-server, scalable cluster solution with redundancy, and it's used for the content-management system (CMS), global control, monitoring and scheduling of all AV equipment in the facility. "They've been a key partner that we use on a lot of these big projects, including the LAX [Los Angeles International Airport] terminal, the MGM Cotai project [in Macao, China] and several big museum projects," Cottrell said. "We use the Smart Monkeys system because it's robust and fault tolerant. We use it for amusement parks because it's a virtual machine-based control system. So, if one piece of it fails, it's got automatic redundancy."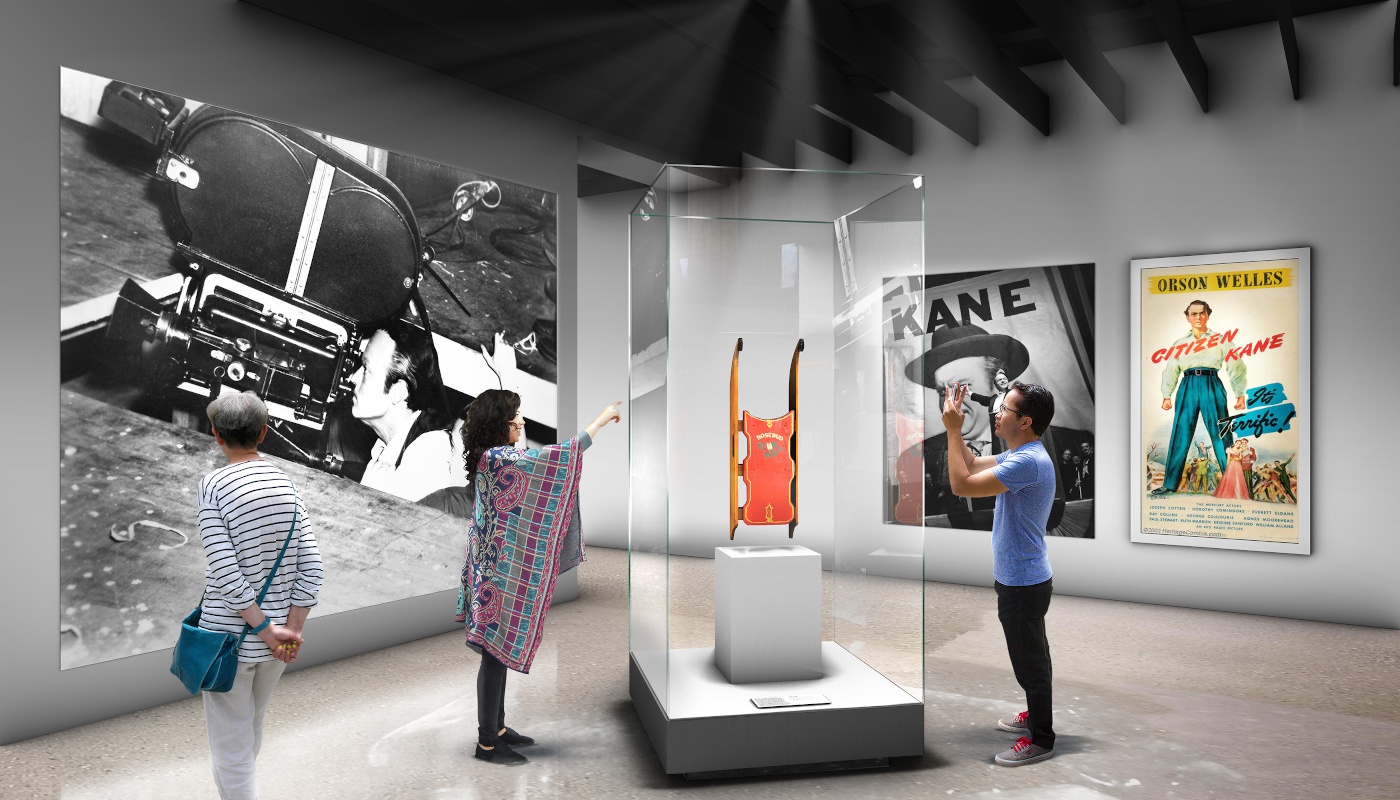 'Citizen Kane'
The "Citizen Kane" vignette in the core exhibition, "Stories of Cinema," is typical of many of the museum's presentations. The central focus is an artifact of the film—in this case, "Rosebud," the protagonist's boyhood sled. Housed in a glass case, the sled is illuminated from above while clips from the film play on one wall. Static period movie posters adorn an adjacent wall. This exhibit utilizes a Panasonic PT-RZ970BU projector with a short-throw, 0.6-0.8:1 zoom lens, which is fed from a 7thSense Pico Media Server. Dakota Audio FA-501 speakers keep each installation's audio from bleeding into other areas. Horizontal sound baffles throughout the exhibition areas, combined with a sprayed acoustical treatment, help to mitigate sound migration further.
Another vignette—this one is an exegesis of Oscar Micheaux's "The Exile"—has similar projections and posters, and it includes a table that contains related artifacts and that's fitted with a 32-inch ELO touchscreen display driven by a BrightSign XT1144 4K player. However, although the infrastructure for interactive functionality is clearly there, it wasn't initially activated; this is an acknowledgment of the ongoing COVID-19 pandemic that has compelled the museum to open five months later than originally scheduled. There are 20 such interactive displays throughout the venue, with some tables having multiple displays.
One expects to see the ruby slippers from "The Wizard of Oz"…and one will see them. They're encased in a vitrine display and surrounded by projected clips from the film, with songs from the enduring musical playing through JBL CBT 50LA-1 columnar line-array narrow-field speakers. More specific audio, from Dakota Audio speakers, is focused on an ELO 32-inch display. Film clips play on one wall, utilizing a Panasonic PT-RZ970BLU projector with a short-throw, 0.99-1.32:1 fixed lens and a 7thSense Pico Media Server.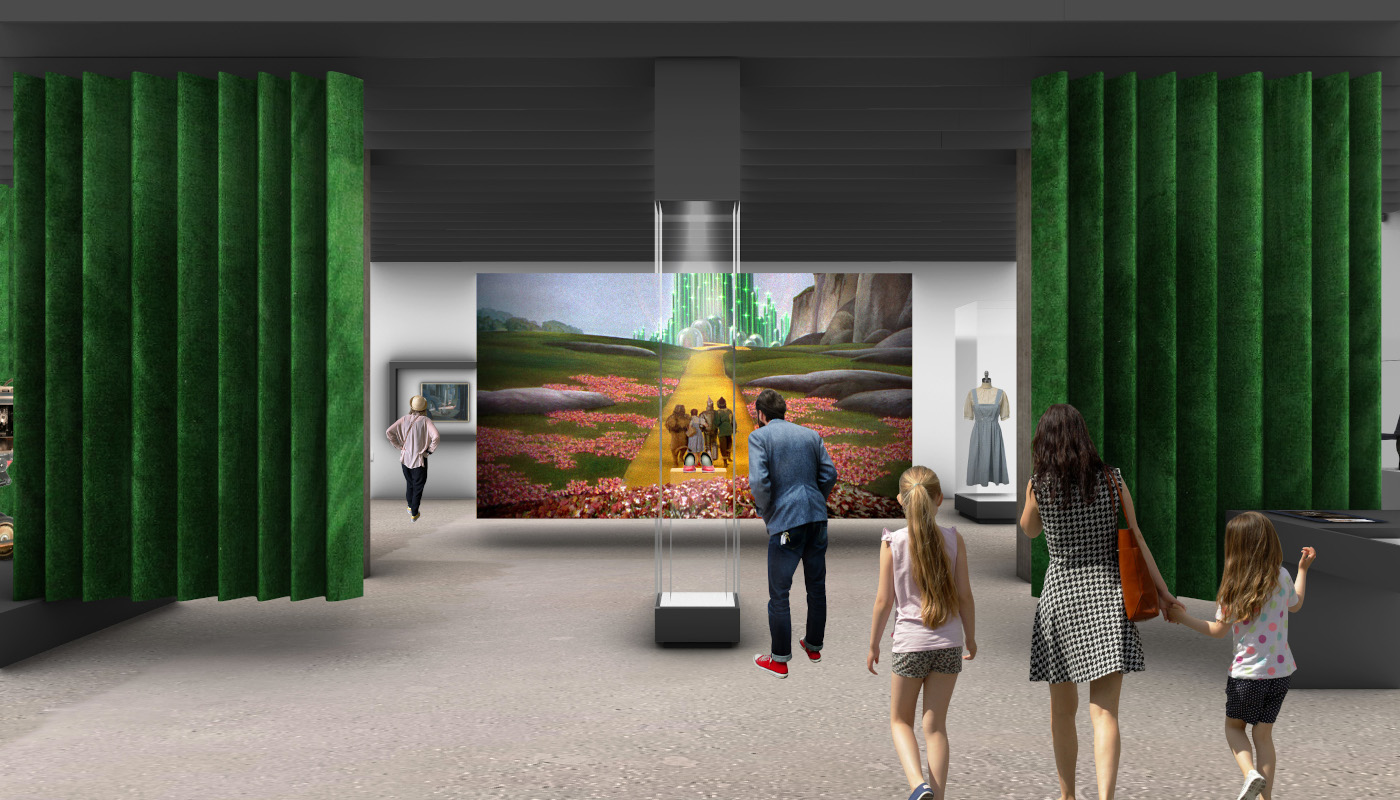 'Inventing Worlds & Characters'
Another installation, "Inventing Worlds & Characters," highlights Hollywood's sci-fi and horror genres; it showcases costumes from "Star Wars," "Alien" and other films. A projected montage illuminates the exhibit's perimeter wall while, simultaneously, music and sound effects from the films play through QSC AD-S6T ceiling speakers. Individual object vitrines, which contain such iconic items as R2D2's and C3PO's costumes, are lit simply by a single pin spot above each. The stark lighting serves to burnish their eminence, but it also speaks to their ephemerality. At one point, projection directly onto the glass cases was considered, which would have put a relevant film clip right next to the object. "But the amount of UV that they can be exposed to is very critical," Cottrell acknowledged. "There are strict lighting conditions involved with those artifacts, so all that projection ended up going away."
Another element of "Inventing Worlds & Characters" is a circular exhibit, 76 feet in circumference, which focuses on extraterrestrial themes. It uses eight Epson Pro L1500UH projectors, equipped with ELPLX02 ultra-shortthrow lenses, clustered in the center of the room to create an immersive effect. The projectors receive their image from a 7thSense Infinity Media Server over fiber, which also acts as the autocalibration solution for this challenging space. "The acoustics of the space were a big challenge, because it's cylindrical," Cottrell remarked. "So, a perforated, 320-degree screen had to be installed. [We] worked with [fabricator] Cinnabar to custom specify the curved,
perforated screen for this area, [which] is critical to the acoustic properties of the space. Meyer Sound specified the use of nine Meyer Sound ULTRA-X20 speakers positioned just above the screen, surrounding the room, so sound effects can move around the space. One [Meyer Sound compact] Amie-Sub located in the ceiling delivers the low end."
Each individual gallery has its own unique needs, Cottrell said. "Electrosonic has worked with the Academy since 2013 to fuse architecture, storytelling and technology together to realize this amazing exhibition. We specialize in the art of engineering that was essential to bringing the creative vision of the Academy to life." This close partnership offered Electrosonic the opportunity to work with multiple exhibition designers during the four-year period they were actively designing the project.
"Working with the Academy team, led by Shraddha Aryal [VP, Exhibition Design and Projection] has been fantastic through this multiyear process," Cottrell said. "She has provided the leadership and guidance that has kept us on track, [as have] Christopher Richmond [Senior Manager for Exhibition AV] and Ken Viste [Manager, Exhibition Project] through all the design revisions and challenges that have been presented during this time. The museum has taken a number of different paths as they changed creative direction, and we've been able to work with them to maintain a consistent palette of equipment."
Cottrell continued, "In one case, we had fabricated all the racks, and they were ready to be installed. And then, the museum decided to change direction [for that exhibit]. So, we had to work with them to utilize all the equipment we had already purchased while still being flexible enough to deliver the visuals that they were looking for."
"This museum is not going to have these same exhibitions for all its life—it's going to evolve," Cottrell added. Likewise, so, too, must the products. "We consider their life spans, what accessories they have and how easily they can be redeployed in different situations," he emphasized. "We had to ensure future flexibility."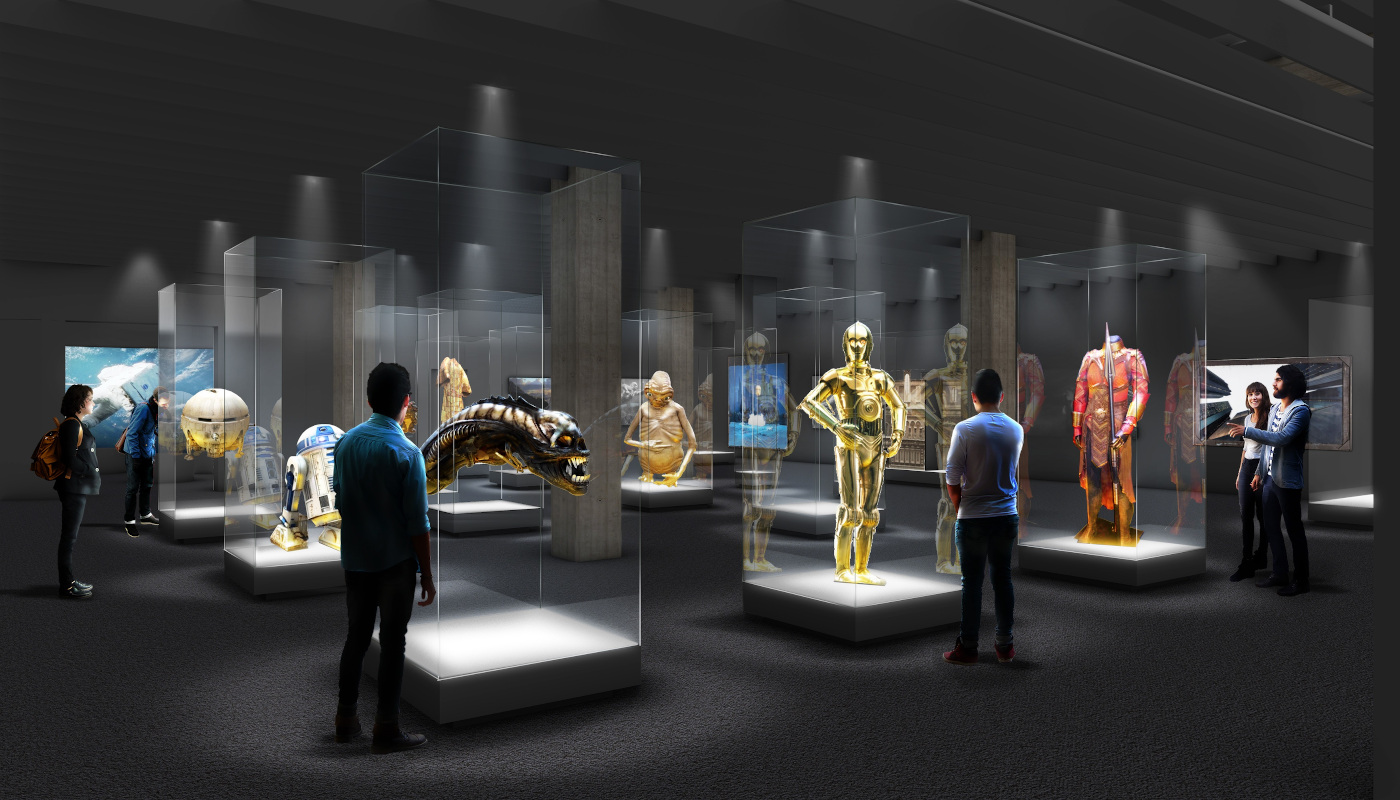 Networked Audio
The audio is networked, mainly over fiber and using the Dante protocol into a QSC Core 510i Q-SYS integrated core processor, routed through the main AV equipment room in the building's basement. "Everything is on Dante," Cottrell said. "All audio from the exhibition-located video servers is transmitted via Dante down to the basement to the QSC DSP, and then it gets pushed back out to the QSC CXD8.4Qn amplifiers located on each floor, or directly to a Dakota speaker via Audinate Dante adapter."
Cottrell continued, "We did choose to put a lot of the 7thSense Pico Media Servers right next to [their] associated projectors in order to save on fiber infrastructure and those expensive extenders. Because the Pico is so compact and doesn't have to live in a rack room for environmental reasons, it made sense that we could locate those out in the field, along with the BrightSign players. All the media players are connected to the AV network for control and content distribution." The ISAAC Nemesis is available via Wi-Fi to the museum's technical staff, who access it throughout the facility on tablets and smartphones.
For the exhibition's finale, guests will exit the level-three exhibitions by passing through a long hallway of quotes called "The Future of Cinema." The 35-foot-long hallway is covered with 10-foot-high, 12mm LED screens on both sides. "ROE Visual MC-12H LED displays were perfect to deliver these large, movingtext images that envelop the guest," Cottrell declared. "A portion of these displays were set up at ROE Visual [in their Chatsworth CA location] so the Academy Museum team could get a sense of the full scale of these massive displays, and [so they could] test media months ahead of the onsite installation. The media is provided by two BrightSign XT1144 media players that are synced together."
Cottrell concluded, "Electrosonic designs, builds and supports innovative technology solutions that create lasting experiences where people live, work and play. The Academy Museum is a place where Electrosonic has been a key team member in making imagination come to life. [The people of Los Angeles] can get out of their homes and come enjoy all these great, iconic movie experiences through sound, imagery and physical artifacts."
The Academy Museum of Motion Pictures is slated to open this coming fall, by which time the pandemic—which has often seemed to feel like its own horror flick—will have been largely corralled. And that's good, because we all love it when a movie has a happy ending.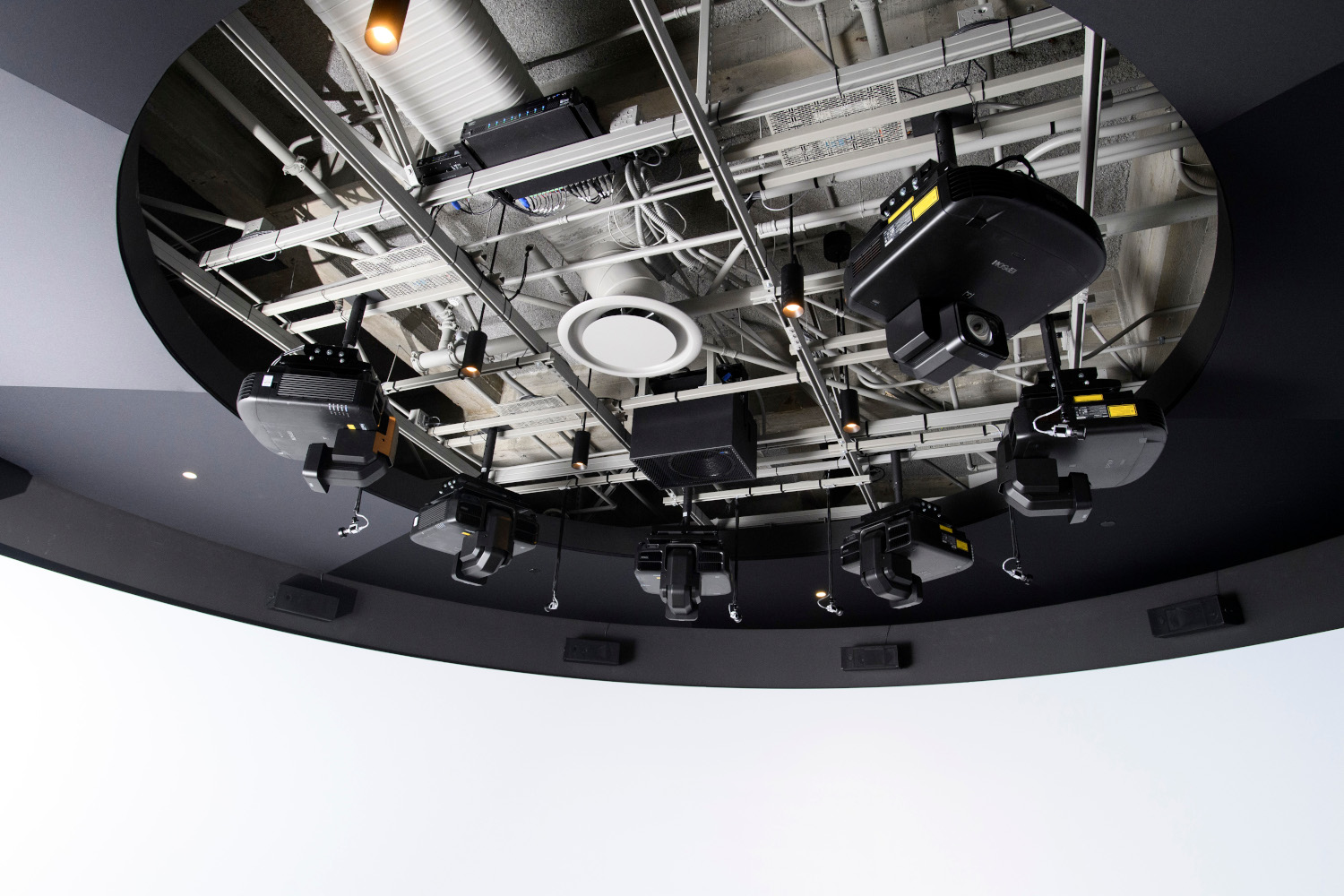 Making Choices
Designing and deploying audio and video technology for a museum is a highly specific challenge in itself. Doing so for a museum that celebrates a medium that relies on both existentially is sui generis. Christopher Richmond, the Academy Museum of Motion Pictures' Senior Manager for Exhibition A/V, brought a combination of years spent in art and natural-history museums to the challenge. Plus, he has an academic background in film production and studio artistry, as well as having had a stint as a multimedia specialist for Caltech. And this project was still a bit of a stretch even for him!
"Film is unique," he opined. "There are not a lot of models out there to emulate." He described his position as being the intermediary between the AV designers and integrators on one hand and the museum's curatorial leadership on the other. The challenge, he said, was to "find the best way to translate the desired experience into a technology framework."
Some of the decisions had to do with making technologies from different eras flow into a seamless narrative for visitors. (One example: the need to address a wide range of picture aspect ratios, running from the 4:3 of early films to the modern anamorphic 2.39:1 widescreen format.) Other considerations were both fundamental and serendipitous. Although headphones have become a staple of museum interaction for visitors, Richmond said the Academy Museum wanted to avoid them; the feeling was that they would detract from the essence of the cinematic experience, in which viewers share a space with sound, picture and each other. "It turned out to be a good decision for another reason, after COVID-19 [the novel coronavirus] came along," he added.
Still other instances use AV in ways that are almost counterintuitive, but artistic. For the exhibition's finale, called "The Future of Cinema," guests pass through a 35-foot-long hallway. Quotes from directors and other filmmakers scroll before visitors' eyes. The 10-foot-high LED screens are within feet of visitors, but the decision was made to use a relatively coarse 12.5mm pixel pitch. This nicely simulates the graininess of actual film, though. It's both, Richmond said, an effect "and effective."
Operationally, the museum's theaters—the 1,000-seat David Geffen Theater and the 288-seat Ted Mann Theater—are as unique as their AV designs and complements are. Both utilize a bespoke control system, using IHSE KVM routing and developed jointly by the museum's technical staff, the production-services engineering team at Dolby and the Academy's standards group. The controllers—Crestron touchscreen-based units whose screens are 15.4 inches—operate everything from the varied assortment of projectors to house lighting and curtains. They're also very specific to a projection-room environment, Ethan Caldwell, the museum's Manager of Theater Operations, stated. "There are raised buttons on the units for different functions," he explained. "Projectionists have to keep their eyes on the screens for cues, so the [user interface] is designed to be tactile. [They can] operate the system from muscle memory."
Noting the size of the projection rooms—the Geffen Theater's is several hundred square feet and encompasses the venue's audio and lighting control stations—Caldwell said they can handle most film and film-sound formats and ready the theaters for a variety of functions. "Compared to a typical projection room, which is the size of a postage stamp by comparison, these are very dynamic spaces," he affirmed.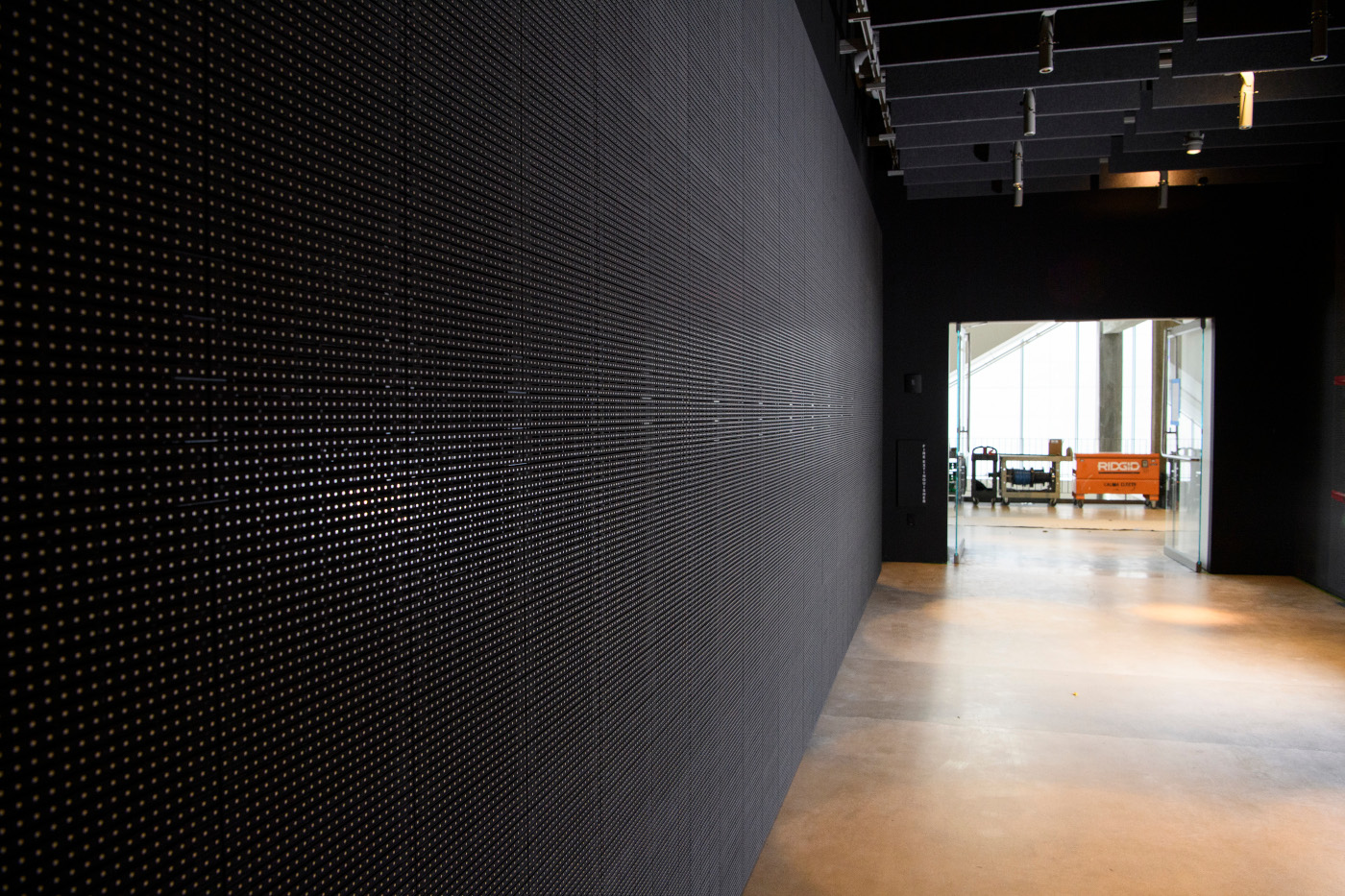 KEY EQUIPMENT
Geffen Theater (audio systems)
Crown DCi 2|300 2-channel, 300W @ 4Ω analog power amps (70V/100V)
Crown DCi 4|300N 4-channel, 300W @ 4Ω power amps w/BLU link (70V/100V / EN
54-16 compliant for life-safety applications)
Crown DCi 8|600N 8-channel, 600W @ 4Ω power amps w/BLU link (70V/100V)
Crown I-Tech 12000HD 2-channel, 4,500W @ 4Ω power amps
Crown I-Tech 9000HD 2-channel, 3,500W @ 4Ω power amps
JBL ASB6128 high-power subs (2×18″ 2242H SVG drivers)
JBL VTX A12 dual 12″ line-array speakers w/90° dispersion
Meyer Sound 500-HP compact high-power subs
Meyer Sound GALAXY 408 network platform
Meyer Sound HMS-15AC high-power cinema surround speakers
Meyer Sound JM-1P arrayable speakers
Meyer Sound UPM-1P compact, self-powered, sound-reinforcement speakers
Meyer Sound UPQ-1P self-powered wide-coverage speakers
Yamaha CL5 front-of-house audio mixers
'Stories of Cinema' (intro corridor)
7thSense Infinity Media Server
Panasonic PT-MZ16KLBU WUXGA large-venue projector
Panasonic ET-EMW300 0.55-0.69:1 zoom lens
'Citizen Kane'
7thSense Pico Media Server
Dakota Audio FA-501 directional audio arrays
Panasonic PT-RZ970BU WUXGA large-venue projector
Panasonic short-throw, 0.6-0.8:1 zoom lens
'The Exile'
BrightSign XT1144 expanded I/O players
ELO 3243L 32″ full-HD open-frame touchscreens
'The Wizard of Oz'
7thSense Pico Media Server
Dakota Audio FA-501 directional audio arrays
ELO 3243L 32″ full-HD open-frame touchscreens
JBL CBT 50LA-1 Constant Beamwidth Technology line-array column speakers
Panasonic PT-RZ970BU WUXGA large-venue projector
Panasonic short-throw, 0.99-1.32:1 fixed lens
'Inventing Worlds & Characters'
7thSense Infinity Media Server
Epson ELPLX02 ultra-short-throw lenses
Epson Pro L1500UH WUXGA 3LCD laser projectors w/4K enhancement
Meyer Sound Amie-Sub compact cinema subs
Meyer Sound ULTRA-X20 compact, wide-coverage speakers
QSC AD-S6T surface-mount speakers
Networked Audio
Audinate ADP-DAI-AU-2X0 Dante AVIO 2-channel analog input adapters for Dante audio network
Audinate ADP-DAO-AU-0X2 Dante AVIO 2-channel XLR analog output adapters for Dante audio network
QSC CXD8.4Qn networked amps
QSC Core 510i Q-SYS integrated core processors
'The Future of Cinema'
BrightSign XT1144 expanded I/O players
ROE Visual MC-12H LED displays
This summary of key equipment is derived from complete equipment lists provided by Jaffe Holden and Electrosonic.
To read more installation features from Sound & Communications, click here.