Chase Center, which opened in September in San Francisco CA as the home of the six-time National Basketball Association (NBA) championship-winning Golden State Warriors, is everything you'd expect from a contemporary California venue. It boasts quintessential amenities such as a 4,000-square-foot weight room, a sauna, a theater, a cryochamber, a barbershop, a kombucha bar and nap pods. More relevant to us, it also includes state-of-the art AV systems that would make techno-slick Silicon Valley envious, including an all-IP video infrastructure.
Notably, Chase Center, which boasts 18,064 seats, isn't content just to be leading edge; it also succeeds in the size department. The crown jewel in an LED-display-heavy environment is its massive center-hung scoreboard, which measures 82'9″x52'8″x47'8″ (WxLxH) and which is composed of 17 individual displays; the entire fixture weighs approximately 165,000lbs. No one is saying "scoreboard war" yet, but Chase Center's big picture raises the stakes in what has become an upward-spiraling arc to make sports-venue scoreboards almost as big as the games themselves.
In fact, Chase Center's massive display—fabricated by Prismview, a Samsung Electronics company, and installed by Canadian rigger Summit Swing Stage—is nearly as big as the basketball court below it, Scott Heitman, Director of Scoreboard Operations for the team and the venue, commented. "When the court is in place and the scoreboard is hanging over it, it looks like it has almost the exact same footprint as the court," he remarked.
The scoreboard can be taken up into the ceiling almost completely and then covered by 79-foot-long retractable gantry boards, which themselves are fitted with LEDs and can reproduce graphics and other information. Alternatively, it can be lowered to within four feet of the floor, allowing its displays to be used as backdrop screens for presenters involved with corporate and other non-sports-related applications the venue is intended to support. For safety reasons, control of the scoreboard's position is a two-person operation. It's done from the catwalk above or by using a remote device that can be plugged into a specialized outlet on the floor installed for that purpose.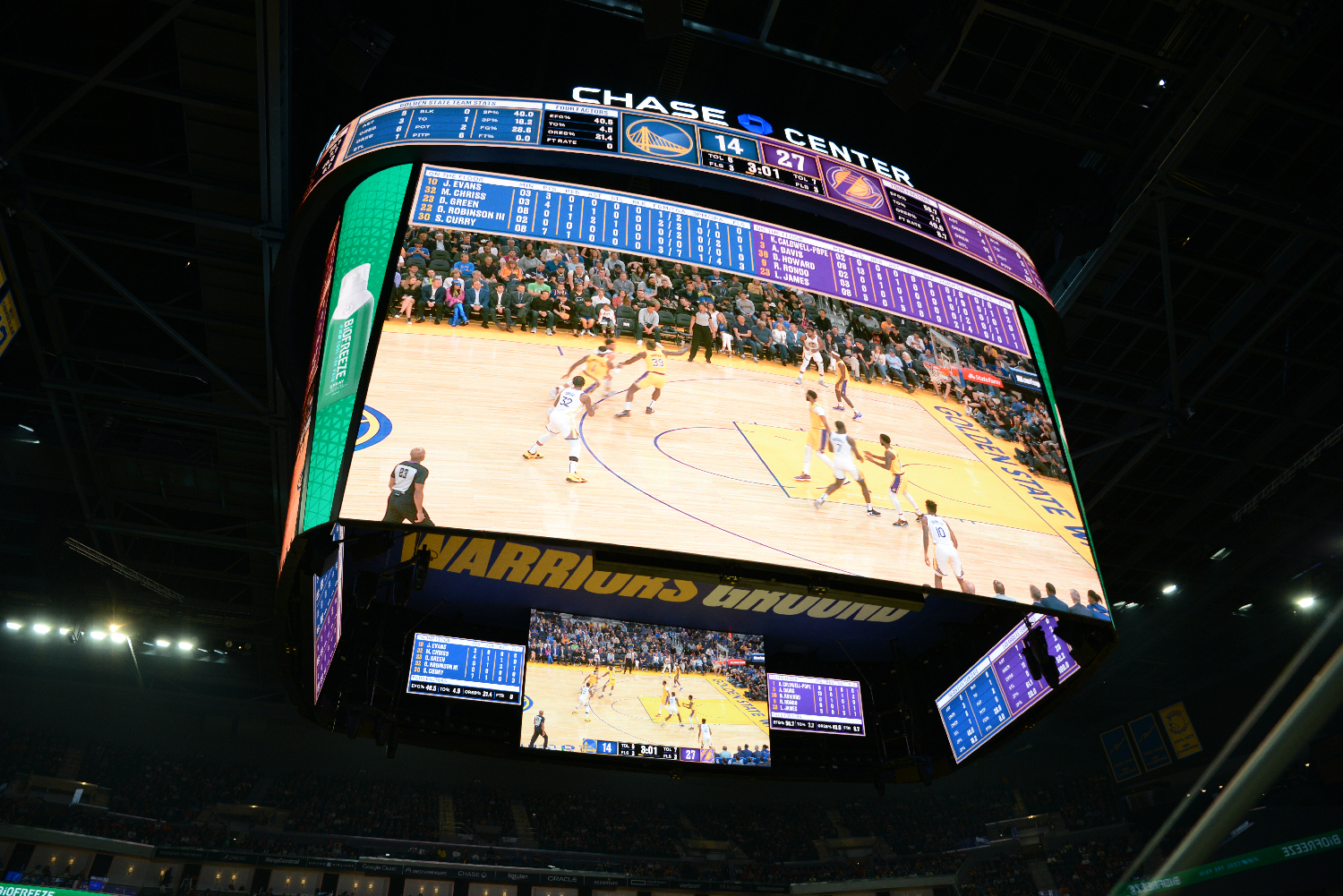 Even when the huge 1080p/6mm-pixel-pitch display hovers in place for games, its design takes into account that its main screens might not be fully visible from the uppermost seating areas and courtside seats. Therefore, it's crowned by a curved "halo" screen that encircles the top of the main display and that's fitted with several smaller screens within the base of the structure, angled downward.
"A lot of thought went into the architecture of the venue and the screen within it," Heitman noted. "The challenge for large sports scoreboards like these is how to make them big but still let every seat see the information on them without visually obscuring the game itself."
The decision to go with 1080p standard dynamic range (SDR), as opposed to high dynamic range (HDR), reflects the long-term nature of sports-venue AV planning. Heitman said that HDR at this scale was still in its early stages when Chase Center was in its initial design phase. However, AV integrator Diversified, which built and integrated the venue's control room, provided for HDR content capability. (Another AV integrator, Parsons Technologies, integrated Chase Center's network infrastructure, fiber cabling, extender connections and main sound system, executing a design created by consultant WJHW.) Returning to HDR, Heitman said, "It would just be a matter of changing out the displays to accommodate [that] in the future."
A 68'x38′ wall-mounted trapezoidal display at the venue entrance—also 1080p and with a 10mm pixel pitch—is used for digital-signage applications. It looms over a public plaza and it's in use almost constantly, promoting events and public-service announcements (PSAs). In a sense, it gives the arena a civic connection to the neighborhood around it.
Other large-scale uses of LED display technology within Chase Center include an LED wall near the box office and an LED backdrop for the post-game interview room.
SMPTE ST-2110 Standard
Although the arena's video played it relatively safe by sticking to 1080p, both its audio and its video are benefiting from the SMPTE ST-2110 standards suite that specifies the transport, synchronization and discovery functions of audio and video over IP networks, in real time, for live production. Imagine Communications installed the network, and it rides on Arista network switches.
"The 2110 standard is especially useful for our in-house production because it enables us to de-embed any individual audio tracks from the video," Heitman observed. "It saves on bandwidth and gives us more flexibility for productions."
The deity-like center-hung scoreboard seemed to touch every part of the project. It even has part of the arena's extensive sound system (soon to be detailed) embedded underneath—namely, the JBL AM7212 loudspeakers that are arranged in two orientations: one firing directly downward onto the court for pre-show dancers to warm up the crowds, and one covering the first several rows of courtside seating as fills. The scoreboard and the rest of the venue's AV would be muted and dark, however, without the extensive cabling infrastructure that Parsons Technologies installed. The company also handled the distributed audio throughout the suites, clubs, concourses and other back-of-house areas.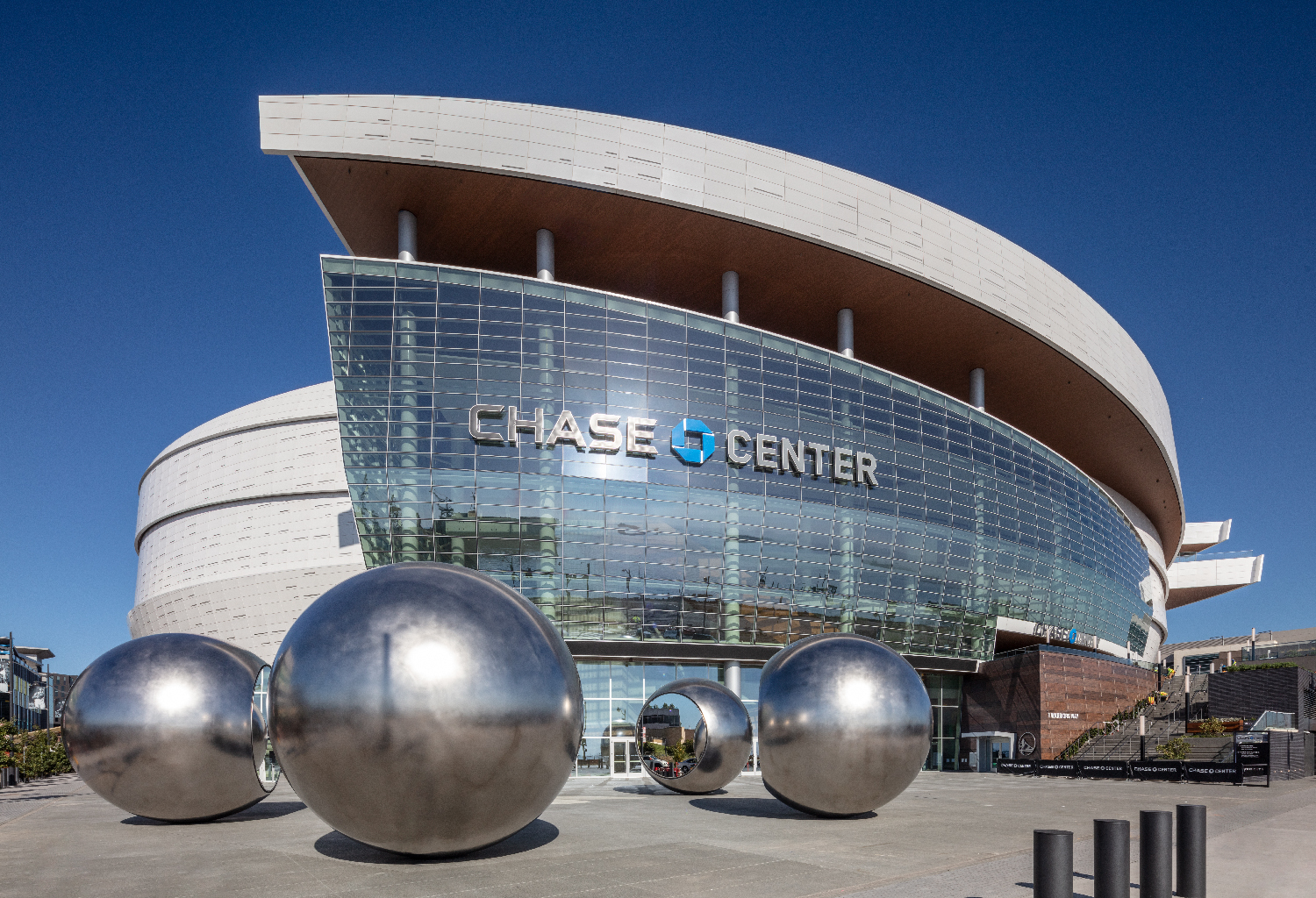 Cable Backbone
"Almost every system in the building, including every networked endpoint and device, all the speakers in the building, all video transport and all broadcast, operate on portions of the cable backbone we installed," Erik Carlson, Parsons Technologies' Construction Executive for sports and entertainment, stated. For the broadcast system, much of that backbone centers on Belden SMPTE 311M hybrid cable. Designed for high-definition cameras, these composite cables, which include two single-mode fibers and four copper conductors, can multiplex audio signals and video signals as well as deliver power to the cameras.
The cabling scheme also enables a recent dynamic in which sports venues not only create more broadcast-quality productions in house, which are shown on their big screens, but also share their self-produced packages and raw AV with the broadcast-television remote-production trucks that are parked in the venue loading docks. "Along with a lot of triax cabling, the backbone lets the content move seamlessly between the bowl and the national or local [broadcast] networks," Carlson stated. "There's more and more sharing of the production [elements] going on between the venue and television. The building was designed [for that], and Parsons installed the cabling infrastructure to allow Chase Center to be as flexible as possible."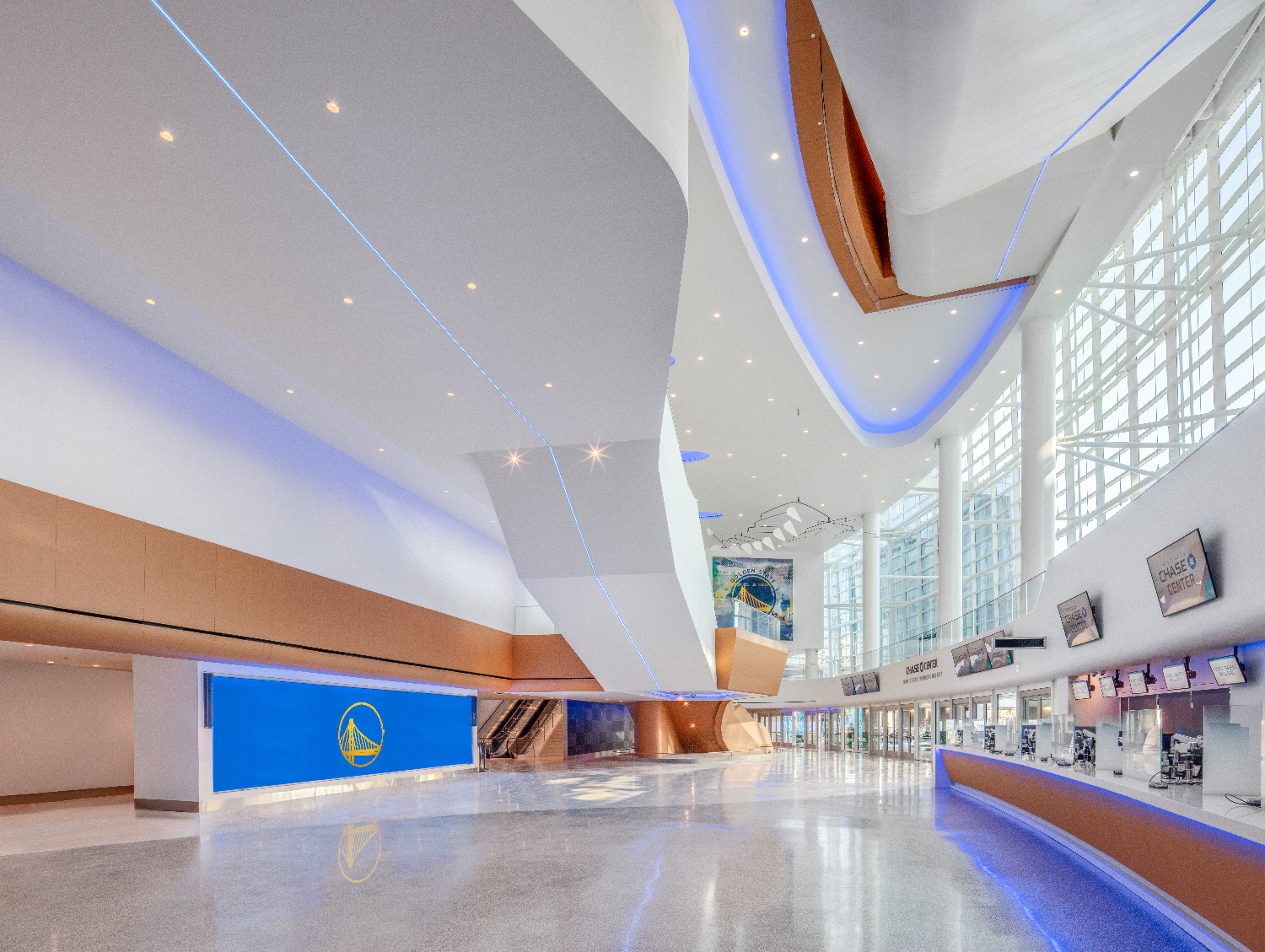 'Cabling Highway'
What Carlson described as the venue's "cabling highway" runs in conduit from the truck dock and the control room to various broadcast boxes around the venue; from there, they move onto cable trays that circumnavigate the operational and fan concourses. All the AV is networked on this highway, with Audinate's Dante used as the transport mode for the audio, which extends from the high-flying line arrays above the bowl to the ceiling speakers in the lounges, restaurants and restrooms.
The main sound system centers on JBL VTX speakers. It's composed of eight main arrays, each of which consists of six JBL VTX V20s, and three JBL ASB6128Vs around the center-hung scoreboard, all on a chain-hoist system. In addition, four fill arrays of six JBL VTX-V20s are flown at the north and south ends of the building for mid-level fills. Power comes from Crown DCi Series amplifiers, with Dante-enabled BSS BLU DSPs.
Although Heitman said the architectural design of Chase Center's dome helps to minimize the kinds of sonic reflections typically encountered in arena spaces, Parson's Carlson said that some acoustical treatments were implemented. Specifically, those are perforated-metal panels with absorptive-batting backing placed on the rear walls and designed to cut down on reflected sound, acoustical baffles that cover much of the ceiling deck and bass traps at the top of the bowl that are designed to absorb excess low-frequency energy build up. Benefiting from precise aiming derived from an EASE program analysis, the house sound system delivers highly intelligible speech—something that's usually a substantial challenge for roofed sports venues.
Indeed, JBL's VTX speakers are considered "rider friendly," meaning they're acceptable to most major touring acts. During most concerts, the house upper delay speakers are employed to cover the uppermost seating areas. "The VTX is a great speaker for sports venues," Carlson enthused, noting that Parsons has also installed them in the Milwaukee Bucks' Fiserv Forum. "They have great intelligibility, but still sound awesome musically."
A BSS BLU DSP system lets individual back-of-house areas determine which audio feeds they want use; these can range from bowl sound, to network television audio, to local radio. Carlson said that kind of flexibility is in keeping with the venue's desire to make individual spaces somewhat autonomous while still creating an immersive game-day experience. "Local managers can choose audio sources using the Crestron wall panels, or the main control room can control them all from a single location using the BSS DSP control," he explained.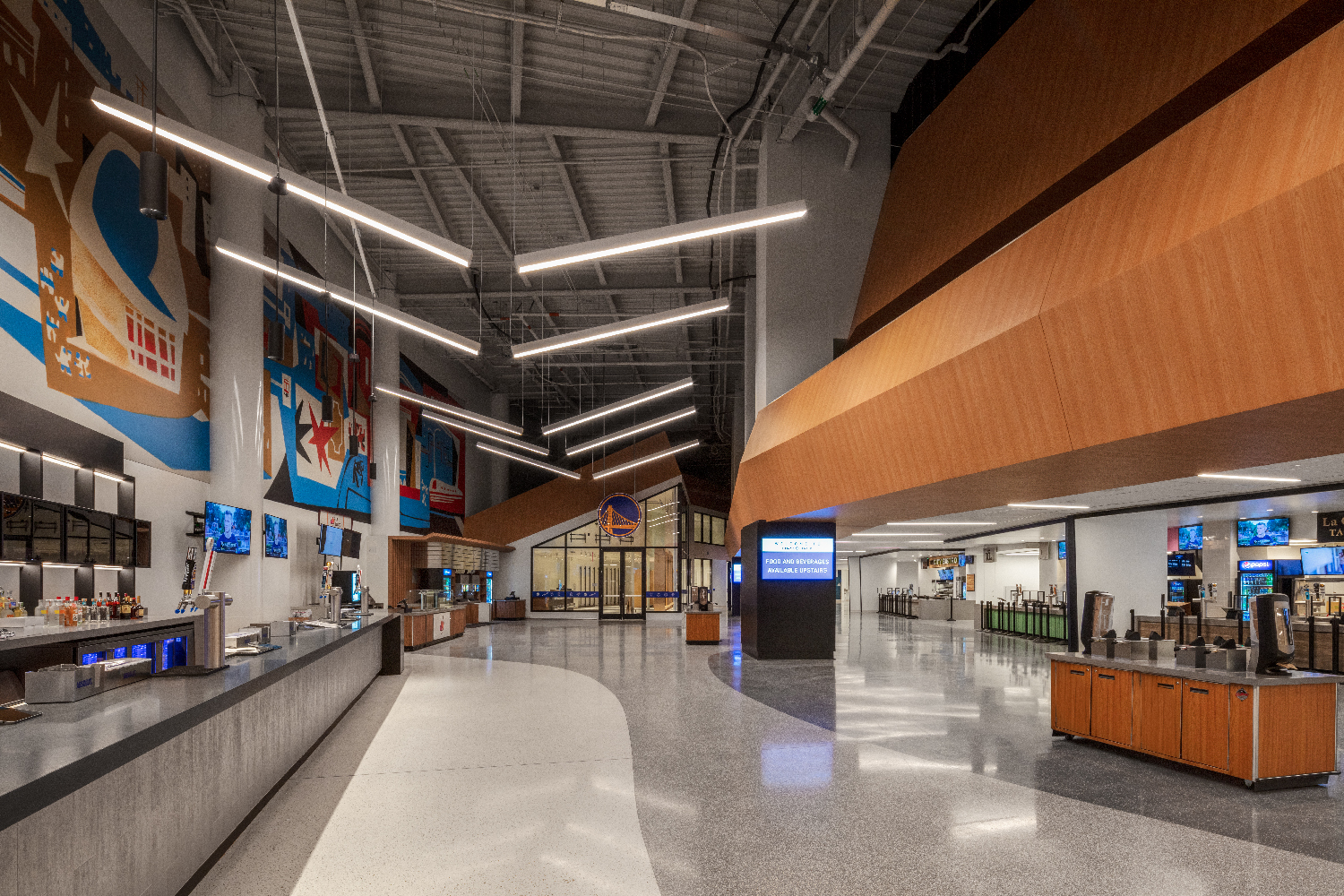 Pure Illumination
Lighting has become far more integrated into the game experience, Carlson observed, and Parsons Technologies has been doing more of that component in recent years. At Chase Center, the firm designed and installed a slew of theatrical lighting. "The lighting in the bowl is arranged in concentric circles, similar to the way the speakers are installed," Carlson commented. "The cabling and control of lighting is very similar to audio, so we've found that lighting is right in our wheelhouse and it's becoming more a part of the AV package Parsons supports for sports venues."
At Chase Center, lighting elements include Martin Axiom hybrid beam/spot moving-head fixtures, Ayrton Khamsin-S 750W 8,000K LEDs and Pangolin lasers, all managed by an MA Lighting grandMA3 lighting console. Meanwhile, laser projectors are located in all four corners of the bowl, and there is a total of six of them on the underside of the scoreboard; they're used to projection-map the hardwood floor with the team's logo and other eye-catching graphics.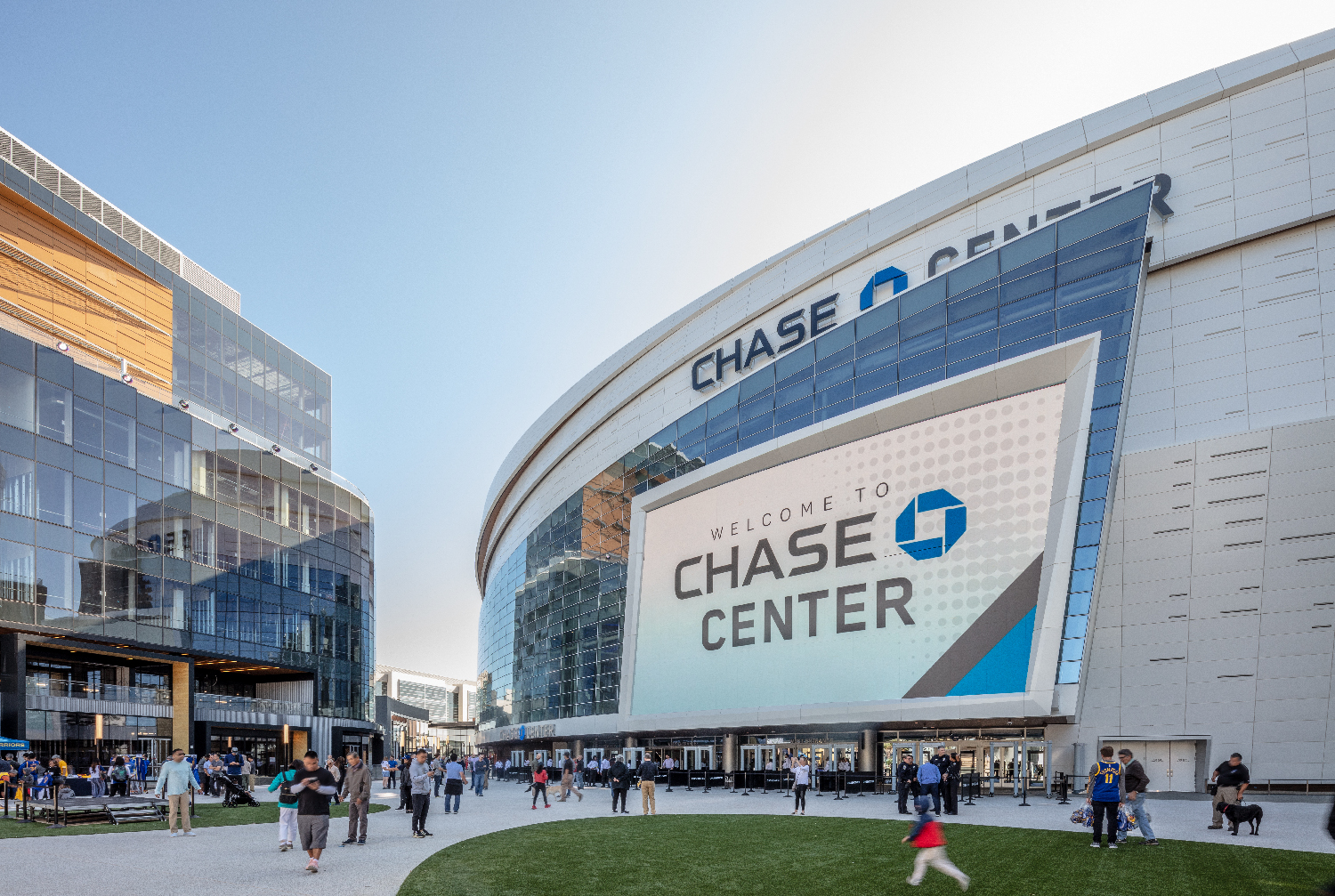 Control Room
The main control room at Chase Center is split-level: The lower level is used for the scoreboard and other video operations, whereas the upper level, which is open to the bowl, is used for audio and lighting. The front-of-house (FOH) audio mix position is located there.
The facility's control room represents something of a sea change in technology in this generation of sports venues. "The typical control room has always been entirely focused on fan engagement, [but] it has evolved dramatically from the early days of simple video replays and game in progress to [become] the hub for scoring, stats and entertainment for the entire facility," Duane Yoslov, Senior VP for sports and live events at Diversified, observed. Diversified built out the control room based on a design by consultant WJHW. "Instead of doing the event production for millions of people watching on television, they're doing a production for 18,000 in the venue," Yoslov noted, hastening to add, "but [it's] one that's just as sophisticated, if not more so. The goal is to give the fans there something they can't see at home."
Yoslov has been working with stadium and arena entertainment systems since 1990, when he started at Sony the year after the company installed the first-ever Jumbotron in Candlestick Park in San Francisco CA. He noted that the paradigm around production has flipped, with engineers who once looked to television as the ultimate in production technology now looking instead at how sophisticated venue production has become. "Control rooms used to be the training grounds for engineers who wanted to get into sports broadcasting," he said. "Now, it's becoming the other way around."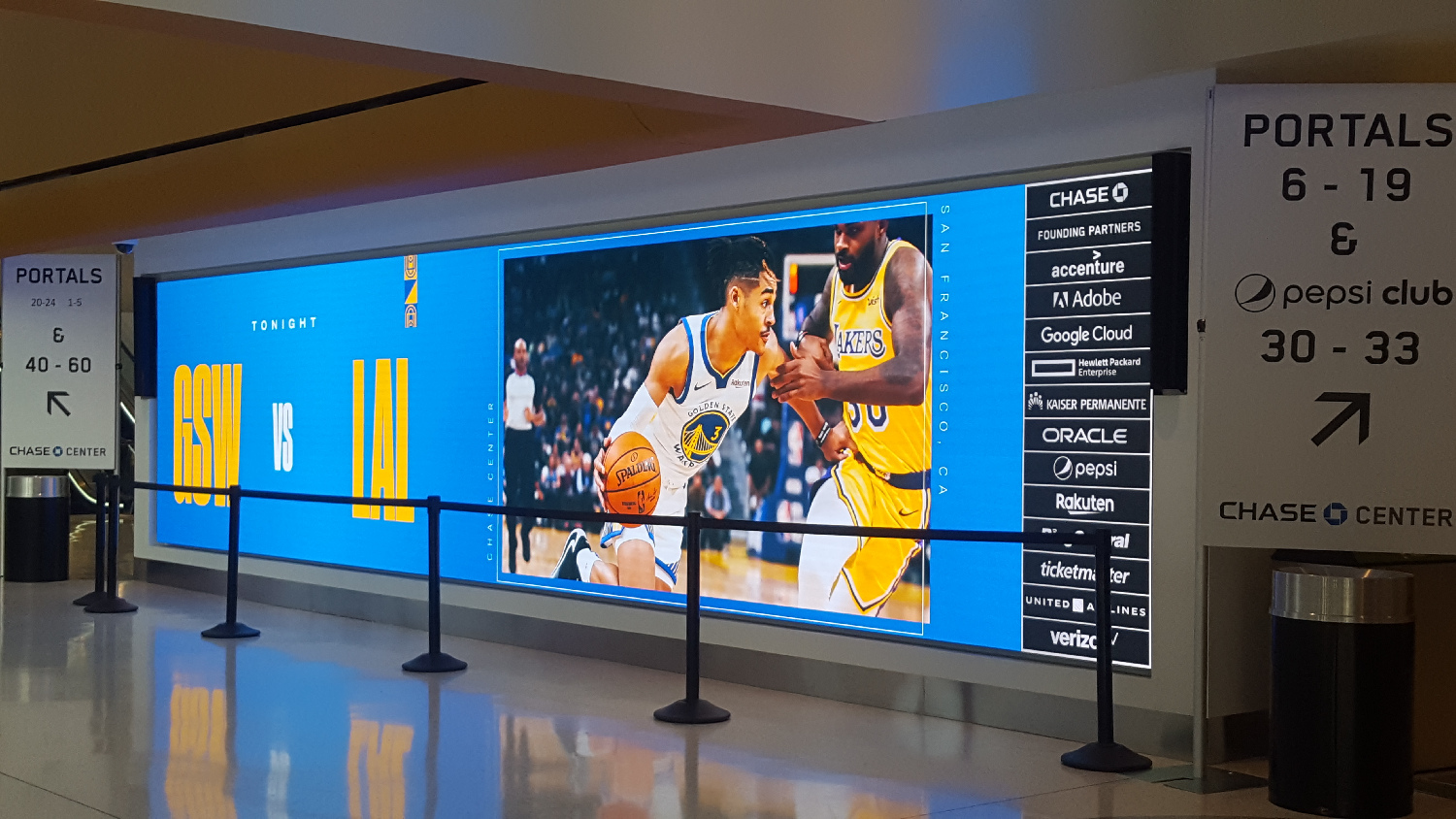 The challenges involved with creating the control room at Chase Center would be familiar to integrators in any vertical: AV often has to be the last trade in a space, as it requires sheetrock, electrical and other infrastructure to be in place to do its work. Although that was the case at Chase Center, Yoslov added that this generation of venues and their control rooms are the first to be designed natively to IP signal routing. In this case, Diversified provided networked platforms including an Imagine Communications COTS-based IP router, Arista network switches, Evertz DreamCatcher replay, Ross XPression graphics system, Riedel intercom, Focusrite D64R interfaces and Laguna consoles—all natively networkable, or able to be networked using conversion through the Imagine Platinum IP3 router, for an HDR-compatible SMPTE 2110-compliant control room. The room's production switcher is a Ross Acuity, and the entire LED display control system is powered by Ross' Carbonite Mosaic video scalers and DashBoard control system.
Yoslov pointed out that it's up to the engineering staff to create a workflow environment that a venue's production staff can work with transparently. In this case, he said WJHW and Diversified shared their IP system design and integration experiences with the venue's engineering staff and internal production team, Warriors Studio, led by Paul Hawkins, to help them achieve exactly that.
"The technology needs to be invisible to the production staff," Yoslov declared. "The engineering staff should be able to present them with the equivalent of an SDI world without ever having to change how they work. That's where integrators and designers need to collaborate with venue engineering staffs." He continued, "[The key is] bringing the venue engineers in on the design, installation and commissioning phases of the project so they can follow it from the beginning. That's what we do on every project."
The Golden State Warriors head into the NBA's 2019-2020 season with NBA championships in three of the last five years (2015, 2017 and 2018) behind them and the keys to an arena that will help set the tone for sports venues in the years to come. (The Golden State Warriors franchise's President and COO, Rick Welts, was presented with the actual key to Chase Center on August 2.) The venue's audio, lighting and video systems—led by that huge center-hung scoreboard floating over the hardwood like a Steph Curry three-pointer—will be central to making Chase Center a tastemaker in this vertical.
As competition between stadiums and arenas becomes a sport unto itself, AV innovators are going to have to develop a really deep bench.
Sidebar: Community-Oriented Content Programming
—Anthony Vargas

Outside the arena, in the Thrive City plaza, Chase Center features a massive outdoor LED display that will be used for more than just to promote upcoming games and events and to advertise Thrive City's various businesses; it is intended to be the centerpiece of Thrive City's community-focused programming efforts. According to the Warriors' Chief Operating Officer, Rick Welts, the videowall "gives us a second venue. You can put 1,000 people comfortably in this plaza." He added, "We've used it to show the Women's finals of the US Open. It's not just [for] Warriors games. We can host movie nights. This is really going to be an unbelievable feature for us. It's going to draw a lot of people here."
Regarding content programming for the outdoor LED wall, Paul Hawkins of Warriors Studio said, "We'll be able to tell stories using some content that our studio has created, whether it's telling stories about the arena, telling stories about the workers [or] telling stories about the local community. [Through] the local Sports And The Arts (SATA) program, we brought on a whole bunch of different artists that are in the local area to create art around the arena. So, we're telling stories about all those artists—about 39 different artists—[and] their roots in the San Francisco area. We partnered with a company called BAYCAT, which is based out of Hunter's Point right down the street here in San Francisco, to tell documentary-style stories about our local community, whether it's children's groups, homelessness [or] whatever it might be—different social issues in the area. So, it's not all about basketball at all. We want to tell the larger story from across our community."
Thrive City's outdoor display is currently the only large-scale outdoor LED videowall in San Francisco because of local regulations that prohibit the installation of outdoor moving-video billboards. The Warriors organization negotiated an agreement with the San Francisco Office of Community Investment and Infrastructure to get around the regulation, and, according to Welts, the central argument in favor of installing the videowall essentially boiled down to this: "We would be the only arena built in the last 20 years that doesn't have one." He added, "I also think we made a compelling [case] of why it was a community benefit."
Sidebar: Fan Engagement Through Video
—Anthony Vargas

Chase Center features a ton of displays. According to Kayde Anderson, Marketing Director for Samsung (formerly of Prismview, a Samsung company), the total count includes 64 LED displays (including the displays that make up the center-hung LED fixture) and 11,000 large-format displays located throughout the venue.
Although it might seem like this high display count is meant to overwhelm by virtue of sheer numbers, the fact is that most of the displays—particularly those displays within the arena bowl—have been designed and positioned with specific fan-centric use cases in mind. And, since Chase Center was built primarily as the home of the Golden State Warriors, many of these use cases are unsurprisingly focused on enhancing the fan experience at basketball games.
For example, a number of LED displays within the arena bowl are dedicated to displaying shot-tracking information and statistics. The shot-tracking displays are positioned so that, no matter where you're sitting in the stands, you can see a display that shows shot-tracking information. What's more, there are dedicated shot-tracking displays for both the home team and the away team; as a result, fans in attendance can have ready access to both teams' shooting statistics at a glance. These shot-tracking displays are part of Chase Center's goal to be at the forefront of the gamification of sports, a trend that has seen sports venues promote real-time, app-driven, fantasy-sports-style analytics and stat-tracking as a means to promote fan engagement. To that end, the information shown on these displays will also be leveraged for fan-focused apps in the near future.
Similarly, the massive center-hung LED fixture devotes a large proportion of its real estate to displaying statistics, with only a small portion of the LED surface area used to show live game footage. The immense size of the fixture enables these statistics to be presented in a format that is readable from any seat in the house. Although having the largest center-hung display in the National Basketball Association (NBA) is a great draw for the venue, its size serves a practical purpose for the fans in attendance, as well.
"We just have so much surface area that we can show many, many times the game statistics that we were able to show before—the scores of other games, percentages, really geeky stats that the hardcore fans want. We never had the clarity or enough area to show that [before]," the Warriors' Chief Operating Officer, Rick Welts, said.
To promote fan engagement further, all the various LED displays in the arena bowl can be leveraged by the Warriors Studio in-house production crew for flashy effects that serve to hype up the home crowd during team intros, halftime and various other points during the game. For an example of what this looks like in practice, check out a short clip of the game-opening festivities from a recent Warriors preseason game here: www.sndcom.us/warriorsintro.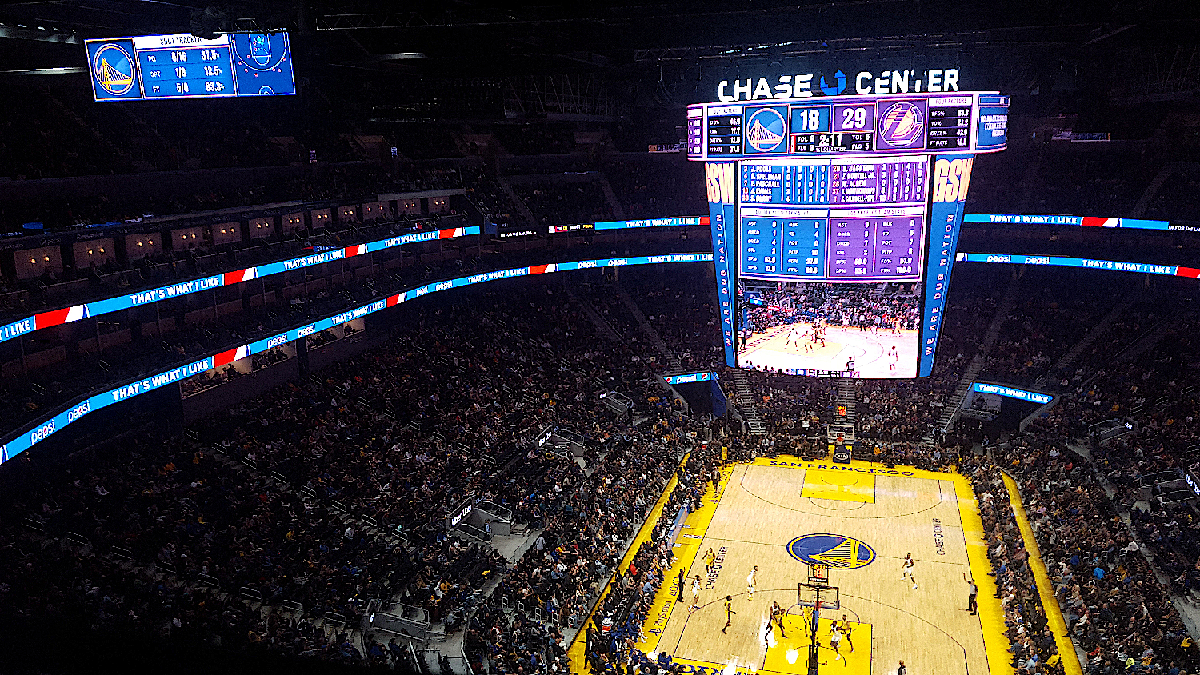 SELECTED EQUIPMENT
44 Ayrton AY011640/50 Khamsin S/TC 750W LED profile 7-58° automated fixtures
75 Belden 1694a low-loss serial digital coax cables
75 Belden 1800F 1-pair, 24AWG stranded (42×40) bare copper pair digital audio cables w/Datalene insulation
300 Belden 2412F Cat6+ (350MHz), 4-pair, F/UTP-foil shielded, riser-CMR, premise horizontal cables
1,500 Belden 2413 Cat6+ (350MHz), 4-pair, U/UTP-unshielded, plenum-CMP, premise horizontal cables
75 Belden 3613 Cat6+ (400MHz), 4-pair, U/UTP-unshielded, plenum-CMP, premise horizontal cables
500 Belden 5000UP 2-12AWG highly flexible stranded bare copper commercial audio cables w/PVC insulation
1,750 Belden 5T00UP 2-10AWG highly flexible stranded bare copper commercial audio cables w/PVC insulation
1,500 Belden 6000UE plenum-CL2P, 2-12AWG stranded bare copper security and commercial audio cables w/Flamarrest insulation
500 Belden 6100UE 2-conductor, 14AWG stranded (19×27) bare copper security and commercial audio cables w/Flamarrest insulation
2,300 Belden 9451 1-pair, 22AWG stranded (7×30) tinned copper pair audio cables w/polypropylene insulation
1,000 Belden FD4D006P9 indoor/outdoor plenum cables
2,500 Belden FISD006A9 indoor plenum cables
2 Bittree B96DC-HNPIT/ID M2OU12B audio patchbays
4 Bittree B96DC-NNSST/E3 M2OU12B 2×48 2RU patchbays
16 BSS BLU-120 I/O expanders w/BLU link
1 BSS BLU-160 signal processor w/BLU link
8 BSS BLU-326 I/O expanders w/BLU link and Dante/AES67
24 BSS BLU-806 signal processors w/BLU link and Dante/AES67
109 BSS BLUCARD-IN Soundweb London analog input cards
18 BSS BLUCARD-OUT Soundweb London analog output cards
2 BSS BLU-DA Dante/AES67 to BLU link bridges
1 BSS BLUDIGITAL-OUT Soundweb London digital output card
17 Crestron CP3 3-Series control systems
1 Crestron CP3N 3-Series control system
20 Crown DCi 2|1250N 2-channel, 1,250W @ 4Ω power amps w/BLU link, 70V/100V
4 Crown DCi 2|300N 2-channel, 300W @ 4Ω power amps w/BLU link, 70V/100V
16 Crown DCi 2|600N 2-channel, 600W @ 4Ω power amps w/BLU link, 70V/100V
18 Crown DCi 4|1250N 4-channel, 1,250W @ 4Ω power amps w/BLU link, 70V/100V
40 Crown DCi 4|2400N 4-channel, 2,400W @ 4Ω power amps, 70V/100V
22 Crown DCi 4|300N 4-channel, 300W @ 4Ω power amps w/BLU link, 70V/100V
8 Crown DCi 4|600N 4-channel, 600W @ 4Ω power amps w/BLU link, 70V/100V
16 Crown DCi 8|300N 8-channel, 300W @ 4Ω power amps w/BLU link, 70V/100V
5 Crown DCi 8|600N 8-channel, 600W @ 4Ω power amps w/BLU link, 70V/100V
2 Extron FOXBOX Rx HDMI SM single-mode fiberoptic receivers for HDMI, audio and RS232
2 Extron FOX T USW 103 SM 3-input single-mode switchers w/integrated fiberoptic transmitters for HDMI, VGA, audio and RS232
4 Extron DSC 3G-HD A 3G-SDI to HDMI scalers w/audio embedding
10 Extron DTP HDMI 4K 330 Rx long-distance (330′) DTP receivers for HDMI
4 Extron DTP HD DA4 4K 330 HDMI to 4-output DTP distribution amps (330′)
3 Extron USB Extender Plus T transmitters
10 JBL Professional AM7212 high-power 2-way speakers w/1×12″ LF and rotatable horns
24 JBL Professional ASB6128V high-output extended-response dual 18″ subs
96 JBL Professional VTX V20 3-way high-directivity line-array elements
8 JBL Professional VTX V20 AF array frames
8 JBL Professional VTX V20 PB pull-back accessories
10 Kvant Atom 15 pure diode laser systems
1 MA Lighting grandMA3 lighting console
32 Martin Professional MAC Axiom Hybrid all-in-one hybrid fixtures
1 Pangolin BEYOND professional laser design and multimedia control software
1 Pangolin TC2000 SMPTE timecode device
252 Samsung UM55H-E 55″ ultra-narrow-bezel videowall displays
9 Shure AD1 bodypack transmitters
2 Shure AD2/B58A handheld wireless mic transmitters w/BETA 58A capsules
8 Shure AD4D-US Axient digital 2-channel wireless receivers
2 Shure AD4QNP-A Axient digital quad-channel digital wireless receivers
6 Shure BETA 58A dynamic vocal mics
2 Shure ULXD1 digital wireless bodypack transmitters
2 Shure ULXD2/B87C digital handheld transmitters w/BETA 87C capsules
1 Shure ULXD4D dual-channel digital wireless receiver
1 Yamaha CL5 digital mixer
Abridged list is edited from information supplied by Parsons Technologies.