Whether it's reviewing your bucket list, reprioritizing your life or taking stock of your business, January is always a great time for reflection. In our case, as research staff working for AVIXA, our thoughts go to the industry. Specifically, we consider what the prior year brought and what we can expect from the new year dawning. And although it might sound like a repeating soundtrack, we can equivocally say this: The future continues to look bright for this rising sector.
So, what are the specifics? According to AVIXA's Industry Outlook and Trends Analysis (IOTA) reports, commercial AV, as a global industry, generated approximately $247 billion in revenues for all products and services in 2019; that represents growth of 6.8 percent as compared to 2018. This year—or 2020, for those of you still writing "19" on your checks—shows similar, with revenues expected to rise 5.6 percent to $261 billion. If you follow world economic expectations and outlooks, both years' results show more than double the growth expected for global gross domestic product (GDP). That's not a bad place to be. The lower growth does reflect some of the concerns about declining economic growth in general, but, in the end, the commercial AV industry is continuing its expansion.
The challenge with such forecasts is that the top line can mask the tumult underneath. Individual company experiences can vary greatly, of course. As we always hear, there will be winners and there will be losers; the losers will be sure to cry foul about a rosy outlook. Even those watching the game unfold are often able to pick out exceptions to the general rule. And black swans certainly do transpire, and they can disrupt markets or sectors. All that aside, though, optimism remains at the top line, thanks to some favorable trends.
It all starts with the sheer diversity of the vertical markets that commercial AV serves. Think about it: AV is everywhere. Whether you're in a boardroom, classroom, stadium, museum, hotel guest room, lobby, theme park, corporate event, concert, travel hub or patient-care facility, audiovisual technologies are enabling or enhancing your experiences there. Some of those application areas could suffer in an economic downturn, but, most of the time, the declines are limited to certain areas. So far, the data suggests a strong outlook across the core markets.
AVIXA conducted research within the vertical markets over the past 12 to 18 months to learn more about the state of demand for AV products and services. We learned that the vast majority of buyer fi rms surveyed had capital-expenditure (Cap-Ex) projects planned to occur within the next two years. Ranking highest were the education market (85 percent) and the transportation market (86 percent), indicating classrooms and hubs are expected to receive investments during that time. Even retail, which has been the subject of a lot of negative press, owing to widespread store closures, showed a majority of decision-makers (57 percent) planning spending. As a starting point for investment in AV solutions, this bodes well.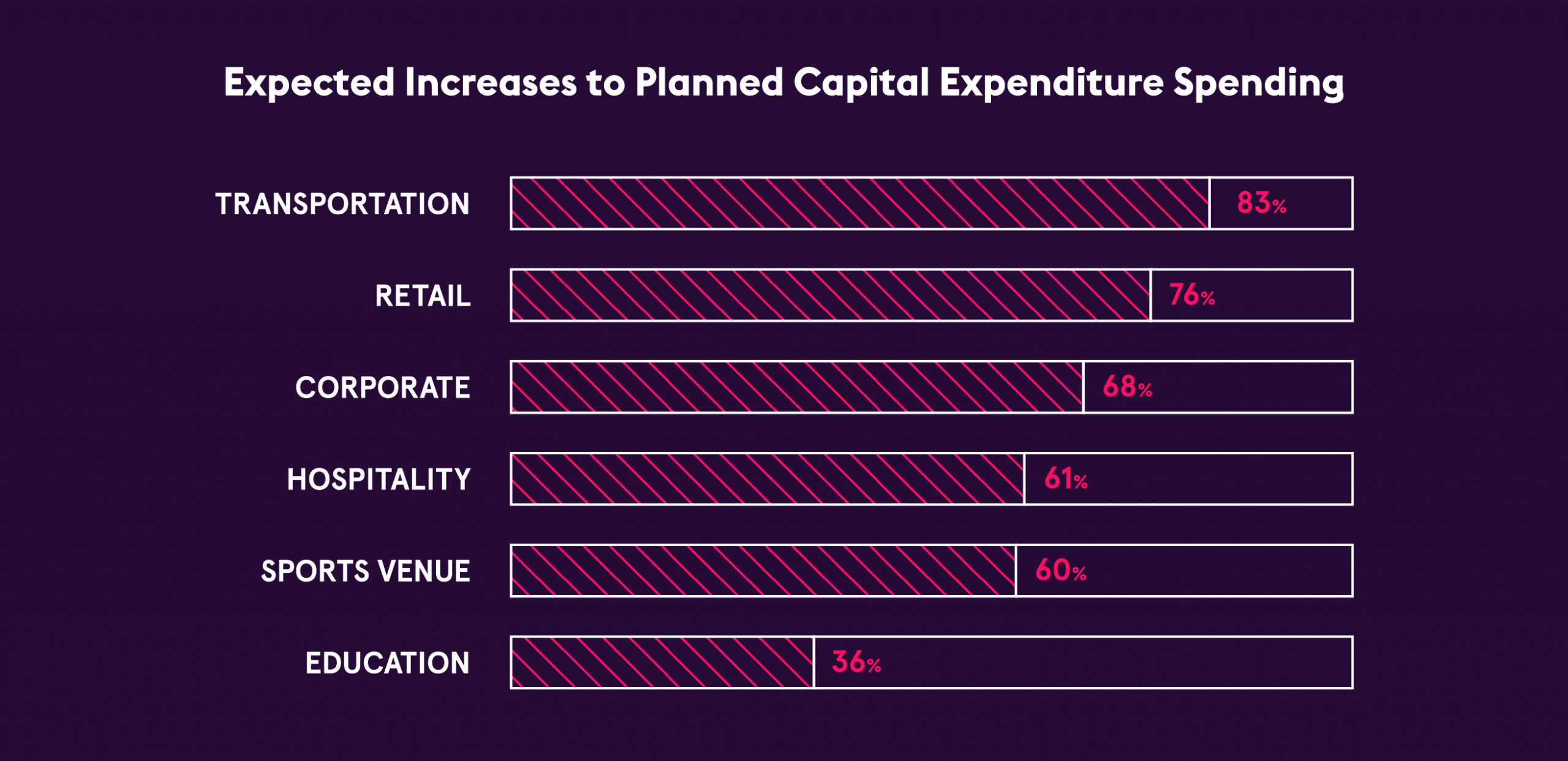 What's even better for the outlook on technology spending is that the majority of those with CapEx plans said those plans represent an increase from the prior year. Transportation is the big gainer here, with 83 percent saying they plan to increase spending. Retail was second, registering an unexpectedly high 76 percent. That clearly conveys that those retail fi rms that are still in business are planning to upgrade their experiences. As other research shows, AV will play a pivotal role in those upgrades. This is, of course, in addition to the operational expenditure (OpEx) on technology that is not accounted for here. (Read more about this in AVIXA's series that's entitled Market Opportunity Analysis Reports, or MOAR for short.)
What these firms will invest in also varies by market, but one solution area is quickly becoming the darling of the industry. Although conferencing and collaboration represent the largest solution area as companies invest in a slate of new cloud-based technologies, digital signage is gaining fast. The IOTA reports show signage represented $34.1 billion to the commercial AV industry in 2019, coming in second behind conferencing and collaboration at $38.6 billion. Compound annual growth favors signage here, though, with it shifting to the top spot by 2024.
So, what's going on? Several things are converging all at once. In some economies, like China's, a rising middle class presents a growing opportunity for discretionary spending, thus attracting advertisers. Enter digital signage as an outdoor advertising solution for reaching those consumers. More importantly, companies across the markets enumerated are seeing enhanced ways to communicate with and engage their customers, and they're making it a statement of their brand to do so. This is a benefit for digital-signage providers.
Being attached to questions of branding puts a solution in an entirely different category as compared to what is normal for technology procurement. Instead of a solely cost-oriented approach that might be the norm for operations, this decision-making is more attached to marketing; as such, it has a different value proposition. In short, the dollar value of the opportunity and the potential for margin are different. Of course, note the use of the word "potential" here; there are never any guarantees.
The point is to continue to encourage a narrative about the commercial AV industry that is positive, despite the threat of rain in the forecast or the challenges that individual firms or business models might face. For now, the data shows a positive outlook, and it reveals abundant growth for the taking.
Here's hoping each of you reaps your fair share of this expanding business opportunity!
Happy New Year!