[Note: For our in-depth coverage of the audio systems at Ground Zero ("Audio At Ground Zero," by Drew Milano, December 2001), a first-hand look at what it was like working at the disaster site, click here.]
On the morning of September 11, 2001, the news media brought us stories of hijacked commercial aircraft and horrific real-time images of the destruction of New York NY's iconic World Trade Center towers. As the stories unfolded, the world learned more about the heroic actions of the city's first responders and the efforts of distraught families searching for missing loved ones, while also hearing about more tragedy, and more heroes, at other 9/11 targets in Shanksville PA and Washington DC.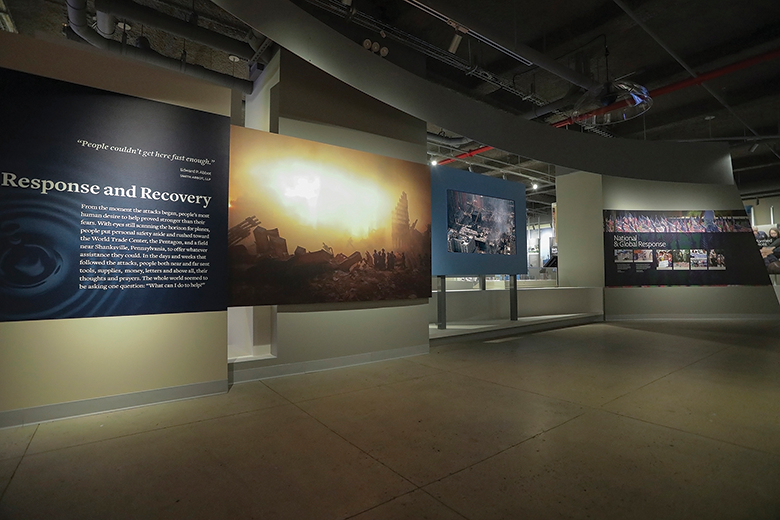 Over the years, a catalog of news images, books and documentary films have helped us better to understand the events of 9/11 and what happened at the lower Manhattan site, known to the world simply as "Ground Zero," which has since been rebuilt as 1 World Trade Center. Just a few blocks south of the original World Trade Center location is a unique space of masterfully designed galleries integrated with immersive audio and video technology, where visitors can experience the history of 9/11 in a different way—through the stories of its heroes, survivors and the families affected.
History And Design
Created by the non-profit September 11th Families Association, which supports the 9/11 community, the 9/11 Tribute Museum shares the personal stories of those affected by the terrorist attacks of September 11, 2001. The original 9/11 Tribute Center was located at the site of the former Liberty Deli at 120 Liberty St., directly across from "Ground Zero." After the attack, the deli transformed into a station where meals were served to rescuers. The association renovated the space in September 2006 as an educational and visitors' center, offering photos, artifacts and stories shared by the 9/11 community. Last June, it moved to a new, 18,000-square-foot exhibit space at 92 Greenwich St. "The museum galleries present media and artifacts, along with a person-to-person history of the people and events of 9/11, linking all those who want to understand the historic events of 9/11 with those who experienced them," Kristine Pottinger, the museum's Program Director, said.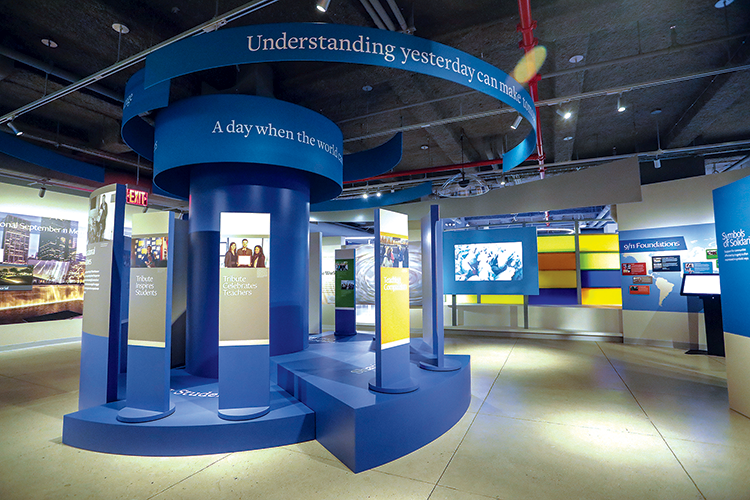 The creative audiovisual solutions at the 9/11 Tribute Museum were implemented by Holmdel NJ-based technology designer and integrator McCann Systems. Sixteen exhibit areas were designed into the open space of the new location as a path of nine galleries by New York-based design firm LH Skolnick Architecture + Design Partners (LHSA+DP). Visitors to the museum are guided by the display layout and overhead elements through galleries in which they learn about topics related to 9/11—from the history of lower Manhattan and the construction of the World Trade Center, to the actual events of 9/11 and their continuing impact on the world.
The 9/11 Tribute Museum team worked closely with LHSA+DP designers and New York-based digital content provider Unified Field to add content-rich, experiential and interactive media to galleries, immersing visitors. In addition, carefully placed interactive kiosks provide self-guided exploration, and volunteers from the 9/11 community are enlisted to tell their stories in the galleries.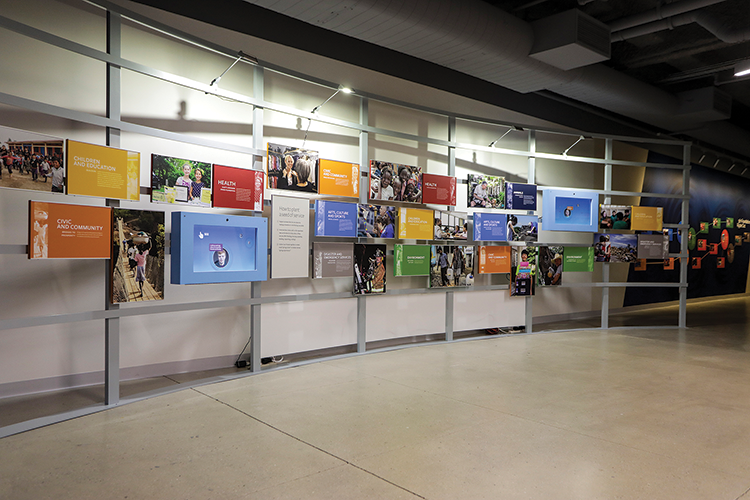 Pottinger explained the powerful connection the museum makes, saying it is because it's about collecting people and their stories, more than gathering artifacts. "The museum actively recruits volunteers," she noted. "As they share their stories with visitors, that becomes part of a healing process." The creative application of design and technology, along with live presentations and the museum's historic location, creates a personal connection with the stories of 9/11 and, in so doing, an inspirational experience for visitors.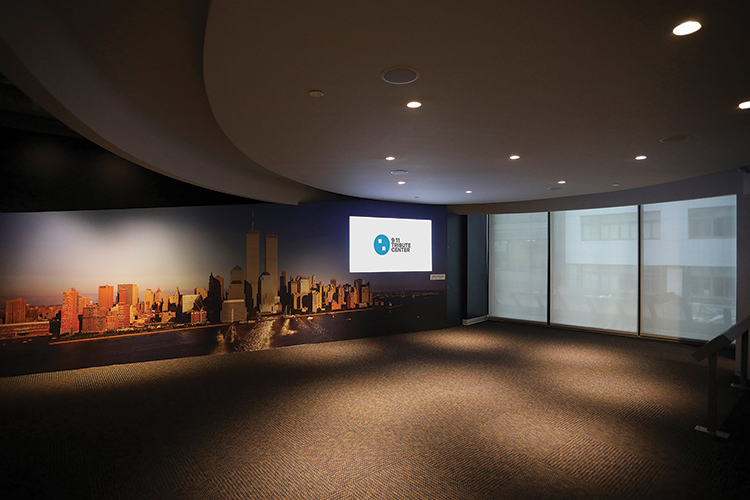 Media Brings Galleries To Life
Design engineers from McCann Systems worked closely with the 9/11 Tribute Museum team, the display designers and the content providers early in the process, providing the expertise to integrate the audio and video technology into gallery spaces at the new museum. "The 9/11 Tribute Museum was certainly one of the most interesting projects I've worked on," McCann's Field Applications Engineer, Al Ragone, recalled. He was part of the team that installed, tested and commissioned the system. The unique assignment called on the diverse skills of the McCann Systems Engineering Department, which installed into galleries whose technology ranged from basic, looped AV presentations, to video and audio for live presentations, to environmental control and interactive kiosks. The team was led by Engineering Manager Anthony Dimino and System Design Engineers Michael Rosa, Ryan Reviello and Roger Posso.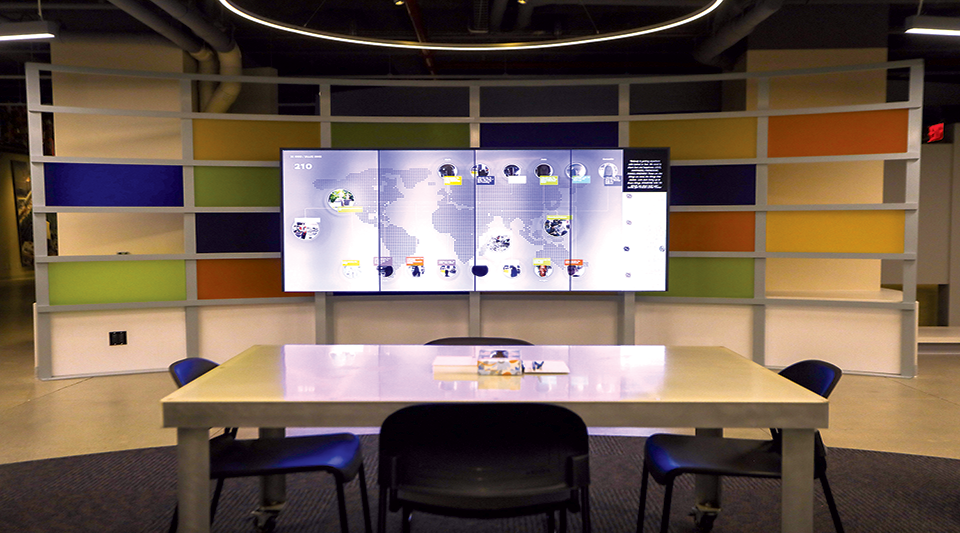 In addition to typical installation challenges, the McCann Systems team had to address challenging audio issues created by the close placement of the displays, in an unforgiving open space, with minimal acoustic treatment, as well as having to install complex technology into displays. "Our goal was to bring each display to life with the sights and sounds of the stories they told," Ragone said. "It was very important to us to keep the gear we installed from being a distraction."
To create a "clean" appearance, as well as to provide outstanding reliability, all displays are mounted with Chief mounting hardware, and they employ Crestron DM-RMC-4K-Scaler-C 4K scalers and DM-RMC-4K-100-C digital media receivers as interface and control for display devices. "The Crestron scalers are very reliable," Ragone noted, "and their slim design was an ideal fit into the display units. This allowed us to install them easily and inconspicuously."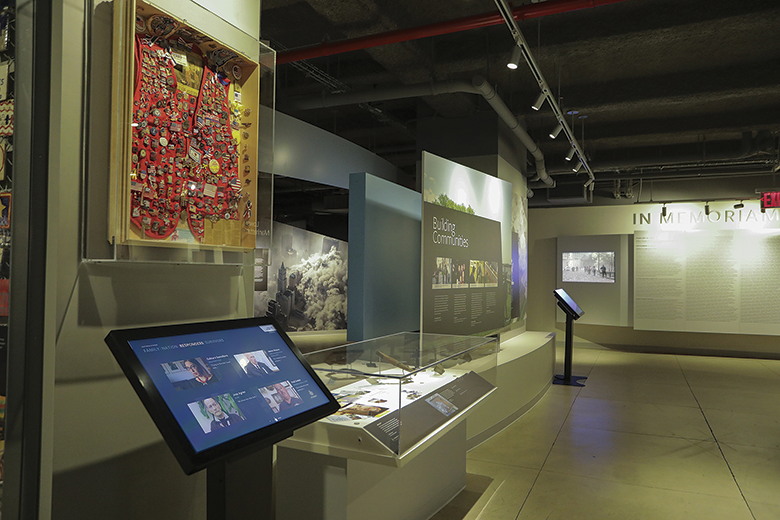 Another concept shared by all galleries is audio delivery via Biamp Systems TesiraFORTÉ CI. The TesiraFORTÉ CI is a digital audio server with 12 mic/line level analog inputs and eight mic/line level analog outputs, along with eight channels of configurable USB audio. Ragone continued, "We appreciate that Biamp employs an open-architecture DSP, so we can design it to do whatever is needed. The TesiraFORTÉ CI made design easy to align various audio sources with different zones. It also allowed for fully customizable PA system functionality across the entire museum."
The nine galleries of the 9/11 Tribute Museum present a well-thought-out cultural and historical context for understanding the events of that day. Three of the galleries—Response & Recovery (telling of the very human desire to help), Rebuilding & Remembering (speaking to journeys of challenge and healing) and Service to the World (telling how members of the 9/11 community have transformed their lives to help others)—feature a similar design for media. Each has a 1080p-resolution Samsung DM65E 65-inch display designed for 24/7 continuous operation. The display's slim, 2.2-inch chassis depth employs direct-lit LED technology.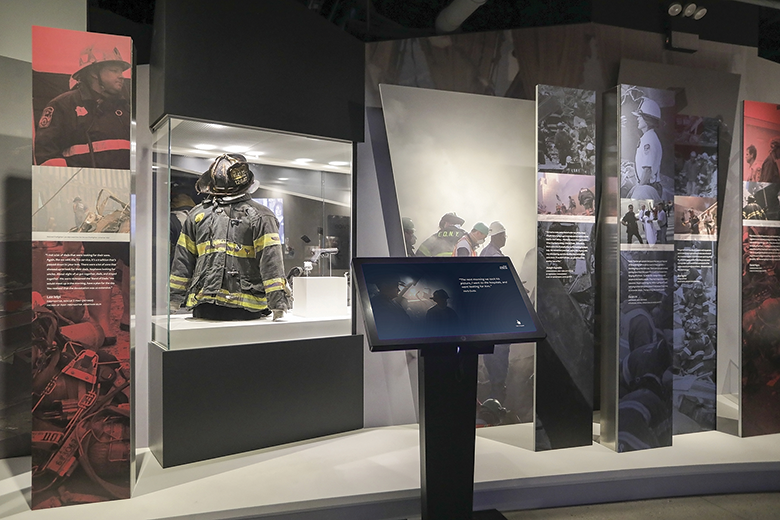 Directional audio needed for these galleries is accomplished using SoundTube Entertainment FP6030-II sound-focusing speakers. Powered by Crown DCi 4|300 amplifiers, the speakers tightly control the dispersion of sound, focusing audio to a targeted footprint, while maintaining stereo separation. "The directional speakers target just the people in front of the screen," Ragone explained. "People who are in other galleries are not distracted and can focus on what is directly in front of them."
As with other museum galleries, BrightSign XD1132 networked interactive players were installed and equipped with Class 10 SDHC cards. Measuring 7.7″x6.7″x1.7″ and weighing 1.5lb., the cloud-based BrightSign devices' size and functionality were ideal for this installation. "Using the managed BrightSign network," Ragone began, "the museum staff can remotely update content, or change content order, in the galleries over a network connection."
Recreating The Day
After learning the history of lower Manhattan, visitors enter the September 11, 2001, gallery, where the environment palpably changes from calm and organized to jagged and disorienting. Design elements, including a large, steel-beam artifact, are bolder and darker in this gallery, which is intended to reveal powerful perspectives and personal accounts of the day. First, visitors hear a short radio clip of popular New York-based news radio 1010WINS reporting on clear weather for the day. Then, the audio cuts abruptly to a Federal Aviation Administration (FAA) operator's request for assistance scrambling jets to respond to an emergency in the skies above lower Manhattan.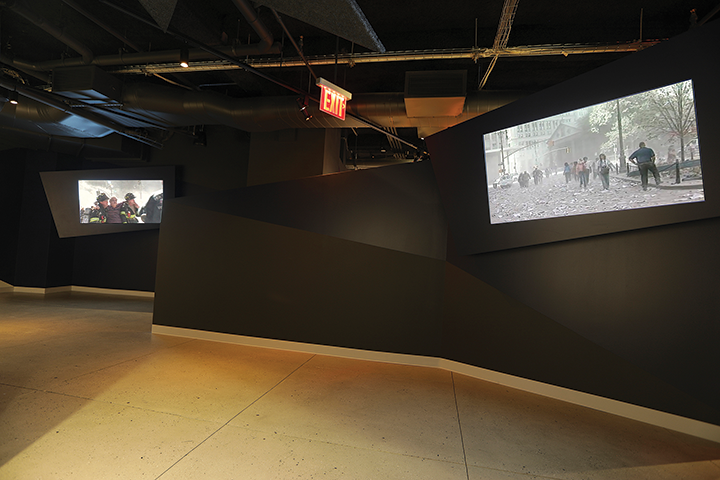 To capture the feelings of chaos and confusion from that morning, McCann Systems Engineering installed Crown-powered JBL Control 65P/T speakers, whose 120-degree conical coverage pattern, high-quality sound reproduction, color matching and sleek design made the 5.25-inch speaker ideal for this open-ceiling application. "The JBL Control 65 pendant speakers produce outstanding sound that brings visitors back to the day of the event," Ragone noted. Sound design in the gallery was intentionally non-directional, with speakers purposely mounted at heights that would allow visitors to hear a montage of sound. "It gives you a real feel for the chaos that was going on," he explained.
Samsung 65E 65-inch displays fed by BrightSign XD1132 units in each of the three areas of the gallery play video clips that show jets hitting the World Trade Center, announcements on the news from President George W. Bush and Mayor Rudolph Giuliani, the collapse of the towers, and dramatic street scenes of people covered in soot and surrounded by debris. Coupled with artifacts and images, the media in this gallery immerses visitors in what it was like on the morning of September 11.
In Memoriam
The Remembrance Room gallery is where approximately 2,000 images, chosen by family members, create a living memorial to those who were lost. Visitors see and feel the vibrancy of the lives of the victims, as well as the enormity of their families' loss. On the nearby In Memoriam wall, the listing of the names of all who were lost is interspersed with seven BrightSign players devoted to playing the images collected from the 9/11 families. Images play in a shuffled loop on Planar 22-inch monitors. One player feeds a Samsung 48E 48-inch panel dedicated to scrolling a four-hour loop of the names of victims of terrorism at the World Trade Center, in Shanksville, at the Pentagon and during the 1993 World Trade Center bombing.
Sharing With The World
In the Storytelling gallery, visitors meet and hear the stories of family members who lost loved ones; survivors; New York City Police Department, New York City Fire Department and Port Authority Police Department first responders; recovery workers; volunteers; and lower Manhattan residents. Their first-person experiences and inspirational journeys of healing are shared on the museum's largest individual display: a Samsung DM75E 75-inch. "There are many hours of HD content and recent videos of speakers to choose from," Ragone noted, "and the image quality is outstanding."
To meet the specifications in this museum area, which has lower ceiling heights, low-profile JBL Control 24 speakers were color matched to the ceiling. Content for the gallery can, via wireless Crestron controls, be easily switched from looped content to a setup for live presentations, where the large panel works as a backdrop that shows an HD graphic of the museum logo. Gallery speakers use an AKG WMS-420 multi-channel, ultra-high-frequency wireless microphone system that consists of an SR420 stationary receiver and an HT420 handheld transmitter equipped with a D5 dynamic microphone. Transmitters for this unit offer eight hours of operation time from a single AA battery, reducing both operating cost and maintenance.
Careful consideration was given to designing the technology in this area so as to draw the visitor in, avoiding any potential distractions that could be created by the equipment. Live presentations captured in this area will be added to the gallery's looped content.
Technology in the Seeds of Service gallery enables visitors who are inspired to do more in their own communities to share a pledge of service on the spot. Two ELO 2794L touch displays were mounted in custom cases, designed to support a display, a scaler, an Extron USB extender and a built-in webcam. This setup allows visitors to take a selfie with the webcam, and then share information about themselves and their service. This information is added to the database and presented on the screens.
In this gallery, LG 55-inch 55LV35A-5B portrait-oriented panels were used to create a high-definition 4×1 videowall. The panel was chosen by McCann engineers specifically for its thin frame design, which adds only minimal separation of the panels. Fed by a custom-built PC with an AMD FirePro W7100 video graphics card, the four panels are transformed into a larger composite screen that can scroll left to right. Similar to the Storytelling gallery, this area can be converted to a live presentation space with wireless audio and the ability to present a slideshow or a video. The gallery sound features six Crown-driven JBL Control 65P/T speakers to provide ample coverage to the only area in the museum where seating can be arranged for an event.
In addition to the interactive and flexible AV technology in the Seeds of Service gallery, the Response & Recovery, Rebuilding & Remembering and Service to the World galleries each contain two touch-interactive kiosks that allow visitors to explore content that relates to their connection to the museum. The content is the video and audio oral histories that have been recorded over the past 10 years, and it's geared to the subject matter being presented in each gallery. However, each kiosk can access the entire database, which contains more than 350 histories. Kiosks present the ability to select, as well as pause, rewind and control volume, and they're built around Digital Touch Systems DTS-3210T 32-inch interactive touchscreens and i1000A8-i7 i7 computers in Travla C294 mini-ITX enclosures.
To greet and inform visitors to the museum, McCann provided additional AV for the first- and second-floor reception areas. On the second floor, a Samsung DM48 48-inch panel is pole mounted from the ceiling, with a Crestron scaler inconspicuously mounted to the back. Wiring completely through the pole gives the display a clean look, as the content transitions through a welcome message, admission information and upcoming-event announcements. On the first floor, a 2×1 display wall that uses the larger Samsung DM75 75-inch panels in portrait mode is fed via scalers, and it provides similar signage for visitors. The DM75's tall profile ideally fits a confined space of the stairway wall. The effect of the combined panels is to create a billboard look, lighting up the stairwell. It can be seen from the street.
McCann Systems engineers designed the museum's head-end room as the source for all audio, non-live audio processing and amplification. It is also the location into which McCann Systems installed a Crestron DM-MD32x32 digital media switcher, fully equipped with a CP3N 3 series processor. Two Apple iPad devices provide wireless control access from anywhere in the museum.
"The CP3N processor is the highest level of processor and 'the brain' of the system," Ragone affirmed. "Custom programming by McCann Systems programmer Vladimir Slavinskiy handles startup and shutdown for the museum, along with the complex tasks associated with the routing of all audio and video signals to the gallery spaces." The Crestron system also provides advanced control of architectural lighting, sun and blackout shades, and the museum's PA system. Crestron control equipment, along with other head-end equipment, is mounted in a Middle Atlantic MRK-4426 45-space, 26-inch-deep multi-bay equipment rack that is fan-cooled and surge-protected.
McCann Systems provided training to the museum staff members who use the control features extensively. That allows the museum to be flexible in its handling of different types and sizes of visitor groups and live presentations. "Each gallery can have video and audio controls adjusted by the museum staff, on the fly, from anywhere in the museum," Ragone stated.
Technology That Inspires Change
Since its creation, the 9/11 Tribute Museum has welcomed more than four million visitors from around the world. Through digital and in-person storytelling, the museum galleries share authentic, firsthand stories from members of the 9/11 community…both stories of personal tragedy and stories of healing. "AV technology has played a major role at the 9/11 Tribute Museum by enabling visitors to see and hear the stories of those who were there," the museum's CEO, Jennifer Adams-Webb, commented. "Through McCann's work implementing our vision for technology in the galleries, and their close interaction with the designers and operating staff, visitors are able to experience the archive of the important personal stories of the members of our 9/11 community. As a result, many are inspired to make the world a better place."
EQUIPMENT
Video
2 Chief CMA345 structural ceiling plates
8 Chief FSRV small flat-panel fixed-wall display mounts
8 Chief LTM1U Large Fusion micro-adjustable tilt wall mounts
4 Chief LVSXUP ConnexSys videowall portrait mounting systems w/o rails
3 Chief PSMH2840 heavy-duty custom flat-panel wall mounts
2 Chief XCM1U FUSION X-Large single-pole flat-panel ceiling mounts
6 Digital Touch Systems DTS-3210T 32″ interactive touchscreens
and kiosk stands
2 Elo 2794L 27″ open-frame touchscreens
2 Elo E005277 12V DC power bricks and cable kits
4 LG 55LV35A-5B 2×2 videowall bundles
6 Planar PLL2210W 22″ widescreen LED backlit LCD monitors
3 Samsung DM48E 48″ slim direct-lit LED displays
6 Samsung DM65E 65″ slim direct-lit LED displays
3 Samsung DM75E 75″ slim direct-lit LED displays
Video Source
13 BrightSign XD1132 networked multi-control interactive and live HDTV
digital signage players
13 BrightSign 8GB Class 10 SDHC cards
6 mini PCs and Windows 10
2 Extron USB Extender Plus Series – USB twisted pair transmitters
2 Extron USB Extender Plus Series – USB twisted pair receivers
5 Travla C294 mini-ITX enclosures
Audio
3 AKG WMS420 Vocal Set professional wireless mic systems
1 Biamp TesiraFORTÉ AVB CI digital audio server w/12 analog inputs and 8 analog outputs
1 Biamp TesiraFORTÉ CI digital audio server w/12 analog inputs
and 8 analog outputs
1 Crown DCi 4|300 4-channel power amp
1 Crown DCI 8|300 8-channel power amp
6 custom speakers
4 JBL Control 24CT micro 2-way vented ceiling speakers
7 JBL Control 65 P/T ceiling speakers
8 JBL Control 65 P/T-WH ceiling speakers
3 SoundTube FP6030-II sound-focusing speakers
Control
2 Apple iPad Air 2
1 Crestron CP3N 3-Series control system
1 Crestron DMC-4K-C-HDCP2 HDBaseT-certified 4K DigitalMedia 8G+ input card for DM switchers
9 Crestron DMC-4K-CO-HD-HDCP2 2-channel HDBaseT-certified 4K DigitalMedia 8G+ output cards for DM switchers
18 Crestron DMC-4K-HD-HDCP2 4K HDMI input cards for DM switchers
5 Crestron DMC-HDO 2-channel HDMI output cards for DM switchers
1 Crestron DM-MD32x32 32×32 DigitalMedia switcher
14 Crestron DM-RMC-4K-100-C 4K DigitalMedia 8G+ receivers and room controllers
4 Crestron DM-RMC-4K-Scaler-C 4K DigitalMedia 8G+ receivers and room controllers w/scalers
1 Middle Atlantic MRK-4426 MRK Series 44RU, 26″D equipment rack
List is edited from information supplied by McCann Systems.