If ever there were an installed-AV version of Where's Waldo?, it might just be in Tulsa OK. Gathering Place, the $465 million, 100-acre park whose first phase opened in Oklahoma's second-largest city last September, funded by the Kaiser Family Foundation and designed by Michael Van Valkenburgh Associates (MVVA), is riddled with AV devices. You just have to find them…or not.
Ford AV was selected as AV integrator for this immense project, one of the largest and most ambitious parks ever created with private funds, and given specific instructions. "The whole point was to hide the AV to make it invisible to the people who would use the park," Ryan Dickerson, Ford AV's Project Manager on Gathering Place, said. "The park is designed to look very organic, so you don't want the technology intruding on that."
At the same time, parts of Gathering Place will be made available for outside rentals, suiting corporate events, presentations and the like. As such, the AV had to be contemporary and robust.

Hiding In The Woods
As a first step, Dickerson and his team rewrote some of the initial AV specifications that accompanied the original designs, which they concluded were impractical for the scale of the project—for instance, replacing extenders that fell short on distance. Ford AV upgraded some of the key items, such as speakers, opting for more powerful Meyer Sound MM-4XPs, 33 of which are placed among rooms in two main areas—Williams Lodge and ONEOK Boathouse— that we'll soon explore.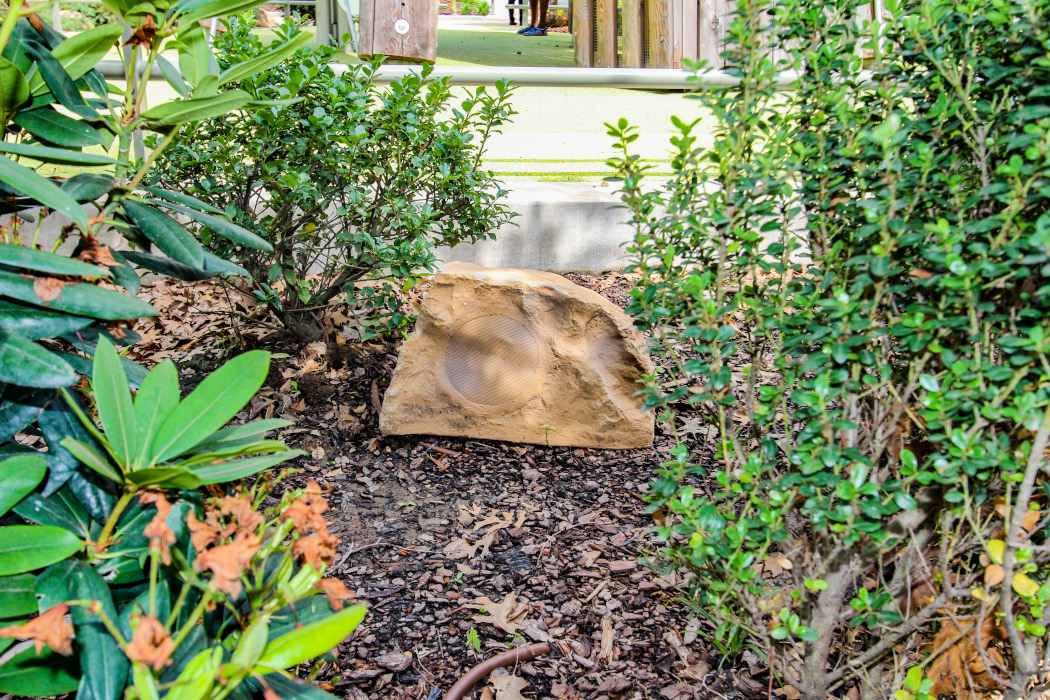 The clearest example of the subtlety sought for the AV systems is found—if you look carefully enough—in the thatched ceiling of the Great Hall in Williams Lodge, a 25,000-square-foot fusion of glass, sandstone and steel. "[The designers] wanted the landscape stone to look like it was peeled away and the building was set inside it," Jeff Stava, Executive Director and Trustee of Tulsa's Gathering Place, told the Tulsa World. "They wanted it to look natural. That's why the stones are so big. Sandstone boulders used to build the Lodge weigh from a half-ton to three-and-a-half tons, and must be hoisted into place."
The building is boxed by two-inch-thick, floor-to-ceiling glass and topped by an undulating ceiling made with six species of wood that cost a reported $3 million. A number of Meyer Sound UP- 4XP in-ceiling speakers are inserted into the strands that make up the ceiling, some more closely resembling natural knotholes than transducers. Dickerson pointed to the brackets used to hold the Meyer Sound speakers in place in the Lodge, which had to be installed inverted to minimize the space they took up and let the speakers sit closer to the thatched wood strips. "They also had to be painted individually, [so as] to match the wood they are attached to," he added.
The Pavilion has 27 custom-painted Meyer Sound MM-4XP surface-mount speakers, creating an immersive ambience. Tannoy CMS 603DC BM speakers are installed in the Lodge's lower-level restaurant and bar areas, part of the original design specifications. In addition, the Lodge has a 20-foot-wide drop-down projection screen. A projector lift was initially specified, but the ceiling's height made that impractical; as a result, the still-to-be-acquired projector will instead be wheeled in on a cart. Once in place, it will be able to take in content from three floor-mounted input boxes and controlled via a Crestron DM-MD16X16 16×16 DigitalMedia switcher.
The Parlor, another space located midlevel within the Lodge, is also intended for corporate rentals. It's fitted with a Chief SL236SP projector mount and a 20- foot screen, as well as four Meyer Sound UP-4XP speakers and two floorboxes. Both spaces also have Shure ULXD4 wireless microphone systems.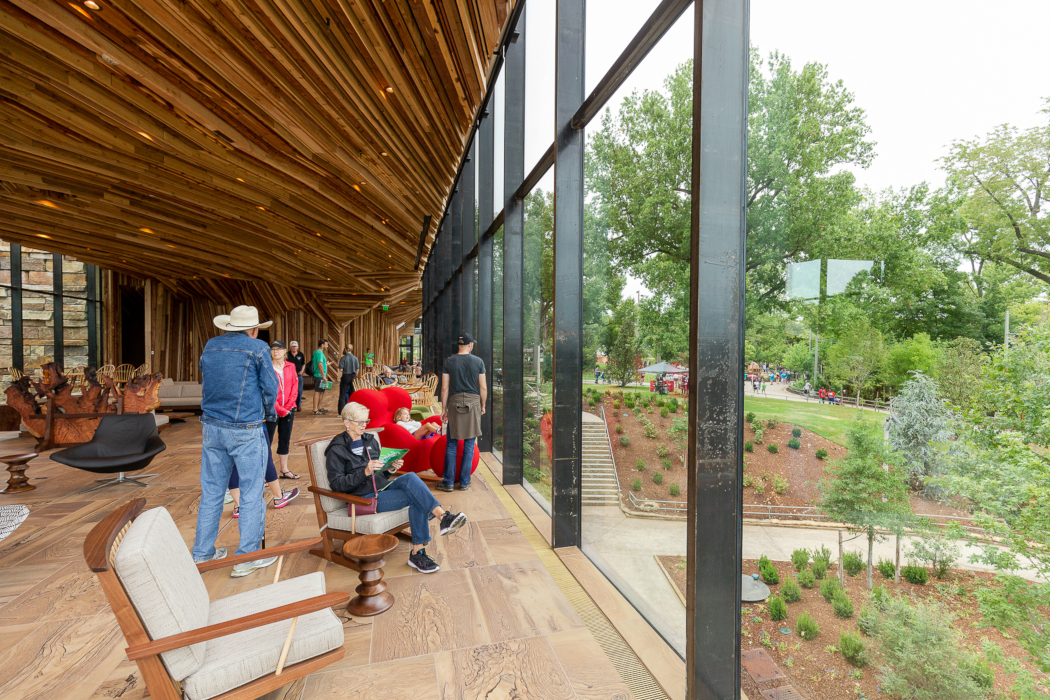 Two other key structures help define Gathering Place's physical footprint. A community deck, known as the Boathouse, topped by a tented Pavilion, towers 53 feet above the venue's largest body of water and offers views of much of the property. The 21,000-square-foot building has three levels: On top is the overlook, offering views of the park and downtown Tulsa, as well as the Vista Restaurant, which features fine dining inside and casual food outside; the second floor is dedicated to classrooms, activities and administrative offices; and a fully equipped dock is at ground level.
Each of the second-floor activity areas is outfitted with LCD displays and Tannoy speakers; the larger of the two areas has a Draper scissor lift for a projector that will illuminate the space's north wall, which has been treated with reflective paint to allow it to be used as a projection surface. "And, on each of the [dropdown] projector lifts, we took pieces of the wood, provided by specialists Wood Systems, Inc., from those ceilings and attached that to the bottom of the lift panels. [That way,] they'd look like part of the ceiling when they were retracted," Dickerson added. "We had to get very creative, and we were working with the kind of vendors that you'd find on a high-end residential AV project, rather than a commercial one. We had to get very creative."
On The Rocks
Outside ONEOK Boathouse, 32 TIC TFS10-CN rock-encased speakers and six TIC GS3 "shrub" speakers cover a children's picnic area. The faux rock casings are naturally waterproof, but Ford AV went a step further: The integrator waterproofed each speaker connection using Aquaseal waterproof sealer and then put the transformer for each speaker inside its own enclosure, which was also closed up with Aquaseal caulking. In fact, all the outdoor cabling runs were covered in Aquaseal caulking and then topped with rocks cemented together. "We had to make sure we got all the connections right," Dickerson emphasized, "because, chances are, no one is ever going to see those wires again."
Those speakers and the others, including a garden area that uses Meyer Sound MM-4XPs, take most of their content from a Crestron media server, located in a central intermediate distribution frame (IDF) closet. That space also contains the Crestron DigitalMedia control system's matrix and the DSP for the Meyer Sound speakers, as well as the amplifiers for the Tannoy speakers and a Soundcraft Ui16 mixing console that's accessed through a wireless iPad controller.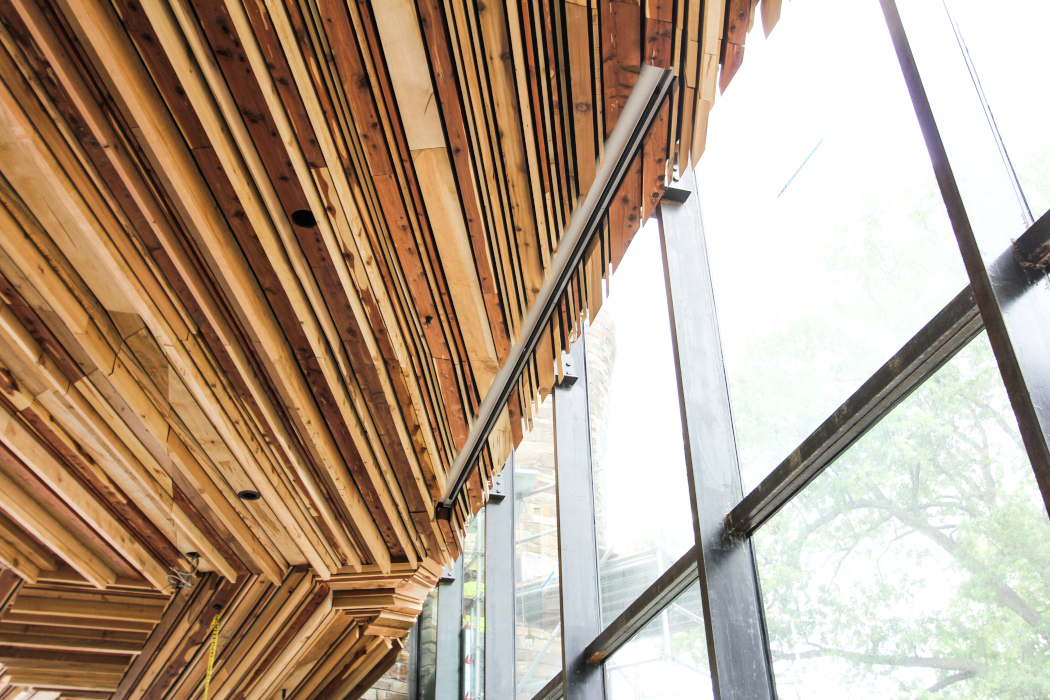 "This is another area where you really have to look hard to find the audio," Dickerson said of the outdoor speakers, adding that the rock speakers are further camouflaged by actual shrubbery that was imported from France and Germany. "We worked with all the other vendors to make sure everything was as hidden as possible, but in as natural a way as possible, too. It took a lot of time and effort, but that was the architect's vision for the park." (The New York Times, which likened Gathering Place's vastness to the scale of Central Park in New York NY, reported that Michael Van Valkenburgh, in discussing the challenges and triumphs of Gathering Place, offered a Confucius-like statement: "A limitation is the beginning of a gift.")
In addition to the projection capabilities found in the Lodge and the Boathouse, there are also 55-inch Samsung OH55F digital signage displays installed outside The Patio restaurant, which show menu options and other dynamic information. In addition, inside the Lodge, an interactive Samsung display pays homage to Gathering Place's donors.
One classic AV challenge on large-scale projects took on an even greater dimension at Gathering Place—namely, staging of materials. "Because of the park-like nature of the project, there weren't really any proper drop-off areas where we could stage materials for the next phase or the next day," Dickerson recalled of the 66-acre first phase of the project. "As a result," he quipped, "we did a ton of walking!"
Challenging, But Attainable
Gathering Place has its own in-house AVL point person. Buddy Wilson, the venue's AV Specialist, and the former House Technician at the Tulsa Performing Arts Center, said that achieving the goal of AVL invisibility, while challenging, was attainable. Referring to the wood ceiling of the Lodge, he shared another strategy to help hide the AV: The spaces between the wood slats are backed with black material; as such, many of the audio speakers are placed so that they're camouflaged by that. "Against the black background, many of the speakers just kind of fade to black and disappear," he affirmed. When that strategy does not work, speakers are simply painted to match the wood. Wilson continued, "Keeping the speakers flush-mounted wherever possible [also] helps considerably, since they don't create shadows that way."
Another illustration of AV subtlety is also found on the poles that support the Boathouse's tented roof. Meyer Sound MM-4XP speakers are positioned directly beneath the upward-pointed LED fixtures, mounted 10 to 12 feet above the floor, that wash the underside of the tent; the speaker cabinets disappear into the penumbra created around each fixture. "From above, the natural tendency is to look down toward the park and the water, and the speakers are covered by the fixtures, even in the daylight," he explained. "At night, the glare of the lights will obscure the speakers."
Just by virtue of its immenseness, Gathering Place is a work in progress, and it'll likely remain so as the remaining 30 or so acres of the 100-acre park are built out. For instance, Wilson pointed out that a change order will add new speakers into Vista at the Boathouse, a new restaurant in the Boathouse opening this spring. (At the time of writing, make and model were yet to be determined.) "It was literally a change we made today," he said, a prime example of the AV flux that will continue as Gathering Place evolves.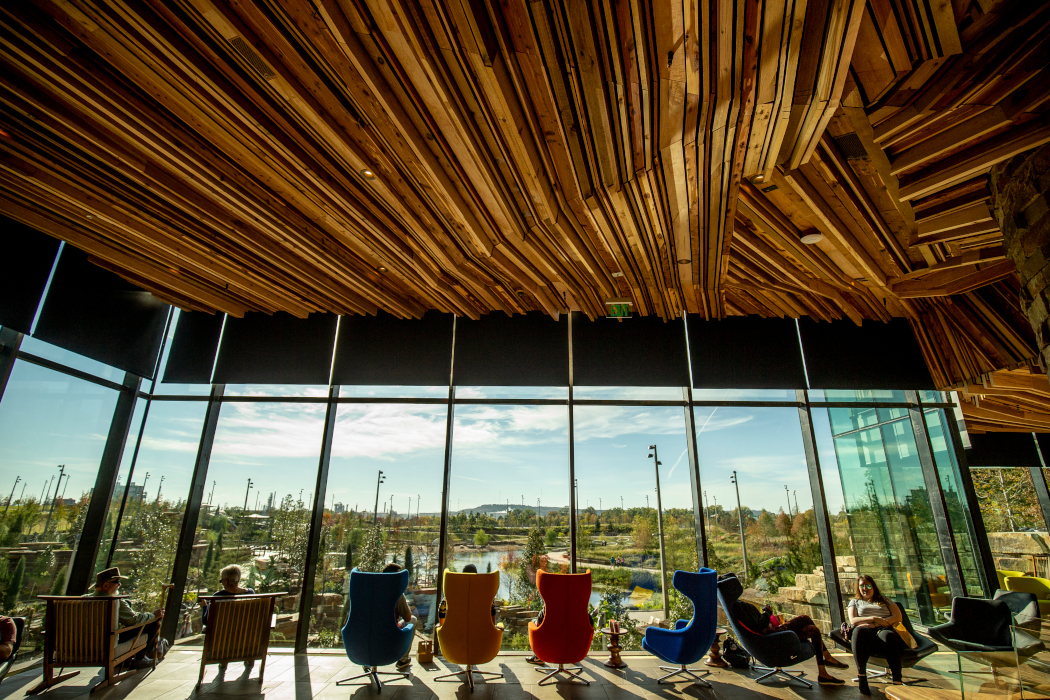 "We only opened last summer," Wilson continued, "and we're figuring out exactly what it will become as we go along. We'd get together on [an AV] plan for one space or area, and then, a month later, the needs of that space would change, so we'd have to adjust the AV plans. We're used to that now."
As expansive as it is, Gathering Place also has to acknowledge its adjacency to urban Tulsa. For instance, the park's natural performance venue—a bowl area, called the QuikTrip Great Lawn, near the Boathouse—hosted Gathering Place's grand opening concert, a show headlined by The Roots. The area, which can hold an estimated 5,000 people, will use in-house AV systems and a portable stage, as needed. However, Wilson revealed, shows will have to check wind direction, given how sound can be blown either north or south (toward residential areas), affecting the orientation of the sound systems. "We're trying to keep Gathering Place as natural as we can, but we also have to be aware of how it can impact the areas it's next to," he stated.
As important as the installed AV systems—for example, the projection capabilities in the Lodge—are to the park, Wilson underscored that maintaining the park's pastoral nature will always be primary. "One of the big concerns is that Gathering Place not have a constant music soundtrack in the background throughout the park," he said. "We want to hear children's voices and laughter, and the sounds of the birds in the trees. The AV systems bring a lot of value here, and they're important for many of the things we want to achieve, but we still want to hear the wind through the trees."
The previously referenced comparison of Gathering Place to Central Park has become common, and Tulsa natives are quick to remind visitors that the city has its share of other AV-equipped venues, including the Woody Guthrie Center and the Bob Dylan Archive (both, incidentally, also Kaiser Family Foundation initiatives). But this new attraction takes that portfolio a step further, with AV deeply integrated, and, although not showcased, never far away. "This place is the whole package, for everyone," Dickerson enthused. "I took my six-year-old son here and he cried when we left. He didn't want to leave. Neither did I."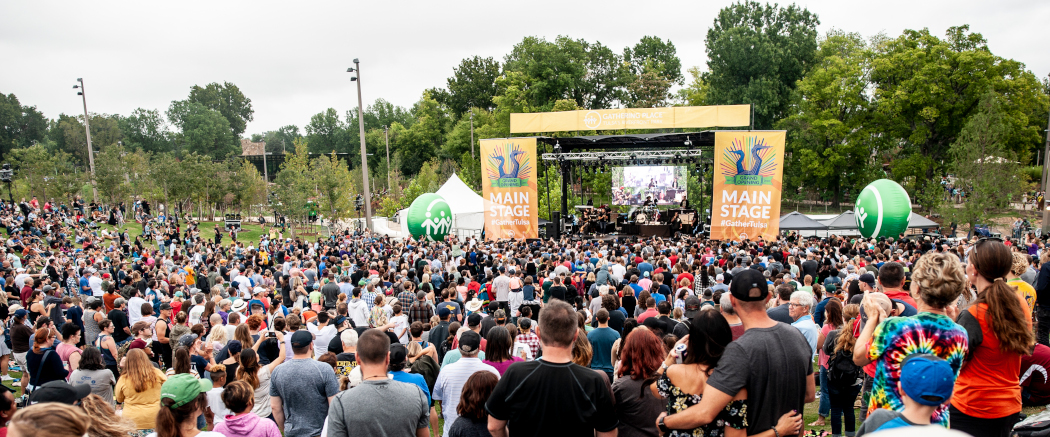 EQUIPMENT
4 Apple MP6G2LL/A 12.9″ iPad Pros (2nd-gen) w/Wi-Fi
1 AtlasIED AT35 35W single-gang stainless steel 70.7V commercial attenuator
1 Chief CMA470 above-tile storage accessory
2 Chief SL236SP SMART-LIFT automated projector mounts (for suspended ceiling installations, 120V)
2 Cisco SG350-28MP 28-port gigabit PoE managed switches
2 Crestron C3RY-8 3-Series control cards – 8 relay ports
1 Crestron CEN-CI3-3 3-Series card interface – 3 slots
2 Crestron CP3N 3-Series control systems
21 Crestron DMC-4K-C-HDCP2 HDBaseT certified 4K DigitalMedia 8G+ input cards for DM switchers
5 Crestron DMC-4K-CO-HD-HDCP2 2-channel HDBaseT certified 4K DigitalMedia 8G+ output cards for DM switchers
4 Crestron DMC-4K-HDO 2-channel 4K scaling HDMI output cards for DM switchers
2 Crestron DM-MD16X16 16×16 DigitalMedia switchers
2 Crestron DM-PSU-16 16-port PoDM power supplies for DM 8G+ I/O cards
8 Crestron DM-RMC-4K-SCALER-C 4K DigitalMedia 8G+ receivers and room controllers w/scalers
9 Crestron DM-TX-201-C DigitalMedia 8G+ transmitters
2 Crestron HD-MD-400-C-E DM Lite – HD scaling autoswitchers and HDMI-over-Catx extenders
1 Crestron MPC-M5-B-T media presentation controller M5 (black)
2 Crestron TSW-1060-B-S 10.1″ touchscreens (black, smooth)
1 Da-Lite 21790LSM tensioned Advantage Electrol screen
3 Denon DN-500BD Blu-ray, DVD and CD players
2 Draper 300593 SLX environmental airspace housings (black)
1 Draper SLX17 scissor lift
1 Extron DVS 605 AD 5-input, HDCP-compliant scaler w/ 3G/HD-SDI out and audio switching
12 Furman PL-PRO DMC 20A power conditioners w/lights, volt/ammeters
2 JBL Professional Control 67HC/T narrow 75° coverage high-ceiling pendant speakers
13 Lab.gruppen LUCIA 240/2M compact matrix amps (2x120W)
2 Luxul XMS-1010P 10-port/8 PoE+ gigabit managed switches
33 Meyer Sound MM-4XP miniature self-powered speakers
9 Meyer Sound MPS-488HP 8-channel external power supplies
15 Meyer Sound UP-4XP ultracompact speakers (48VDC)
2 Middle Atlantic PDT-2X1020 20-amp PDT thin power strips
2 Minuteman RPM1521E 2-port remote power managers
2 QSC CX1202V 2-channel 70V power amps
1 QSC CX602V 2-channel 70V power amp
6 QSC Q-SYS Core 110f processors
3 Samsung OH55F 55″ full-HD outdoor signage displays w/embedded power boxes
3 Sennheiser AM 2 antenna front-mount kits
3 Sennheiser EZL 2020-20L charger cases
30 Sennheiser HDE 2020-D-II stethoset Tourguide receivers
3 Sennheiser SR2020-D-US single-channel, rackmountable RF transmitters
16 Shure ULXD1 wireless bodypack transmitters
16 Shure ULXD2/SM86 handheld wireless mic transmitters
4 Shure ULXD4Q quad-channel digital wireless receivers
16 Shure WL185 lavalier condenser mics
1 Soundcraft Ui16 16-input, remote-controlled digital mixer
10 Tannoy CMS 603DC BM 6″ full-range ceiling speakers w/dual concentric drivers
4 TASCAM CD-500B single-rackspace CD players w/balanced outs
6 TIC GS3 8″ outdoor, weather-resistant, omnidirectional, in-ground speakers
32 TIC TFS10-CN 8″ professional, outdoor, weather-resistant, coaxial rock speakers
1 TouchSystems V463-TS-2 46″ touch monitor
1 Wiremold OFR48-4 OFR Series overfloor raceway 4-gang box
List is edited from information supplied by Ford AV.