What the Great Recession did for college enrollments is in the process of being undone by the ensuing recovery. A study by the Chicago branch of the Federal Reserve Bank estimated that roughly 2.1 million more people enrolled in postsecondary education between 2007 and 2010 than would have been predicted based on the change in the enrollment rate between pre-recessionary years 2004 and 2007. However, as the economy improves, that trend is reversing. According to the Wall Street Journal, between 2010 and 2013, freshmen enrollment at more than a quarter of the country's private four-year schools declined 10% or more.
Myriad Reasons
The reasons for the reversal are myriad: School was a place to escape the lack of jobs during the recession, and the current increase in hiring is drawing students out into the workplace (the US unemployment rate fell from 10% at the end of 2009 to 5.5% in February of this year); regulatory agencies have clamped down on for-profit schools' use of government-backed loans, reducing the accessibility of that money; and education has become steadily more expensive: The cost of higher education has jumped more than 1300% since 1978, according to Bloomburg Business. Schools have been looking for ways to counter these effects, and they often include infrastructure: everything from dorms that feel more like luxury condos to classrooms that function more like command centers.
Elon University, a private liberal arts college in Elon NC that U.S. News & World Report ranks number one among southern regional universities and the Fiske Guide to Colleges calls one of 24 "best buy" private universities, found a middle way. Elon University's Global Neighborhood, home to a large part of its approximately 6300 students, is the latest piece of the university's $100 million, multiyear residential campus initiative that seeks to interconnect what Elon students learn in the classroom with what they talk about in their off time.
Set as a hub between five new residence halls, the 50,000-square-foot Global Commons Building houses the Isabella Cannon Global Education Center, multimedia rooms, a digital theater, an organic-tea café, academic offices and the Great Hall, a three-story space overlooking Lake Mary Nell that is large enough to accommodate the entire incoming class. It's also fitted with two huge, 16'x9′, 5mm-pitch NanoLumens videowalls and a Meyer Sound steerable-array sound system. The budget of about a half-million dollars for AV in that room alone, plus more spent on an HD projection theater linked to the Great Hall via AVB connectivity, underscores what it takes these days to lure students looking for a media-savvy environment.
Not All In The Classroom
"At Elon, not all learning happens in the classroom," explained Joe Davis, Elon University's Assistant Director of Campus Technology/Solutions Architect. "The university has been working to create more intellectual spaces around campus where students can have group discussions, creating an educational atmosphere virtually anywhere. When given the right tools, the quad outside of the student center or even a bench outside a dorm can be evolved into a learning space."
The Great Hall was designed to be the ultimate locus between classroom and dorm room but, at a time when finances are more critical than ever for schools, that same space had to be capable of other uses. "As we began planning the Global Neighborhood, we wanted the Great Hall to be the ideal intellectual space for everyone on campus," Davis continued. "However, because the room is so vast, we also hoped to host large-scale events seamlessly, without bringing in a lot of extra materials."
Brian Cox, Sales Engineer with Audio & Light, the Greensboro NC AV integration firm that has worked with the school for a decade, put it simply. "This is the largest study hall I've ever seen," he marveled of the room, which can hold an estimated 1500 people, likening it in scale to Hogwarts, Harry Potter's mythical gothic academy. "But it also has to perform other functions: They do movies and video games in here, and it can be used as overflow for their outdoor graduation ceremony."
However, the room comes with significant architectural challenges, including its three-story scale and 40-foot ceiling, and an entire wall of windows on one side and solid sheetrock on the other, all of which were issues for audio and video. "With this kind of scale, it takes huge images to match it, and the highly reflective surfaces make intelligible audio difficult to achieve," said Cox.
Audio & Video
The need for large-scale video was clear, but so were reasons not to go the projection route, including what hanging projectors would do to the room's aesthetics, and, added Cox, the fact that the ceiling/roof structure was not designed to support the weight of the projectors that would have been required to illuminate two large HD screens sufficiently. It called for an emissive solution: a videowall, which would be bright enough to overcome the sunlight from that wall of windows. Cox offered that they looked at several brands and models that could scale to the 16'x9′ dimension they wanted, one screen on either side of the room's central, massive, "walk-in" fireplace, one that wouldn't be out of place in a castle from Game of Thrones. Cox said that he chose the 5mm-pitch NanoLumens NanoSlim based on the thinness of the profile and the fact that the displays can deliver a seamless bezel-free viewing experience. The displays are also extremely energy efficient, fitting well with the university's LEED building-certification standards.
The displays, which are made up of 360 LED panels each, weigh in at about 1000 pounds apiece, a load that turned out to be too much for the wall as it had been designed. Cox and Davis asked the GC and architect to redesign and rebuild that wall to hold the displays safely. "This was all new construction, so it was easier to do this than it would have been if we were working in an older building," Cox explained.
Cat6
Cat6 cabling runs through the wall to a small AV closet, where Middle Atlantic racking holds a Biamp Tesira for DSP and a Crestron CP3N control system for control, as well as a Crestron DigitalMedia matrix switch that manages the four Crestron DM-TX-200-C-2G interfaces in the room. The interfaces can accept HDMI, VGA and USB inputs for user content from the main room. Crestron TSW-750 touchpanels offer users simple on/off, start/stop and volume options, purposely programmed to keep the interface for the room as user friendly as possible. Control signals, as well as audio and video signals, are transported via HDBaseT.
The Great Hall's main sound system is composed of two Meyer CAL 96 column-array loudspeakers, buttressed by two Meyer UP-4XP loudspeakers that fill in the extreme edges of each side of the room, all custom colored to match the room's décor (including the U-shaped mounting brackets for the speakers). A pair of Meyer M1D-SUB compact subwoofers is hidden in large columns that carry some of the room's HVAC ducting and also double as bookcases.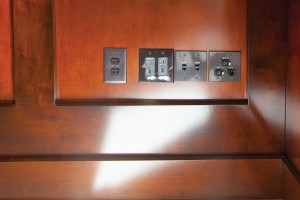 Meyer's Galileo 408 4-input, eight-output digital processor with Compass control software is used to manage the sound system. The column-array loudspeakers are attached to the wall on either side of the fireplace, 13 feet off the ground. According to Cox, their positioning, along with the Compass software, was critical to get the coverage pattern correct. "We sent the architectural drawings to Meyer, to make sure that the aiming was exact," he said. "We had the windows on one side and a huge solid wall on the other side, so the reflections would have been a big problem if the [sonic] energy was getting on them."
Meyer, NanoLumens, Lab.gruppen and other names used here are premium brands and come with commensurate price tags. When asked about the viability of buying premium brands at a time when college budgets are stressed, Cox replied that the additional cost of these systems was considerable (the displays account for about 75% of the room's total AV cost), but that they're worth it from several points of view, including maintenance, reliability, performance and marketing the school. "The intent was very much to make this a showplace," he said. "Students these days can tell the difference in levels of quality of video and sound."
In addition, Cox added, the school places value on good AV, to the point, he recalled, that they agreed to completely reorient the Great Hall's systems to minimize the effects of sunlight on the screens. On the other side of the building, there's a well equipped media screening room that offers a 72″x116″ Da-Lite UTB contour fixed-frame screen and an NEC 7500 lumen 1920×1200 WUXGA DLP projector with NEC zoom lens hanging from a Chief RPA-297 custom inverted LCD projector mount.
Audio comes from two sets of Tannoy speakers: one system intended for speech using CVS6 speakers, and one using Di8 speakers in an L-C-R configuration and Di5 surface-mount and ceiling speakers with a pair of compact subwoofers that can be configured in surround up to 7.1, using a Crestron HD-XSP processor. Both are powered by Lab.gruppen amplifiers.
The room is tied into the same Crestron control system that the Great Hall's AV uses, via Cat6 cabling, and can use that room's content over an AVB bridge in the Biamp Tesira Forte processor when it's not showing content from the streaming-capable Sony BDP-S3100 Blu-ray player that lives in the room's AV closet. It also lets the screening room become an overflow space for events held in the Great Hall. But the design of the screening room itself is Millennially unconstructed: two rows of conventional theater seats share the space with an open floor that can hold anything from folding chairs to a mosh pit.
"Students are a lot more sophisticated today than they were even 10 years ago," Cox observed. "They have heightened expectations about how they see, hear and connect." (The school installed campus-wide WiFi separately that covers the Global Neighborhood, and its IT department has a help desk available to students.) "What we're seeing here is how colleges are changing to meet the demands of students, and how AV is a big part of that."