Our story this time involves the design and installation of the AV equipment for the new, from the ground up, Urschel Laboratories, Inc. (www.urschel.com) international plant and offices in Chesterton IN.
Founder's History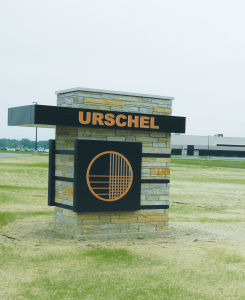 Back in 1910, William Urschel designed the Gooseberry Snipper to remove the stem and blossom ends from gooseberries. That grand mechanical triumph signaled the start of a small company in Valparaiso that would later become Urschel Laboratories, Inc. William Urschel continued to experiment with new ideas and invented many revolutionary machines for the food industry. Because of this extensive research and development, the company took on the name "laboratory." To this day, the company is still owned and operated by direct descendants of William Urschel. Urschel Laboratories, the global leader in food-cutting technology, is an engineering-driven company that continues to partner with leading food processors to discover the latest in food-cutting advances.
In another example of company innovation, David Tipold, Urschel Laboratories Communications Director, related that the firm manufactured the machine that makes Eskimo Pies. Back in the 1920s, Christian Nelson, who ran a candy store in Onawa IA, wanted a way to satisfy customers who wanted ice cream and chocolate candy but only had a nickel to afford one and not the other. Nelson heard about inventor William Urschel who created all types of machinery and apparatus. So, he decided to go to Northwest Indiana and talk to Urschel about adhering chocolate to ice cream. As a result, Urschel came up with a machine that would take slabs of ice cream, slice them into a bar, submerge them with chocolate and package them in a little bag. The machine was honored in a Smithsonian display.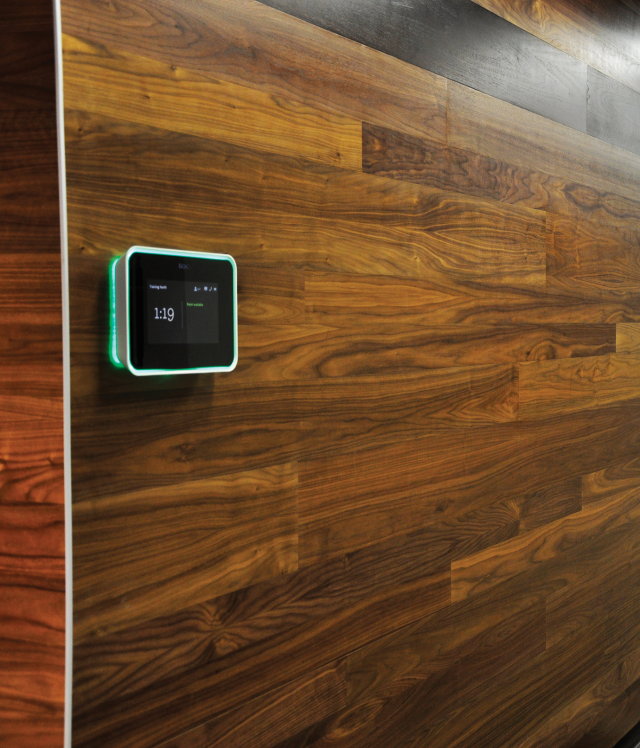 AV Project Overview
First, let's introduce the interviewees. Design and install was done by Vista AV Integration (oiplaces.com/vista-av-integration), a division of Office Interiors, Granger IN. Accordingly, Jim Hevel, CTS, AV Division Manager, and David Glass, CTS, DMC-D, XTP-E, AV Systems Designer/Project Manager, worked with David Tipold, Urschel Laboratories Communications Director.
The office portion of the project encompassed 10 conference rooms, an executive conference room, a three-way divisible training room facility, multiple voice conferencing systems, digital signage, sound masking and general, as well as life-safety, paging. The plant section included general, as well as life-safety, paging for an under-roof area of about 321,600 square feet (7.3 acres). There's also a test lab/showroom area of about 17,040 square feet. Because of the size of the facility, Dante was selected to distribute audio over the new building's network infrastructure. This includes phone-system and emergency- system paging, as well as paging to and from the company's old facility seven miles away in Valparaiso, over fiber. At interview time, personnel were still being moved into the new plant.
Thus, the design and install were customized for each area, far from cookie cutter-ism. "Because of the coordination between the AV side of our company and the furniture side, we did more than just install technology," declared Vista's Hevel. "We also provided the desking systems and the work stations. Other facets include the sound masking and digital sign-age. It's unique that we're an AV division operating out of Office Interiors, which is mostly known for doing commercial office furniture and design. Together, we can do various scales of projects, from small huddle spaces all the way up to very large distributive audio spaces.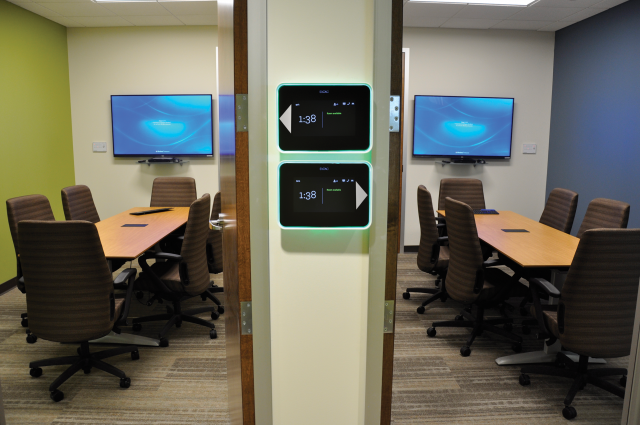 Official Role
"My official role was sales person on the job. So, we began working on it well over a year ago. This is certainly the biggest project we've done with Urschel Labs." Hevel noted that one of his early key roles was to make sure he had a good handle on what the client wanted from a capability standpoint in divisible conference spaces, general conference rooms and signage.
"It was pretty doggone cold when we were doing this installation," Hevel explained. "We were the busiest in the coldest part of the winter. One of the challenges was just staying in tune with the pace of the project and making sure we were in step and in sync with some of the other trades. General Contractor Tonn & Blank Construction (Michigan City IN) got us involved in various meetings. Overall, it went pretty smoothly."
Glass added that the time restriction was a challenge. "We actually started in October, making sure the contractor had things in place for the infrastructure, like the right walls and the right locations," he said. "So, with three months to do all this, we ended up with two teams: One worked on the office area, the conference rooms and the divisible room, then another team worked on the plant system." He noted that building work was still going on at the time  of our interview.
AV Install
Vista's David Glass guided us through the AV install. Because the main plant is large enough to house several Walmarts, covering more than seven acres, audio paging is vital. A Shure "close-talk" mic at the main rack location is a backup emergency page to all-call the entire building. AKG PZM11 boundary mics are used for ambient leveling in different areas of the plant where they're mounted in boxes on the ceiling. "There are a couple of areas that get very loud, then soft, very loud, very soft," explained Glass. "One of them is the grinding rooms. If they're grinding away and an emergency page or general page has to get through, there's only one level set with just a standard system. So, we put audio leveling in. When they start making more and more ambient noise, the base level of the system goes up and a page can be heard over the noise."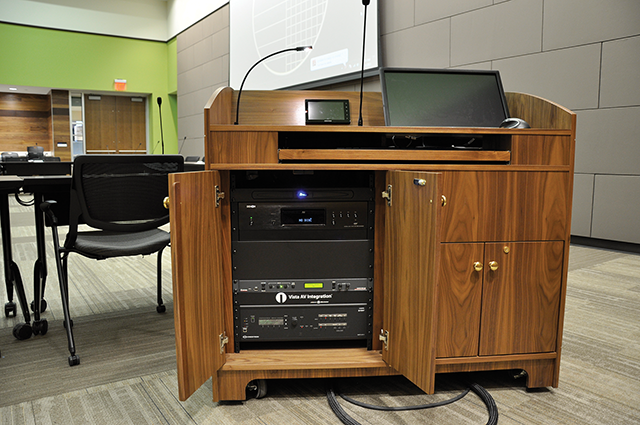 In addition, the phone system is tied in for different paging zones. That is, you can pick up a phone and dial an extension for paging in the office area or in the plant. There's also a general page via the phone. Using a special security number, safety officers can go anywhere in the facility and page the entire plant, overriding any other pages going on.
As mentioned earlier, Dante was selected to distribute audio over the new building's network infrastructure. "Rather than running miles of copper inside the plant, the infrastructure was already put in for a high-speed backbone and fiber links between the IDF racks. "We worked closely with [the client's] IT department and worked on putting in a VLAN so we could have Dante audio running anywhere we had a rack with audio gear."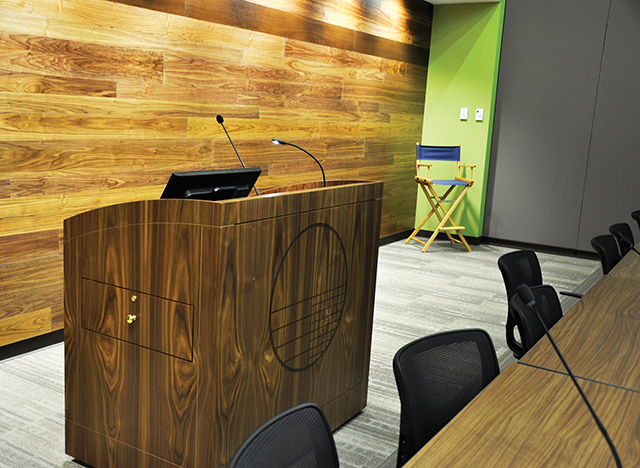 Client's Perspective

Urschel Laboratories moved seven miles north from its original, more than 100-year-old plant in Valparaiso IN, to break ground for a brand new facility in Chesterton. "The Valparaiso plant, which has had more than 50 expansions, is closing," said David Tipold, Urschel Labs Communications Director. "There were a lot of doors and walls that broke up departments, and we wanted to streamline everything and have a really nice logistical flow to our processing. That's one of the reasons why we started from scratch."

There has been quite a contrast in workspace function. "We went from an older, traditional style where everybody is in an office workspace to a more collaborative space where we have workstations that we call 'neighborhoods' with individual departments," he pointed out. "But there are also times you need private meetings, so we required private conference rooms. So, we have these touchdown spaces and conference rooms in different sizes for different amounts of people."

Tipold noted that the company is on the fourth generation in operation. "In fact, we have archival film dating back to the '20s of our machines and operations," he said. "We do a lot of things in-house." That includes a sound stage using digital video to create safety films, training films and marketing pieces.

"Andy Whitaker at Vista was unbelievable in his programming skills and knowledge for our control systems," said Tipold. "Control systems can not only be controlled at the podium level but also in a control room, as well as controlled remotely. Andy was able to enable me to control the AV system even if I were out of the country on business, which is an enormous benefit to us."
Non-DSP Models Used
The new Crown multi-channel amplifiers used throughout the install were non-DSP models because London BLU processing was already in use. "Because of the Crowns' new energy-efficient circuitry, the amplifiers were able to draw only a couple of watts when not in use," Glass pointed out. "That was a very good selling point because [the client] didn't want something sitting there in a rack drawing around 100 watts of power a day." Speaking of Middle Atlantic racks, they're conveniently located in several areas: One is in the security office in the far northeast corner of the building, another is in the far southwest corner of the building and another is placed in the conference room for the office area.
There is a wide variety of speakers throughout the facility tailored to the acoustic environment. "The JBL ceiling speakers have a life safety rating," said Glass. "So, they'd be going to areas where we didn't have to worry about the weather. JBLs would be found in offices that accommodated ceiling mounts. Various Atlas horns would be found in loud environments. The main plant floor would have the larger CJ-46s because they would project down onto the floor. On the manufacturing floor, metal punching and milling machines run continuously all day, so we needed to get above that noise level when everything is running at the same time." Electro-Voice horns are used for outside paging because they have a smaller footprint and have a wide coverage pattern.
The test lab electronics are similar to the main plant. In this area, a machine will be assembled and tested for a potential client. Because the noise levels go up and down inside the room, the PZM11 boundary mic is used for ambient leveling.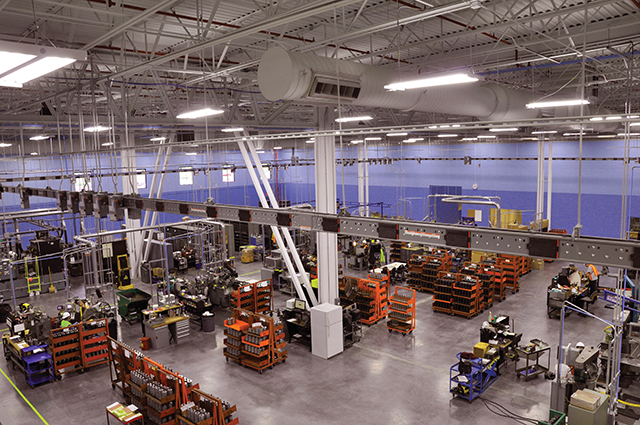 Office Systems Areas
Aside from the main plant and test lab, there are several Office Systems areas. Each of the 10 conference rooms has an NEC 55-inch wall-mounted flatpanel monitor and table. The table and furnishings were supplied by Office Interiors, while Vista supplied the AV. "We were able to work together with some synergy between our company and the furnishings that were going in," said Glass. "It worked out very well because we didn't have to contact another furniture company." Conference rooms vary in size, with most seating six to eight, and some accommodating up to 12 people. An Evoko room manager handles the room scheduling.
Revolabs FLX VoIP phone conferencing systems are used to communicate with Urschel Labs sites throughout the world. It's anticipated that videoconferencing will be added once all personnel are moved into the plant. Each room has a Sony Blu-ray player for digital disc presentations. Video switching and control is via a Crestron button panel controller.
The much larger executive conference room has eight Revolabs Fusion microphones used for wireless phone conferencing. Three Denon professional Blu-ray players facilitate presentations. An NEC 6700 lumen projector fires on a Da-Lite ceiling-mounted screen. A Crown amplifier drives a 5.1 speaker Klipsch speaker system. The left/center/right ceiling speakers in front can be rotated in a particular direction so they shoot toward the conference table for clarity. Video switching and control are via the new Crestron TSW-1050 10-inch touchscreen. "We were able to work with our own furniture people [Office Interiors] and put racks right inside the credenzas," said Glass. "So, there are no visible racks or microphone components other than the touchpanel and the microphones when you pull them out for use."
Divisible Training Room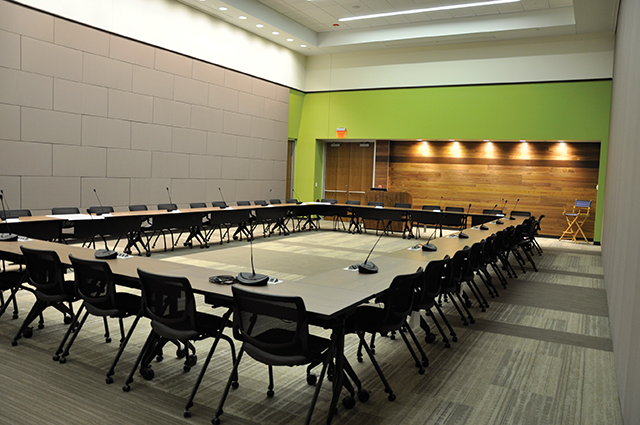 The divisible training room can be configured into one large room that can seat up to 450 or two or three meeting spaces. Isolation is ensured between the rooms using a heavy-duty, 2½-inch-thick folding air wall. A full complement of Crestron video switching and control functions includes the Pro 3 control system, DM 16-port switch and scaler, along with one 10-inch and three 5.7-inch touchscreens.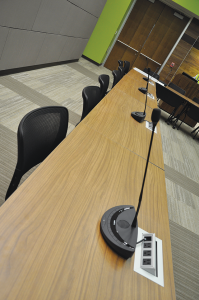 Depending on the arrangement, up to four NEC projectors using Draper projector lifts fire onto ceiling-mounted Da-Lite screens. Screen sizes range from one 120×192 to three 60×96 models. Two lecterns are fitted with AKG cardioid gooseneck mics for presenters. Each lectern has its own Denon Blu-ray player and Extron Annotator 300. "A presenter can use the annotator to write information onto the screen," said Glass. The Marshall Furniture custom lecterns have the Urschel Labs logo on the front with a rack space underneath.
A control room off the side features two Middle Atlantic racks. Front-end electronics include a ClearOne Converge mic mixer with VoIP interface to audio link to phone audio conferencing. Conferencing includes televic/Listen Technologies Confidea wired Delegate units in the training room, which feed to the Confidea CU wired conferencing system. A Crown four-channel amplifier drives 24 JBL Control 26CT in-ceiling speakers.
Center Of Attention
The center of attention in the office cafeteria is the Sharp 70-inch LCD monitor that runs a Tightrope Media Systems Carousel Player 250 signage player. "There's an FSR suspended ceiling box there that allowed us to hide the digital signage unit that plays on the monitor," explained Glass. "There's a ledge where we put our Extron HDMI and VGA input plate because they might want to use this room for a meeting that a conference room couldn't hold." An Extron amplifier feeds six Klipsch in-ceiling speakers.
Cambridge Sound Masking has been installed throughout the main office area using small emitters mounted unobtrusively and extensively in the ceiling tiles and drywalls. Additionally, "the Cambridge system integrates sound masking with paging via two auxiliary audio inputs for the open office areas," said Glass.
---
All photos by Alyson Davenport.