University of Scranton upgrades and standardizes AV systems.
The benefits of standardizing classroom technologies have been documented many times: consistent user experience, ease of maintenance and a higher return on investment. However, establishing uniformity can be a daunting task in the world of academia. For several years, the University of Scranton has focused on the standardization of audiovisual systems throughout its campus. Although these efforts have proven to be very successful in the smaller classrooms and meeting spaces, they have usually fallen short of the goal when it comes to the larger projects that tend to get bloated with bells, whistles and the need for a "Wow! Experience."
Standardized
Most of the smaller classrooms and meeting spaces at the University of Scranton have been standardized on the Extron platform successfully. Each of these spaces is typically equipped with either the Extron IN1606 or IN1608 presentation switcher and controlled by an MLC-226 controller or IPL-250/500 processor, which is managed by the GlobalViewer Enterprise AV Management System. Conversely, the higher-profile rooms tend to incorporate an assortment of Crestron processors and various switching.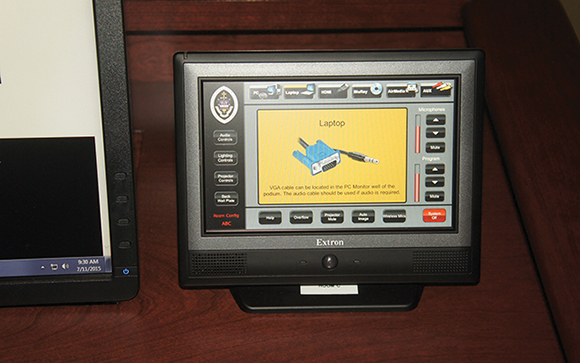 Over the past two or three years, a correlation between the two paradigms has become increasingly apparent: The standardized rooms resulted in easier management, faster maintenance and repairs, and less overall time dedicated to training and support services. We believe that the smaller classroom paradigm is more sustainable, not because it employs lower cost or less equipment, but because it uses identical equipment and shared programming throughout the campus.
The release of Extron's Pro Series processors and touchpanels, as well as its GC Pro software platform, which allows for complex logic statements in the programming, offered an excellent opportunity for the university to finally standardize its larger and more complex venues on the same audiovisual platform as its smaller facilities. Incorporating this standard in the University's newly constructed Center for Rehabilitation Education (due to open for the 2015 fall semester) was considered highly desirable, but would require that the Office of Instructional Technology (OIT) and integrator J.P. Lilley quickly familiarize themselves with the capabilities and limitations of the new product line.
Pilot Project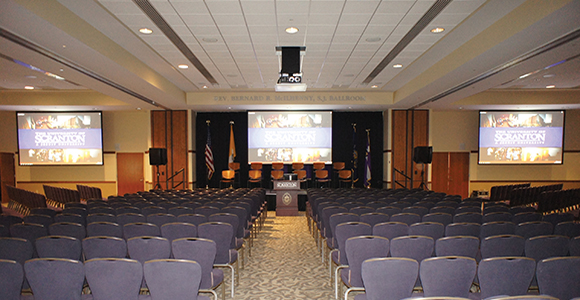 A great opportunity was presented when OIT was asked to submit proposals for the replacement of AV equipment in the DeNaple's Student Center and the Alperin Financial Center. These projects included four high-profile event spaces. At the time, these spaces were controlled by analog switchers and Crestron AV2 processors. Even though most designers and integrators agreed that an upgrade to a Crestron DigitalMedia solution would have provided the quickest and easiest path to the completion of this project, it would have been counterproductive to the overall goals of uniformity and sustainability that OIT desired to achieve.
The project consisted of AV renovations to a number of rooms, including the Moskovitz Theater, three sections of the divisible McIlhenny Ballroom and the digital signage distribution system. Specifications stated that each podium contain a touchpanel that enabled presenters to easily control all aspects of their event. Additionally, both the ballroom and theater would be controllable by a technician at the back of the room during high-profile events. It was also required that content be distributed easily between rooms so students, faculty and staff could participate in events where seating capacity had been exceeded.
Design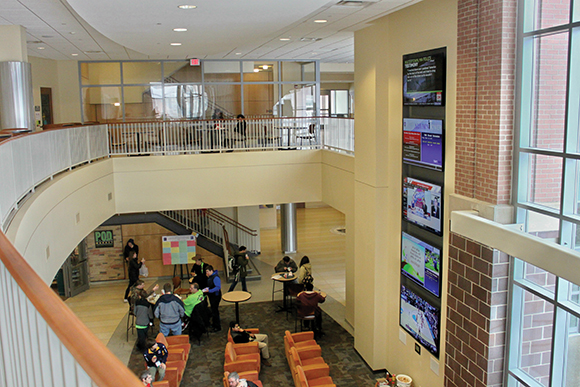 Extron's XTP CrossPoint Digital Matrix Switcher was chosen to handle the backend routing of AV signals, but localized switching would all be handled at the podiums. All podiums were designed to mirror the typical classroom, with each containing an Extron touchpanel (TLP Pro 720T), IN-1606 presentation switcher, computer, Crestron AirMedia, Blu-ray player and connectivity for personal devices. The output and control of each podium system would be routed to the XTP Matrix Switcher via shielded Cat6 cable from where it would be distributed to the appropriate rooms, projectors and displays.
This design not only supports ease of use and functionality for the user, it allows the maintenance staff to quickly and easily set up and strike the podiums as necessary. In the previous design, our podiums required 10 separate connections to the floorbox, which has now been reduced to a maximum of four (power, network, XTP and XLR).
[accordion]
[accordion_item title ="Tips"] • Focus on immediate user needs first.
• Select a switcher with at least one more digital input than is currently necessary.
• Simplify the interface and reuse the program as often as possible.
[/accordion_item]
[/accordion]
This new design has not only led to a reduction in setup time and cable breakage but, due to fewer connections, it has also reduced technical issues associated with similar cables being plugged into the wrong locations. Because the podium setup mirrors the typical classroom designs, even student support staff feel comfortable performing basic diagnostics and support functions in the field. Furthermore, because most of this equipment already exists in our backup inventory for smaller classrooms, the purchase of additional backup equipment was unnecessary.
Integration Challenges
No good design and integration goes without its share of challenges, and ours was no exception. Perhaps the biggest was that the project had to be completed on a very challenging timeline because advanced bookings made it virtually impossible to close these rooms for extended periods of time.
As a result, while working, J.P. Lilley's integration crew would have to vacate the facility intermittently to accommodate a previously scheduled event. Once the event concluded, the integrators could return to their work. The caveat, of course, was that these functions often required the use of audiovisual technology. Continuous communication between OIT, the integration team and event presenters was essential to the success of these events because equipment often had to be manually set up prior to the event.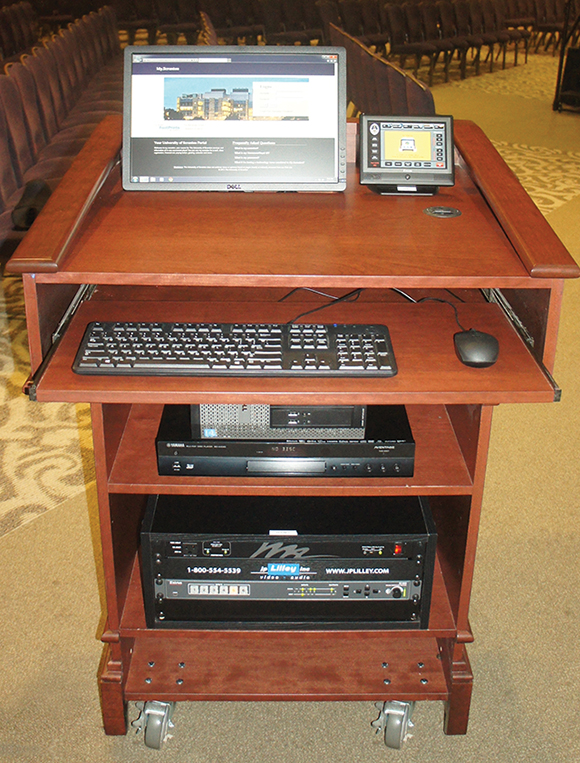 During the installation of one of the projector lifts, it was discovered that the main HVAC air handler was in the way. Rerouting the air handler was a three-day process that further complicated an already tight deadline.
Knowing that the system was going to be operated predominantly by novices and outside presenters, it was imperative that the touchpanel be self educating for the user. Although the panels were designed to mirror the look and feel of other panels on campus, they also provide instruction unique to the situation. For example, the touchpanels in the divisible ballroom clearly indicate the current configuration and show only the features associated with that configuration. Furthermore, when any source is selected, the panel displays information about how to use it, whether it be the credentials required to log onto the PC or which cables to use to connect a device.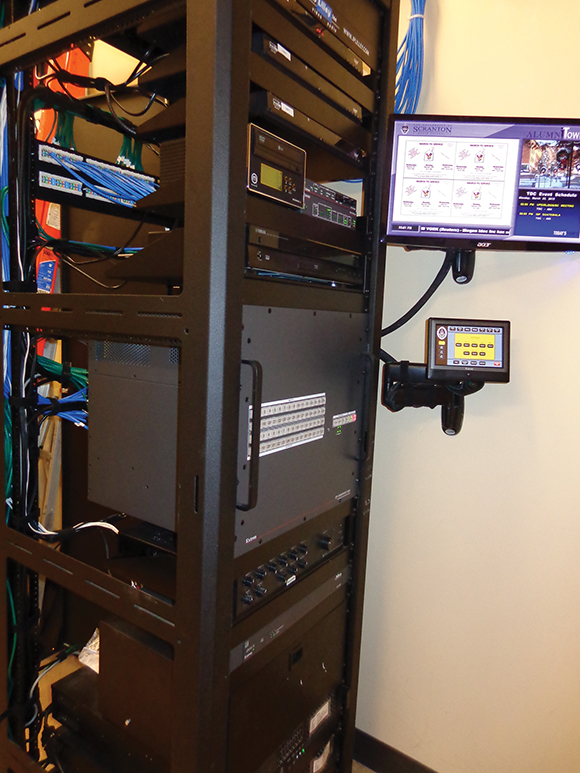 An interesting feature of the theater is that the projector can display on screens of different sizes, depending on the type of event. A large screen that drops in front of the stage is used for movies, and a smaller screen at the back of the stage is used for presentations. In an effort to simplify the task of aligning and focusing the image between screens, the programmers at J.P. Lilley automated the process by programming the IPL-550 processor to send the projector's lens to its "home" position and apply each zoom and focus step necessary for the desired screen. These simple and reactive designs give presenters a sense of confidence in using a complex AV system.
Risks
One risk associated with this project was knowing that there would be little industry information to refer to when it came to troubleshooting programmatic control issues associated with the new GC Pro software. After all, it had not yet been thoroughly field tested in the industry and it takes extensive field testing and time to establish the knowledge database.
Even though the programmers were highly knowledgeable of the software, device driver issues would occasionally halt progress while options were discussed.
Perhaps the biggest risk was knowing that GC Pro was not yet compatible with Global Viewer Enterprise. A lack of "centralized control and reporting" would have been a devastating blow to the project. However, Extron recently released version 2.2, which is fully compatible with GC Pro. Although there was much anxiety related to how difficult it might be to incorporate into preexisting programs, it turned out to be quick and painless, with just the addition of a few status monitors that took about 20 minutes for each room.
Lessons Learned
Two important lessons were learned from this project. First, finding time to work on AV systems in heavily scheduled rooms is always difficult, but the key is to be as proactive as those who book the rooms for events. If they are booking the facilities a year in advance, you may want to consider the same approach. It's better to reserve the space and not need it than it is to lose availability when you do need it. This project was almost sidelined for a year, simply because of preexisting events.
Second, although Extron is relentlessly working on expanding its library of drivers, be well advised to look at the current library during the design phase of your project to make sure the driver exists. Although missing drivers can be requested, they require time to create. Getting your requests in early can save a lot of headaches during integration.
Rewards
To say hindsight is 20/20 would be an understatement. When conventional wisdom suggested that we stay clear of a solution that had not yet been fully vetted by the industry, OIT chose to follow its vision of "uniformity." Thanks to J.P. Lilley, every bit of OIT's vision was delivered. The professional installation, integration and touchpanel programming of J.P. Liley's team is delivering high-quality sound, video and incredible ease of use in the recently renovated rooms. Had OIT waited for GC Pro to be fully field tested, TDC and the Center for Rehabilitation Education would likely have been equipped with Crestron DigitalMedia Solutions that would have produced equally high-quality sound, video and ease of use, but OIT would have been set years behind in achieving uniformity across campus.
[accordion]
[accordion_item title ="Gear"][row]
[col width="six"]
Download [PDF]
McIlhenny Ballroom
3 Crestron AM-100 Air Media presentation gateways
2 Crown CTs4200 amps
1 Crown DCi 4/300 amp
1 Crown DCi 8/300 amp
3 Da-lite Da-lift 15 projector lifts
3 Da-lite Advantage Electrol screens, 139″ wide
1 Extron IPCP Pro 550 control processor
1 Extron XTP CrossPoint 1600 frame w/RPS
1 Extron XTP R HWP 201 wallplate receiver
1 Extron XTP T UWP 202 transmitters
3 Extron DMP 128 C AT audio digital signal processors
3 Extron IN1606 scaling presentation switchers
3 Extron XTP SR HDMI receivers
3 Extron XTP T HDMI transmitters
4 Extron TLP Pro 720T tabletop touchpanels
18 JBL 226C/T speakers
6 JBL C128 speakers
3 JBL C19CS speakers
3 Panasonic PT-DZ680US projectors
3 Yamaha BPH1040 Blu-ray disc players Moskovitz Theater
1 Crestron AM-100 Air Media presentation gateways
1 Crown Dci 2/300 amp
1 Crown Dci 4/1250 amp
1 Crown Dci 4/300 amp
1 Crown XTi2 6002 amp
1 Da-Lite Advantage screen
1 Extron DMP 128 C audio digital signal processor
1 Extron DTP CrossPoint 84 IPCP SA
1 Extron IN1606 scaling presentation switcher
1 Extron IPCP Pro 550 control processor
1 Extron SSP 7.1 surround sound processor
2 Extron TLP Pro 720T tabletop touchpanels
2 Extron XTP SR HDMI receivers
2 Extron XTP T HDMI transmitters
12 JBL C26C/T speakers
1 Panasonic PT-DZ680US projector
2 Yamaha BPH1040 Blu-ray disc players [/col]
[col width="six"]
McDonnell Meeting Room
1 Da-Lite Advantage Screen
1 Extron DTP HDMI 330 Rx twisted pair extender
2 Extron IN1608 scaling presentation switchers
1 Extron IPCP Pro 550 control processor
1 Extron TLP Pro 720T tabletop touchpanel
1 Extron XPA 2003C-70V amp
2 Extron XTP SR HDMI receivers
2 JBL C128 speakers
4 JBL C26C/T speakers
1 Panasonic PT-DZ680US projector
1 Yamaha BPH1040 Blu-ray disc player
Digital Signage Distribution
1 Extron IPCP Pro 550 control processor
2 Extron TLP Pro 720M wallmount touchpanels
1 Extron XTP CrossPoint 3200 matrix switcher
19 Extron XTP SR HDMI receivers
2 JBL C128 speakers
4 JBL C26C/T speakers
9 Samsung 32″ displays
7 Sharp 70″ displays
3 Visix AxisTV content players
1 Yamaha BPA1040 Blu-ray disc player [/col]
[/row]
[/accordion_item]
[/accordion]