Whether you're talking about a hotel lobby, nightclub, day spa or theater, Las Vegas NV is an endless round of one-upsmanship. And you can get one-upped in Las Vegas in pretty short order. But, every now and then, one of these pleasure domes will take it so far to the next level that it'll be a while before the legendary Strip sees anything else that comes close.
One of those rare occasions might be the new Wynn Las Vegas Sportsbook, a nearly 10,000-square-foot wagering palace that reopened at the Wynn Hotel in August after a four-month renovation. Conceptualized by Executive Vice President of Wynn Design and Development Roger Thomas, bettors are treated to AV brought to a truly Las Vegas scale. A 21.7-million-pixel—16,128×1,344 pixels—1,500-square-foot SiliconCore LED videowall, which stretches 137'Wx11'H, offers nearly 180 degrees of immersion. It comes with a continuously scrolling ticker at the base of the screen, comprising eight segments, 96 pixels high, with 1920×1080 resolution. The screens' 11 2K inputs are driven by three Analog Way Ascender chassis and an RCU Master Controller.
The gorgeous visuals are complemented by audio from Harman Professional brands JBL Professional, Crown and BSS Audio (with some Meyer Sound components now in the process of being added). Systems control is via Crestron, and there are more than 50 22-inch Samsung touchscreen displays for the sporting crowd to get their bets in.
The Really Big Picture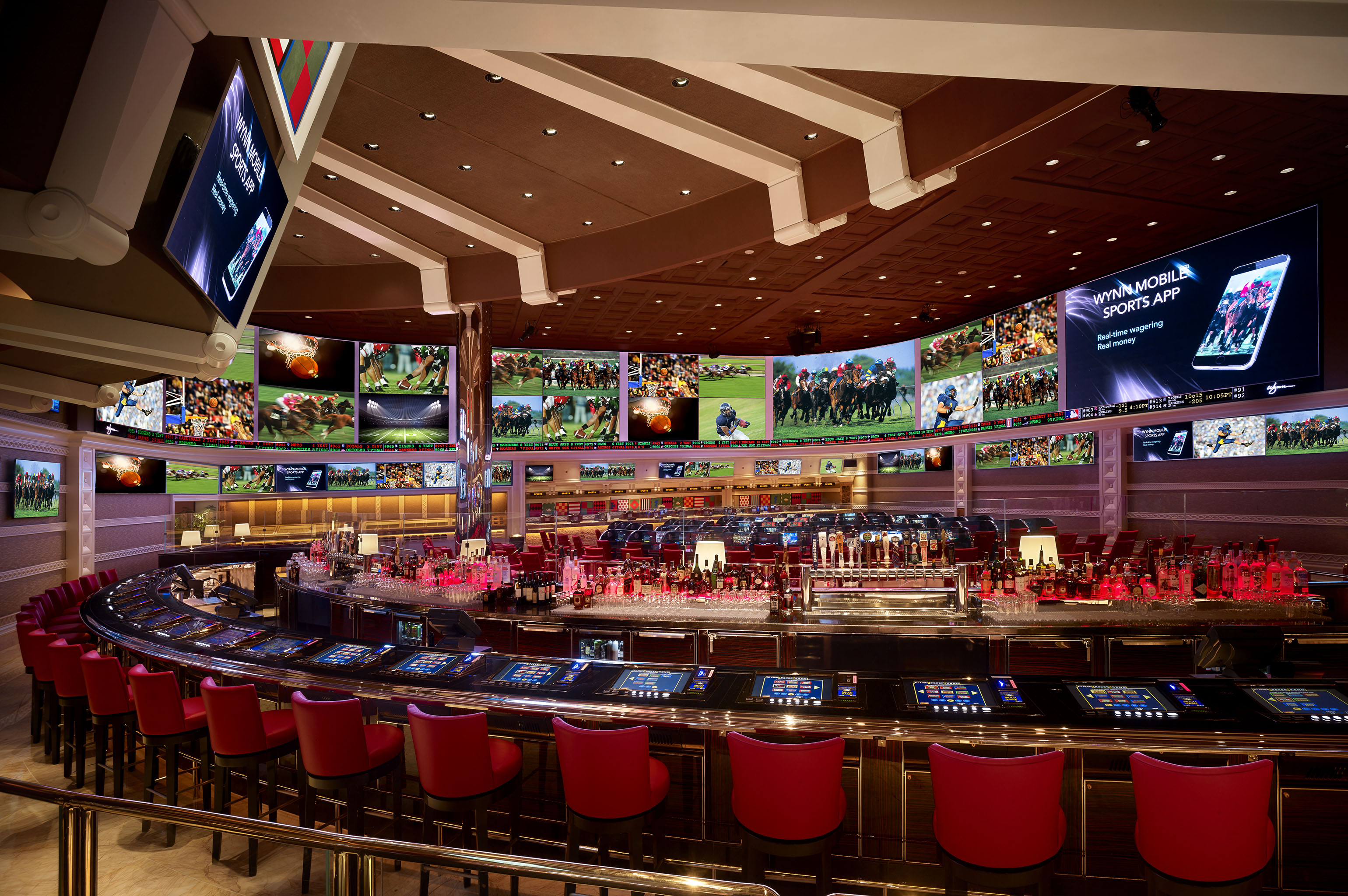 For the Wynn, the video is truly an inflection point, replacing three rear-projection screens that were previously the centerpiece of the room. "The room really hadn't changed much in the 12 years since it first opened," remarked Johnny Avello, Executive Director of Race & Sports Book Operations at the Wynn. "At first, Remo Minor [Director of Sound and Video at Wynn Las Vegas] and I had just talked about redoing the video with LED. We had been replacing all three projectors about every three or four years, and LED would represent a cost savings, as well as a better-looking visual with more versatility. But then Steve Wynn [the hotel's owner] came in and said, 'Let's just do the whole book over.'"
And that's how it happens in Las Vegas—just like that. The Wynn team spent more than a year looking at technology products and vendors, going so far as to line up large-screen examples for video shootouts in one of the hotel's cavernous ballrooms, all in search of the best visual experience. Supporting that process was Technology West Group, a locally based AV systems integrator that was already the hotel's tech partner, providing maintenance services for its existing AV system. It was asked to evaluate items such as the signal processing and programming aspects of the new book. Then, it had to find a time window for the four-month-long renovation that would have the least impact on hotel operations.
Technology West Group chose April 4—the day after NCAA March Madness ended—to close the sportsbook for remodeling. "The next morning, there was a construction wall up and they began demolition," Avello said. "And we just went from there."
Scaling The Wall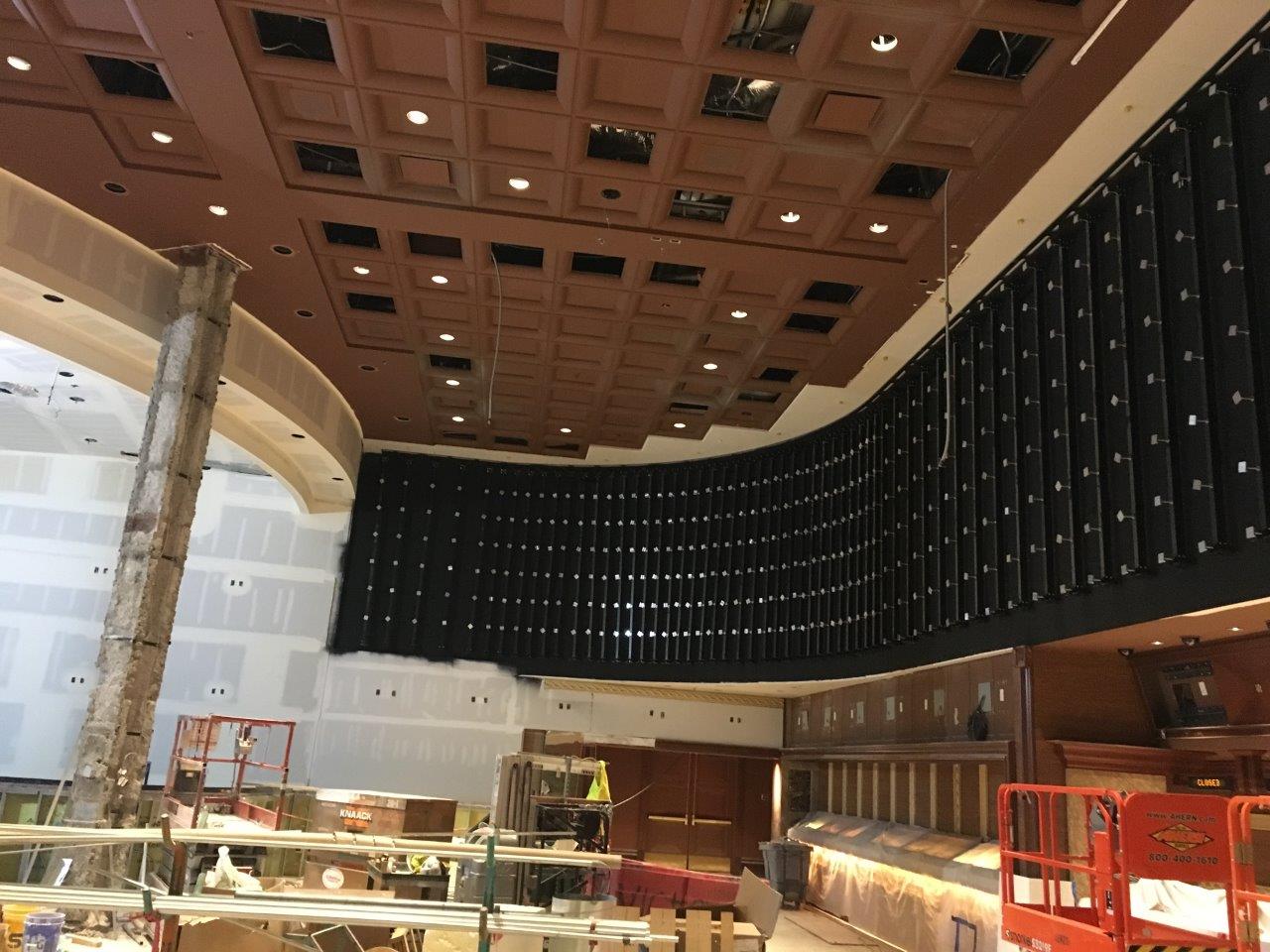 The sportsbook's signature AV item is the massive, 1,176-tile LED wall. The 2.6mm SiliconCore Peony LED was attached to a custom mount support-and-alignment structure that was purpose built by rp Visual Solutions. The onsite installation and commissioning of this custom structure was managed by SiliconCore, supported by rp Visual's Applied Services Group installation division.
rp Visual Vice President John Brereton said that every manufacturer's LED display element is somewhat different, requiring a custom mounting solution. In this case, the LED wall had to follow the contour of the original sportsbook, which entailed two roughly 90-degree turns, each with a slightly different degree of radius. In addition, the LED wall runs from the ceiling down to a point about midway to the floor, where it ends atop a line of existing, soffited LCD video displays. To accommodate that, the tiles are laid out 168 tiles long and only seven tiles tall.
The videowall is connected to the custom mount, which, in turn, is connected to the building's overhead structural elements via a template based on precise measurements that rp Visual made of the book. The template, which has the same dimensions as the LED wall, is attached to the structural elements of the building via threaded rods. They offer not only solid attachment, but also the ability to fine-tune the template along its X-Y axis, enabling it to negotiate the curves more precisely.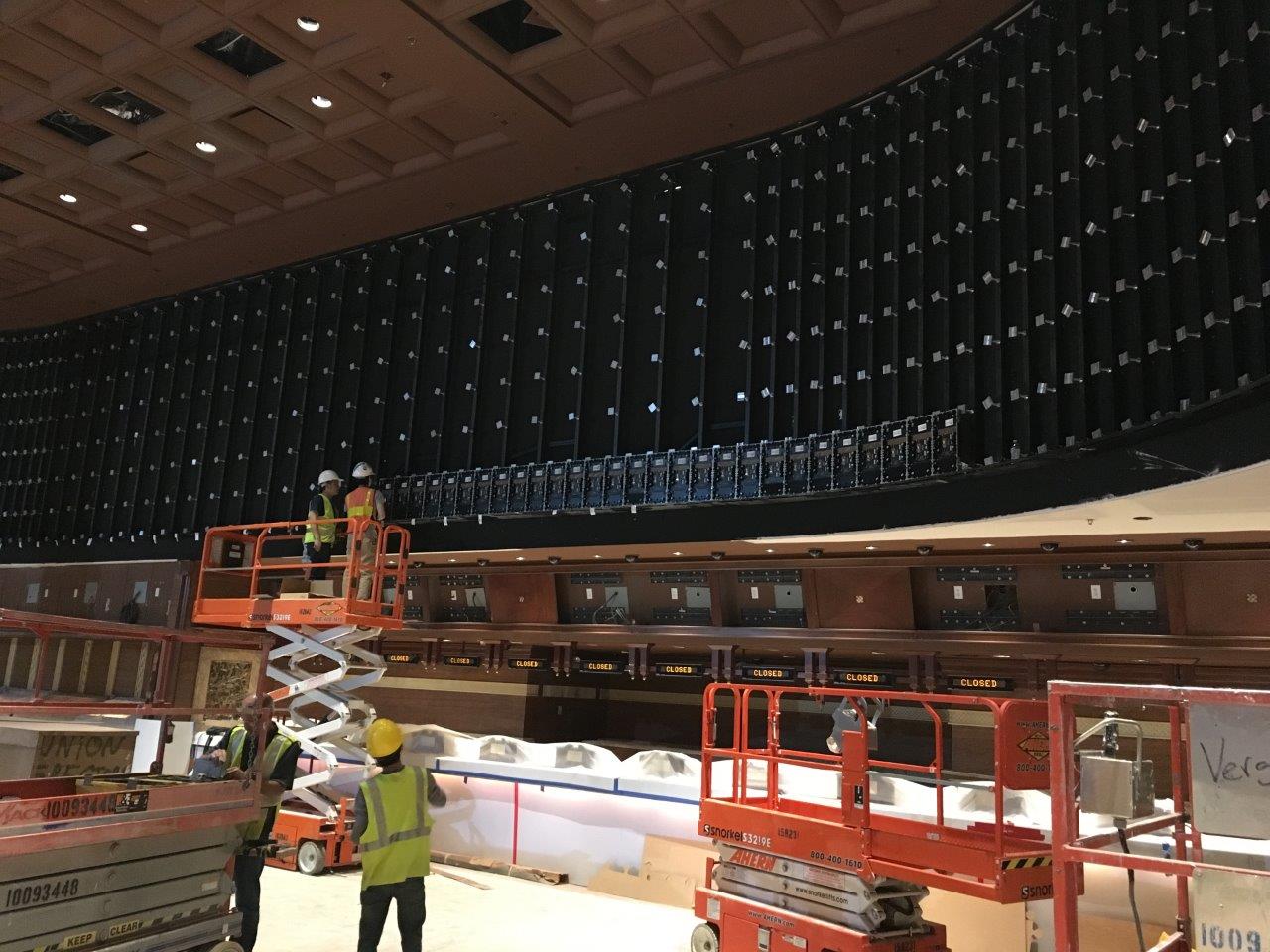 The high resolution of the LED wall—21 million pixels/2.6mm pitch—also meant that the wall would have higher-than-average thermal concerns. Brereton said those were addressed by creating a kind of chimney on the backside of the LED panels, providing a route for heat to escape upwards, via a convection process. "Every wall is a bit different, so we need to create ways to let the heat out, based on the wall's design," he explained. "Sometimes, we'll vent through the front; sometimes, the back."
Another concern was LED tile alignment. With resolution this high, misalignments in the picture can be readily discernible from the seating areas. rp Visual used what has become its foundational formula for this: Start with the bottom line of tiles first, then build a "spine" of tiles that rise from that at the wall's midpoint, adding each successive row of tiles upward, working from the spine out left and right. "We've found that this approach works the best with most of the LED walls on the market," Brereton affirmed. "Some manufacturers use an interlock system between the tiles, where gravity helps you with alignment. Otherwise, starting at the bottom and using a spine as an index has been the most effective approach."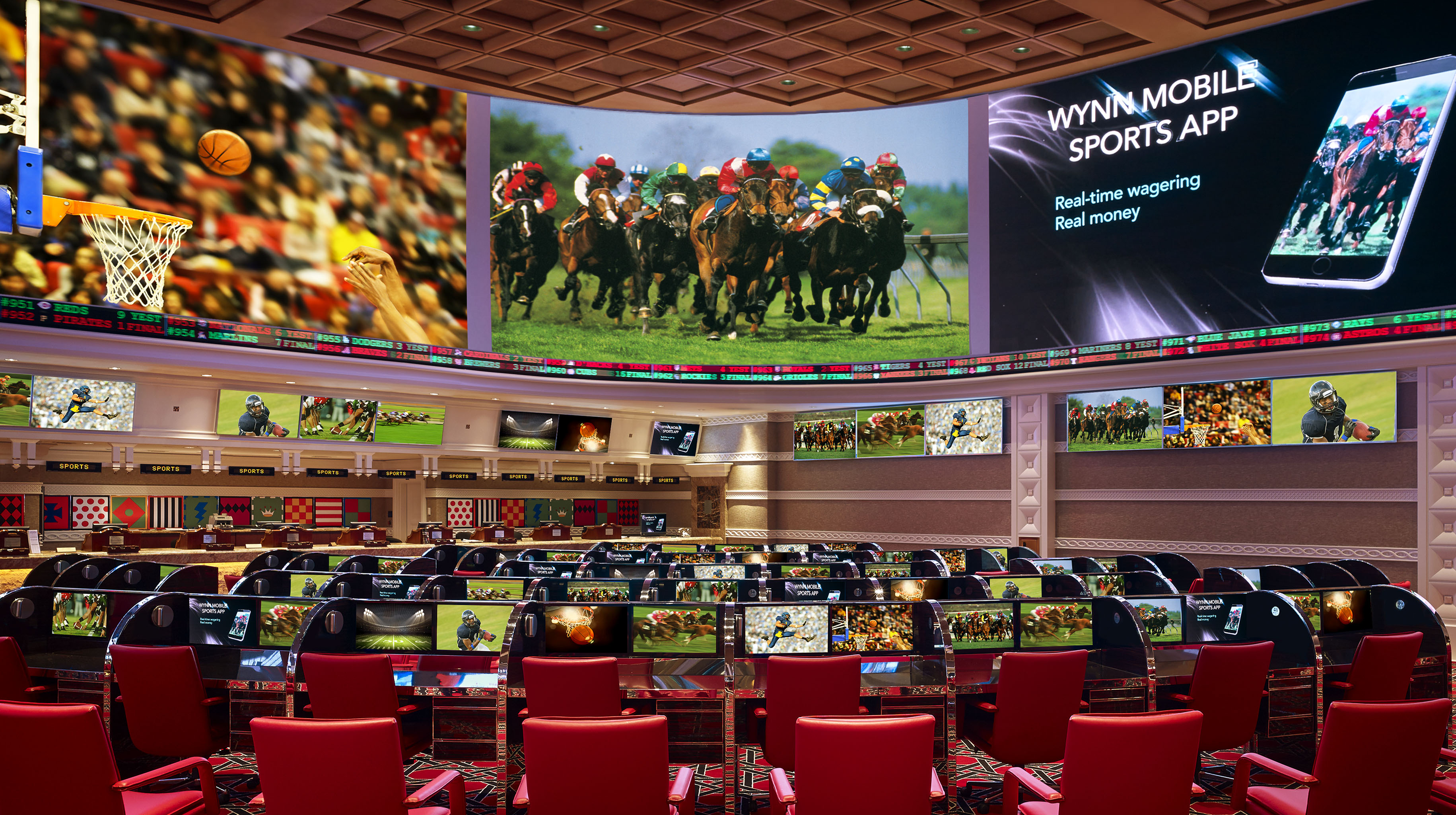 In an example of how manufacturers are becoming more involved in the integration aspect of projects, Analog Way's engineering team programmed the entire screen system in the RCU from their base in Atlanta GA. "We did most of the programming on site, as part of the system commissioning process," Brian Macauto, Director of Business Development at Analog Way, stated. "But, as other parties to the process worked on the system, we were able to fine-tune the RCU's programming remotely, through a virtual network connection, to accommodate any changes that took place after we left. That's a feature of the RCU that lets us keep it matched exactly to the rest of the system's programming, without passing on costs to the integrator."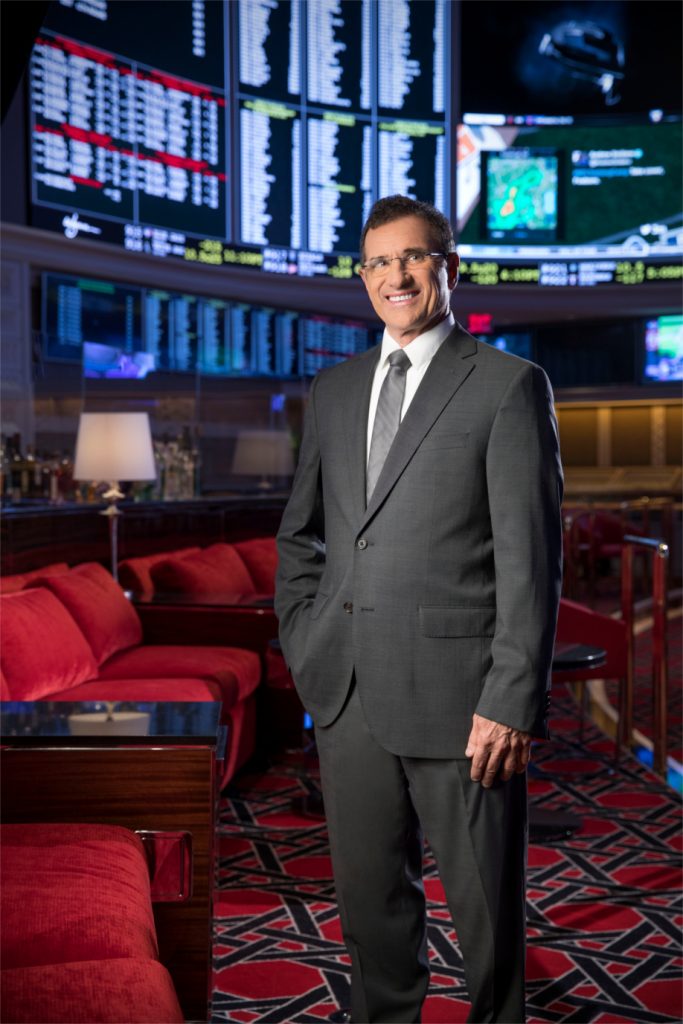 Avello said the new LED wall illuminates the approximately 4,000-square-foot space. "And we're only using it at 35 percent of its brightness," he added enthusiastically. "It looks amazing!"
Technology West Group is based in Las Vegas, but the Wynn Las Vegas Sportsbook was its first integration project for Steve Wynn's empire. It acted as the project manager, bringing both SiliconCore and rp Visual onto the project. Like much else about Las Vegas, how the revamped sportsbook ended up was not how it began. From the original plan just to replace the three rear-projection screens with an LED wall, Steve Wynn, over a period of nearly two years, made grander plans for the sportsbook, including changing the motif of its interior décor from dark-wood, old-boys'-club traditional to a sleeker, more open, thoroughly modern look. "A lot of the original designs got walked back," Richard Reisig, General Manager at Technology West Group, said. "But we kept the LED wall through all of them."
A key project under Technology West Group's purview was the placement and wiring of 41 21.5-inch video screens in the betting carrel, a grid of low-rise booths in front of the main screens, where bettors can scroll between races and place wagers from their screens. SVSi JPEG codecs are managed through a Crestron DGE 100 touchscreen interface. "We created a dynamic channel lineup through the Crestron system that puts out up to 50 channels of content—24 channels of DirecTV and then local Cox Cable channels," Reisig explained.
The single seamless LED videowall above them uses 32 SVSi decoders that feed three Analog Way 4K multi-layer seamless switchers. There are two control points for the main displays, which use Crestron 20-inch controllers, to get traffic to the videowall. "It's very simple and very flexible—we can pretty much put any image anywhere on the screens," Reisig affirmed. A ticker built into the videowall and made up of eight constantly moving ribbons is processed through an Intel NUC mini PC, which outputs a raster of eight 1080p ribbons of constantly moving information. According to Reisig, it took considerable testing to get the eight discrete tickers to move fluidly while remaining pixel-accurate. "The ticker is its own PC, running its own software—Seascape Technologies—and we're taking an HDMI off of the NUC and DAing it to two Analog Way processors and deconstructing it," Reisig explained. "The video has to be perfect, because it's moving all eight slices all the time at their own pace. Any overscan or distortion would be noticeable, in the form of weird stuff happening with the fi rst and last columns of pixels. It took a lot of trial and error to get it right."
Sound Thinking
Avello said that getting the sound in the space properly distributed and balanced has been a challenging undertaking. "The sound is important, but it's also kind of tricky," he said. The front of the book is filled with individual carrels for horseracing aficionados to place their bets on the 21.5-inch touchscreens; the back of the room is for every other sport. "So, we needed to balance the volume in the room so it worked for everyone," he observed.
As a result, the sportsbook's audio is still a work in progress. There was considerable back and forth about using distributed (30 JBL 6.5-inch ceiling speakers) and point-source (two JBL 12-inch full-range speakers paired with two ASB6112 subs) audio systems, with the former eventually winning out. More distributed sound will be installed in the near future, and Meyer Sound MM-4XP miniature speakers have already been placed in the couch areas of the book. Meyer Sound steerable columns are also being added.
"The idea is to get the sound more focused, rather than having it come from overhead," Reisig said of the speaker system. Other sound system components, including BSS BLU processors, Crown DCi amplifiers and a Shure ULXD wireless microphone system, are in place and will remain.
Guy Russell, VP Sales, Western US Region, and VP Special Projects at SiliconCore, added, "The Wynn Las Vegas Sportsbook is the first to be built as an integral part of the casino, as opposed to the traditional books, which are separate from the casino. The main display's combination of exceptional visual quality and higher brightness enabled the Wynn to design the sportsbook to be a natural extension of the casino, providing a more inviting environment for guests. The room lighting in the book doesn't have to be lowered to maintain the visual quality of the big screen, so the book's overall light level is comparable to other areas of the casino. When combined with open sightlines from the casino into the book, there is no hard break from casino to book, allowing guests in the casino to see the main display and watch the big game."
The house, as they say in Las Vegas, is happy. "The LED wall looks great…even better than we expected," Remo Minor enthused. "The staff love it, and customers say it was overdue. The LED wall gives us great flexibility to have video windows wherever we want them, and we now have a seamless, smooth ticker—something you don't see at other books."
Avello said that, now that the sportsbook is up and running, it is already planning new applications for its AV. These include running films of classic boxing matches on the giant screens on Wednesday nights and movies on Thursday nights. Technology West Group has already created a dozen different templates for fitting those into the sportsbook's videowall, using the Ascender and RCU Master Controller to route any source to any window. These templates are selectable through one of the Crestron controllers.
"When you have this much fantastic video," Avello said with evident pride, "you want to find as many ways as you can to use it."
---
---
Equipment List
3              AMX/SVSI FGN2122-CD JPEG2000 digital-cinema-grade video-over-IP encoders
15           AMX/SVSI FGN2122-SA JPEG2000 digital-cinema-grade video-over-IP encoders
32           AMX/SVSI FGN2222-CD JPEG2000 digital-cinema-grade video-over-IP decoders
54           AMX/SVSI FGN2222-SA JPEG2000 digital-cinema-grade video-over-IP decoders
5              AMX/SVSI FGN4321-CD audio-over-IP transceiver cards
1              AMX/SVSI FGN9206 2RU rackmount cage w/power for 6 SVSI N-Series card units
3              Analog Way ASC4806-4K-PL Ascender 4K multi-layer seamless switchers w/48 scalers
1              Analog Way VRC300 Vertige premium remote controller
2              APC SMX3000RMLV2U Smart-UPS X 3000VA rack/tower LCDs 100-127V
1              Belden 2412 Cat6+ cable
1              Belden AX103253 Cat6+ KeyConnect patch panel (24 ports)
2              Belden AX103255 Cat6+ KeyConnect patch panels (48 ports)
2              Belden AX103256 10GX KeyConnect patch panels
–              Belden AX104562 modular connectors
1              Belden AX104564 KeyConnect shielded patch panel (48 ports)
5              Binary B4-HD-2 B4 Series 2m high-speed licensed HDMI cables
1              Binary B4-HD-2-20BOX B4 Series high-speed licensed HDMI cable (box of 20)
60           Binary B6-4K-7.5 B6 Series 4K ultra HD premium certified high-speed HDMI cables
1              Blackmagic Design CONVMSYNC mini converter sync generator
1              BSS Audio 1RU rackmount kit for BLU-BIB
1              BSS Audio BLU-806 signal processor w/digital audio bus and Dante
1              BSS Audio BLU-BIB break-in box input expander
3             BSS Audio BLUCARD-IN analog input mic/line cards
1              BSS Audio BLUCARD-OUT analog output card
8             Cable Matters 102005-6 gold-plated DisplayPort to DisplayPort cables
57           Chief FSR100 small flat-panel fixed wall display mounts
4             Cisco SFP-10G-LR SFP+ transceiver modules
2             Cisco WS-C2960X-48FPD-L Catalyst 2960×48 GigE PoE networking devices
52           Crestron DGE-100 digital graphics engine 100s
3             Crestron HD-DA-2-QUAD quad 1-to-2 HDMI distribution amps
1              Crestron PRO3 3-Series control system
3             Crestron TSD-2220 21.5″ HD touchscreen displays
1              Crown Audio DCi 4|1250N 4-channel, 1250W per channel audio amp
1              Crown Audio DCi 4|2400N 4-channel, 2400W per channel audio amp
1              Crown Audio DCi 8|300N 8-channel, 300W per channel audio amp
2             Ergotron 45-475-026 HX desk-mount single monitor arms
1              Hoffman CP1616 back plate for CSD16166
1              Hoffman CSD16166 16″x16″x6″ speaker distribution box
20           JBL Professional 226C/T 6.5″ coaxial ceiling speakers w/HF compression drivers
1              JBL Professional AC16 ultra-compact 2-way speaker
2             JBL Professional AM7212/95 high power 2-way speakers
2             JBL Professional ASB6112 compact high-power single 12″ subs
1              JBL Professional Control 29AV-1 premium indoor/outdoor monitor speaker
10           JBL Professional Control 47HC high ceiling speakers
1              JBL Professional MTC-29CM Control 29AV ceiling mount InvisiBall assembly
1              JBL Professional MTU-16 bracket for AC16 speaker
1              Key Digital KD-DA1x2 1×2 4K/18G HDMI distribution amp
–              Middle Atlantic HW500 rackscrews
2             Middle Atlantic MW-6FT-660CFM fan tops
1              Middle Atlantic RM-KB-LCD17KVMHD HD rackmount console w/KVM
2             Middle Atlantic UFA-8-4 device-mounting rackshelves
54           Monoprice 13574 Ultra Slim Series high-speed HDMI cables
50           Monoprice 2298 3′ Cat6 24AWG UTP Ethernet network patch cables
50           Monoprice 2300 3′ Cat6 24AWG UTP Ethernet network patch cables
90           Monoprice 2309 14′ Cat6 24AWG UTP Ethernet network patch cables
18           Monoprice 3431 5′ Cat6 24AWG UTP Ethernet network patch cables
62           Monoprice 5438 6′ USB 2.0 A male to B male 28/24AWG cables
30           Monoprice 645 12′ 3.5mm stereo plug/plug m/m cable
8             Monoprice 85 6′ Super VGA (SVGA) monitor cables
2             PanelCrafters broadcast field panels
2             PanelCrafters custom 3.5mm and HDMI wall plates, 1 gang
2             PanelCrafters custom 3.5mm wall plates, 1 gang
2             PanelCrafters OP panels
1              PanelCrafters OP/broadcast rack panel
60           Philmore 70-534 3.5mm solder back jacks
1              Phoenix Contact 3044102 feed-through terminal block
1              Phoenix Contact 3045127 DIN rail terminal block
–              rp Visual Solutions custom mounting structure
57           Samsung DB22D-T 22″ slim direct-lit LED touchscreen displays
2             Shure UA864US wall-mounted wideband antennas
2             Shure ULXD2/B87A-H50 ULXD2 handheld transmitters w/Beta 87A mic capsule (H50)
1              Shure ULXD4D-H50 dual-channel wireless receiver (H50)
40           Siemon Z6A-S01 Z-MAX 6A shielded outlets
1,176       SiliconCore P2.6-CAB-SF-500250-2000-V1.0 Peony 2.6mm 500x250mm rotated front service cabinets
20           SiliconCore SCT-SBQ7N LED controllers (sendboxes) w/TCP/IP support and redundancy
60           SnapAV B4-HD-1.5 1.5m high-speed licensed HDMI cable w/Ethernet
60           SnapAV B4-HD-1.5-25BOX Binary B4 Series high-speed HDMI cables w/Ethernet (boxes of 25)
8             StarTech HDMI2DP HDMI-to-DisplayPort adapters
60           StarTech HDMIDVIFM HDMI-to-male DVI adapters
List is edited from information supplied by project participants.