When it comes to the African American experience, nothing happens quickly or exactly as planned. The National Museum of African American History and Culture (NMAAHC), which opened to the public on September 24, 2016, as the 19th and newest museum of Washington DC's Smithsonian Institution, can trace its official commissioning back to 2003, when it was established by Act of Congress. Its seeds, however, were planted a century ago, starting and stopping through the Jim Crow and Civil Rights eras.
Interlocking AV Systems
In the 13 years from legislation to completion of what would become the institution's most architecturally striking building (its exterior corona is made of 3600 bronze-colored cast-aluminum panels weighing 230 tons that contrast with the city's sandstone and granite edifices), it debuted as a 400,000-square-foot monument to a 400-year journey, told in a collection of more than 36,000 artifacts over five expansive floors and covering such subjects as community, family, the visual and performing arts, religion, civil rights, slavery and segregation.

It's a narrative that would be difficult to tell without help. Fortunately, there is plenty of that, in the form of a diverse array of audio, video and lighting systems. Reflecting the museum's scale and complexity, it had a number of interlocking AV systems development partners. According to Bryan Sieling, Chief of Design at the NMAAHC, Ralph Appelbaum Associates (RAA) was responsible for the overall exhibition design and related systems. Product and systems specification was done by Electrosonic and SH Acoustics, with fabrication, integration and installation performed by Design and Production (D&P).
"Think of it this way," said Sieling, "RAA draws up the overall plans reflecting the curatorial intent, where and how it fits into the building's architecture; Electrosonic takes this a step further, engineering the systems on paper, providing projection studies, cabling diagrams and equipment lists; then D&P builds it according to plan or suggests to us another way to accomplish the same thing, perhaps more efficiently. There were a lot of moving parts, which is not unusual in large, complex projects like this one."
But every company involved was working toward the same goal, he said: seamless integration of every element in the exhibits, from AV components to artifacts and graphics. "Everything has to work together to create a memorable experience for the visitor," he stressed. "The sweep of history is covered here, and it's been done well."
Long Time Coming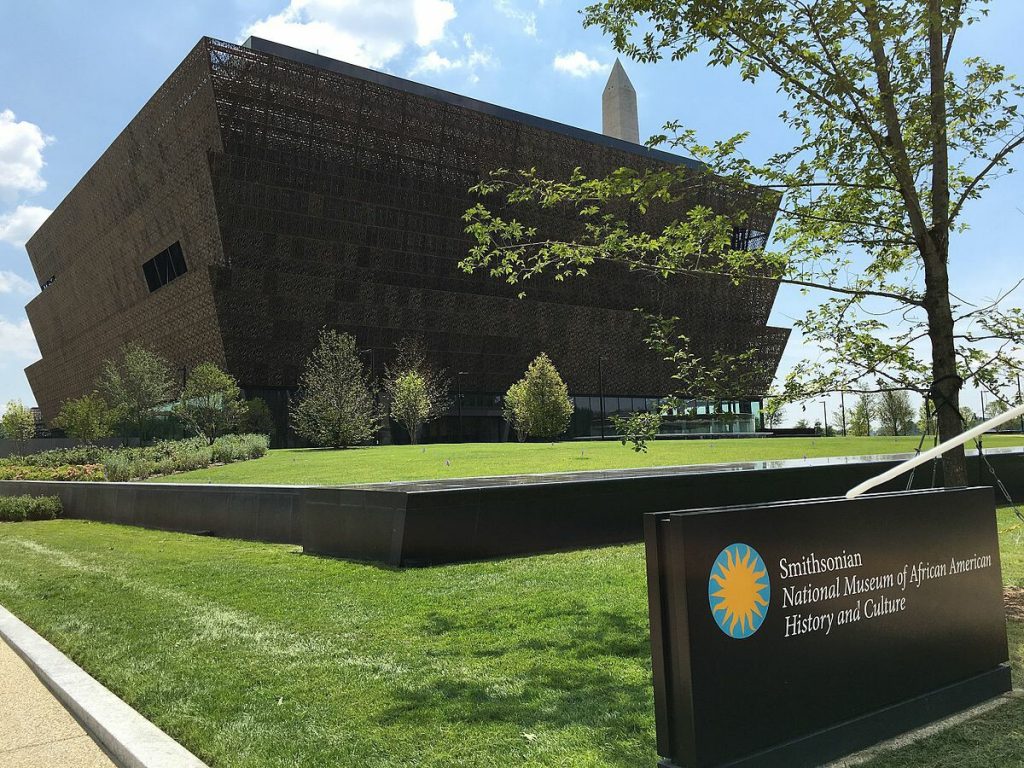 The NMAAHC's AV took a long time to gestate, according to William Todd, D&P's AV Systems Engineer. "Officially, our involvement dates back to just before Christmas 2014, but it's really even before that." He noted that the long-simmering project was on the minds of the architects and other consultants that D&P regularly interacts with in the course of its robust museum work, which includes several other Smithsonian properties, such as the National Museum of American History and seven presidential museums. "It's a relatively small community, and this museum was on a lot of radars." Just as important, he said, the NMAAHC has future expansion as part of its DNA. "It's a living building, and they intend to keep it that way," he offered. "That was something we kept in mind as we developed our designs."
Steve Haas, the Principal at SH Acoustics, told us that early collaboration with Smithsonian management, Electrosonic and content developers, such as Cortina Productions and the Smithsonian Channel (a joint venture between CBS' Showtime Networks and the Smithsonian Institution), as well as with integrator D&P, was critical to the success of the project.
"The [concern] in museum environments is that you'll have a dozen or more media programs trying to coexist in the acoustical space of a wide-open gallery, which can be quite challenging to contain," he explained. To keep as much sound contained in the area to which its content is relevant has technical solutions, such as beam-steerable speakers. The NMAAHC uses those, as well as field-application transducer designs by Acoustic Enhancements (more on those shortly).
Remix Of Audio
However, Haas added that there are situations in which key aspects of the audio, such as the narration, cannot be heard sufficiently above accompanying music and sound effects tracks. In those cases, he had to be able to go back to the content creators and their production facilities, essentially asking for a remix, to make the balance of the components better fit the acoustical environment and the speakers, and their placement dictated by the space. Even before the first speaker went in, Haas said that his technicians were virtually vetting the space, using software, to estimate how various media treatments would interact with each other simultaneously in the space.
"It's a matter of striking a balance," he said. "A certain amount of [sound] bleed is acceptable, as long as it doesn't distract from the didactic aspect of any area's audio. But that's also a function of how the exhibits are laid out. When the museum designers are planning the layout, they're not necessarily thinking about what happens when two spoken-word narrations are located close to each other. This is what creates microclimates of sound that we have to work with. What sounds good in the post-production studio doesn't necessarily translate well to an open, reflective space. Sometimes we can fix it with a remix, and sometimes we just have to work with what we get, addressing it with speaker choices, placement and processing."
The Big Picture 
If the NMAAHC tells a big story, it does so with a sense of a big picture. Todd pointed out that exhibits are arranged chronologically, starting on the venue's lowest level, which itself is a work of construction art: Its base is 80 feet below grade, with 85 gallons of water per minute pumped out every day during construction, replaced with a slurry of cement and sand injected into forms to stabilize the site. Lasers continually monitored the walls during construction for any signs of bulging or movement. Two of the museum's largest items—a segregated Pullman railroad car and a guard tower from the infamous Louisiana State Penitentiary (also known as Angola and nicknamed the "Alcatraz of the South")—were so large that they could not be dismantled and installed at a later date. Instead, the museum had to be built around them. The overarching role of AV was, Todd said, to amplify the different moods the artifacts create, from sober to celebratory, as visitors make their way, literally, through history.
The Pullman sleeper car reflects this, illustrating 19th-century African American career options as porters, but with a dark audio undercurrent of the kind of commentary they might have experienced on the job. The conversations ("not always gentle or PC," said Todd, showing how audio is used throughout to reinforce the social experience) are delivered via Acoustic Enhancements' proprietary transducers, activating eight of the car's original ceiling panels as "speakers."
Maintaining Historical Look
"The intent was not to interfere with the historical look and feel of the artifacts, including this very large one, so SH Acoustics worked with us to find the best audio delivery method that gives an immersive feel without necessarily localizing the source of the sound," he stated, adding, "You want to hear what's being said but in an indirect way, as ambient sound, so it just feels like it's all around you. Steve [Haas] even went out to a Kentucky train yard where the railcar was being restored to mock up this solution ahead of time because there would have been no turning back once the Pullman Car got to the museum site, if it didn't work." Conversation audio is looped from a QSC Q-SYS Core 3100 media player and carried over a QSC Q-SYS network. All of the installation's audio travels over either Q-SYS or Dante-enabled networks, minimizing cabling.
The ends of the different levels have loosely defined theater areas, called Landing Theaters. These offer a kind of recap of what was just seen, and a preview of the next stages. Christie 13,500 lumen DLP projectors light up custom screens. To keep projected illumination inside the thinly defined parameters of the theaters, 7thSense Delta Media software is used to angle the image in such a way as to fully illuminate the screen but still keep the projector out of sight. Similarly, Renkus-Heinz ICX steerable speaker arrays are used to focus the narrative dialog sound on the audience areas, which are a casual combination of seating and standing, with each holding up to about three dozen visitors. That audio is framed by obliquely positioned Innovox SHA-series speakers and Bag End subwoofers used for ambient sound.
"The Landing Theater areas are open to the exhibit areas and to each other in some cases, so we needed systems that could contain the AV to get the messages across but not interfere with what's going on in the adjacent areas," Todd explained.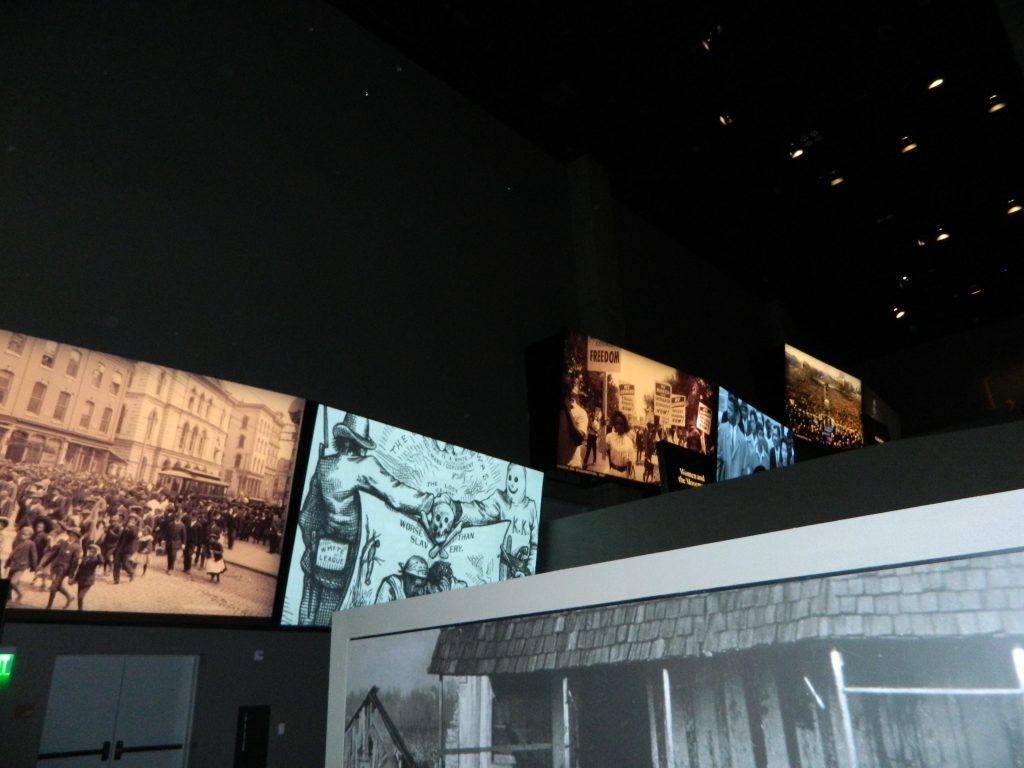 Hidden Audio
The quest to create an immersive AV environment combined with the need to keep that technology as invisible as possible, so as not to impinge on the authenticity of the artifacts and the experience, led to the use of some unusual ways to communicate sound. Although some of the Innovox speakers were fabricated by that manufacturer to Haas' specifications for the project, SH Acoustics' related company, Acoustic Enhancements, deploys what Haas refers to as field-application technology solutions, which are essentially the process of making a speaker out of something else that can be integrated into an exhibit.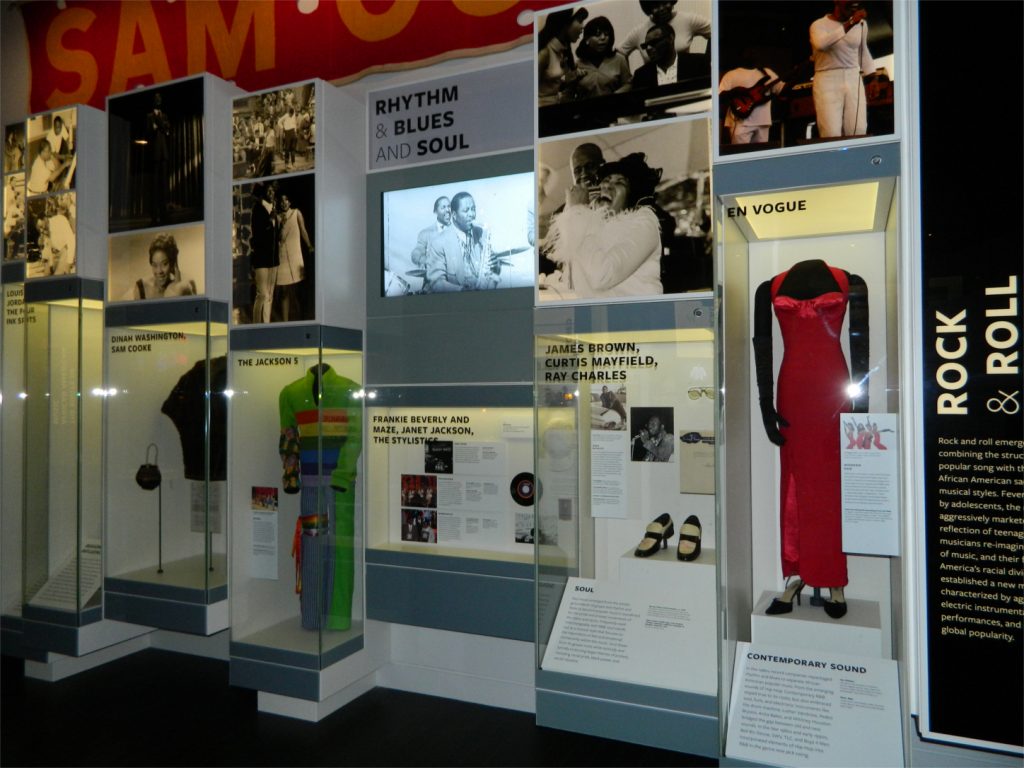 In the case of the NMAAHC's Musical Crossroads gallery, that meant placing an acrylic panel below the video screens in an area dedicated to individual music genres and artifacts. The panel's resonant material acts as a transducer, and provides the main speaker for each of the music genres represented in the gallery. The audio is bolstered by two-inch-deep bespoke Innovox speakers, which are set in the floor around the areas in front of each screen and time-aligned with the very slightly delayed acrylic "speaker." This creates a sonic cocoon that keeps the sound highly localized, which also means that the volume levels for each screen can be kept relatively low, further reducing sound bleed between stations.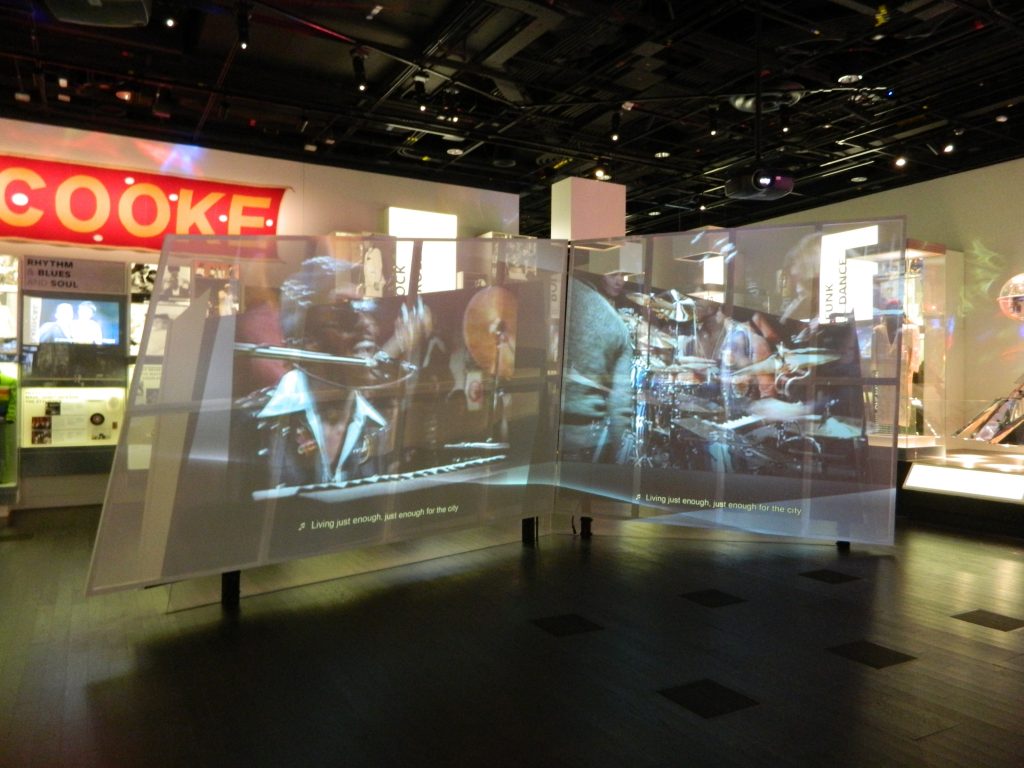 "The [Innovox] SHA speakers can [reproduce] down to 80 hertz, and with the grating on top, they're virtually invisible," said Haas. "The client was skeptical that this could be pulled off successfully, but after we calibrated the DSP, they heard it and they were impressed. The sound for each area is very immersive, but it never competes with itself throughout the exhibit."
Critical Speaker Placement
Speaker placement and processing were also critical in the three Landing Theaters anchoring each level of the History Gallery, where open spaces between areas would otherwise allow sound to flow between them. In these, Haas chose Renkus-Heinz IC16 beam-steerable column speakers, oriented horizontally, for the stereo audio program. He used the RHAON beam steering to shift the coverage patterns to align with the bench seats (40 for each theater), an offset necessary because the video screens themselves are located off center of the seating.
Then, Innovox SHA 15.4.4 speakers were placed in the lower backs of the benches, aimed at the row behind and delayed between 20 and 60 milliseconds, depending on the distance from the screen. This configuration, along with Q-SYS speaker processing, kept the sound on the seating and away from the aisles between the screen, and from bleeding over to adjacent theater areas. Form factors of Bag End IPS-12 subwoofers were customized for these and many of the other theaters, as well.
"The idea here, again, was to use proximity and localization techniques to keep the sound where it is supposed to be and away from where we don't want it," Haas explained. "We had some leeway with the sound vertically but none at all horizontally, and we weren't able to put any [acoustical] treatment on the nearby interstitial walls, so the beam-steering speakers were very important."
A Place To Dwell
The museum has interactive AV technology that is used to achieve immersiveness without confining visitors to highly specific spaces or overly limiting the number of users at any given time. This is especially important because the venue's "dwell time" (the length of time visitors spend inside) is more than triple that of a typical museum. The Lunch Counter, the focus exhibit of the Era of Segregation gallery, recreates one of the iconic restaurant environments in the South where actions took place to protest separate facilities for whites and blacks. Here, the counter is comprised of 12 42-inch 3M interactive displays that bring up a literal menu (programmed and rendered by content developer Cortina Productions) of sights and sounds visitors can choose from, while a looped video of these diners plays on an eight-foot-high screen that runs the length of the counter and behind it through four Barco F32 projectors.
Video is drawn from two local PCs with six outputs each. Sound is the real immersive medium here. Innovox speakers facing up from the floor provide an ambient soundtrack while four Tannoy VX 8.2 speakers were used behind the screen for reinforcement.
According to Todd, what's not immediately recognizable here, but very welcome, is how devoid of mechanical noise the installation is in general, including at the Lunch Counter. "You don't want machine and system noise in what's supposed to be a solemn environment," he said. That's achieved using Extron multimode transmitters to bring content from a PC located in a closet in the exhibit.
Secondary Content
As intense as the focused exhibits are, the NMAAHC has plenty of secondary content playing constantly. More than 100 BrightSign XD1032 networked interactive digital signage media players are constantly running localized looped audio and video. These, like all the media systems, are controlled by Medialon control systems, with one SWM Pro2 dedicated to each of five floors in a local control room and a SCM Pro as a master controller.
The beauty of the National Museum of African American History and Culture lies in how simply such a detailed and large-scale set of systems can act as a single entity, Todd related. "All of the pieces are orchestrated to act as a single entity, at the push of a button. We've also built-in the potential for more systems and exhibits. This isn't the end of the story."