The increased use of collaborative applications, mobile devices and IP-connected AV devices such as streaming appliances, along with the explosive growth of social media integration into applications such as digital signage has brought security and privacy concerns to the forefront.
The depth of data collected in these applications, especially those involving advertisers and viewer-data-driven intelligent content services, is growing rapidly. Hence, issues of security and privacy are of increasing concern to those who design, deploy, maintain or use network-connected systems.
Earlier this year, research firm Parks Associates released a white paper,
Securing the Integrity of Video Analytics Data, based on interviews conducted with decision makers from within the video service operator industry. The report states, "Securing video analytics data must be a constant priority, not a periodic responsibility." Another important observation: "Operators understand that security of video analytics data is not their core business and are instead leaning on partners with security-specific expertise." Both points are relevant to the AV community.
In June, Akamai released its Q1 2016 State of the Internet/Security Report based on attacks observed and mitigated by the company. The report states that Distributed Denial of Service (DDoS) attacks on high packet rates increased significantly as compared with Q4 2015. By industry, the most frequently hit sectors were Gaming, Software & Technology and Media & Entertainment (see chart). According to the report, "Attacks on high packet rates can result in packet loss within these routers and potentially cause collateral damage."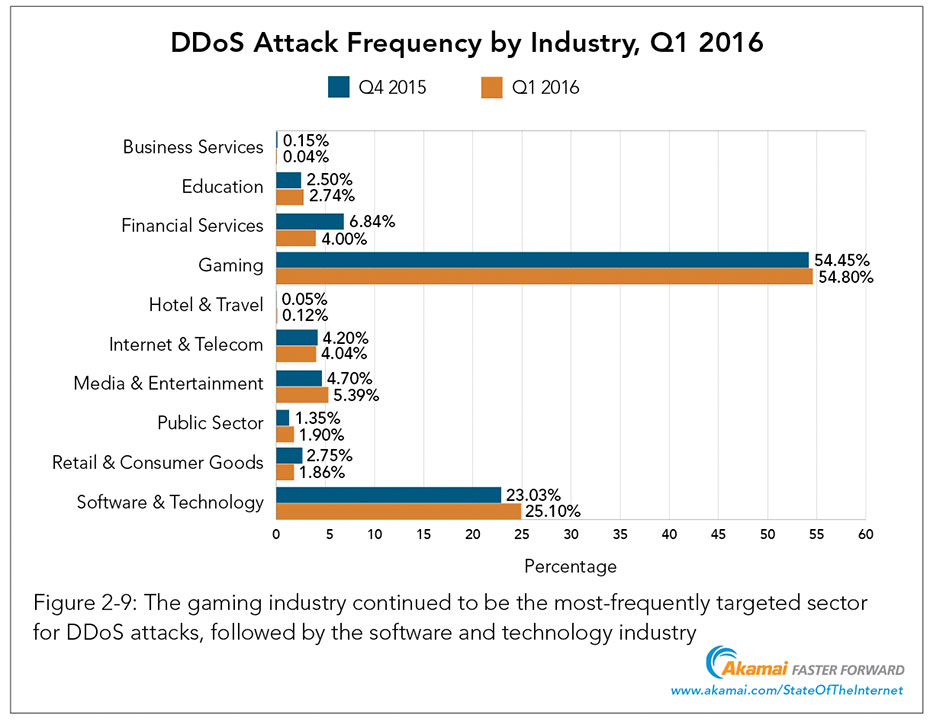 In the past, security and privacy issues were often addressed late in the AV system design and integration process. This tended to increase both the difficulty and cost of providing comprehensive, user-friendly system security. With the move toward software-defined Unified Communication and Collaboration solutions, as well as the integration of apps into business systems, the need for addressing security issues upfront has become an even higher priority. Likewise, the migration to cloud-based content management systems for digital signage, and integration with point-of-sale systems in retail, have increased the focus on AV/IT security.
We asked professionals in various roles within the AV industry to share their insights on protecting corporate and institutional end users from data theft, interruption of service and other intrusions. Their responses offer important reminders for future projects.
To read more, click here.