Over the past four years, full-court and full-rink projection mapping has taken professional sporting events by storm. The popularity of innovative sports-imaging technology was sparked by the viral success, in March 2014, of the Cleveland Cavaliers' jersey-retirement ceremony for Zydrunas Ilgauskas, which involved a one-game presentation. Within days, the captivating video had attracted millions of online views. Within months, the New Jersey Devils, the Philadelphia 76ers, the Atlanta Hawks and others had all taken the leap, permanently installing projection-mapping systems in their arenas, thus allowing them to leverage immersive 3D court projections for every home game.
In the years that followed, growing numbers of sports teams rapidly invested in projection-mapping systems. New construction specifications are now built to accommodate projection mapping. The movement has gained so much traction, in fact, that even collegiate teams—the Florida Gators, for example—have joined the trend. Since 2014, projection-mapping technology has advanced quickly, and it's come to drive fan engagement, while also creating unique sponsorship and media opportunities for teams. It's safe to say that projection mapping is on the brink of becoming a "must have" in stadiums and arenas globally.
You might be wondering why, and how, projection mapping has taken hold so quickly. To understand the reason, let's draw a comparison. Consider the installation of the first HD LED indoor scoreboard at the Verizon Center in 2007. It weighed thousands of pounds, and it required lengthy planning, complicated configuration and an extended installation period. Nevertheless, it was the newest technology of its time, so it didn't take long for other stadiums and arenas to follow suit and install similar LED boards. Because teams had to manage planning and installation during the off-season, though, they were always working against the clock.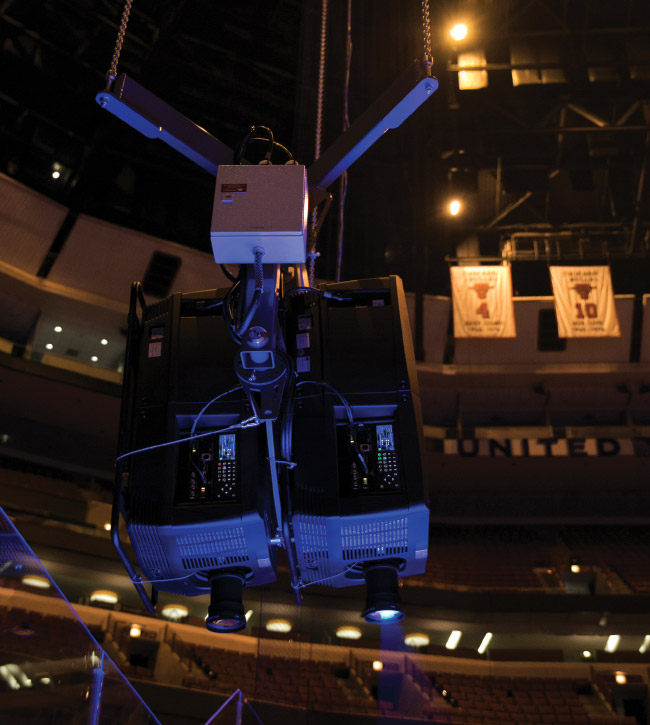 By contrast, physically setting up projection-mapping systems requires minimal planning, and it entails almost zero downtime. Arena management takes pride in scheduling their events minute by minute, and every minute an arena doesn't have an audience or an event is a wasted opportunity for venue stakeholders. Downtime for LED videoboard upgrades can take down a venue for a cringeworthy period of weeks…or more. A full-arena projection system, by comparison, takes only a matter of days to install. The average arena installation, for example, consists of 12 projectors rigged to the high steel of the venue, along with a single rack of processing gear. That translates to no control room build-out, no demolition and no mess.
One of the most common arguments against projection mapping—that being, "Management is worried we're following a fad"—is also one of the most easily refuted. Projection mapping has been operating at 4K or greater since 2012. How many LED boards and control rooms can say that? And projection certainly isn't resting on its laurels, either. New technologies, such as motion tracking, interactive gaming and social-media integration, have not only kept projection cutting edge, but also made it an attractive new option for potential sponsorship opportunities.
Another argument—"What about the cost of ownership? My annual budget can't cover maintaining such a complex system!"—is even easier to rebut. Typically, projection-mapping technologies stand out by their sheer "cool factor," but some of the most exciting advancements have occurred on the relatively mundane cost-of-ownership front. In the last year, two critical technologies have hit the market for venue-class projectors. First, 30,000-lumen projectors have made the jump from Xenon lamps to laser illumination. More than 10 models of laser-phosphor projectors have hit the market in the last 12 months, cutting the need for physical lamp replacement in the same manner that LED illumination has done for venue game lighting. And that's not to mention that power consumption drops from 4,800W to 3,100W per projector. Of the two largest roadblocks to maintaining a mapping system, that's one scratched off the list.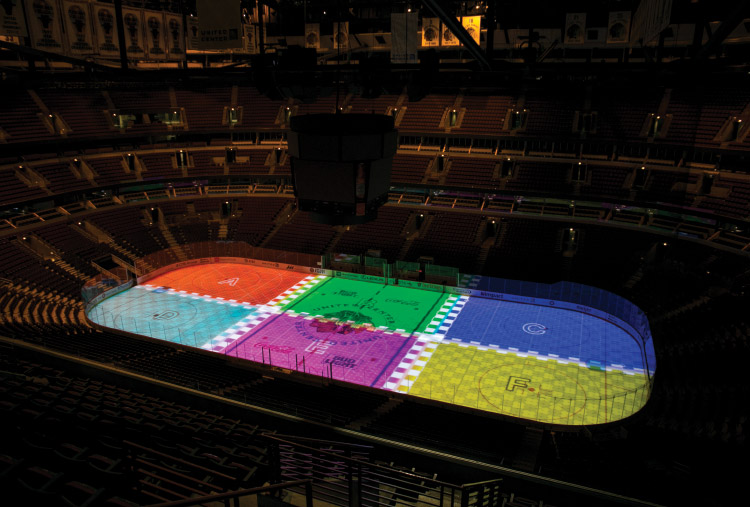 The second cost-of-ownership advancement is automatic calibration. Projection achieves its crisp imagery by aligning and blending multiple projectors, which requires skill and can be time intensive. Auto-calibration tools have taken what was once a labor-intensive process and replaced it with a calibration camera. In the past, converging 12 projectors manually would have required at least an hour of venue dark time. With the latest tools, however, that time has been cut to less than one minute per projector. As an added bonus, the calibration only takes a single click, and it can be run by a single engineer on the video production team.
Not only is projection-mapping technology swiftly installed and easily maintained, with nearly zero downtime, but the imaging systems also provide an innovative platform for sports entertainment and a rapid return on investment. With proven returns, both social and financial, few arguments remain against projection-mapping installations in arena settings.