Harry Gordon Selfridge turned Edwardian-era London on its end when he established the department store that bears his name on Oxford Street in 1909. Selfridge, to whom the ultimate retail nostrum "The customer is always right" is widely attributed, had the idea, radical at the time, that shopping could be a pleasant, even adventurous proposition. If Harry Selfridge stepped into one of the latest Primark stores, he'd feel right at home.
Primark, a European retailer of clothing aimed at younger buyers, has embraced LED and other display technology platforms in pursuit of the modern Holy Grail of retail: digital attraction from the outside to get shoppers into the store and continuous immersive engagement once inside. The company's newly opened flagship in Madrid, Spain offers visual entertainment on a grand scale, turning the atrium of the store into an optical wonderland (see sidebar, "Spanish LED"). But its first forays into the US, with recently opened stores in Boston MA and King of Prussia PA, reflect a combination of necessary ocular bombast in the world's greatest consumer society while at the same time an acknowledgement that some nuance is also in order.
As with the Madrid store, the AV for Primark's new US locations was designed by Mood Media and its integration arm Technomedia Solutions. However, Primark's Madrid store didn't serve as a template for the company's US venture, said Technomedia President John Miceli. "They and their creative agency, Dalziel & Pow, had ideas about using projection for the video in Boston," recalled Miceli. Miceli came up with an alternate concept while on a 20-minute phone conversation with the client, during which he pulled together visual elements and edited them into a presentation video that he emailed as an attachment. Before they said "goodbye," they also signed off on the idea.
"I told them that projection wasn't going to work because of the limitations of the space," he explained. "There is also the limitation of projection in a bright atrium, where it would look best at night instead of during the day when the store was open."
Videowalls That Fit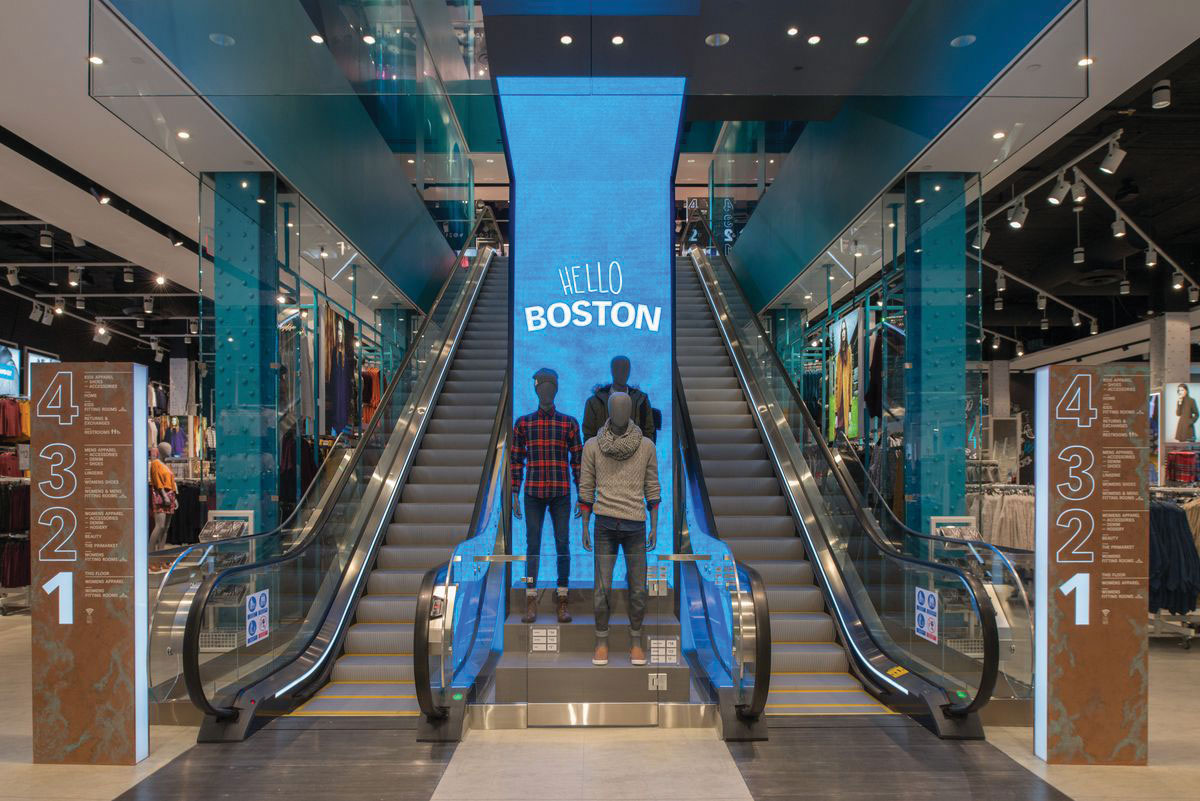 Technomedia's designers worked with the supplier of its LED displays, creating videowalls that fit the interior and exterior dimensions of the Boston store. These included three large central LED videowalls for the windows, the atrium and a mannequin wall using 4mm and 3mm-pitch black LED modules assembled in ruggedized cabinetry. The cabinets are permanently installed and are attached to either concrete or sub-steel using lag bolts. The LED walls draw a steady stream of video content, developed by Primark's agencies, from Mood Media MVision media players through Extron DVI distribution amplifiers. Content is kept local to each videowall, although all of the media players are linked to central hubs on each floor via fiber cabling.
The same infrastructure was used at the newer King of Prussia Primark location (where Technomedia's producers worked with Gensler New York's creative team on content), although it has a few additional wrinkles. These include a "roundabout" (a flown circular assembly of LG 32-, 47- and 55-inch backlit commercial LCD displays and a tall videowall placed in between the up and down escalators) and mannequins that are used as three-dimensional props. In the roundabout, the multiple screens are scaled to allow one or two images to float from one to the next, using a Technomedia purpose-built server and processing gear, producing consistency across what otherwise would appear to be a jumble of screens. The escalator ribbon wall is a 4mm LED array hosting content that advertises products on other floors and serves as an "attractor" to bring shoppers deeper into the store.
Short-Throw Projection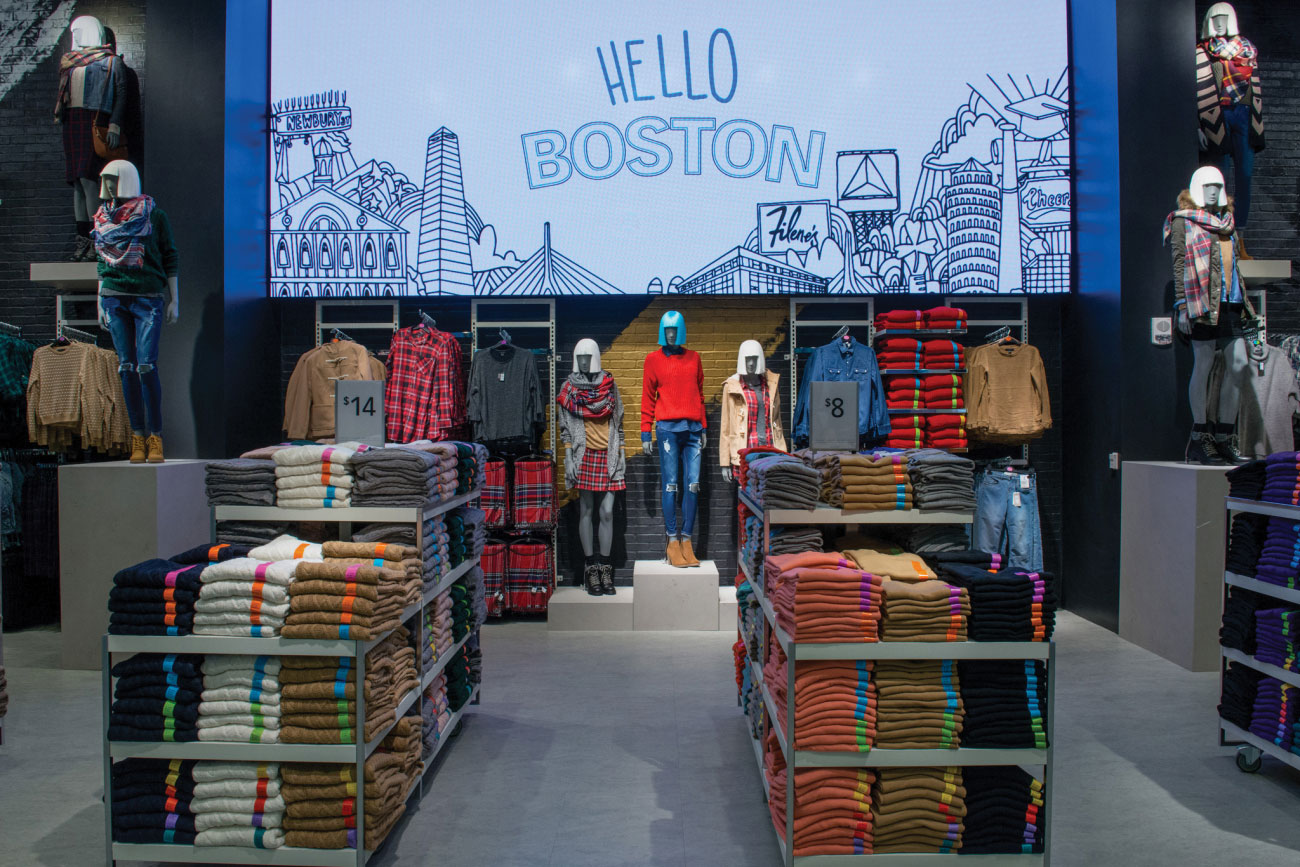 Both the Boston and King of Prussia stores use some projection video in fitting rooms and at checkout points. Both of these types of locations use short-throw projection, with Casio projectors in fitting rooms and ceiling-mounted Panasonic projectors lighting up walls above cash registers.
"The key to making these successful was working with the interior designers related to what surfaces they wanted in each area," explained John Sheehan, Technomedia Solutions' Vice President of Premier Visual & Systems Sales. "The projectors are illuminating a variety of surfaces, from bare brick to walls treated with specialized paint to make images more vivid, depending on what the interior design called for in each location. The goal is always to make our solutions part of the stores' customer experience."
The King of Prussia store has another unique video attribute: four large LED screens that are fitted into cutouts in the glass fascia of the storefront. These videowalls, arranged in both landscape and portrait modes, are connected to a single custom media server. Their locations, between 18 and 30 feet off of the ground, make maintenance access unavailable from the front; instead, a custom pullout tray allows each one to be serviced from inside the store, with cabling hidden in their metal framing.
"We spent a lot of time coordinating these with the electrical contractor and the general contractor," said Sheehan. "In addition to the cabling and the framing, we had to find ways to get power to the locations within codes. A big part of what we bring to any project is thinking ahead of how the displays can be accessed easily for maintenance and updates."
Sounds Of Sales
Both stores have audio systems installed, using LG 32-, 47- and 55-inch backlit commercial LCD displays, and DS40F flushmount and DS40SE surface-mount speakers for background music and paging applications, powered by Bose PowerMatch amplifiers. Whereas the Madrid store confines audio to the atrium where its LED displays are installed, the Boston and King of Prussia Primark stores distribute audio throughout, with a separate audio loop of sound effects deployed for the King of Prussia roundabout installation.
According to Miceli, the Madrid, Boston and King of Prussia stores represent the first time Primark has wedded these visuals to audio, which consists of a combination of light pop songs and some urban, electronic and nature sounds that match the visuals. They're assembled as playlists by Mood Music and are updated as new imagery is employed at store locations.
"Some retailers will use music aggressively, and that's one way of doing it, but that's not the case here," he said. "The intent is to let the sound set the mood by supporting the images on the screens. It's very effective."
Miceli added that the stores represent an eye-catching use of LED wall technology, but what's behind it is imminently practical. "We made a considerable effort to make the use and maintenance of the systems easy for the client and for us, because we'll have to service them," he said. He also noted the proprietary track system for pulling the front-wall displays into the store for service and the fact that content can be updated remotely from Technomedia's own content management system (CMS) servers, operated by Technomedia's in-house creative agency, GoConvergence.
In his book, Enchanting a Disenchanted World: Revolutionizing the Means of Consumption, sociologist George Ritzer describes "retailtainment" as the "use of ambience, emotion, sound and activity to get customers interested in the merchandise and in a mood to buy." Primark is Ritzer's ideal made real, underscoring what AV can accomplish for retail.
"Digital technology and communication is at the core of Primark's brand, and the way they're using it resonates with shoppers," said Miceli. "It's connecting them with their core audience. The visuals, the sound, it's all part of an experience that's getting consumers into the stores."