When a busy humanitarian organization needs to upgrade the technology on six floors of conference rooms, it requires a lot of planning, some creative thinking and plenty of technical expertise. With hundreds of staffers employing these rooms every day for meetings and collaboration with distant colleagues, upgrading the systems to a fully flexible distributed-IP solution made it necessary to work mostly after-hours, keeping the facility running nonstop for the six months it took to complete the job.
Several integrators were approached to provide design-build ideas and proposals. Our firm, Peltrix, was selected because the client liked the IP-based distributed AV system solution that we proposed, and the client was confident that we could upgrade its facility without disrupting essential activities.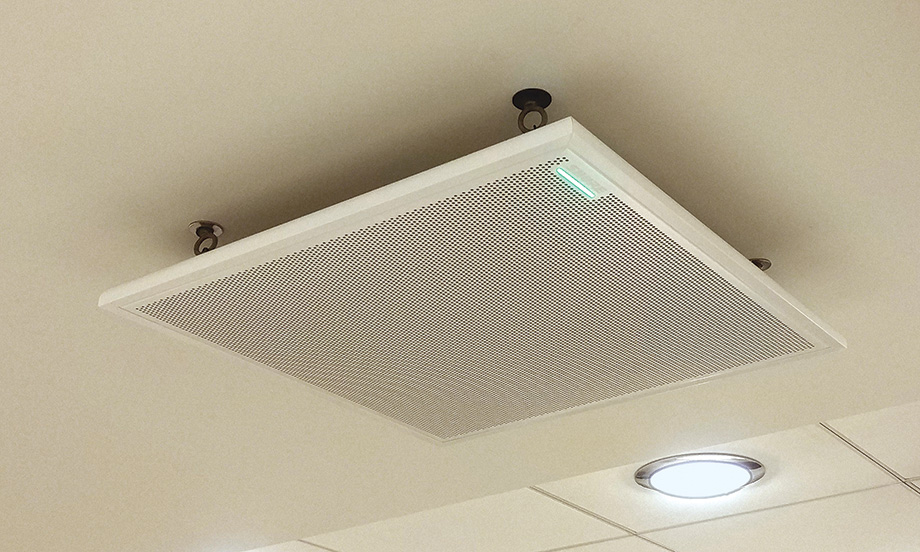 The project was a big success, with rave reviews from both users and AV/IT staff of this well-established non-profit organization, which expressed its preference to remain anonymous. We expect to expand the distributed network to the organization's locations in other cities. The 16 bustling conference rooms in this interconnected facility in Manhattan are not only used to conduct the client's fundraising and service work, but also made available to partners and related donor organizations for humanitarian purposes.
Retrofitting Realities
Retrofits are often more difficult than new-construction integration jobs are, and this one was particularly challenging. The facility had to function fully, without interruptions to the client's daily work schedule, and without disruptions in its use of existing AV systems.
Physical requisites were met through ingenious solutions. For example, conference tables had existing table-pocket openings, and we were not allowed to modify the openings to adapt to the dimensions of modern, prefabricated table pockets. Custom table pockets were designed and manufactured to fulfill this requirement.
Switch-over from old to new systems also had to be seamless. In addition to the technical difficulty of achieving such a feat, we had to train the house AV staff on the use of the new system during the installation to overcome the absence of any dedicated transition period.
Flexibility Facilitates Workflow
The client elected to go with our recommendation for an IP-based, distributed AV system because it liked the flexibility and versatility that such a system could provide. The client appreciated the scalability of the design, that it could grow as needed, and the ability to move AV sources and destinations around the facility rapidly. Multi-use rooms received multiple AV ports at various locations, allowing the AV production staff to move "floating" encoders and decoders around, based on specific room layouts, which change based on events, meetings, conferences, presentations and even music shows.
In addition to hardwired, fixed or portable AV sources, we installed wireless presentation devices in each room. That allows users to present content wirelessly from their mobile devices onto any display in the facility, with routing easily controlled by the new control system.
---
TIPS
>> When doing a retrofit on a facility that remains active during the job, make sure you know what kind of access schedule you'll have or, more importantly, you won't have.
>> If your AV-over-IP network spans more than one switch, assume your switches will provide only half the bandwidth claimed by the switch manufacturers.
> When doing custom manufacturing, insist on providing a prototype for client approval before proceeding with full production, regardless of time pressures to complete the job. Save clients from themselves.
---
All audio is processed and gets distributed either though the AV network or through a Dante network, depending on the type of source or destination, and based on specific events' needs. For example, hardware codecs get audio processed by DSPs and then sent directly to the codecs to be combined with video from the AV network. Software-based codecs get audio processed by the DSPs, sent to a USB AV bridging device to be combined with video from the AV network. The combined USB output gets distributed though the rooms using USB-over-IP extenders to various locations, depending on the needs of a specific event.
The new AV system is composed of three installed networks: AV/IT network, Dante network and Control network. In addition, the existing facility network is utilized for various other needs.
AV/IT Network
The AV/IT network uses SVSi (AMX) encoders/decoders connected to a stackable switch using three Cisco 3850-48F switches. This network carries all audio and/or video from any source to any destination, as needed. There are two operation modes on the AMX touchpanels that allow either basic initiation of events or more advanced, password-protected setups to be used by production staff. The latter provides audio control and configuration, full matrix switching in any combination possible for overflows, recordings, etc.
Audio Network
The audio network is based on Audinate's Dante protocol, using a distributed switch network of Cisco SG300 PoE switches. All conference rooms and head-end are Dante capable.
Dante is used for:
transporting audio from Shure MXA910 ceiling array-forming microphones
audio monitoring and recording of any room at the head end
ballroom console signal distribution and input channel expansion
Control Network
The control network uses Cisco SG300 PoE switches. There are eight control masters in the system, managed by 13 wired touchpanels and three wireless touchpanels (using mobile devices). Most AV devices—including displays, projectors, screens, encoders, decoders, DSPs and array mics—are IP-controlled. Some RS232 control is present, but IP-based control is used by the vast majority of devices.
Facility Network
The facility network is utilized in multiple ways.
Wi-Fi service for wireless control devices
Hard-wired Internet service to the wireless presentation devices
Remote control for administration and service by Peltrix using VPN and remote desktop management
NTP service to the control masters
Videoconferencing using hardware- and software-based codecs
VoIP service to the DSPs for teleconferencing
Arrayable Mics For Flexible Seating
The divisible rooms can have multiple seating layouts. They can be used for conferences using a long conference table, square seating, U-shaped seating and even ballroom table layouts. For the best speech pickup, we elected to use Shure MXA910 arrayable mics. In fact, the Shure array mics we used were the first to become available when the model came on the market. Aside from being unobtrusive, the mics provide incredible pickup patterns that change by the control system, based on seating arrangements. At times, audio quality and room noise cancellation is better with those mics than what is achievable with a podium mic and a speaker standing right in front of it.
The Dante network allowed us to route any audio source to a Dante-based headphone monitoring device or to recording workstations, completely independent of the AV distribution system.
The head-end includes a large screen that displays 16 simultaneous camera streams using 16 decoders and a Blackmagic Design MultiView. In addition to being used to monitor camera PTZ control, the control system enables the selection of which camera is displayed in which slot, and then routes up to eight streams for AV recording on production workstations using Wirecast software. Two audio-only streams can also be routed, streamed or recorded using open-source recording software.
Pushing LAN Limits
The part of the facility that includes AV devices spans six floors and is a city block wide. At times, Cat6 cable runs were at or near maximum recommended lengths. Careful planning had to go into positioning of various switches to eliminate cable length issues and crosstalk with the facility computer network.
For control to work properly, all three networks had to be linked. Control has to talk to the Dante network and the AV encoders/decoders. Although Dante is not controlled per se, the Shure MXA910 microphone presets are. Because only one Cat6 cable is used for PoE, audio transport and control, it was not possible to segregate the Dante network. The encoders and decoders on the AV network are multicast devices, and the multicast traffic caused flooding issues on the control and Dante networks. The solution was to dedicate one port on the stackable AV switch that was configured to filter out multicast traffic.
Watch Switch Specs
Deciding on AV network switching capacity is somewhat of a guessing game. Beyond having to guess and factor in expected future growth, AV/IT system designers must deal with the inaccuracy of switch manufacturers' stated specifications. The standard switches used by the AV network are, in actuality, switches rated for computer networks. When switch manufacturers publish switch specifications, they consider average speed consumption by computers—rarely consuming the full bandwidth continuously. On the other hand, AV encoders multicast at full bandwidth 100 percent of the time, even when no decoder is "asking" for the specific encoder's stream. That means the entire load of the encoder is placed on the switch 100 percent of the time.
For example, although switch manufacturers specify a switch as 1Gbps, actual, usable speed that's available to the AV network is much slower and, to be safe, it should be considered to provide only half the capacity—or even less.
Because the facility has live production events, noticeable latency was undesirable. On the video end, we selected SVSi N1000 series devices, which employ minimal and negligible compression and, therefore, very short latency. On the audio side, it was imperative that the Dante network be kept at latency not higher than 500μs. With a Dante network based on seven switches, it's hard to configure such a network at a latency lower than 1ms; reducing the number of switches wasn't an option, due to cable lengths. Because Dante allows deterministic configuration of latency, we had to play with each device's configuration and test for packet loss, while maintaining audio integrity, to accomplish the desired maximum latency.
As the installation progressed, it was interesting to witness how the house production staff gradually grasped the flexibility of the networked AV structure. Coming from the perspective of a point-to-point AV system, they were accustomed to the constraints presented by such a system. As we moved through the installation process, and as they discovered that they could take any encoder or decoder and plug it into any port in the facility, we kept getting "Wow!" and "Really?" reactions. "You mean we can take the notebook encoder of room A2 and plug it in a port three floors away, and have the notebook work from there? Wow!" they would exclaim. Suddenly, they began to envision new uses for the system that, previously, they had not realized were possible.
The client has additional satellite locations, and we expect to have the opportunity to deploy retrofit integrations at those locations in the near future. When that happens, our plan is to network the satellite locations to the main facility and have one, large AV network over WAN.
Careful attention to the needs of both users and AV/IT staff, along with thorough planning and project management, enabled our team to retrofit a large, future-proof system successfully, without disrupting the important work of our busy client.
---
Key Components
13 AMX Modero G5 touchpanels
58 AMX N1000 series decoders
61 AMX N1000 series encoders
8 AMX NX2200 control masters
15 BSS BLU-101, BLU-103, BLU-100, BLU-50, LU-DAN DSPs
3 Cisco 3850-48F switches
17 Cisco SG300-10PP-K9-NA and SG300-28PP-K9-NA switches
12 Clockaudio CS 1N-RF microphones
8 Crown DCi 2|300, DCi 4|300, DCi 8|300 amps
5 Denon Pro DN-500BD Blu-ray players
6 Draper 140030QU motorized screens
1 Furman CN-2400S power-sequencing device
8 Logitech PTZ Pro and C920 cameras
17 Mersive Solstice Pod Unlimited wireless presentation devices
10 Middle Atlantic racks
6 NEC NP-P502HL projectors
14 Panasonic 55″ and 65″ displays
15 Panasonic HE40SWPJ PTZ cameras
6 Shure MXA910 arrayable microphones
8 Vaddio AV bridge CONFERENCE HD media streaming solutions