New Life Church in Weirton WV desperately needed a new home. The church's Senior Pastor, Bob Mazeroski, and his staff, had struggled to find a new location that had the size to facilitate their church's growth, one that would not be too far from their current location, as well as fit their budget. The search and mounting disappointment continued for years until Mazeroski spotted a diamond in the rough: a neglected Knights of Columbus building only a mile away.
"I encouraged the staff and congregation to look past its current state of disrepair," he said, "and envision what could be possible for our ministry. It could be the ideal home for the next season of our church's life." Excitement began to build as the church realized that this eyesore of a structure could be revitalized. After much prayer, the church took the first step in purchasing the rundown building, but their work was just beginning.

It had taken several years of vision casting and dreaming of a larger space for their ministry, but now the pressure was on. With plans already in motion to sell their existing building, the church partnered with a local construction company, GrayCon, to handle the demolition and rebuild of the newly acquired structure. The church, not wanting to risk being without a place to meet, challenged the building team and contractors to complete the new space in only eight weeks. All the room partitions, walls and ceilings were to be taken down, exposing the steel framework to create a "blank canvas" to start building out the necessary spaces for ministry.
Rich Muckle, New Life Church's Pastor, worked closely with Mark Salamone, Northeast Sales Manager at All Pro Sound (Pensacola FL), to design the audio, video and lighting systems that would be the foundation of the church's new worship space. Salamone traveled to the facility numerous times to study the new space and better understand its challenges. Together, Muckle and Salamone spent many hours sorting through the technical needs and wants of the ministry. They also had to overcome several obstacles presented by the new space.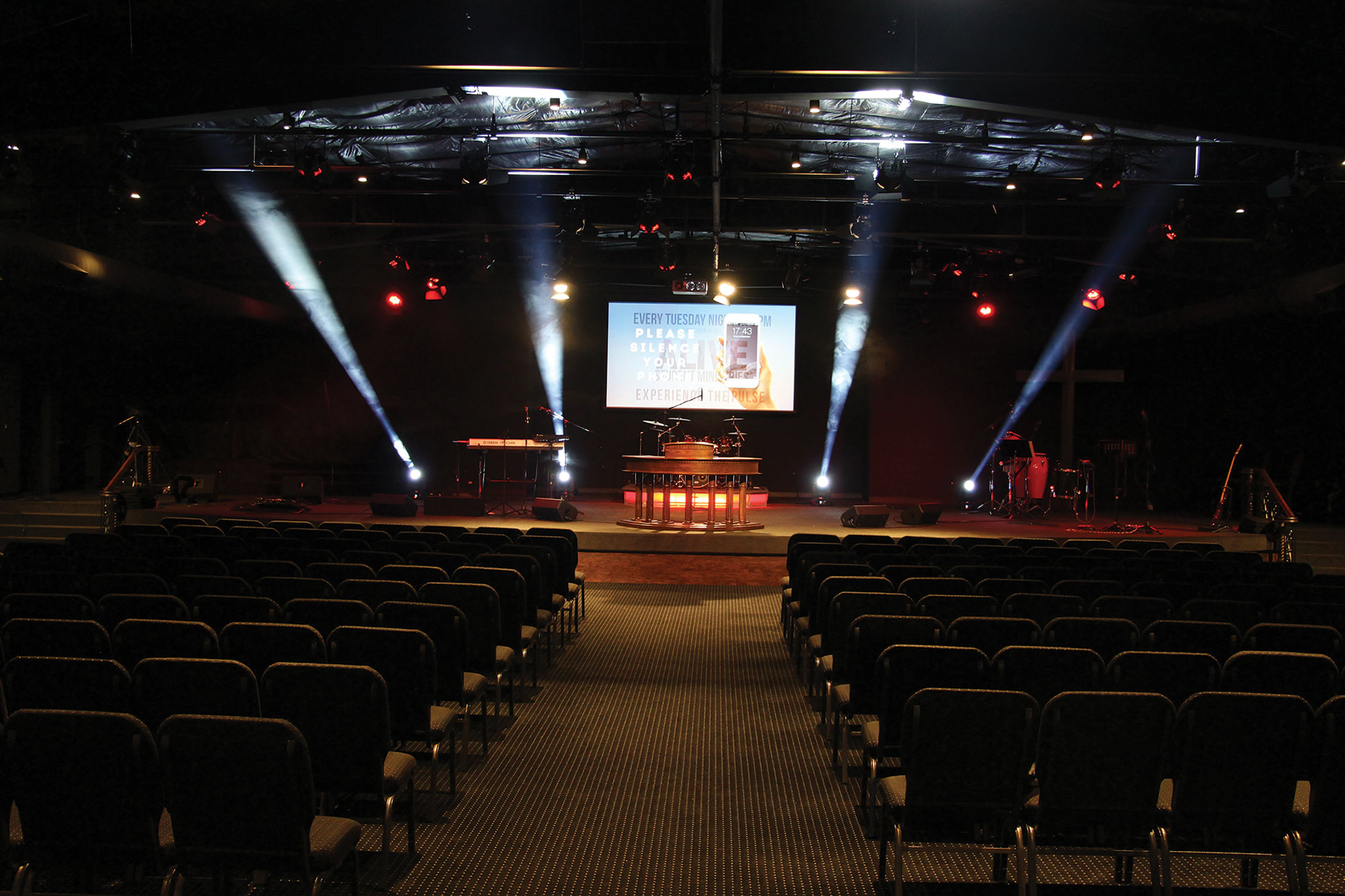 The building would provide much-needed room to seat 600 members of the growing congregation, but in addition to the tight schedule requirements of the project, a relatively low ceiling height throughout the space presented challenges for locating appropriate hang points for projection equipment and lighting.
There were also infrastructure challenges, including the need to cut trenches into the concrete floor for cable runs and lowering the height of the stage, while leaving enough space for the proper subwoofer cavities. Optimal placement of the video screens was complicated by the limited ceiling height, as well.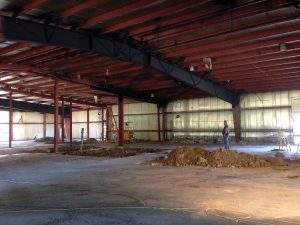 Mark Autry of All Pro Sound's design team drafted detailed blueprints of the new system design, taking into consideration critical infrastructure elements, such as sprinkler systems, HVAC runs and accessibility concerns. For audio, Autry selected the Allen & Heath iLive-T112 digital mixing system. "It's a top-end desk that we're big fans of," said Autry. A wireless access point was provided for control throughout the facility, and the infrastructure was added for a centralized equipment rack backstage to allow for only one data line to run to the board. These design considerations drastically reduced the amount of wire required to be pulled, and provided considerable savings on materials and labor costs.
For performers, a distributed Aviom monitor system was included so musicians and vocalists could have control over their individual monitor mixes, thus avoiding the risk of distracting or overwhelming the FOH engineer with monitor adjustment requests. A BSS BLU-100 signal processor was installed along with expansion boxes to accommodate future expansion. QSC power amplifiers were paired with Danley loudspeakers for audio system mains, delays and two 12-inch subwoofers.
Together, these components provide high-end, concert-level sound, in many ways equivalent to line arrays, but offer a lower form factor to accommodate the sanctuary's limited ceiling height. The compact subwoofers were chosen to compensate for the lower stage height, but still provide more than ample punch with a peak output of 139dB.
At the FOH, a new Apple computer with Renewed Vision's ProPresenter and Matrox TripleHead2Go external multi-display adapter allows the team to display triple-wide graphics and distribute images across two fixed-frame widescreen-format 65″x116″ Da-Lite video screens placed right and left, along with a motorized 78″x139″ center widescreen-format video screen. Multiple screens provide flexibility, allowing the worship team to change up presentation styles from week to week. Panasonic 8000 lumen projectors were selected to handle the video projection, fed by an Extron DXP matrix video switcher. A Sharp 80-inch confidence monitor, mounted on the back wall, fed by ProPresenter, allows worship leaders and pastors to view a separate feed for lyrics and message notes.
The lighting system at New Life Church was optimized to accommodate the needs of both live and broadcast production. Also, with the carefully designed new lighting systems, there are many available looks and options available to the team, with no hotspots or unwanted shadows on stage. Jands Vista lighting control systems were chosen for their ability to create a graphic layout of the lighting system, making lighting simple to understand. According to Autry, this allows even an inexperienced operator the opportunity to easily explore and "play" with different options to create effects. In addition, presets can be used from week to week, which can save substantial time in programming. "It's a great solution for churches that use a volunteer staff for running various aspects of the production," noted Salamone.
In fact, when presented with the new lighting system, the staff and volunteers spent quite a bit of time developing their abilities to design unique looks and lighting effects. "For many of the volunteers, the new lighting system created a 'fit' for them," noted Muckle. "It gives them a reason to want to belong, a part to play and a sense of purpose within the church. In the past, it could be challenging to get volunteers to keep their commitments to serve. Now, people want to help and are finding new places to fit on our tech team." The team agrees that one of the most meaningful aspects of the new systems is that they provide more opportunity for volunteers to learn and grow in their production roles while serving the church.
With the short window for design and installation, All Pro Sound's installation team worked closely with contractors and had to remain flexible, as necessary changes were made to structural plans. All Pro Sound handled much of the field coordination, working directly with electrical and plumbing contractors to guarantee that any changes to building elements, such as fire sprinkler systems, wiring and handicap accessibility, would result in only minor compromises to the systems' integrity.
The new systems in New Life Church's sanctuary certainly provide a higher level of performance than their previous systems allowed. According to Muckle, "The new audio system provides full, crisp, clear sound for the church, and the subwoofers pack a huge punch, which is particularly useful for youth events." Also, moving from an analog to digital audio system simplifies volunteer operation and setup, allowing the team to recall optimized sound settings to support different events. The new HD video projection system adds more realism and an enhanced level of clarity to multi-camera IMAG images and graphics.
New Life Church's redesign of a tired, old building has positioned the church for future growth, as well as given them the ability to attract more people, including an enthusiastic younger generation of worshipers. The new space and new systems allow them to host events that they couldn't accommodate before.
"Everyone involved with the project did such a great job rolling with the punches, not just getting the job done, but doing it with excellence," said Muckle. "We are pleased with our new space and the work that everyone did for us. All Pro Sound was outstanding, coordinating with the other contractors on the project down to the smallest detail. Not only has this new building expanded our square footage for more seats and ministry space, but it's given us more influence on the local culture because we have a bigger footprint in the community."