Sometimes, the most effective way to achieve your vision for an updated headquarters is to move! United Way of Central Indiana (UWCI) needed collaborative spaces for its employees, partners and volunteers…spaces that would help reinforce its timeless mission and recent "New U" community-impact strategy, which places heightened emphasis on specific, measurable community goals for education, financial stability, health and basic needs.
About a dozen blocks away from its multi-floored headquarters of 25 years, the leadership team found its new space. "As United Way of Central Indiana embraces a fresh and innovative approach to its vital work in the community, a more flexible, up-to-date and functional workspace was needed," Ann D. Murtlow, President and CEO of UWCI, said. "Our community will benefit even more, as our new space reflects the vitality and innovation inherent in our work. We are excited about what the future will hold in our new home."
The 40,000-square-foot space, which has a wide variety of technology-enabled rooms and areas, was designed, engineered, installed and integrated, and is now supported, by Sensory Technologies.
Motivation And Collaboration
Large-format digital displays in the entire facility are used for digital signage messaging, as well as for presentations and collaboration in team meetings. Among the highlights is a 110-inch diagonal Panasonic videowall in the lobby, as well as 13 large-format displays throughout the facility, each one connected to a digital signage player supported by Sensory Technologies' FOCUS cloud platform.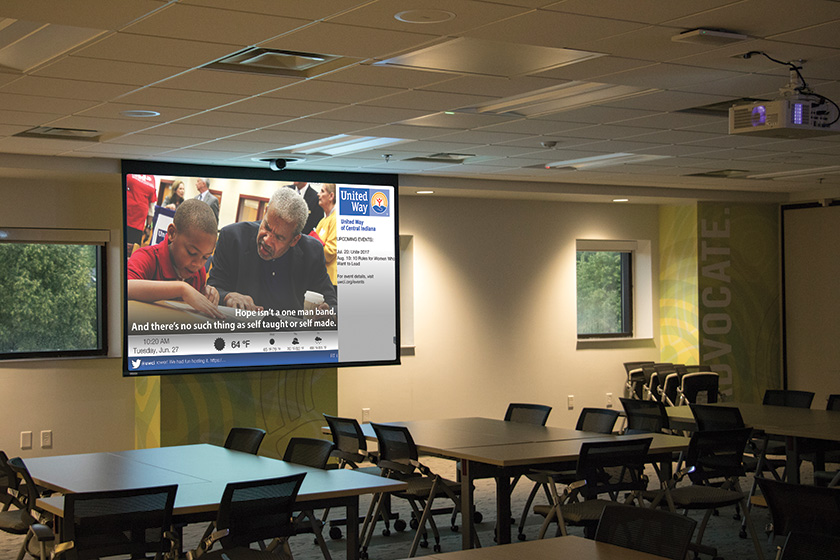 The facility features several types of meeting spaces to support various meeting sizes and purposes, as well as differing user profiles. The 10 Focus Booths, which include 32-inch NEC displays and Kramer VIAs, are perfect for small, local groups or individuals who need a quiet space for a while. Similar to the Focus Booths, six Neighborhood Systems, as well as two locations in the Social Hub, offer 55-inch Panasonic monitors in an open environment to support team meetings and ad-hoc content sharing.
To ensure remote staff and volunteers can join the conversation, plenty of spaces were specified to include web-conferencing functionality. Six Enclave Rooms and seven open "Jump-In" spaces were deployed with 42-inch to 50-inch NEC LCDs, Kramer VIAs and AMX Sereno webcams, so small local groups can connect quickly and easily with their offsite counterparts. The three medium conference rooms, each with 80-inch NEC UHD displays and Vaddio AV Bridges to connect the Vaddio PTZ camera and Shure MX396 Microflex multi-element boundary microphone table mics, are highly utilized for meeting needs that are more formal or confidential.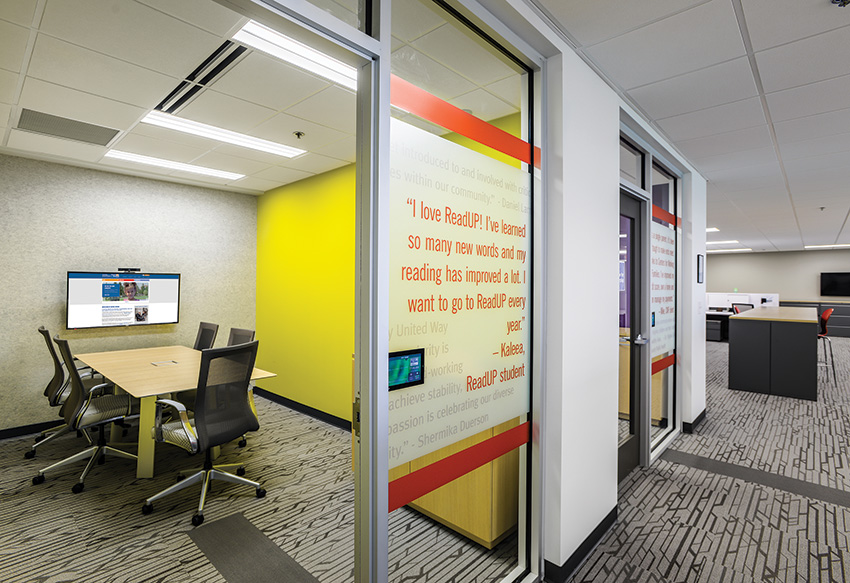 For meetings with more sizeable attendee lists, the Large and Extra-Large Conference Rooms allow local staff to connect with remote participants efficiently, while providing an outstanding web-conferencing experience for all users, regardless of location. Equipped with Hitachi 1080p 3LCD projectors and motorized Draper projection screens to accommodate the larger audiences the space can support, these rooms also include both audience and presenter cameras from Vaddio and in-ceiling MXA910 HD mic arrays from Shure.
One of the more innovative, unique features of UWCI's digital communication strategy is that the various LCD flatpanels throughout the space support both digital signage and collaboration applications. Employees can approach displays and plug in their chosen devices, or they can wirelessly connect for easy, ad-hoc collaboration sessions. Furthermore, between 8am and 6pm, any display not being used for collaboration automatically defaults to digital signage messaging. That way, no displays are dark during business hours, and messages are shared constantly throughout this active, synergetic headquarters.
Easy Signage Deployment
The organization chose to employ a cloud-based digital signage system to broadcast news and special events, as well as to welcome new employees, in an effort to reduce the use of email for such announcements. The FOCUS content-management platform from Sensory Technologies was selected for its design flexibility, HD graphics support and ease of use. Another advantage is that UWCI didn't have to invest in either an expensive software package or media player devices, because FOCUS is a monthly subscription service that is easily scalable as needs change.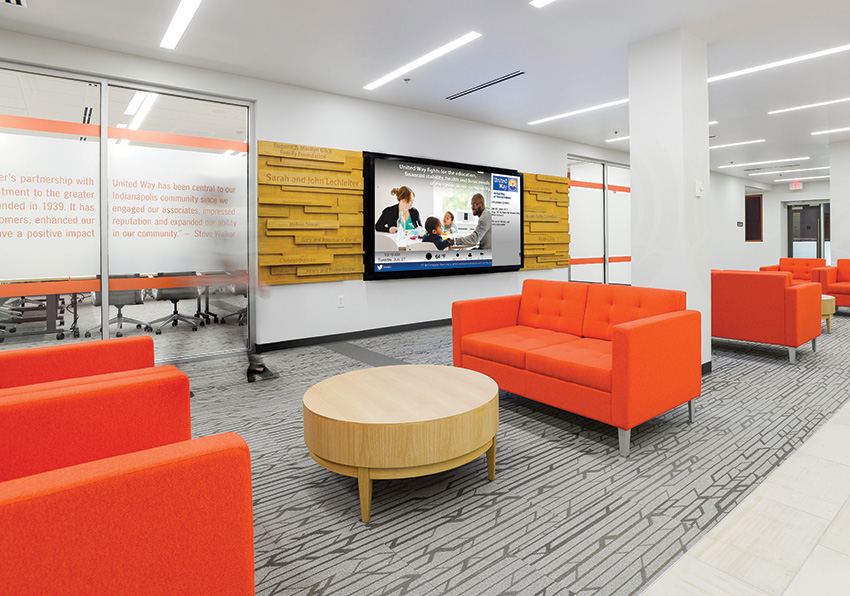 This turnkey, signage-as-a-service solution allows UWCI to manage its signage assets and update messaging remotely across the network. FOCUS includes a single-output digital sign-age player with configured software and access to a secure, redundant server to import, schedule, configure and manage all signage assets. This application-based signage administration includes a network manager, content wizard, content creator, multi-zone template and 24/7 Customer Solution Center Support.
The videowall in the main lobby consists of four 55-inch Panasonic flatpanels with UHD resolution and built-in 4K video scaling. They are installed in landscape mode, in a 2×2 configuration. The Panasonic bundle provided seamless configuration and integration, while also meeting budget requirements. A Crown amp and JBL speakers were added to allow playback of the various media content types, including WMV and MPEG4 video files, that can be loaded to the FOCUS digital signage. For ease of operation, an Extron keypad was installed at the reception desk and integrated to control the system's power, volume and mute functions.
Network For Seamless Collaboration
"We wanted to enable anyone to use the technology in all rooms on their own, so users would not have to sign-out AV equipment from our Business Center anymore," Lucia Downton, Vice President, Technology and Operation for UWCI, noted. "We wanted our guests to be 'wowed' by the ease of connecting and displaying their devices."
It was very important to stakeholders that the UWCI staff be able to connect quickly and easily to any of the monitors throughout the new space, without the need to plug in cables. That presented the first challenge during the project, one that was solved by creating intuitive connections to Kramer VIA wireless collaboration devices located with each display throughout the building. The Kramer devices offer a feature-rich collaborative interface, along with wireless display mirroring, but the key was to configure the system so that any staff member could walk into a space and quickly identify how to connect.
---
TIPS
>> Take advantage of all available manufacturer training, resources and support documentation when deploying a new product.
>> Build strong relationships with local IT firms to better support the overall needs of your clients.
>> Offer multiple training sessions targeted to a variety of levels; encourage hands-on, real-world scenarios for practice.
---
To accomplish that, Sensory staff worked closely with the UWCI IT support contractor to connect all the Kramer equipment on the secured network. That way, the UWCI staff would never have to switch Wi-Fi connections when launching the VIA software and connecting to mirror their screen. Additionally, because IP addresses are not the most intuitive format for non-technical staff members, the network team created a custom DNS directory to allow employees to enter the room name as an identifier for the device to which they wished to connect. That task took careful planning and coordination between Sensory and the IT firm, and it resulted in a big win for the client's ease of use.
Building strong relationships with local IT firms, in order to support the overall needs of your clients better, is always recommended. In addition, training technical staff members on the fundamentals of IT infrastructure and terminology can go a long way in bridging the communication gap between the trades.
Mic Ceiling Array For Broad Coverage
UWCI provides meeting spaces for staff, patrons, community groups and many others. Maintaining crystal-clear audio capture for those stakeholders, and all of their multiple furniture configurations, was critical. To accomplish that, the Shure MXA910 ceiling array microphone was chosen. With highly flexible pickup-pattern configuration and customization, the new technology offered a solution to meet the challenge. The new in-ceiling mic arrays also offer an elegant and design-friendly aesthetic, as well as a variable LED indicator that was integrated to provide valuable feedback to clients as regards the status of the microphones (e.g., Green=On and Active, Red=On and Muted/Privacy, White=Mics Off).
When working with any new product, it's considered a best practice to obtain as much manufacturer training and support as possible; the new ceiling arrays proved to be a case in point. Due to the highly customizable nature, our engineer and implementation team paid special attention to the configuration and calibration of the systems. In addition to standard work on DSP configuration, our team performed numerous test calls and verification diagnostics to ensure the fine-tuning was completed with pinpoint accuracy, and the system would perform at the optimum level throughout various configurations and seating locations.
Signal Routing Synopsis
When working on the various room types and sizes, the project engineer utilized solutions from several manufacturers to meet functionality requirements, as well as budgetary constraints. In the Focus Booths and Enclaves, sources are connected directly to the displays, and signal switching is controlled via an Extron keypad for intuitive operation by end users.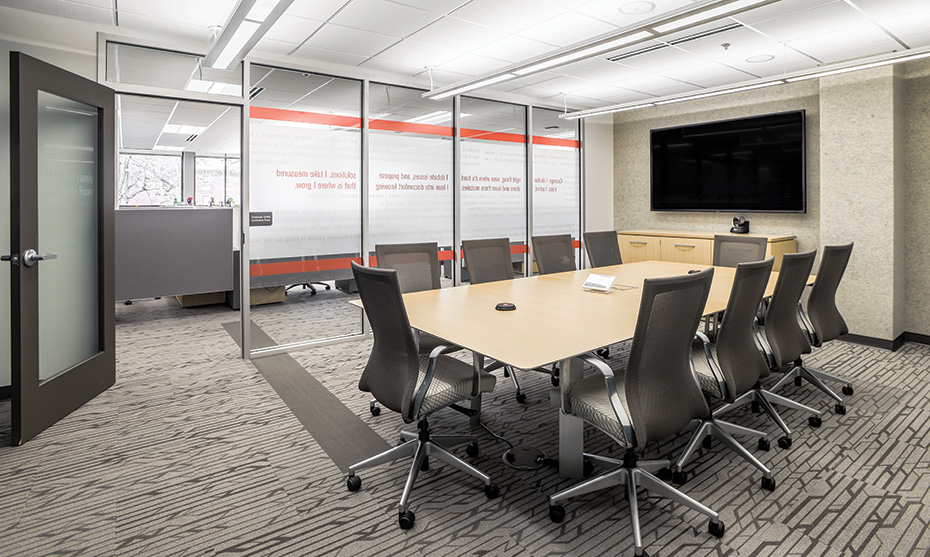 With the addition of HD web-conferencing hardware from Vaddio and Shure in the medium and large conference spaces, signal distribution and switching was upgraded to an HDBaseT platform supplied by Atlona, and functionality is integrated with a Crestron CP3N 3-Series control systems processor and TSW750 touchpanel. Additionally, in the feature-rich extra-large divisible conference space, Crestron DM products were selected to support smooth operation throughout the various room configurations. Similar to the medium and large conference rooms, a Crestron processor and touchpanels were integrated, providing intuitive control of the more complex functionality of the space.
Three Challenges
The rooms had to deploy sophisticated technologies in a way that would be transparent to non-technical users and staff; that created some interesting challenges.
1. Coordinating the necessary steps for DNS registration, so collaboration would be intuitive for users and the tool's launch would require only the room name, rather than an IP address.
2. Anticipating the learning curve (and the extra time required) to calibrate the coverage area successfully for the Shure ceiling array microphones.
3. Training a wide variety of staff members, many of whom had little technology experience.
Meeting those challenges, and exceeding expectations, was accomplished by a combination of strong teamwork from Sensory staff members, the intelligent use of external manufacturer resources and effective communication through close relationships with the IT contractor.
Adapting To New Workflows And Technology
UWCI had a goal: "We wanted to keep AV activation very simple—no more than five steps for employees to use AV in any conference room," Downton said. "It had to be easy to display information from laptops or phones, as well as to switch between different media." To help familiarize staffers who would use the technology, several training sessions were scheduled over multiple days. Individuals were offered the opportunity to have hands-on interaction with each category of technology (e.g., using Kramer VIA, connecting with the built-in touchpanels, activating videoconferencing with UWCI's platform). Adoption of new technology can challenge any organization; however, the strong buy-in from the leadership resulted in a smoother-than-most transition.
"The transformation is stunning," Murtlow remarked. "The technology in our old office was very unreliable. Our Wi-Fi routers were very old, so wireless connections were not seamless. In most conference rooms, we had to reserve equipment (laptops, projectors, speakers, etc.) in advance and set up for our meetings. We can work so much more efficiently now, and it's our central Indiana community that benefits from that."
Notably, Rowland Design, which was the project's architect, recently collected a Citation Award from the American Institute of Architects Indianapolis' Excellence in Architecture program.