The legendary jazz organization Blue Note Entertainment Group opened Blue Note Hawaii in the heart of Waikiki in Oahu. Located in the Outrigger Waikiki Beach Resort hotel, the new club seats 350 and is expected to attract local patrons and music-loving tourists alike. Like all other Blue Note clubs, the Hawaii venue hosts internationally acclaimed artists with performance opportunities for local talent, as well.
Blue Note installations are technically challenging enough without the added "help" from complexities inherent in doing a major installation right in the middle of the Pacific Ocean. With a positive track record of installations at other Blue Note clubs, Peltrix of New York was contracted to provide design, installation and integration of the audio and lighting systems for the new Hawaii project.
Every Blue Note club requires a state-of-the-art system that is acceptable to top-caliber, world-class touring musicians. The system has to accommodate a range of music styles, from classic jazz and bebop to fusion and hip-hop. For the Waikiki location in particular, the venue also has to accommodate private parties and corporate events. Sound system requirements dictate sparkling clean reproduction with extremely low distortion, as well as consistent frequency response from very low to high SPL.
Because it is physically impossible to supplement the house system for each performance, the system has to work for every possible booking. It has to be rider friendly and allow any visiting engineer to walk in and start mixing with minimal handholding by the house production staff. That means use of a commonly used mixing console and lighting controller.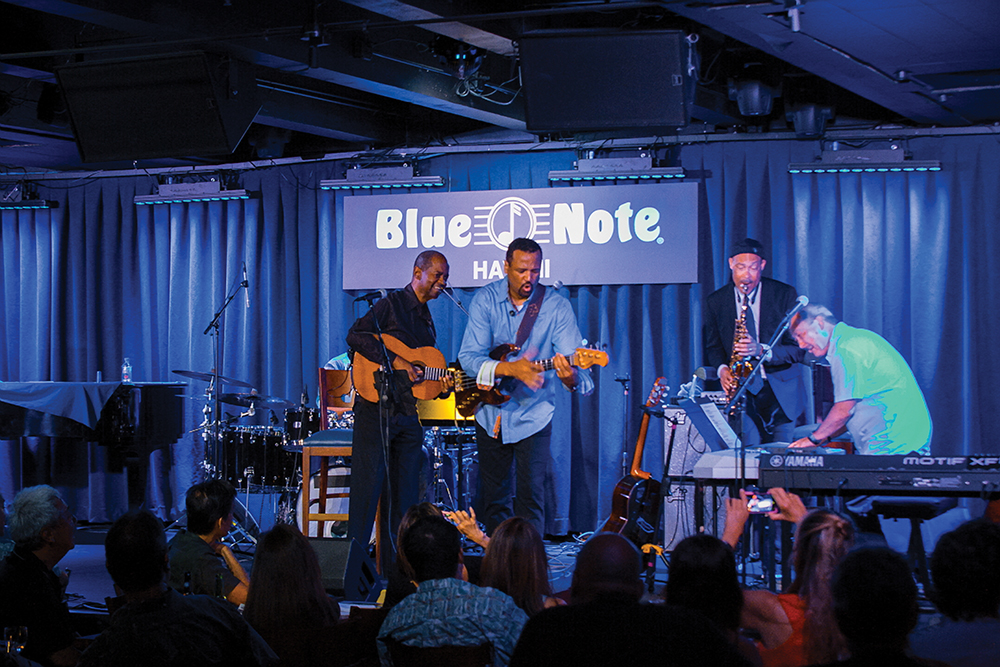 Digital AV/IT infrastructure was nonexistent in the space. We built two discrete network infrastructures: one for Dante audio and the other, tied to the office LAN, for production-only networking.
The Dante network is a star topology "dual" network, using two discrete 1Gbps, QoS switches, one as Primary and the other as Secondary (failover) network. This network provides connectivity between the FOH console, stage boxes and the multitrack recording workstation. If a monitor console is required for some shows, it can be added to the network and it can share the same "Mic Pres" (mic preamps) as the FOH console. Because the Dante is an audio network, any future expansion that might be required can be added at the low cost of network wiring only.
The production network is used for three distinct functions: control software for DSP and amplifiers, remote administration and monitoring, and general production connectivity.
The system includes Yamaha TXn amplifiers with built-in DSP processing. It also boasts a BSS BLU DSP unit for overall system DSP. Both are controlled with the respective software, Harman's Audio Architect and Yamaha's Amp Manager.
Remote administration allows us to help the production staff with system tuning, updating and monitoring of system health. This is a must, given that the venue is located in the middle of the Pacific Ocean.
A Dell SonicWall firewall appliance protects the production network from any interference from the office network. It does not do any DHCP routing, which is handled by the office router. It does, however, protect against any other type of intrusion, both by limiting port accessibility and by limiting traffic only to specific IPs.
In addition, the FOH console uses Yamaha's StageMix for remote control of the console. For security purposes, we kept the connectivity between the host device (iPad Air) and the console on a completely separate WiFi access point that does not broadcast SSID and is not connected to any other network.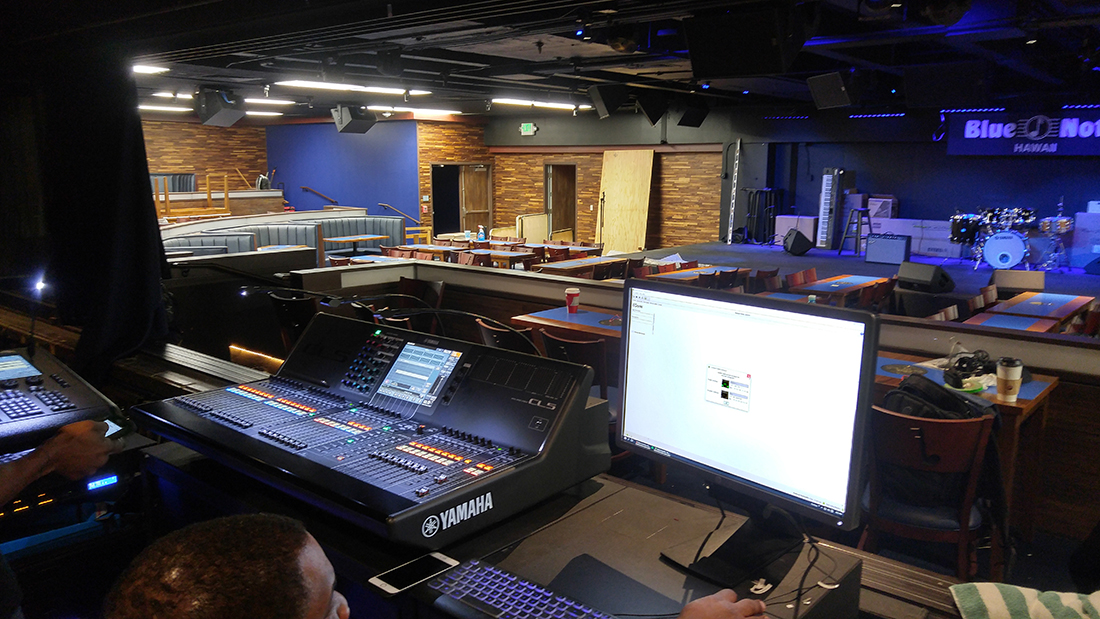 Speaking Jazz
The selection of house speakers was based on the required low distortion, as well as the extremely low ceiling and close proximity to the audience. Only ribbon-based speakers could accommodate those requirements. We selected SLS Audio's 115RT-I for mains based on their proven track record of top-quality ribbon HF drivers and for their use of a waveguide instead of horn-loaded driver. This has worked well in the past for other Blue Note clubs with similar physical limitations, and it was just a natural choice here, as well.
Subwoofer selection was dictated by the need to place the speakers under the stage. We chose d&b B4-SUBs for their standalone cardioid characteristics. Placed under the stage, they fire less LF energy behind the enclosure than non-cardioid speakers. This eliminates some of the LF buildup onstage that would interfere with the musicians, especially for straight-ahead jazz shows using an upright bass.
Monitors (d&b M4 and M6 wedges) were selected for their rider friendliness. The same criterion was used for the selection of the house-mixing console. The choice to go with Yamaha CL5 was twofold. It is rider friendly and every guest engineer who has ever worked on a Yamaha CL, QL and even M7Cl can walk up to the console and start a soundcheck without needing constant handholding by the house production staff.
Lighting fixtures were picked to provide the most versatile options for many types of shows, and to accommodate the low ceiling and close proximity to the stage. Wide-angle fixtures were required for both wash and for specials. High End Systems' HedgeHog 4 II control console was chosen for its flexibility and user friendliness, allowing the Blue Note's one-person production staff to operate both sound and lights simultaneously.
Challenges Near & Far
Typical Blue Note layouts include rooms that are shallow and wide. The stage is situated at the center of the room, with the audience seated to the sides and very close downstage. It's a concept that builds intimacy between the performers and the audience. Although this intimate setup provides an exciting interaction between the artists and crowd, it presents an abundance of sonic challenges:
The bulk of the seating is to the sides of the stage and as far as 45 feet in each direction.
The room has a very low ceiling height of nine feet.
Some seats are merely an arm's distance from the stage.
Music styles vary from straight-ahead acoustical jazz to loud electric fusion and even hip-hop.
In a room that's only nine feet high, how do you evenly cover a seat that is five feet away from the guitar amp, hearing mostly stage sound, and at the same time a seat that's 45 feet away to the side that hears the PA primarily?
At nine feet, the speakers hung off the ceiling deck are actually only eight feet from the floor. With the average sitting height of listeners' ears at four feet, that leaves a distance of about four feet from the speaker to audience's ears in the immediate vicinity of the stage.
Combine this with stage sound produced by drums, guitar amps and bass amps that are only five feet away, and you end up with an extremely high SPL for the audience members "lucky" enough to sit three feet away from their idols. On the other extreme, due to the low ceiling, the acoustical sound from the stage, along with audio produced by the first set of speakers, hardly reaches the audience that's 45 feet away at the side wings due to extremely low penetration.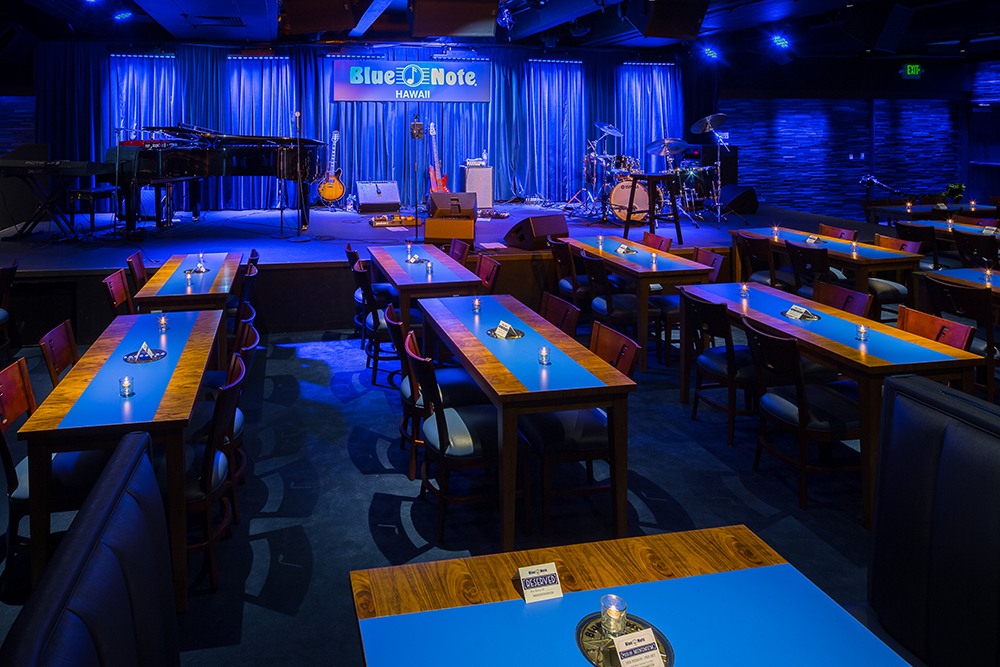 Solution
Our solution was to use SLS 112RT-I and 115RT-I ribbon-based speakers, configured as three separate layers. The preference of ribbon speakers was for their extremely low distortion compared to compression drivers. With only a waveguide for the HF driver and virtually no meaningful distortion, these speakers don't "shout" at the poor souls sitting only four feet away. At the same time, they can produce enough output to accommodate the more speaker-dependent types of acts that play at the Blue Note.
The first two layers are a "U"-shaped intertwined row of speakers all around the stage. Half of the speakers can be used to amplify vocals only when there is a vocalist with a loud band and high stage volume. Those speakers only cover the first two rows of the audience who hear mostly stage sound and would not otherwise hear the vocalist, who would be drowned out by the band. The second half of the layer is the entire mix. The third layer is a set of five delay speakers that cover the far outer wings.
Subwoofers presented an additional challenge. With the audience sitting around the stage, placing subs onstage was impossible, because it would create sightline issues. They could not be suspended due to the low ceiling height and inefficiency. And, to make this challenge even more "fun," there was no free floor space where subs could live. The only space that was left was under the stage. With a ceiling at only nine feet, fitting full-size subs under the stage would force the stage to be too high, not leaving enough height for performers. The solution was to use d&b B4-SUBs, which are 15 inches instead of 18 inches and are also self-cardioid, eliminating LF energy from firing backward under the stage and causing havoc for some of the acoustic shows.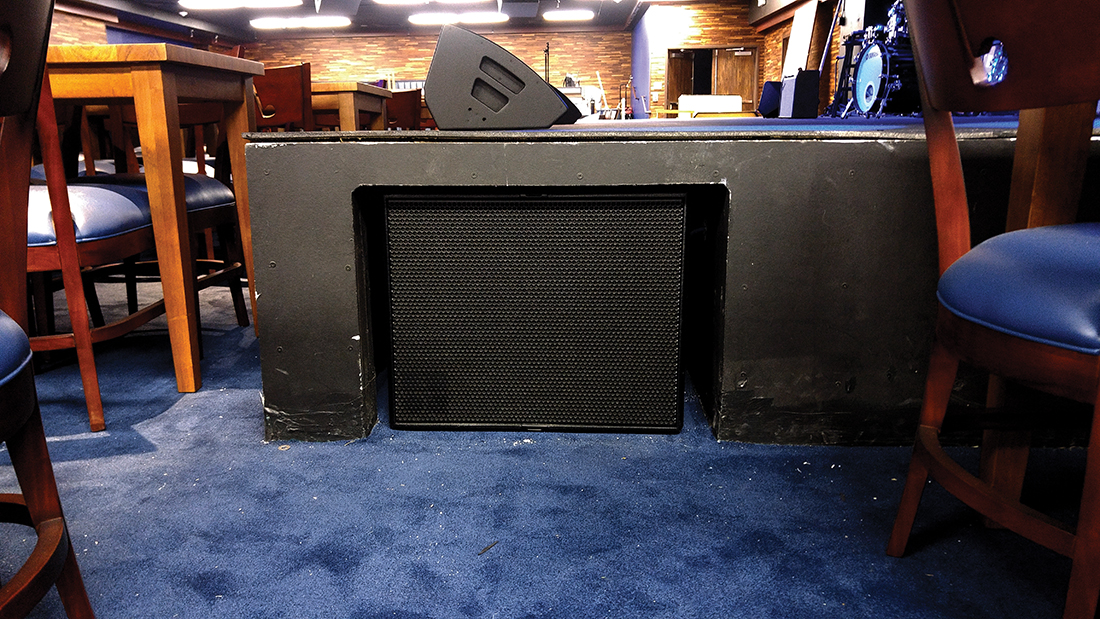 Uncharacteristic to this type of club, Blue Note Hawaii does have a decent-sized FOH space. This allowed us to select a Yamaha CL5 as the FOH and monitor console, a favorite among Blue Note engineers. In addition to the great sonic quality of that board, it allows for smooth daily operation by the many guest engineers who pass through the club. Virtually everybody is familiar with Yamaha Centralogic-based consoles. Even if you have only worked on an M7CL, you can find your way around. And if you can't, the house engineer is always there to lend a hand.
Amplifiers consist of a combination of d&b subs and Yamaha TX4n DSP-based amps for the tops. We like the Yamaha amps for their sonic quality, reliability and endurance. A while back, we sent one of those Yamaha TX4n amps to SLS to custom-make presets for these speakers. Those presets worked like a charm right out of the box, with minimal modifications required onsite.
Challenges In Time & Space
There are the usual permanent installation trials, such as a tight completion schedule (shows booked before construction started), construction delays, last-minute changes, DOA equipment, an imperfectly coordinated construction site, electricians who don't understand how audio, video and stage lighting differ from standard commercial electrical work…and then…This is Hawaii.
Hawaii's location presents a unique set of challenges for major installations. Not much is produced locally; virtually everything comes from the mainland. It's a small market and, as such, there are no stores you can make a run to if you forgot something or if a part is missing. You have to plan precisely, making sure everything you require is available on hand, down to the last Phoenix connector. Everything must be shipped well in advance because ocean freight arrival is unpredictable.
Case in point: A container holding our SLS speaker shipment was dropped while being loaded on the ship. Luckily, we ordered the speakers early enough to deal with the delay. Shipping by air is prohibitively expensive. Shipments arrive at different intervals, so someone must be onsite to accept deliveries over a long period, and then items must be stored securely until the installation commences. If you've forgotten even the smallest item, concrete anchor, cable, etc., you can choose how to spend what was supposed to be your profit margin on the job: Either ship the part overnight or pay your crew to sit on the beach for a few days until the item arrives. (Guess what the crew would vote for!)
For example, this installation called for 24 12-foot-long Unistrut channels. Because these are made of heavy steel, the most economical way to procure them was to buy them from Grainger. However, Grainger did not stock enough strut channels on the island. They ship a container from the mainland every few weeks, based on orders. Furthermore, if your order is placed right after a shipment is en route, you'll have to wait for the next ship to leave, plus two weeks on the water. The process lasted six weeks and the strut channels arrived just one day before installation, while the crew was already onsite.
While installing the strut channels as mounting points for speakers and lighting, we discovered that the concrete at the suspension location was too brittle to hold the weight. Our SDS drill bit passed right through the ceiling like it was made of butter. We then had to build a workaround, a bridge that used two beams to hold the weight. That, of course, required more strut channels than we planned for. Luckily, there is a local Unistrut dealer on the island, which was a surprise. We paid a premium for the extra strut channels, but we got the job done.
Labor Ins & Outs
Working in such a remote location is expensive. Bringing in a full crew from New York required airfare for everyone and hotel accommodations at top tourist hotels right smack dab in the middle of the high season. Our solution was to bring in our top technicians from New York and to hire local help for the rest. Honolulu, although a large city, has a very small AV market. There aren't very many qualified technicians on the island, and those who are qualified are busy with their normal schedule and are unavailable for an intense four weeks of 16-hour days. We got through that challenge somehow, although that part seems blurry, probably for the better.
In the end, we departed the island, leaving behind a ready-to-go, world-class music venue unlike any other. There aren't many clubs or places to go to for live entertainment after dinner in Waikiki. Most definitely there is no such high-caliber venue as the Blue Note, which brings in top-notch, world-renowned international acts performing with a high-quality sound and lighting system.