Nashville has been reveling in its "It City" sobriquet, bestowed by The New York Times in 2014, when the city seemed to be the poster child for aspiring hipsterdom. An ABC primetime soap opera by the same name seemed to chronicle the city's meteoric rise, like a rags-to-riches country star's biography, from the—literal—depths of a devastating 2010 flood to coming in as the number-one US tourist destination in the Travel + Leisure 2015 readers' poll. Nashville became the place to go for live music, perhaps not much of a stretch, given its nickname of Music City. In that time, it also developed a reputation as a food destination, being listed that same year by Zagat at number six out of 89 foodie cities.
Music & Food Together
Put music and food together and you may have the most competitive commercial landscape of all in America at the moment. Nashville's downtown is a spectrum flush with eateries offering live music, and live-music venues with menus…and these businesses are chasing not only the best chefs but also the biggest, loudest and brightest AVL systems, trying to outdo each other's cuisine and entertainment shows.
The Wildhorse Saloon is the epitome of that synthesis in more ways than one. The 2000-capacity venue and eatery opened in June 1994 in a three-story former warehouse on Second Avenue North, before many of today's hipsters were even born and when Nashville's downtown was still more like the old seedy Times Square than Downtown Disney. It was part of an expansion by Gaylord Entertainment, which owned other iconic Nashville landmarks, including the Ryman Auditorium and Opryland, to capitalize on the line-dancing craze of the early 1990s sparked by Billy Ray Cyrus' "Achy Breaky Heart." But the Wildhorse managed to survive that questionable moment in American cultural history, leaning instead for the long haul on the broader appeals of country music and a Southern-fried take on solid American fare like burgers and fries (though it still offers public line-dancing lessons during lunch times).
Bigger Challenge
What posed a bigger challenge for the establishment was keeping its leadership status amid the surge of music-and-food venues surrounding it. The menu evolved, with trendy new bar and food items appearing, but the entertainment side needed a bigger boost, which it got as part of an $8.6 million renovation completed in June of this year. It saw the speakers in the venue's 11-year-old audio system replaced by Clair Solutions, along with the installation of two Avid S6L mix consoles, one each for FOH and monitors.
An entirely new all-LED lighting rig includes Chauvet, ETC and High End Systems fixtures hung from two new Tyler 30-foot and 40-foot trusses. The stage's left and right 8mm-pitch LED video panels downstage were replaced by larger 15'x8′ 4.8mm panels and a new 23'x15′ 4.8mm upstage center panel, along with new digital and interactive signage at the venue entrance and a total of 33 LG LCD displays around the venue. In terms of scale and cost, it puts the Wildhorse Saloon back at the head of the field, which is what Jill Schmidt says they were looking to do.
"This was our chance to reestablish ourselves as the premier venue in downtown Nashville, with tour-grade AVL and dining and hospitality that works for all of our audiences," said Schmidt, whose title with Ryman Hospitality (Gaylord rebranded itself after a 2012 merger with Marriott), Talent Buyer/Manager of Social Media, doesn't fully describe her role as its majordomo and the motivating force behind the venue for the past 11 years.
Considered Several Approaches
Schmidt and the Wildhorse's corporate ownership representatives mulled over several approaches to upgrading the facility, and entertained at least one formal all-in proposal from an AV systems integrator, as well as several piecemeal ones. But none of the externally inspired proposals seemed able to fully reinvigorate the Wildhorse. Instead, ownership committed to a radically comprehensive renovation, one that would also bring an architect, a general contractor and an interior decorator into the loop. It was also an opportunity to completely remake the venue's AVL.
It would also see the rare instance when a group of vendor/integrators was brought in to address individual aspects of the project, with their actions coordinated by the client, while Schmidt and Ryman Senior Project Manager Matt Crawford collaborated on project management.
"Clair and Bandit [Lites] had done sound and lighting work in here over the years and we were familiar with them," Schmidt said. "We had done rentals from I-MAG Video for video and LED systems when we needed them for hosting meetings. They came here and had a working model of their ideas set up in their warehouse two weeks later. The decision was made to go ahead and become the most technically advanced venue in Nashville again."
Open Throughout
Asking the project leaders from each of the AVL verticals about the biggest challenge they faced in upping the game at the Wildhorse elicited a common response. "They had to keep the restaurant and club open and running almost continually throughout the renovation," recalled Josh Collins, Project Manager for I-MAG Video. "Some of the vendors had to literally work overnight so the work didn't interfere with the food and entertainment operations."
Noting how important event rental is to the Wildhorse (the city's Rotary Club has a standing Monday meeting there every week, for example), Schmidt said that all of the vendors had to work around the lunch and event audiences. "The only time we closed was three days for the new wood flooring to be installed, and a couple days for work on the kitchen," she said. "Otherwise, it was business as usual throughout the renovation."
What also helped keep a three-pronged AVL revamp on an even keel was that each of the three vendors tended, by nature, to stay well within their areas of expertise. "We don't do lighting, Bandit doesn't do video; we each stick with what we do best, which kept everyone very focused," said Collins. "Plus, we're all headquartered in Nashville, so we know each other and have worked together before."
Comprehensive Mandate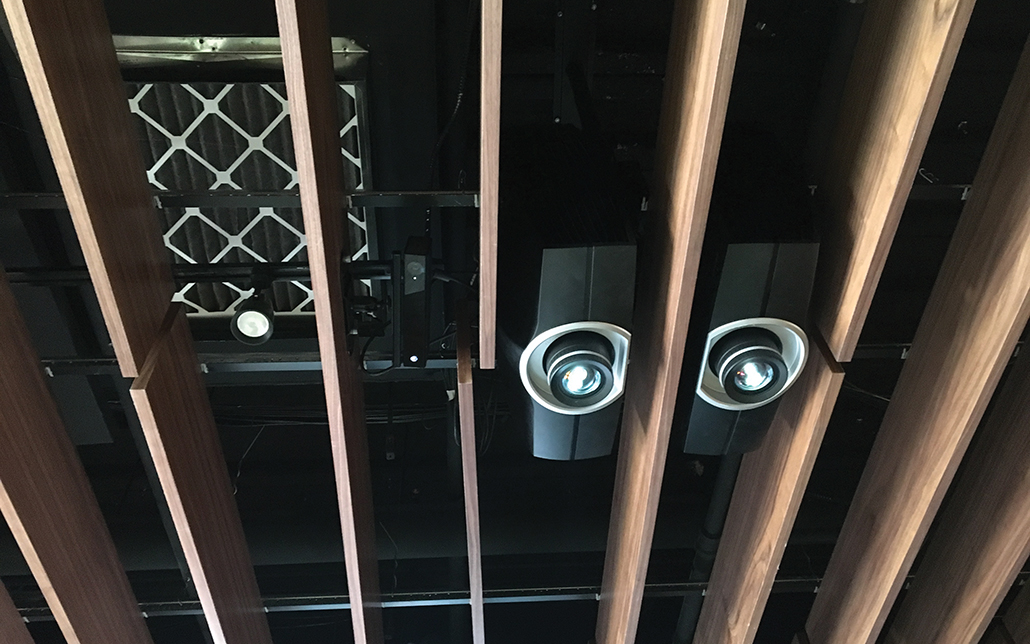 I-MAG Video had perhaps the most comprehensive mandate on the project. It took down two older LED screens, mounted downstage right and left of center, and installed two new 13.5'x8′ 4.8mm panels, almost twice the resolution of the previous ones. Another 23'x13.5′ 4.8mm panel was placed upstage center stage. These are fed from an Apple Mac Pro with a Resolume media server, two Sony robotic PTZ cameras, one handheld and one fixed-position FOH camera (both legacy items), as well as the multi-input FOH scaler that allows clients to plug into the system. These signals pass through two inputs in the Roland V-1200HD FOH console. LED manufacturer Gloshine is China-based, as are virtually all LED vendors; Collins reported that they've had good experiences with their products on installs and rentals.
Visitors to the Wildhorse are greeted by an interactive array of digital signage. There is a 15'x8′ LED wall on the left side of the reception area, comprised of 45 3.9mm tiles. Directly above it are two Barco PGWU-62L laser projectors mounted in the ceiling facing downward, projecting the venue's logo. They're connected to a Microsoft Kinect camera that activates puddle-splash and other effects when the Kinect's beam is interrupted. These are created by ImagineX's manipulation of Derivative's TouchDesigner software running on a custom computer in the rack room. Collins said that two projectors were used to increase brightness to stand up to the afternoon sun in the glassed-in foyer.
All of this, as well as five new 55-inch LG LED displays mounted in portrait mode along the bar wall around the corner (LG is Marriott's preferred provider), is home-runned back to the rack room on Belden Cat6 cabling. Nashville-based Pro Systems Inc. was the structured cabling installer for the entire project, including for much of the audio and lighting systems, as well as for the digital media displays, which can be scheduled with custom content. Pro Systems provided cabling for much of the audio and lighting systems, as well.
Keeping Services Lively
The additional televisions (totaling 30 now, all new, with half using preexisting locations and the rest in new locations) are used to keep lunch and early dinner services lively, running CMT and other music fare or sports during game times, and for special content when the venue is used for corporate and other rental events. Control of video is split between the stage and the rest of the house using a tvONE CORIOmaster videowall controller and two CORIOmatrix HDMI over HDBaseT distribution systems. All are located in the rack room, with controls in the FOH position in the balcony for the stage video using input from the cameras and media server, and wall-mounted control panels for the rest of the house's video displays using input from its own media server and eight DirecTV boxes, as well as sources provided by rental clients.
And this dual distribution system is capable of handling 4K video, as are the displays. "It all runs HDMI into a balun set that runs over Cat6 cabling to another balun set that converts it back to 1080p/60Hz HDMI," Collins explained. "It's all distributed over HDBaseT. It's a complicated system, but it has to be. You can't have one location at FOH controlling the entranceway and other displays and signage."
Sounds Good
Although most of the AVL renovation took place last spring, its roots reach back a year earlier from then, when both the audio and the lighting systems got some updates that foreshadowed the larger refurbishment of the systems. For audio, that meant the replacement of the speaker cones in the JBL Vertec VT4888 line arrays. It was the culmination of several years of swapping components around within the system as it aged since its initial installation about a decade earlier. Clair removed the Vertec enclosures and transported them to its Nashville shop to replace the drivers, installing one of its own I-3 systems at the venue temporarily during the month-long process. This year, Clair returned to change out the old FOH and monitor consoles with two new Avid SL6 consoles, as well as replacing several of the Crown Macro-Tech 5000i amplifiers powering the PA system.
Another aspect of the audio upgrade was to bring the venue's VIP rental suite, the River Room located on the second level of the club's backstage area, up several notches. Clair installed 17 Tannoy CMS series ceiling speakers and four Tannoy VSX 10BP subwoofers, which route audio content from local inputs or from either the house's BrightSign digital media player or the three 55-inch LG video monitors installed there by I-MAG Video as part of the new AVL overhaul. The room's AV is controlled through a Crestron AM100 presentation system using a DM series wall controller installed by Clair Solutions.
The upgraded PA system puts the Wildhorse Saloon back into the pool of rider-ready venues in Nashville. "By far, it's the most advanced stage for live music in that neighborhood again," said Dan Heins, Clair Solutions' Regional Vice President (and longtime front-of-house mixer for Garth Brooks). "With the new video and lights, it's become an even more exciting place to experience music. And the food's pretty good, too."
Bright Ideas
The Wildhorse Saloon is a brighter place these days. Bandit Lites' main mandate was to transition the venue's lighting platforms from analog par cans to all LED fixtures. Like the audio redevelopment, lighting's renaissance there began earlier, in 2013, when Bandit Lites, a regular vendor for the business, updated the dancefloor lighting on the "wagon wheel" truss that flies above the dancefloor with 64 Chauvet Colorado LED fixtures and 10 VariLite VLX3 fixtures. In the most recent renovation, they designed and installed an entire new LED stage lighting system, including new trusses.
"The old lighting rig was par 64s and Altman ACLs [aircraft landing lights], with eight [VariLite] VL2500 [luminaires]," said Chris Barbee, Director of Sales & Installations at Bandit Lites. The ACLs are now all that remain of the previous system, which now centers on fixtures like High End Systems SHAPESHIFTERs and SolaSpot 2000 spots, Chauvet Ovation full-color lekos, Nexus 7×7 LED panels, Rogue 1 and Rogue 2 washes, and Rogue 1 hybrids, the only arc lamp source in the rig.
One other significant change was the removal of the counterweight rigging and dimmer circuit raceways, which would no longer be used. Instead, the new trusses are on motorized chain hoists, with an individual 19-pin multi-cable run to each one. The new rig draws about 30,000 watts as opposed to the 120,000 watts the previous system required. "The power draw of the new system is dramatically less, and they gained an incredible amount of movement and color with the new rig," said Barbee. The High End Systems Hog 4 lighting console, which was also installed three years ago, was updated with a new network infrastructure and DMX-over-Ethernet control devices. A Hog 4 Wing sidecar on the console acts as an extension playback device, allowing for more versatile on-the-fly control of the rig.
LED Is Now Standard
Barbee said that LED is now the standard for both the food and entertainment sides of hybrid venues like the Wildhorse. He reported that it was specified by Ryman Entertainment for energy-saving reasons, and recommended by Bandit for maintenance reasons. Although the lighting systems there have distinct missions, he said that some of the stage lighting is also used during lunches to light up the line-dancing lessons on the dancefloor, and for watching a class from a table. As a result, it's easy to see how the students can feel a bit like they're onstage themselves.
The Wildhorse Saloon has some stiff competition around it these days, in terms of both dining and music. But a seven-figure renovation gives it a technical bulwark against the newcomers on the block. It also bolsters its heritage (22 years is several lifetimes in the restaurant or club business), which includes hosting television shows like Idol-franchise spinoff Can You Duet on CMT and once housing an entire radio studio for country-music flagship WSM. "I think we're ready for another couple of decades," said Schmidt.