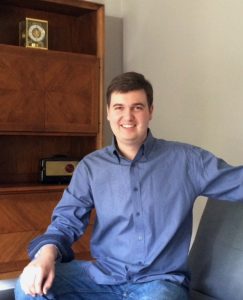 multiCAM Systems, a supplier of integrated video production systems serving the broadcast and professional AV markets, has established a US office in the Detroit region to bring the company closer to its Americas customer base. Paul Stewart joins the company effective immediately as Director of Business Development to lead all sales, service and support efforts in North and Latin America. He reports directly to CEO Stan Walbert. Stewart joins the company from ENCO Systems, broadcast automation suppliers for radio and television.
Stewart has nearly a decade of experience specifying and installing live sound and video systems in commercial buildings and school districts, and has a strong comprehension of how automation effectively reduces the technical burden and operational expense in professional AV environments. His first public event with multiCAM Systems is InfoComm 2017 in Orlando (June 14-16, Orange County Convention Center), which will also serve as the company's professional AV event debut in the Americas. multiCAM Systems will exhibit at Booth 6089.

multiCAM Systems has a large client base in Europe, Africa and the Middle East particularly, and has seen its market share in the US grow, based on emerging trends that align with its full product line. In broadcast, the rapid growth of visual radio has sparked interest from radio stations and houses or worship seeking automated workflows for the production of video feeds alongside audio streams. MULTICAM RADIO's convergence of server and switching hardware; and software-defined tools across artificial intelligence, speaker detection and automated graphics gives broadcasters a more efficient platform for live stream and podcast delivery.
These same operational benefits also apply to a range of fully and semi-automated systems built to enhance live production of presentations, speaking engagements and other events common on corporate campuses and in schools and universities.
"For our Pro AV customers, we'll communicate how quickly a professor, student or guest speaker can learn our systems," Stewart said. "While our broadcast customers have highly-trained technical staff, many schools, universities, houses of worship and corporate campuses might not. The user should be able to quickly put a microphone on the speaker and provide a 30-second overview before the presenter is off and running, instead of taking the time to conduct advanced training and read manuals. This will be our main focus at InfoComm as we talk to systems integrators and end users serving these verticals."
Stewart can be reached at 248.973.7167 or p.stewart@multicam-systems.com.