Street-facing videowalls have been trending in retail environments over the last couple of years, and are being used primarily to increase brand awareness. More recently, digital signage is being deployed widely to increase the value of retail real estate and leverage the signage network for "micro branding." This term is used to describe the strategy of tailoring marketing messages to a specific audience, typically within a venue.
Here's a look at a unique property that employs numerous videowalls, not only to enhance the physical space, but also to enhance the visitor's experience, build community and provide retailers with branding opportunities.
Brookfield Place is an 8 million-square-foot mixed-use commercial complex in downtown New York City at the site of the former World Financial Center. A recent $300 million renovation and repositioning of the property has transformed the retail and event space into a world-class lifestyle and shopping destination. Brookfield Place features 32 designer shops, 18 top-tier eateries and 12 premium amenities. Additionally, Arts Brookfield hosts a variety of cultural events including music, dance, theater and film.
Branding strategists from Gensler's Lifestyle-Brand Design studio worked with Local Project's digital media designers and other companies to develop a narrative around Brookfield Place: as a brand, as a destination and as a lifestyle experience.
This story was also created to generate momentum in leasing space to major lifestyle brands that could also benefit from micro branding on the signage screens. Another focus of the signage initiative was a digital wayfinding system with interactive directories that would help visitors and people working and living in the area to navigate their way through the complex's four interconnected towers and surrounding areas.
The design, installation and integration of digital signage at Brookfield Place's retail and event space spanned nearly two years. Engineering design for electrical and communication connectivity was provided by WSP Parsons Brinckerhoff, and Technomedia Solutions installed and integrated the videowalls.
The project encompasses nine touchscreens, nicknamed "monoliths" because of their shape and size, and six videowalls of varying sizes and configurations.
The monoliths are located in the legendary Winter Garden atrium (the grand centerpiece of the property) and throughout the Brookfield Place complex. Technomedia integrated these interactive displays using Primeview's 46-inch LCDs in a 1-wide x 2-high configuration in portrait mode, PQ Labs' IR Frame touch overlay and custom steel enclosures fabricated by Eventscape.
The other six videowalls also use Primeview's ultra-narrow-bezel LCDs, mostly on Chief mounts. In the Pavilion area where depth was limited, AMD Inc. (Advanced Mounting and Design) custom built the mounts. Two highlights in the Pavilion are 15 flatpanel videowalls, each with 42-inch LCDs arranged 3-wide x 5-high, in landscape mode.
Digital displays on the recently completed South Tower Bridge (which connects Brookfield Place to the west and the World Trade Center to the east) consist of two back-to-back digital "ribbons," each with 46-inch LCDs in landscape mode, in a 5-wide x 1-high configuration. In yet another area, there are two videowalls, each consisting of three 55-inch LCDs in portrait mode alongside each other, which the company calls "vitrines."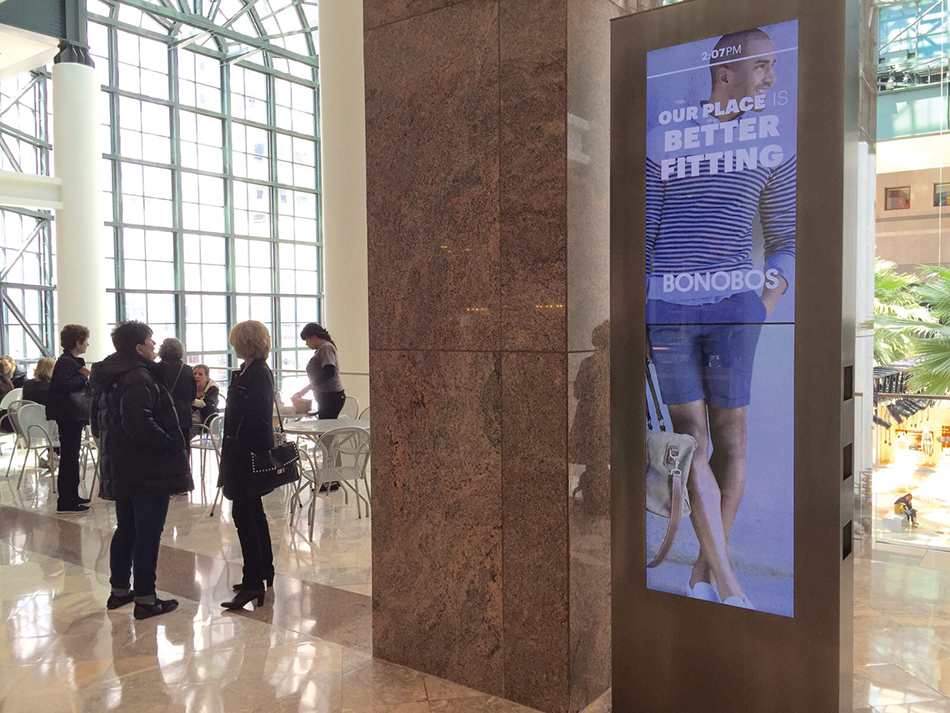 Reflecting on the project, Sundar Raman, Director of Creative Engineering at Local Projects stated, "The solution we developed accommodates multi-screen outputs from a single controlling computer, and also provides frame synchronization across multiple machines to accommodate large numbers of screens, as demonstrated by the Pavilion experience with 15 screens managed across three machines."
Content for the videowalls includes a variety of visual media formats, including video. Apple Mac Pro cylinders are used for content creation and as media servers. Local Projects developed a simple web-based CMS (content management system) using Flask-RESTful APIs and a number of homegrown content synchronization techniques, all built on commodity hardware. Content is managed across both local and cloud-hosted networks. Content is routed via single and multimode fiber; some displays are more than 600 feet from the server room.
Discussing the customization of content and micro branding, Theresa Loong, Interactive Project Manager at Local Projects, said, "We were able to address the unique needs of a number of different brands to promote their distinct identities. Fashion brands have some of the strictest branding guidelines in any industry, but our approach to experience design was convincing enough that those same brands gave us unusual flexibility in exploring a variety of possibilities. Ultimately, we built an experience utilizing a strategy of very rich aesthetics to promote best-in-class brands through the use of full-resolution media assets on a range of different screen sizes, seamlessly bridging digital and live retail, as well as retailers' social presence with their physical presence."
As this issue went to press, events at Brookfield Place included Charity: Water, the first virtual reality film to be screened at the venue, and Air Pressure, a kinetic sculptural installation created by the Toronto-based artist collective Studio F Minus (consisting of more than 175 animated fabric forms in the shape of birds). The artists have redesigned the installation for effective presentation in the unique public spaces at Brookfield Place.
It's very possible that the digital signage deployment at Brookfield Place represents a significant trend in public/retail space development, with a seamless blending of benefits for the public, as well as branding opportunities for retailers and event sponsors. The key element may be the way these disparate needs and priorities were incorporated into a cohesive solution at an early stage in the project's development. You may find this combination of the latest in marketing and communication strategies, advanced technologies, intense creativity and a stakeholder-focused development process useful for your projects in other industries.