It's no surprise that new media pulsated all over InfoComm15. The annual conference and tradeshow held in Orlando in June drew more than 39,000 attendees from 108 countries. This year's show was of particular interest because there were so many new products for the seamless delivery of AV over IP networks and infrastructure, from virtually anywhere to anywhere. AV over IP is now mainstream!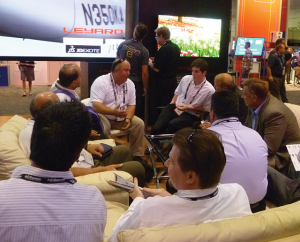 Audio continued to lead the way into the IP-distributed, app-based future, with a wide array of new interfaces and processing tools. Other exciting trends included drones for video capture, widespread adoption of 4K video, new USB-enabled professional cameras and systems, and collaboration solutions fit for auditoriums or for the pocket.
It is near impossible to present a complete picture of the hundreds of tradeshow and conference highlights, but here's what we found of particular interest for AV design and integration at InfoComm15.
The Buzz
Drone cameras have been used in cinema productions and sports video in the past and are now increasingly used for image capture and inspection in commercial AV, especially in difficult environments.
The first-ever Unmanned Systems and Drone Pavilion at InfoComm was sponsored jointly by AV distributor Stampede and Unmanned Vehicle University, based in Phoenix AZ. A large, netted demo area hosted regular "performances" of the latest drones. Stampede also unveiled the xFold line, advanced multi-rotor sUAV drones for the commercial AV market.
Also for the first time, InfoComm hosted the Digital Signage Solutions Summit, a three-day comprehensive workshop on this growing market segment (more about that later). Tech buzz also surrounded solutions for the rapidly changing workplace, including huddle rooms, open spaces and support for mobile workers.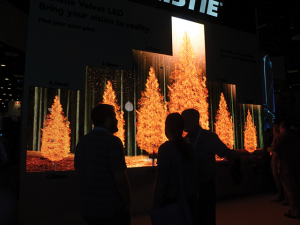 The demand for USB-enabled systems continues to increase, and many companies, including Crestron, Vaddio and new InfoComm exhibitor, Epiphan Video, have responded with innovative solutions. The broader AV transmission ecosystem has also matured, with HDBaseT, MPEG streaming and other technologies settling into comfortable niches.
Two Beats
Two beats resonated across the exhibition hall and educational sessions: Consumer and security technologies are driving commercial AV product development, and the new generation of commercial AV products features more built-in tools to simplify integration. Sony's new installation laser projectors, for example, include the user-adjustable "Reality Creation" and "Contrast Enhancer," initially built into Sony's home theater projection systems.
Drawing on its R&D of security cameras, Panasonic's latest PTZs for commercial AV transform in-camera recording and streaming capabilities into remote production and lecture-capture tools. Integration aids are particularly strong for videowall installation, where flatpanel displays from LG Electronics, Samsung and others now feature color-calibration and matching software. Also easing integration are the built-in alignment and fine-tuning capabilities in the latest mounting systems.
There were also many product firsts, and here are a few: 4K pan/tilt/zoom cameras from Panasonic and Lumens, Sony's USB 3.0 HD PTZ robotic camera, PureLink's cross-platform signal distribution system with built-in multiviewer image processing, 3M's 55-inch display with 60 simultaneous touchpoints, Samsung's 1.15mm pixel pitch direct-view LED displays, 1.8mm bezel-to-bezel videowall display from LG Electronics, LED displays with 80% transparency from GWS Technology, a new transparent-OLED display from Planar, a 4K2K transceiver (encoder/decoder) with zero compression from Aurora and Anchor's 130dB portable line array with a power output of 400 watts.
Apparently, a larger number of enterprise IT professionals attended the show, and many took InfoComm certification exams. Also quite visible was a greater presence of women in AV at this year's conference, with more than 200 attending the Women of InfoComm Networking Breakfast.
The AV Of Things
A departure from the traditional motivational speaker, this year's keynote was a panel discussion about the Internet of Things (IoT). Moderated by Nick Bilton, lead tech writer at The New York Times, the discussion featured executives from Cisco, Crestron, Harman and Samsung. The informative and occasionally humorous session started with the topic of increasing demand for drone cameras in commercial AV environments. The discussion also covered areas of concern regarding IoT app-based solutions, including standardization, scalability, security and privacy, all similar to those associated with emerging technologies in the past. The generally accepted tradeoff of privacy for convenience was noted and expected to continue as connected devices become more ubiquitous.
Cisco, Microsoft and Crestron were among the major vendors blazing a trail on the InfoComm show floor for networked AV. Whether a client's application requires USB-enabled video, streaming H.264 or H.265 over Ethernet or HDBaseT-related tools, the desired solutions were on tap from multiple well established suppliers. The large number of similar solutions led more than one expert to urge caution. With vendors pushing the limits of "accepted" or "de facto" standards, interoperability and scalability emerged as key concerns for networked AV deployments. Some solutions may either be based on proprietary technologies or incorporate proprietary extensions of existing standards.
There's An App For That
Consumer familiarity with graphical user interfaces is expected to drive new commercial-AV GUI and IoT development. There was a proliferation of apps at the show, both iOS and Android, for professional AV. These range from wayfinding and virtual meetings, to system design and AV control.
Crestron demoed its PinPoint Mobile app, which provides a full view of enterprise infrastructure and enables calendar and scheduling functions previously performed only from desktop computers. Panasonic showed the PTZControl App, which combines with the company's new AW-HEA10 module and an iPad to provide "tap-and-go" control of camera systems. In addition to updated versions of apps from Studio Six Digital and others, new apps were released by Yamaha, Visix, Shure, Dimenco, Analog Way, Pexip and others.
InfoComm's own app offered updated exhibitor listings, conference schedules and maps, while the IEEE-InfoComm app included copies of technical papers.
The Wows
The theme of this year's show was "Wow," conjuring expectations of spectacular products and events, but also focusing attention on award-winning creations of exceptional AV experiences. Sports and music videos came alive on super-large flatpanel displays and videowalls, while projection mapping turned cars and cubes into display surfaces at Panasonic and Canon, respectively.
Gefen invited attendees to experience 4K Ultra HD competitive gaming with zero latency through a Mark V simulator car, with speed-enhanced effects. This wireless prototype solution delivered stunning 4K content onto the large screen. To enhance the "driver" experience, a camera captured all the action, and a Gefen MultiView Seamless Switcher and wireless HDMI system delivered a picture-in-picture display for all to enjoy.
Panasonic demoed the flexibility of its new 4K three-chip DLP laser projector to turn even an irregularly shaped surface such as a Tesla Model S electric car into a stunning "screen." Ross Ashton at The Projection Studio initially designed this dynamic demo using eight PT-DZ21KU units for the Integrated Systems Europe show earlier this year. The software for calibration and mapping was provided by d3 Technologies.
Although some manufacturers offered comparisons of displays with various pixel pitches, rp Visual Solutions showed content across a multi-resolution, multiscreen display using its "digital zipper" mounting solution. The seven-screen display made up of different technologies (flatpanel, LED and projection) employed YCD Multimedia's C-nario Suite software to seamlessly run content across multiple elements.
InfoComm's Audio Demo Rooms are great places for true audiophiles and sound engineers to check out speaker arrays and other gear while getting sound advice from audio exhibitors. Meyer Sound's Director of Product Management, Luke Jenks, said, "We are showing the LEOPARD [line array loudspeaker] with no external processing so anyone who is interested in hearing the system out of the box can hear it in the demo room."
InfoComm Awards
As always, InfoComm announced winners of a number of awards recognizing key members of the AV industry:
• Adele De Berri Pioneers of AV Award: Brian Critchley, Founder/Managing Director (retired), Digital Projection
• CTS Holder of the Year Award: Byron Tarry, CTS LEED AP, Director, Enterprise Solutions, Sharp's Audio Visual
• Educator of the Year Award: Paul Zielie, Jr., CTS-D, CTS-I, Manager, Enterprise Solutions, Harman/AMX
• Fred Dixon Service Award in Education: Alan Brawn, CTS, ISF-C Principal, Brawn Consulting
• Volunteer of the Year: Ron Camden, Vice President of Global Sales, Biamp Systems
• Women in AV Award: Heather Callaway, CTS-D, RCDD, LEED AP, Principal, SiteReady Design and Wendy Cox, Director, Product Group Development, Milestone AV Technologies
• Young AV Professionals Award: Jeremy Caldera, CTS-D, CTS-I, Lead Audiovisual Design Engineer, Zeller Digital Innovations
'You Just Got To Hear It'
The compelling, "you just got to hear it," from Jenks and, I presume, other musician staffers at Meyer, drew more than 200 attendees to its demo room to experience the clarity and power of the LEOPARD and the 900-LFC (low-frequency control element). "The system is designed to simplify setup and use, while acknowledging the complexity of the system engineer's job," Jenks explained.
Also simplifying setup, Avid showed off its live sound mixing systems, the new VENUE | S6L and VENUE | S3L-X, in the Audio Pavilion. "VENUE | S6L is Avid's new flagship live sound system that is scalable and modular to fit any live application, with more than 300 processing channels to take on any challenge," said Avid's Audio Marketing Director, Tony Cariddi. "And, to simplify operations, it provides the audio engineer with unprecedented visual feedback and tactile control," he said enthusiastically, as he pointed to the system's multiple touchscreens. The S6L ships in Q3.
The Height Of Display
Insight Media's two-day Display Summit drew more than 100 attendees to presentations by leading industry consultants and manufacturers on advances in flatpanel display and projection technologies. Exhibits in four rooms enabled attendees to study and compare images showing wide color gamut, high dynamic range and exceptional color accuracy.
Chris Chinnock, President/Founder of Insight Media, said, "Wider color-gamut displays will soon be here; hence the need to understand that there are certain standard color gamuts that content is mastered to, but that the display screens may not have the ability to display all the colors, or to display them accurately. How displays handle color is becoming a much more important topic, so being able to communicate information, such as color gamut, color accuracy and white points, to the end user will be essential."
My takeaway from the session I attended was the need for continued technical training to assure that system design and integration will maximize users' satisfaction with these rapidly evolving technologies.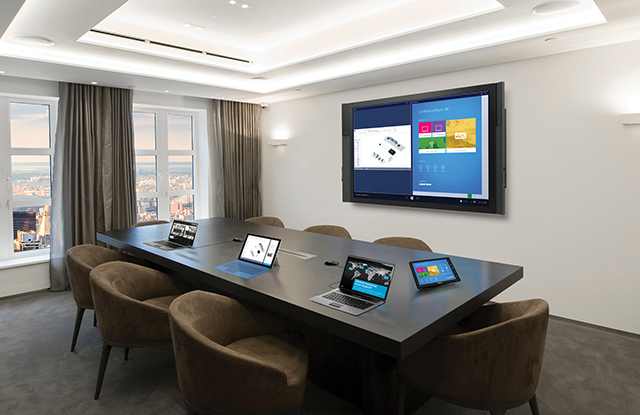 Projectors For Any Space
According to Chinnock, laser phosphor projectors are becoming much more popular, but FDA rulings may limit their use above 3000 lumens in the short term. Chinnock also said, "LED projectors will be much more competitive in mainstream markets in 2016 with the advent of the ColorSpark HLD technology from Philips Lighting."
Sony expanded its line of Z-Phosphor laser light projectors with two 3LCD models. Sony also added two models that combine 4K imaging with a laser light source. Packed in with numerous benefits of laser technology, the new laser models also feature "quick turn on/off," requiring about seven seconds for the brightness to ramp up after turning on. Sony also showed several lamp-based projectors with built-in interfaces for HDBaseT connectivity. Panasonic offered a laser-based 4K projector, as well as several new, more powerful, HDBaseT-enabled models.
Canon's latest addition to its Compact Installation line of LCOS projectors, the REALiS WUX500, offers HDBaseT and WiFi connectivity. The company also demoed the features of its other installation projectors in interesting scenarios. For example, a Canon short throw LCOS projector was paired with a Crimson AV mount under a table to display a bright, large image as an alternative to a large flatpanel display.
Magician Scott Tokar at BenQ's booth entertained attendees while delivering the company's message: "BenQ's Colorific Projectors are designed to reinvent the way color is experienced: it is not magic!" The new BenQ DLP projectors are 100% sRGB.
Ricoh unveiled a seven-projector lineup, including three designed for conference room installation. Significant among these is Ricoh's first HD projector, the PJ HD5450, which displays images up to 300 inches diagonal at a resolution of up to 1080p.
Beyond Bigger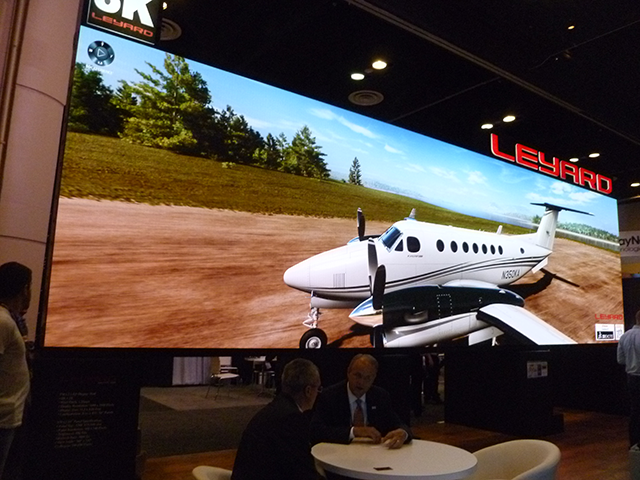 It's no surprise that large-format displays are getting bigger and brighter. Display manufacturers' booths showed off various flatpanel displays in different sizes, with captivating video. The latest advances include ultra-thin-bezel LED-backlit LCDs, many LCD models that are factory color calibrated, and some models that feature built-in SoC (system on a chip); LED displays with finer pixel pitch, flexible LED displays, and higher-percentage "see through" in transparent LED screens; new transparent OLEDs, and more capability in touch-enabled displays. Insight Media's Chinnock noted, "Fine-pitch LEDs are a growing and powerful force. They will give LCDs a run for their money, and will probably win in the long term."
Samsung's booth had stunning displays with gorgeous video showing various intended applications. Samsung also showed its new SMART Signage LED displays with fine pixel pitch (1.5mm, 2mm and 2.5mm), which are slated to ship in Q4. Samsung videowall displays shipped this year will be factory calibrated and include Samsung Color Expert software.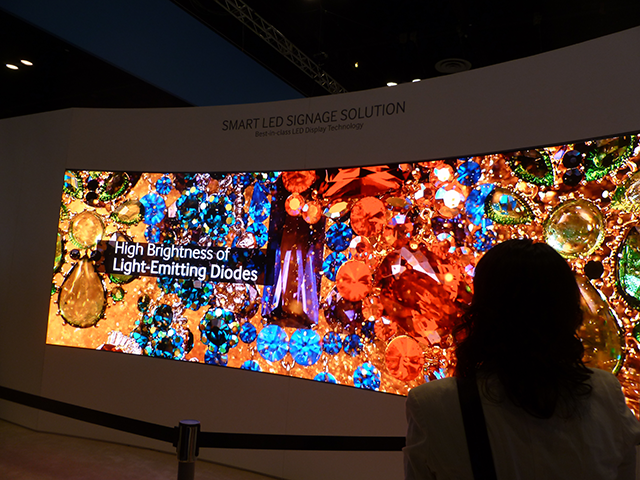 Business is good for the display market, especially with the increase in demand for videowalls and growth in digital signage. Among the highlights of LG's booth was a videowall of its new 1.8mm bezel-to-bezel displays. The videowall featured nine 55-inch Full HD VH7B LED-backlit LCDs with LG's SoC and webOS for signage. The company's standard software enables configuration of walls of up 15×15 displays, and includes calibration tools that, reportedly, reduce setup time to less than five minutes per panel.
Other awesome displays included Leyard's 31'x8′ LED with a printed sign stating "8K," and Panasonic's impressive 98-inch 4K UHD LCD with touch interactivity provided by Acquire Digital.
There were also many innovative devices intended to simplify multi-format display deployments. For example, ClearOne showed decoders for multi-image display from any kind of source without the need for any special extra windowing processors.
UCC Summit
Rapid market changes and tech innovations were evident in the unified communications and collaborative conferencing area. Cloud-based solutions to meet the needs of a mobile workforce and the increasing demand for group videoconferencing systems were key topics of discussion.
The IMCCA (Interactive Multimedia & Collaborative Communications Alliance) hosted a very successful, multiday UCC Solutions Summit, which drew more than 900 attendees. The IMCCA also helped organize the UCC Pavilion with demos and exhibits from 167 exhibitors.
At the State of the Industry luncheon, executives from Applied Global Technologies, BlueJeans, Cisco, Compunetix, Dimension Data, LifeSize, Polycom, RADVISION and Vidyo answered questions presented by Dr. S. Ann Earon, PhD, IMCCA Chairperson Emeritus, who moderated. The three main topics discussed were mobility, the Cloud and interoperability.
Summarizing the proceedings, Dr. Earon noted, "Users do not care what issues exist between AV and IT, but they need to understand that technology doesn't always work and, just like their computers, it may be necessary to reboot a system." Earon's advice to AV providers: "Give them identical user interfaces in all meeting rooms, regardless of room size. Make scheduling the use of technology and rooms simple…as easy to schedule and use as making a phone call. Keep in mind that technology that is installed is only as good as the weakest link. If audio is bad at one site, it negatively affects the other locations."
Panelists at the IMCC luncheon mentioned that change in the way people "meet" is happening at a faster pace than ever before. One panelist pushed the notion that "interoperability" is no longer an issue and the term should forever be deleted. However, from the Q&As at educational sessions, it was apparent that, although interoperability may no longer be a major hurdle, it still has to be addressed early in the design stages of a project, and should be reviewed on a continuous basis as additional users, new applications and changing objectives become part of the solution.
WIN Wins
Conferencing Solutions
Sony showed its USB videoconferencing camera, the SRG-120DU, which features a USB 3.0 interface and is UVC video compatible. With its USB 3.0 input, the camera can simply be plugged directly into a PC to convert any space into a professional video collaboration environment. The SRG-120DU combines high-speed data transfer of uncompressed video signals and incorporates Sony's 1/2.8-type Exmor CMOS sensor and View-DR technology. Panasonic debuted a feature upgrade for its AW-HE40 PTZ camera that enables USB-video, in-camera recording and FTP function, and MPEG4 HD streaming over Ethernet at up to 24Mbps. Vaddio also introduced new USB-ready cameras and systems, including the all-in-one USB and IP streaming AV Bridge MATRIX PRO.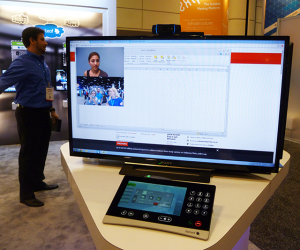 Several other providers of collaborative meeting solutions also highlighted compatibility of their solution with Microsoft Lync/Skype for Business. Among them were Acano's SW 1.8, Crestron's RL system, Jupiter Systems' Canvas 3.0, StarLeaf's GTm 5220 and Videxio-hosted VMRs.
Acano also announced the addition of "dual home" conferencing to its communications platform, which is designed to allow users to maintain greater control of their collaborative experience, including screen sharing. The technology, reportedly, also combines the functions of multiple applications in a single, simple tool.
Cisco's tracking camera stopped this curious attendee who was impressed by the audio clarity despite the noise level at the booth. Cisco's demo included Lync/Skype connections to WebEx CMR. Cisco also announced a new HD videophone.
Arrive Systems announced its OnePoint network management platform, which includes server software for facilitating the integration of devices and networks, and the use of mobile devices to connect, collaborate and control.
New exhibitors at InfoComm, telephony providers Grandstream and Yealink, showed standards-based (SIP) group videoconferencing hardware solutions. Oblong Industries announced the release of Mezzanine 3, an interactive collaboration and presentation solution for dispersed workgroups.
Anticipating a larger presence of enterprise decision makers, AVI-SPL demoed "open architecture" on a 98-inch NEC 4K display using a standard Windows PC. It used Google Chrome to show web- browser-based connectivity for virtual meeting room conferencing with Pexip Infinity Web App, Polycom VMR Web Portal and Symphony Web Portal.
Digital Signage Summit
Spanning four days, the Digital Signage Solutions Summit session I attended was dominated by enterprise IT staffers tasked with signage deployments. About six companies demoed products around the classroom in addition to those on display in their exhibit hall booths.
In a session dubbed "Creating the Requirement Document for RFP," Alan C. Brawn, Principal, Brawn Consulting, who is a veteran of the commercial AV industry and at the forefront of digital signage, positioned digital signage as a "behavior modification tool." He painstakingly delineated the steps involved in the process and emphasized the importance of getting the first step right: define business objectives and make no assumptions.
Later, I requested that he delineate the differences between AV and DS RFPs. Brawn noted, "In short, there are significant similarities between the two versions of RFPs (scope of work, project/system descriptions/responsibilities/terms and conditions, etc.), but the biggest difference is that the AV RFP tends to focus primarily on the system design and the components that go into it, and usually includes a sub section on operability.
"The digital signage RFP also covers the design of the system, albeit, different than a typical AV design, but the focus is more on the content, the GUI, how the system will operate and the interaction with the network. The signage RFP includes a great deal of detail on items such as types of content to be displayed, software compatibility and network security.
"DS is more IT (network and content) centric and AV is more traditional audio-and-video centric but, as we all know, over the last few years the convergence of AV and IT has taken center stage. The bottom line is the RFPs include much of the same topics, but the real difference is in the nuance of the design, the focus of the project and how it is brought to life."
Young AV Pros Reception Draws Enthusiastic Crowd

The multi-billion-dollar commercial AV industry certainly has its share of "lifers": the folks with 30 or 40 years of experience in the field and who can claim countless integration projects to their credit. However, for any industry to remain successful in the decades ahead, it must nurture the next generation. InfoComm did just that during the June exposition by hosting a Young AV Professionals Reception.

Targeted to the under-40 crowd, as well as to first-time InfoComm attendees in general, the reception drew several dozen showgoers from all corners of the commercial AV space: integrators, consultants, distributors and media members. The informal style, with free-flowing beverages and finger foods, maximized attendees' opportunities to network and forge relationships. Several of those who attended told Sound & Communications that they enjoyed the experience thoroughly, staying for an hour or more, conversing with peers, and seeing whether any potential partnerships might make sense.

This writer spotted Randal A. Lemke, InfoComm International's now-retired Executive Director/CEO, mingling with the attendees. It seemed fitting at an event intended to shape today's young guns into tomorrow's trusted vets.

—Dan Ferrisi
Signage Presence
Although major display manufacturers showed off the latest menu boards and videowalls with recent signage applications, more than 20 smaller companies with CMS and other signage solutions exhibited in the Digital Signage Pavilion.
Integration firm AVI-SPL demoed five different signage applications as a part of its full range of digital media solutions, shown on an 85-inch Prysm interactive display. Components included hardware and software from 22 Miles, BrightSign, Exterity, Haivision, Industry Weapon and Scala, as well as an HD Seneca player and a USB Logitech camera to demo a "selfie" application. Among current client projects was an impressive 3D wayfinding solution developed in conjunction with 22 Miles for a hospital.
"Last year alone, our Control Room Group and Special Projects Group worked on more than 5000 integration projects," noted Richard Daugherty, Digital Media Solutions Engineer at AVI-SPL. "And, recognizing that our clients needed help with content for their digital signage networks, we, once again, provide content creation services," Daugherty said.
While this year's InfoComm certainly had its share of flash and sizzle—from 4K and USB-enabled systems to fine-pixel-pitch LEDs and drones—the substance of the show focused more on harmonizing user experiences of complex systems, and making those systems easier to design and integrate. These should be hopeful developments for AV pros concerned with the gap between user expectations and profitable, sustainable solutions.
Editor's Note: For more information about digital signage activities at InfoComm, see the author's "Sign Age" post.