Using prediction software can put subwoofers where they should be. Subwoofers are the red-headed stepchildren of audio integration. They're always too big, their energy is diffuse, and they can rattle walls and dust ceilings. But not so fast, eigenmode breath, there are ways to get to "best solutions." We'll discuss two particular applications here.
Process Audio In Pairs
In the first example, sub management includes changing the sub model from double 18-inch to single 18-inch, and relocating them above the downstage edge. By using a single 18-inch model, one can process audio in pairs where those pairs are equidistant from the center line (C/L). Prediction software assigns those delay values for a desired response and largely eliminates the deep valleys of the previous requested location.

The second example also takes advantage of placement on the C/L, but does so with a designed cardioid pattern that keeps onstage VLF energy minimal. On stage, gain before feedback is enhanced so open mics can perform as expected. These benefits are core to properly integrating subs into a space, particularly where seating is fixed. The great news is that these effects can be predicted before installation and that the predictions prove to be accurate!
---
---
Modern design techniques no longer have to ignore the longest wavelengths, and the following are just two examples of how to integrate subs fully. When sub spacing aligns badly with a mix location, the deepest nulls occur at the very place where sonic accuracy should be maximized. Yes, wandering around to mix has always been a best practice for quality audio production, made simpler perhaps in the age of wireless control, but that alone does not deal with how physics dictates what's going to happen. We still have to work to get the integration of VLF as precise as all project factors will allow.
Figure 1 shows the amplitude/phase calculations where two subwoofer stacks 17 feet behind the downstage edge(!), separated by a width of 62 feet, create serious peaks and valleys in the response. The pressure plot is high- density output at 63Hz. The deep null shown just to the right and left of the room center line is in the area of -18dB below an averaged level of 108dB. The "tab" that extends above the surface is a vertical plane where the mix engineer's ears are.

Legitimate Questions
Many legitimate queries are in order here, but let's start with three:
What is the significance of the calculation at 63Hz?
Does this facility pass out serious hearing protection for those in the deep red zones, +6dB to the medium orange reference?
Why are the subs up stage? (Indeed, why oh why?)
In this particular facility, the subwoofers produce first-octave energy as part of an overall sonic character, but they also provide significant kick-drum energy. Although bass drums come in many sizes, varying in their fundamental frequency, 63Hz was chosen to represent a "near point" between the shell fundamental and the impact of the beater. In all regards, the deep null would be present at both higher and lower frequencies; its depth and location would vary in the space based on those factors, as well as other relationships in the room.
Those other relationships are the dimensional ratios, the overall room shape and its inherent gain, and the combination of baffle surfaces where VLF coupling will occur. Acoustical materials and their intended purpose can also impact the relationships of peak energy to null energy in the space. (Reality bites, of course, because most spaces have to serve multiple purposes.) But back to our specific sub dilemma….
The upstage sub placement was the client's suggestion, claiming to the integrator that it was the only possible place they could go. Fortunately, an alternate solution was found (see, "Subs Are Key To Church Audio Installation," for how that solution was implemented).
Multiple Sources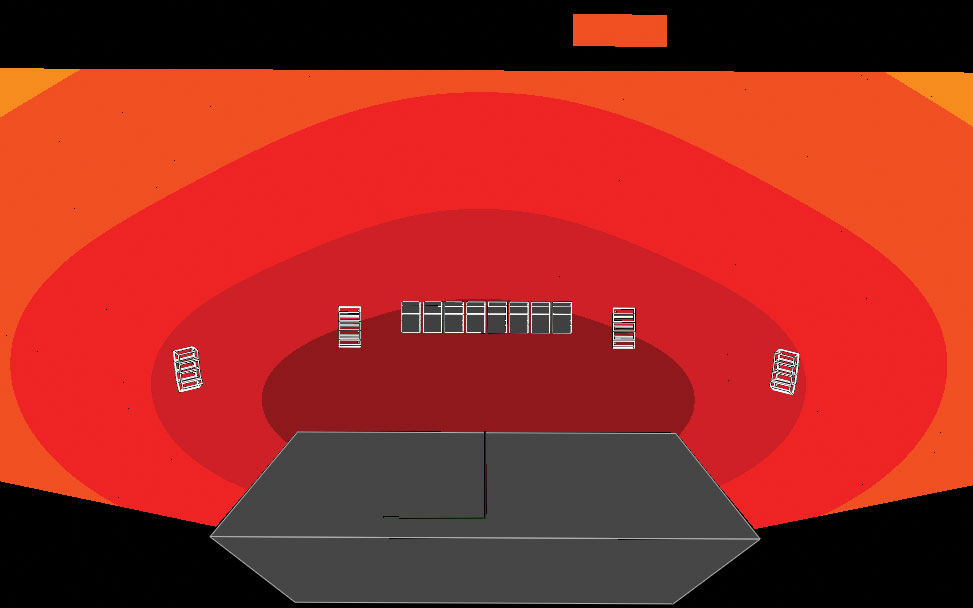 This solution is pegged to the principle that multiple sources can be managed when they are in a consistent proximity to each other: a regular spacing that, in this case, happens to be side by side. These eight single 18-inch subs are processed in pairs in which there is specific delay applied to each mirrored pair moving from the center line in both directions: Pair 1 sits next to each other on the C/L, Pair 2 is adjacent to those moving away from the C/L, etc. Figure 2 displays that output with the same conditions applied as in Figure 1.
The smoother response of this approach solves not only the null problem at FOH, but also creates a "psychoacoustic boundary" where people choose to sit based on their listening preferences. The ratio of width to depth in this space is 5:3 (120'Wx72'D from the downstage edge to the back wall). For the most practical of reasons, it was not a design criteria that VLF energy should equal a ±3dB (or tighter) standard for MF/HF response. It's the smoothness of the coverage that will win the day.
But what about the situation where the dimensional ratio is not so extreme, like a shoebox symphony hall? As in the wide space, the solution turned out to be a tight-packed C/L-based approach. The one difference is that, in the symphony hall, a cardioid implementation serves the stage very well. All those open condenser mics will be affected minimally by VLF energy, if at all. Figure 3 illustrates just such a hall with a dimensional ratio of 3:4, 90'Wx120'D.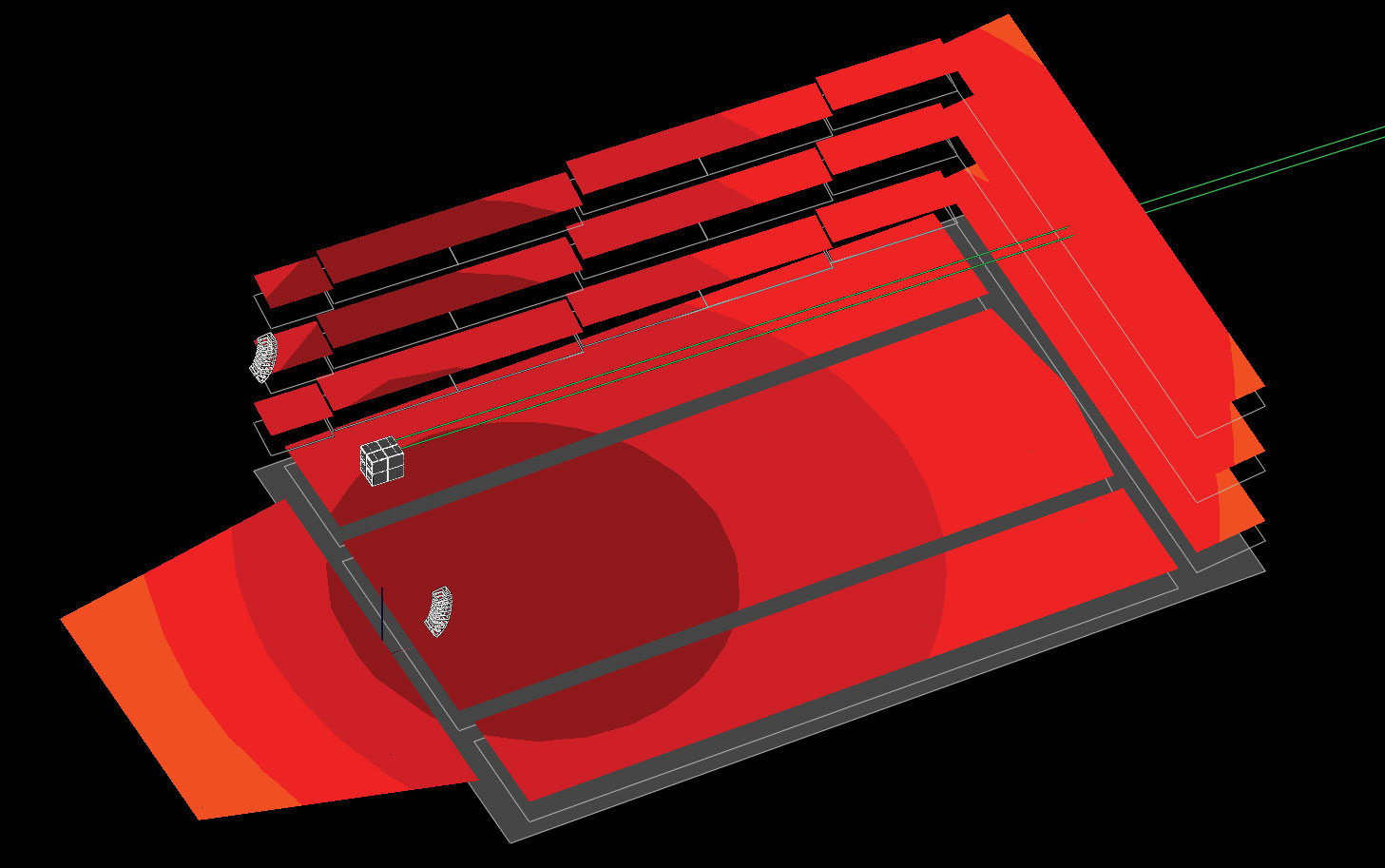 Surgical DSP
With all the advantages of surgical DSP and the consistent spacing of sources, subs can, indeed, be truly integrated into a space! When the basic laws of wavelength versus frequency are understood and applied, sub management techniques (placement and predictive software) are important tools for increasing an audience's enjoyment of a performance, and truly integrating this energy into a greater good.