Audio frequency induction loop systems.
About 10% to 14% of the general population (US and Northern Europe) suffers from a noticeable degree of hearing loss and would benefit from some form of hearing assistance or deaf aid. Based on the World Health Organization's definition of hearing loss, around 57 million Americans over the age of 12 are subject to hearing loss in one ear and ~35 million have a loss in both ears. Now, these are significant numbers of people that the audio fraternity can directly help.
Only a year or so ago, most hearing aid manufacturers and many audiologists were claiming that the current generation of digital hearing aids, bristling as they are with DSP and even microphone arrays and directivity control, were nigh on perfect and all that a deaf or hard of hearing person would require.

My response to this is not printable here, but a loose translation from the original Anglo-Saxon would be "rubbish." I have been involved with assistive listening systems (ALS) and hearing aids for more than 25 years. Apart from ALS in general, I have taken a special interest in the speech intelligibility that these systems can provide. I have informally been suggesting that, although hearing aids are excellent when used at close range (e.g., ~2m to 3m), after that, in most environments, their effectiveness diminishes rapidly.
In fact, my tests show the falloff in intelligibility essentially follows an exponential/inverse square law form of intelligibility reduction with distance. It was, therefore, refreshing for me to hear last week, during a seminar given by a major hearing aid manufacturer and ALS provider, that the effective distance for a hearing aid was just 2 meters. What an about turn!
When I see such a sudden change of opinion, I immediately ask myself, "What was the cause of this reversal of opinion and policy?" Call me a cynic, but I found it interesting that this particular manufacturer also has an Assistive Listening Systems division and I had to wonder if, as the development of hearing aids has gone about as far as it will go (for the next few years at least), if this was really more of a corporate-, strategic business- and revenue-based rethink rather than one driven purely by science and user opinion.
However, no matter what the cause of this insight, I am all for supporting it, if it means that the hard-of-hearing (HOH) members of society will benefit.
To be effective, therefore, an assistive listening system must, in essence, aurally bring the listener so he/she is effectively within 2m to 3m of the source of the sound from a sonic point of view. This can be done without physically moving the listener, but simply transporting his sound pickup so it appears to be within 2m.
This can be accomplished easily by taking a direct feed of a podium or lectern microphone, or the signal from a handheld or body-worn radio microphone, or a separately mixed output from the mixing console. In some cases, however, this cannot be achieved and, instead, a remote microphone is required. This can be successful if done carefully but, sadly, this is often not the case.
For example, in many theaters and also concert halls, although a directional microphone is employed, often it is located too far away from the source of sound or talker, and the result is that the hard-of-hearing listener is little better off than if using a normal hearing aid. In other words, the microphone is picking up too many room reflections and too much reverberation and/or noise.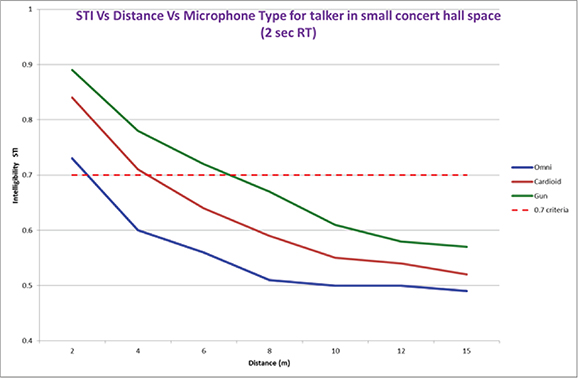 Yet, with some thought and a basic understanding of the acoustics of the situation, the use of a remote(ish) microphone can be very effective. Figure 1 is a graph I plotted of the potential intelligibility (measured by means of the Speech Transmission Index, STI) as a function of distance for three different microphones in a small concert hall/recital room. My research suggests that the minimum requirement is 0.70 STI, although other research suggests an even higher STI target is required for HOH/deaf listeners.
I have shown where the 0.70 criteria lies on the graph so that effect of microphone type and distance can be readily seen. It is a salutary lesson to see just how short this distance is in practice (2m, 4m and 7m, respectively, for the microphones employed).
Now, having satisfactorily picked up the wanted sound, the question is how to get this to the listeners' ears. Traditionally, there have been three ways of doing this, using infrared, audio frequency induction or FM wireless transmission. More recently, Bluetooth has entered the field and, so, provides a fourth approach.
I have been working with AFILS (audio frequency induction loop systems) and infrared systems for years and have a pretty good measure (literally) of what they can do. Equally, I can see the pros and cons of FM and Bluetooth systems. Perhaps this is not the time to debate the advantages and disadvantages of the various systems, although I may do so at a future time if you would like me to (let me know by email at pmapp@testa.com).
To me, there is an obvious and clear winner: the induction loop system, primarily because this system allows the listeners to use their own prescribed and optimized listening device (their hearing aid), directly…not only directly, but also discreetly: no additional headphones and obvious receivers to deploy. Also the need to collect a device from the box office or facility office is avoided, which also eliminates the problem of having to sort out the all-too-common issue of damaged, broken or not fully charged devices.
Some regular theater- and church-goers might purchase their own units and thus overcome this issue, but why should there be this need, when more than 80% of current hearing aids have a pickup coil already fitted and so are ready to use (provided that the audiologist has programmed in the function). Sadly, many audiologists are either unaware or are not sufficiently aware of the potential of AFILS. They need educating; they need to understand the loop gain!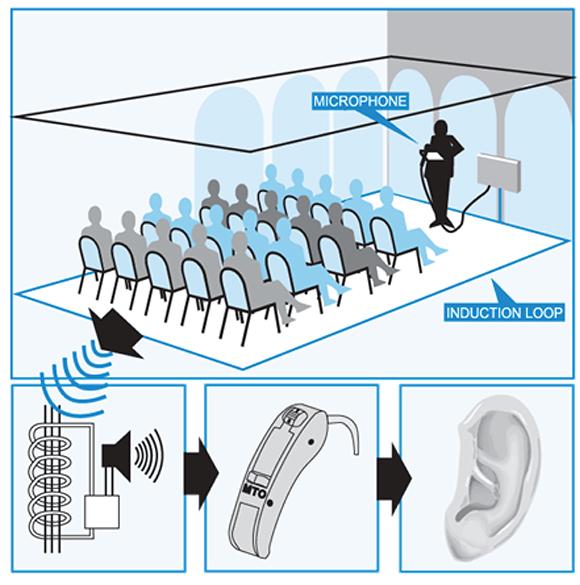 Figure 2 is a simplified diagram of an AFILS system that I borrowed from Ampetronic, one of the world's leading designers and suppliers of AFILS equipment. If you are not familiar with AFILS technology, I would suggest you learn more, because loops are starting to have a huge impact in the US, just as they did in many parts of Northern Europe a couple of decades ago.
Editor's Note: It would appear that hearing assistance issues in the UK, where Peter Mapp is based, are much better understood and controlled than here in the US. He reports that, in the West End and, indeed, in virtually all UK theaters, compatible infrared systems are installed, while almost all movie theaters, most churches and many public buildings employ induction loop systems. I have been to two Broadway shows and two Cirque du Soleil shows in Las Vegas over the last few months, and not one facility used the same hearing assistance system…and several of them did not work properly! When talking to theater managers, I got a shrug and an apology, but no obvious understanding of the issue. Certainly not much of an endorsement of the technology from the public's point of view. Maybe we could learn a thing or two from our cousins across the pond…?