Audio from either this downstairs stage or the larger bandstand upstairs can play on either sound system.
Premium audio and video for The Stillery patrons in the heart of Nashville.
Nashville's Lower Broadway entertainment district figured out "immersive" a while ago. Music spills out of the open windows and doors of honky-tonks along Broadway and up Second Avenue North, the base of the L-shaped entertainment corridor that emerged organically and often rudely from a jumble of dive bars and record stores decades ago, but that has evolved into a model for the growing trend of urban entertainment districts nationally. Walking past the front windows of club after club is like methodically changing stations on a radio, as the tunes move from George Jones to Lynyrd Skynyrd to Charlie Daniels. Combine that with Nashville's newfound status as a gastronomic destination, and restaurants in Music City find themselves facing a real challenge: how to keep the food in the spotlight without missing a beat musically.
Quick Renovation
The Stillery got up and running relatively quickly on Second Avenue, last May, after four months of renovation of one of the three-story brick-faced buildings that line the street, one of which houses Nashville Street Tacos, another of Stillery Owner Steve Kovach's local restaurant ventures. Kovach's lieutenant, Steve Sargent, knew he had to have The Stillery make its mark as expeditiously as possible. Nashville's highly competitive hospitality market is one that has seen restaurants and hotels popping up as the city's reputation as the decade's "It City" (according to The New York Times) attracts an estimated almost 600 new residents every week to burgeoning hipster 'hoods like the Gulch, Melrose and 12 South.
Sargent has no title on his business card, but describes his role here succinctly, saying, "This is an owner-operated restaurant: Steve Kovach is the owner and I'm the operator." Sargent knew that part of the deal in Music City on Second Avenue, across the Street from the Gaylord-owned Wildhorse Saloon performance venue and other music-themed properties, was that food would have to coexist with music. In the cuisine-crazed Nashville of the moment, as many locals will know who Danny Meyer, Jamie Oliver and Gordon Ramsay are as know of Eric Church, Kenny Chesney and Jason Aldean.
Looked In The Window
Kevin Ezzell, regional account manager for South Central AV, a national AV integration firm based in Evansville IN and with 15 regional locations, including one in Nashville, came across the project as he has done with many others, and in the same way that generations of songwriters landed their deals on Music Row: He looked in the window and knocked on the door.
"I had actually tried to get the project for the AV in their taco restaurant up the block, but I got there too late," Ezzell recalled. "So the next time I was on the street and saw the 'coming soon' sign in the window, I walked in and talked to Steve."
As it turned out, the AV that had gone into Nashville Street Tacos hadn't impressed the owner or Sargent, and they were receptive to Ezzell's suggestion that they do something similar to what he had done in another recently opened Nashville restaurant, Party Fowl. He had installed a Klipsch sound system there that served prerecorded background music and the live sound from a small stage near the front of the bar.
Needed More
But The Stillery needed a bit more: Unlike the other restaurant, off of the Gulch neighborhood, it was in the middle of the Lower Broadway district, which would put a premium on the sound quality for music. In addition, it's a dual-level establishment: There is the main dining area on the street-level first floor and a second dining-and-bar area upstairs; both floors were planned to have live music, with a postage-stamp-sized stage above and behind the downstairs bar and a larger one against one long wall upstairs.
Ezzell suggested that they instead use a Bose sound system consisting of a combination of RoomMatch array and FreeSpace ceiling speakers powered by a splitable eight-channel PowerMatch amplifier. Ezzell estimates that the change in brands nearly doubled the sound-system cost, but added that the peer pressure for good audio in this intense an entertainment district made it acceptable to the client.
"We're really a gastro-pub with music," said Sargent. "We have the upstairs set up so you can enjoy both dinner and the live music, and there are very few places here where you can make that happen. It's usually one or the other."
South Central AV's Jay McCutcheon laid out the speaker grid for both the upstairs bar/music venue and the downstairs main dining area, using what he wryly referred to as a "build-design" approach, reversing the traditional methodology because, he said, the space's layout and the needs of diners dictated speaker positions.
"The floors are long and narrow and there was already a lot of wiring and ductwork in the ceilings," he said. "So, although we started with a design of where to place speakers, we also tweaked those locations as we went along. In some cases, we had to accommodate existing fixtures; in one case, we put a speaker deeper into a corner to use that to further amplify the speaker."
Prediction software would have been less useful due to the physical layout, he added. "The system was installed based on a combination of the space itself and knowing what the speakers were capable of," he offered. However, the overarching goal was always the dining experience. "You know the music's there, but you'd never know that we were there [installing it]," he said, a condition he asserted is the golden rule for audio in restaurants.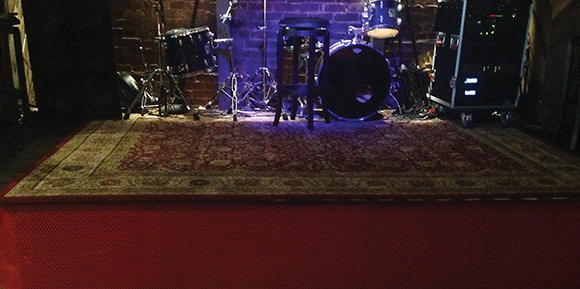 The Systems
The heart of the AV system is comprised of the splitable PowerMatch amplifier, a Bose ControlSpace ESP-00 processor, a Technicolor Mediatune matrix (all networkable), and a Mackie DL1608 mixer with a removable wireless iPad GUI and two discrete mix outputs. The mixer is positioned on the upstairs stage where band members (and sometimes a DJ on weekend late nights) can access it easily to mix themselves, with signal coming from one of the two output buses. However, Sargent or a band's sound person can also take the iPad out of its cradle and adjust the mix and volume levels remotely, listening from one end to the other of the long, narrow room, a geometry that tends to be difficult to get right for every seat.
Then, a completely separate mix can be built on a second layer using the Mackie software on the iPad and the second mix output, routing that through the half of the amplifier not being used to power the upstairs speakers down to the speakers in the downstairs dining area. Sargent or another employee can take the iPad, running on a separate WiFi network that South Central AV installed to keep it apart from the consumer WiFi the restaurant offers its customers, and adjust that mix for the dining room while standing in it. Conversely, a small four-input mixer near the bar stage and an XLR wall panel allow the audio from that stage to be matrixed throughout both floors, as well.
Eight LG 60-inch and 65-inch commercial video displays are hung upstairs and downstairs using SnapAV mounts. The video will carry DirecTV sports content most of the time, with signal sent from the Mediatune router over coaxial cable and converted to HD by a Pro:idiom set-top box, while the video's audio is routed through the sound systems on both floors.
However, that content can be sent from a Marshall Electronics IP camera mounted on the wall opposite the upstairs stage to any or all of the video displays, letting downstairs diners watch and hear the upstairs bands play live. In fact, with a careful ear on the overall volume, the restaurant was able to eliminate the need for soundproofing because the music that plays through the sound system and any physical resonance produced by the upstairs floor and mechanically coupled with the downstairs ceiling are perfectly synchronous. And, two ceiling-mounted MB4 subwoofers with their own amplifiers in the restaurant mesh with any thump produced by a kick drum or bass amp upstairs.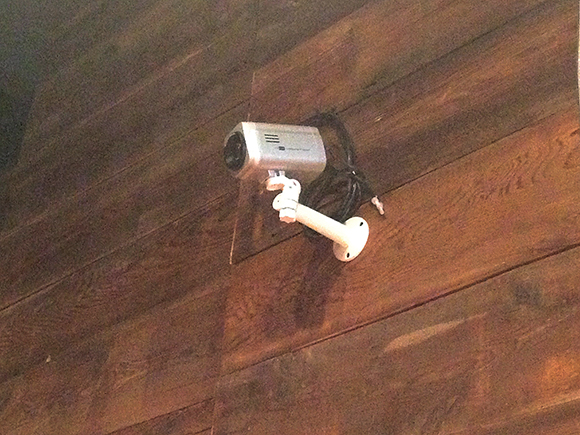 Needed Subs
"With this high a ceiling, we realized that we need subs downstairs to really fill the room, whether it's recorded music or a singer-songwriter playing solo on the small restaurant stage," said Ezzell. "It really fills the room up nicely."
Actually, Sargent has found that hearing and seeing the music from upstairs while dining tends to pull more than a few diners upstairs when they're finished eating, to see the bands in person and to buy a nightcap or two. "They come for the food, they stay for the music," he said. And that suggests that they got the balance right at The Stillery.
[accordion]
[accordion_item title ="Equipment List"]
Audio
10 Bose RoomMatch RMU105 5¼" speakers
4 Bose FreeSpace DS 16 ceiling speakers
3 Bose RoomMatch RMU208 dual 8″ speakers
3 Bose RoomMatch RMU108 single 8″ speakers
2 Bose RoomMatch PM8500N 8-channel 500W amps
1 Bose MB12 subwoofer
2 Bose MB4 subwoofers
1 Bose ControlSpace ESP-00 sound processor
2 Bose ControlSpace 4-channel I/P cards
4 Bose ControlSpace 4-channel O/P cards
1 Bose ControlSpace CC-64 panel
1 Gator 10RU-UP/14RU DN combo rack
1 Gator 4RU locking metal drawer
1 Gator 3RU 2-fan panel, 110VAC
1 Furman PL-PLUS-C power conditioner
2 iPort Control Mount for iPad
1 Mackie DL1608 FOH mixer
West Penn RG6 16-2, 14-2 cabling
Video
1 Honeywell HBC-5WT 5″ ceiling-mount bracket
6 LG 60LY340C 60″ commercial LED displays
2 LG 65LY340C 65″ commercial LED displays
1 Marshall Electronics 2.0MP 10x zoom IP camera w/HDMI
1 Marshall Electronics VS102-HDI 2.0MP hi-res video encoder
6 SnapAV Strong Mount SM-T-L large tilt mounting brackets
1 Technicolor Mediatune System for DirecTV (6 TVs)
2 SnapAV Strong Mount SM-T-XL extra-large tilt mounting brackets
List is edited from information supplied by South Central AV.
[/accordion_item]
[/accordion]