For more than 25 years, motion simulator rides have been a mainstay of theme parks. Major operators would tend to build them as custom, one-off attractions, while smaller parks would opt for generic film- or video-based theaters with interchangeable software. An example of the latter, the Action Theater, opened at California's Great America in Santa Clara CA in 1993, and featured films based on franchises such as James Bond and Happy Feet.
Great America recently gave the former Action Theater a complete overhaul. It reopened this year as a major new attraction, Mass Effect: New Earth, based on the popular Electronic Arts/BioWare videogame franchise. The park's location in the heart of Silicon Valley proved ideal for the digital technology initiative of parent company Cedar Fair. "We've been considering digital technologies in the broader sense of the word," said Christian Dieckmann, Cedar Fair Vice President of Strategic Growth, "which has resulted in a broad range of new attractions."
Mass Effect: New Earth is a pioneering attraction for a number of reasons:
successful integration of a leading videogame IP into a regional theme park attraction
first time 3D LED and near-field beamforming audio have played key roles in a permanent attraction anywhere
integration of a live actor with pre-rendered video and audio
destination-park-quality attraction in a regional theme park at fraction of cost
new levels of guest immersion into the story and environment, thanks to today's digital technology, tools and integration capabilities.
To begin the Mass Effect: New Earth experience, guests are given passive 3D glasses and are separated into three tiered rows along the exterior of the attraction building. Doors to the theater are at the end of each row, and above each door is a 46-inch Samsung LED monitor showing a three-minute preshow covering the backstory of the attraction: a trip to a vacation resort on a distant planet, along with safety instructions.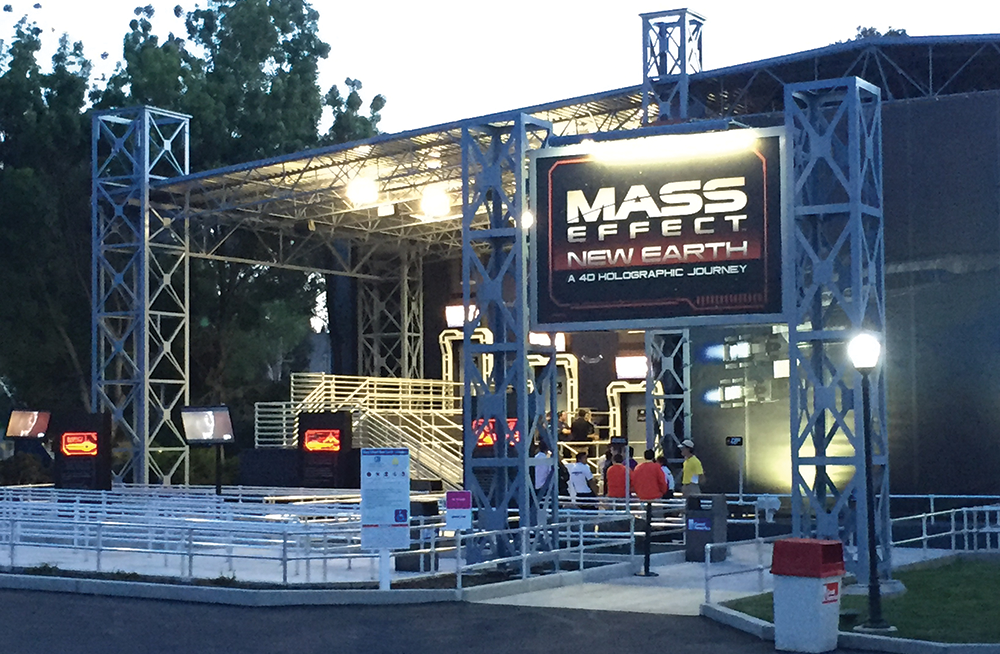 The interior of the auditorium features 24 seats per row, with the exception of the front row, which has six seats and two wheelchair slots. As guests enter the theater, they find a live actor portraying a captain standing on a platform in front of what appears to be a door. The story arc is similar to other theme park motion-simulator attractions; this time, something goes drastically wrong during a pleasure cruise.
What makes Mass Effect: New Earth stand out from its predecessors is the level of immersion and integration. During the four-minute experience, 3D effects are accomplished through polarized LEDs built into the screen. Integrated with near-field beamforming technology, the 3D projection makes it appear as if the ship's captain is communicating with holographic characters that appear on either side of the actor via the stereographic animation. It is for these reasons that the park calls the attraction a "4D Holographic Journey."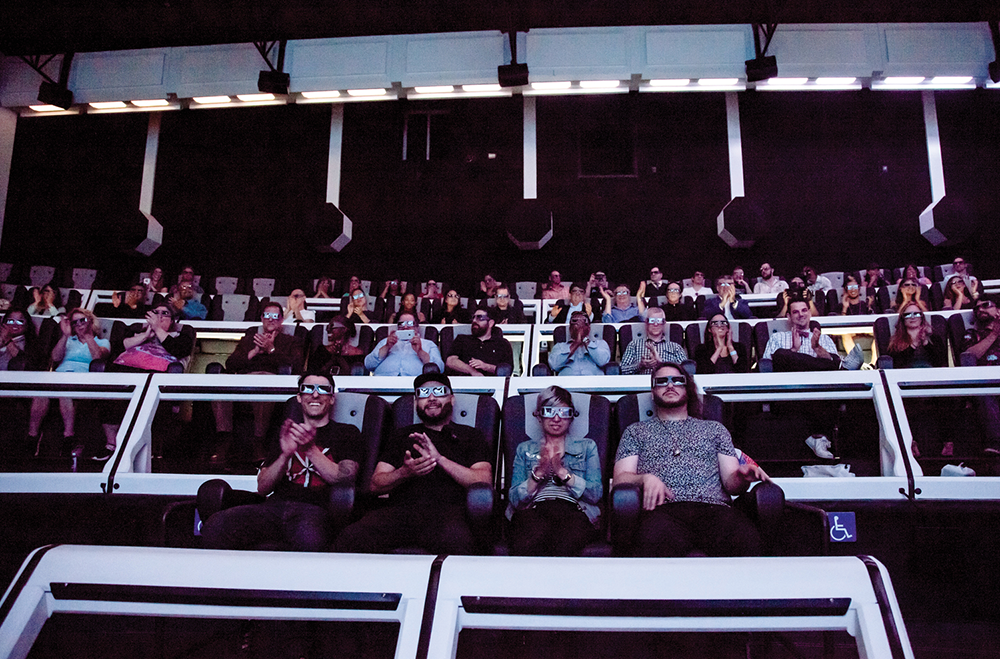 It is not necessary to be familiar with the Mass Effect franchise to enjoy the experience. For fans, the attraction has been peppered with subtle references to the games, such as the Captain being an actual character from the third game in the franchise. The attraction also contains references to other attractions at California's Great America, one of many indicators that this is not an off-the-shelf product.
In its mix of content, technology, gaming elements, media and suppliers, the attraction is uniquely local and suited to its setting of sophisticated Silicon Valley and the greater San Francisco area.
The 3D LED Screen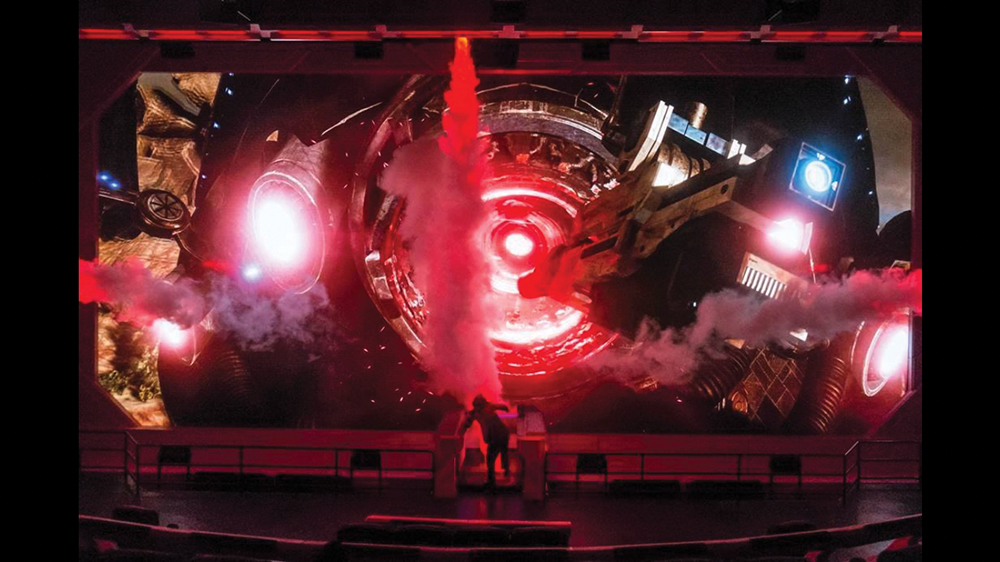 Mass Effect: New Earth was designed to break new ground in several ways. From a theater technology standpoint, it was centered around what is said to be the first application of a patented 3D LED screen and innovative near-field audio beam-forming technology in a permanent attraction. In their twin quests for new technology and IP collaborations, Dieckmann and his Cedar Fair team became acquainted with Los Angeles-based firm 3D Live, which specializes in 3D LED screens and virtual reality programming.
According to Nathan Huber, CEO of 3D Live, Mass Effect: New Earth's screen has its origins in the 2009-2010 "Michael Jackson: This is It" tour that never took place due to Jackson's death, for which 3D Live's engineering team developed a 30'x90′ 3D LED wall. "You can see it in the concert film," said Huber, "but it's not as impressive as seeing it live because it lacks both the scale and the 3D of the actual screen. Members of our team worked on that tour. That wall was costly and relatively low resolution (1920×1080); it was also extremely bulky and very heavy."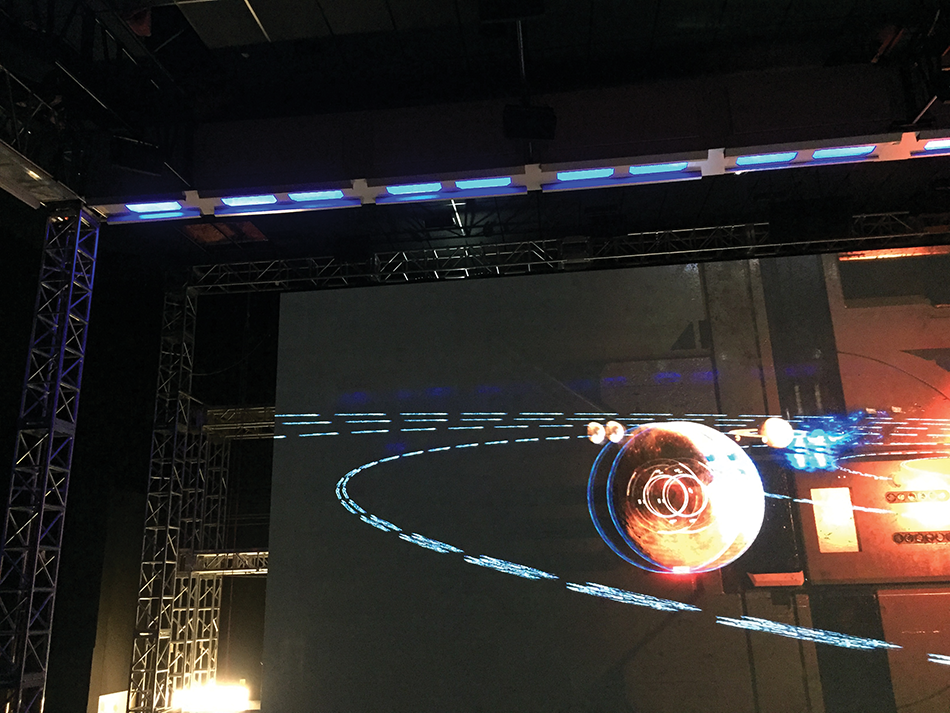 The natural progression of technology took care of these issues. Huber noted that, every few months, new LED technology is released, resulting in more powerful walls at a lower cost and with lighter frames. With the issuance of 3D Live's 3D LED patents and their efforts to further develop this technology, 3D Live began constructing custom screens for bands such as Primus and concert venues such as Coachella. "We began wondering what other kinds of venues it could be applied to," said Huber. "We were big fans of Terminator 2: 3D at Universal Studios…" but that show was no longer state of the art. "It used three film projectors, which meant you could see elements from the film and vibration on the screen.
There could be alignment issues, and the actors were lip-syncing to prerecorded dialog," added Huber. "We began experimenting with a live actor placed in front of the screen, interacting with it. Because the crisp, steady image would come from behind the actor, there wouldn't be any of the issues that T2 had."
When Dieckmann paid 3D Live a visit, "We showed him a demo of our performer interacting with the 3D screen," said Huber. Dieckmann agreed to have 3D Live develop the entire attraction, from concept to set and costume design. Huber and his team would report to Dieckmann and, once Electronic Arts was on board, to Mac Walters of Mass Effect developer BioWare.
In the course of Huber's technology seeking to fulfill the vision for the Mass Effect attraction, he headed to the 2014 IAAPA Attractions Expo in Orlando, the trade show for the international theme park and attractions industry. There, he met Eric Cantrell of Medialon (now part of Barco), a specialist in show-control systems for themed entertainment.
According to Cantrell, "We talked about a 4D attraction using 3D Live's LED technology instead of projection. I thought it sounded like a cool project and we sat and made a napkin sketch of how the different technologies could work together, all coordinated with a Medialon show control system."
Cantrell continued, "But I also knew that, in order for the project to be successful, Nathan would need uncompressed video players for the content to look its best, so I recommended 7thSense Design media servers and made an introduction right there on the trade show floor."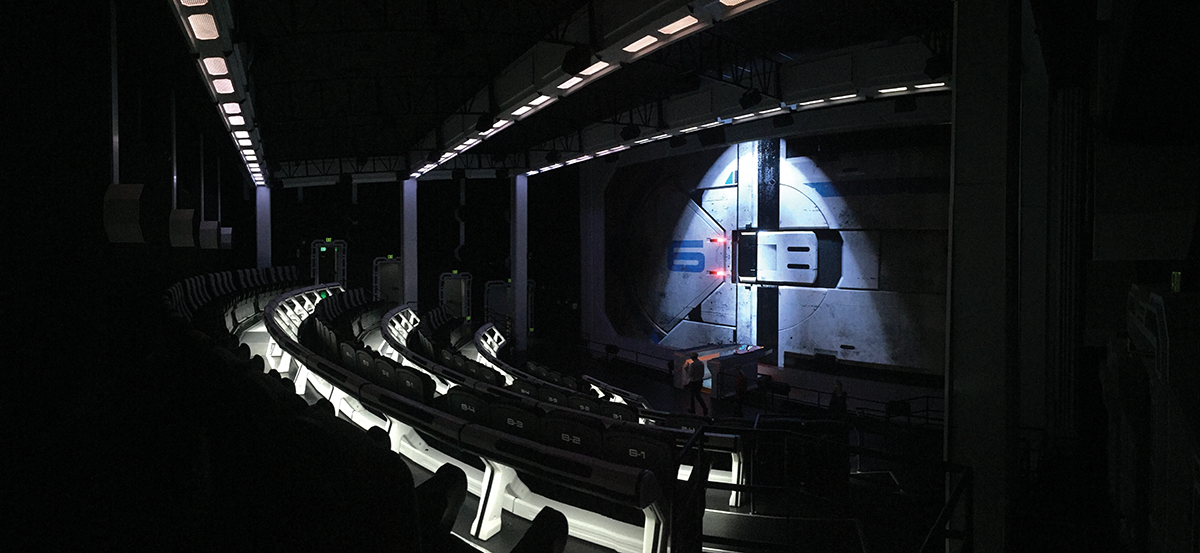 Realizing that additional elements were required for the technology package of this leading-edge attraction in the making, Cantrell led Huber to another destination in the IAAPA exhibit hall: the Electrosonic booth. "Video playback and LED walls are not all it takes to make a 4D attraction," said Cantrell. "I knew that 3D Live would have to collaborate with a seasoned engineering, integration and project-management team familiar with themed attraction work. Medialon has worked on many attractions with 7thSense and Electrosonic, and I knew that whatever these teams band together to create would be simply awesome!"
In addition to its role as turnkey designer and project coordinator on Mass Effect: New Earth, 3D Live would construct and install the screen. Electrosonic would install the preshow, the show control equipment and the far-field audio in the theater, while Crescendo, recently acquired by its licensee Comhear, installed the near-field audio.
Mass Effect: New Earth is said to be the first use in an attraction of audio technology developed jointly by the University of California, San Diego, (UCSD) and the University of Southampton. Crescendo's Daniel Ross, who also acted as the attraction's sound designer, had met Huber a number of years back through industry connections at a 3D Live event. According to Huber, the two reconnected at a concert in San Diego where they began talking about possible joint projects. Ross then introduced Huber to both Jeffrey Sandubrae and Peter Otto. Sandubrae is a UCSD researcher who was a partner in Crescendo, which had been founded to implement systems based on the school's technology research. Otto is director of the UCSD Sonic Arts Research Group.
Huber was brought to the UCSD lab for some demonstrations, as was Dieckmann, but it was still important to effectively showcase the audio technology to Cedar Fair executives and get the green light. The meeting and demo were set up to coincide with the 2014 IAAPA Attractions Expo. "We schlepped a bigger, bulkier version of our technology to Orlando that utilized a quad far-field system," said Sandubrae. "It was a one-minute demo, showing the idea for the ride, that included spatial sound effects."
The finished product at California's Great America features 70 far-beam channels, designed by Crescendo and installed by Electrosonic, along with binaural near-field beamforming audio speakers, in a bar placed exactly four feet in front of each rider's head. Mass Effect: New Earth would prove to be the first application of Crescendo's beamforming technology, a form of 3D audio that allows for discreet audio beams to target each ear directly and independently, in an attraction. Prior to this, the technology had been applied for conference calls, where it permits what Otto calls "private listening spaces in a public space."
Challenges
A number of challenges developed over the course of installing the far-field audio. According to Ross, "One of the biggest problems was the scenic elements. They were using aluminum octagons to house the speakers to make the theater look more like a spaceship. This was not a good mount. We spent four days bringing it down to a wire frame, then adding acoustic material."
Josh Cottrell, System Consultant for Electrosonic, added, "One of the biggest issues was that we couldn't place speakers behind a solid screen. We addressed this by reflecting speakers from the top of the theater off the screen. Later, additional reflective speakers were added below."
Another challenge was a truss that had to be installed in the ceiling, but which would not work with the existing infrastructure. To resolve the problem, the 58'x35′ truss was installed in three parts. This allowed the prep and install to be done at ground level.
Theater Configuration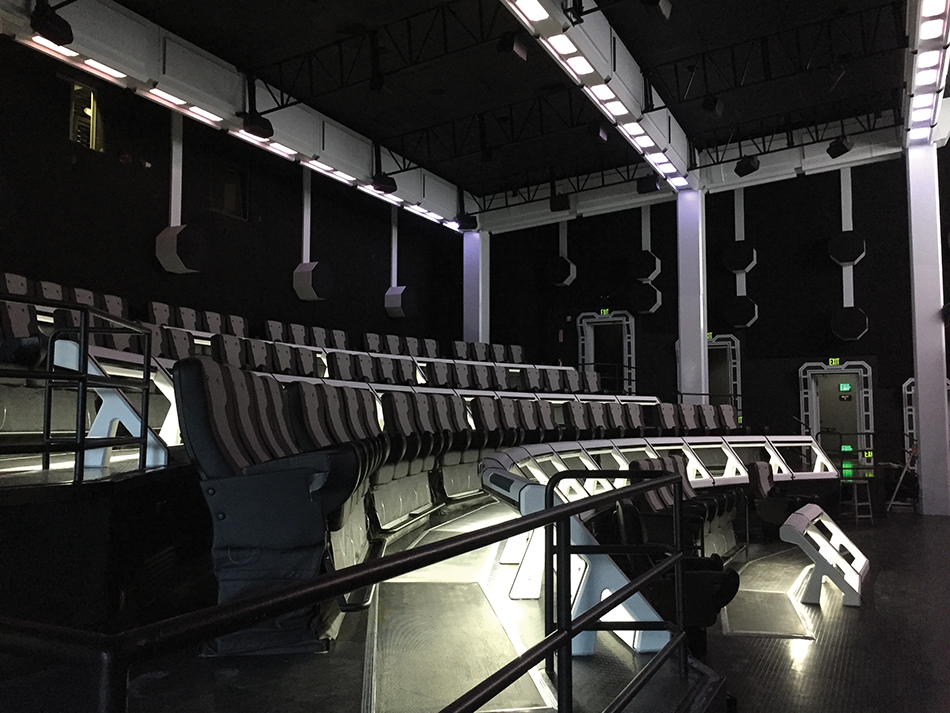 The theater uses a semicircular curvature to its raked seating area, with the front of the theater having been expanded into a large stage area from what previously existed in the Action Theater. At the top of the seating area lies the former projection booth, which had contained a number of 70mm projectors. This area has been turned into the attraction's control room. According to Electrosonic Project Manager Matt Sweeney, "We had so much space left over after putting in the equipment, that we were able to leave the looping cabinets from the old attraction in the booth with additional room to spare."
There were concerns about changing the seating configuration in the theater to optimize viewing and audio. As this would have required ripping out and reforming concrete, a costly procedure, the original seating configuration from the Action Theater was maintained.
For seating, 3D Live chose MediaMation, a company with which it had worked on a number of previous VR projects. The company supplied its MX4D motion-effect seats, which include pneumatic motion in six directions and a complement of in-seat effects, such as water and scents emitting from the armrests and neck ticklers built into the seatbacks. The 78 seats (there are also the two wheelchair spots, with near-field audio bars) are separated into four-seat moving benches. According to Dan Jamele, President of MediaMation, "The key advantage of our pneumatic system is that everything is modular and can be switched out easily with off-the-shelf parts. It responds like a hydraulic system, but with far less maintenance, and far less expense than electric seats."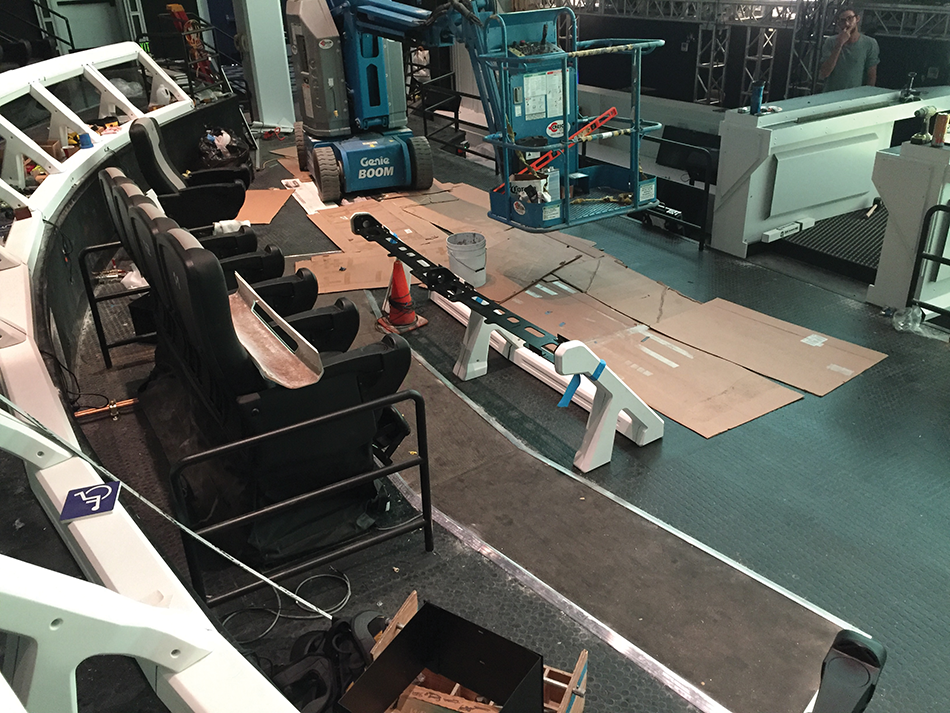 There are no seatbelts or harnesses on these 4D seats, which is pretty much unprecedented and unexpected for a motion-simulation experience. According to Jamele, "It was very important to avoid seatbelts because it increases the load time." This, however, does not mean that safety factors aren't in place. The arrangement is based on an understanding that the real hazard potential is colliding with a moving seat, as opposed to sitting in it. Jamele explained, "Cal/OSHA has extremely strict safety regulations. We've added a safety mechanism by which our server can tell if someone leaves his or her seat. If that occurs, it shuts down the entire row of seats, to ensure that someone doesn't get hit by another rider while trying to exit the row."
The effects within the MediaMation seats are complemented by many others integrated into the attraction. Crescendo's near-field audio is used in conjunction with a film produced by Halon Entertainment, to create 3D holographic effects. The audio gives the impression that the characters are appearing at distinct distances from the screen, surrounding the live actor, who is the pilot of the ship guests are riding in. The actor is tied into the sound system through a Shure WH20TQG wireless headset.
Halon, which started as a previsualization unit at Industrial Light & Magic, animated the film as a video game cinematic using the Unreal 4 game engine at 4K resolution and 60 frames per second (fps). This was designed to dovetail with the 4K resolution of the screen, made up of 576 LED modules, each with 14,400 pixels (120×120).
Transforming a popular IP from a home-gaming platform to a theme park attraction and retaining authenticity to satisfy an exacting audience would be yet another of the challenges met in the creation of Mass Effect: New Earth. The attraction is based on Mass Effect, the popular series of videogames from Electronic Arts studio BioWare, which tells the story of Commander Sheppard and his attempt to save Earth from an incoming alien menace. The game series combines shooting and role playing elements, and offers thousands of potential gameplay possibilities.
According to Halon's Clint Reagan, "We were very sensitive to BioWare's need for precedent for the existing games. We consistently went back and forth with the BioWare art directors on art directions. The story elements became more challenging. We had to come in line with what they desired. It helped that we hired a number of Mass Effect gamers as artists."
Understanding the Mass Effect universe was a necessity for anyone working on the attraction. Numerous members of the team, from 3D Live, Cedar Fair and Crescendo, all reported going out and purchasing a video game system and the Mass Effect games, and spending hundreds of hours "studying."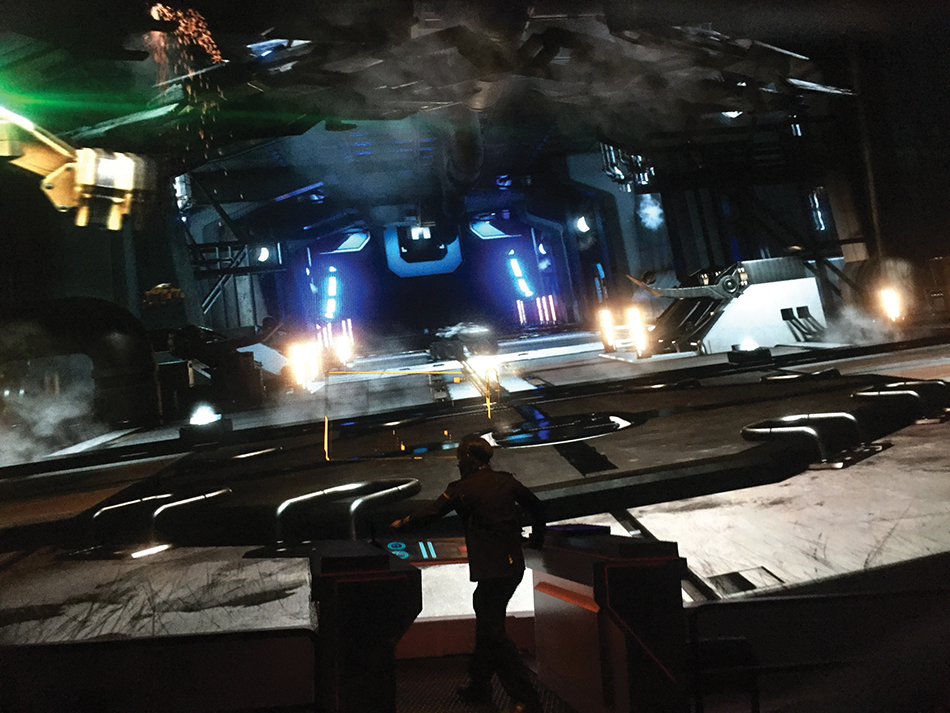 Reagan noted that one of the biggest challenges was to keep the ride family-friendly, while still maintaining the Mass Effect brand and culture: "Violence and sexuality were removed from the ride. We kept action-adventure. We needed to make sure that whatever happens in the ride, there's no indication of a funeral for anyone."
Onsite mixing is generally considered ideal for immersive theme park attractions, but in this case, the theater was not available to test the film and sound mix by Crescendo. Initial tests were done at 3D Live's offices. Eventually, two-thirds of the screen was built in a Long Beach airplane hangar. "The lower left and right couldn't see the edge of the screen," said Reagan, "We tried various depths and made small adjustments in the software by 3D Live. Most of the issues were minor."
According to Electrosonic's Cottrell, the entire show is run via the Medialon Showmaster LE. The main show is triggered by SMPTE timecode, after which three different server groups (Q-SYS Core for audio, 7thSense Delta Infinity II for video and MediaMation's proprietary server for the effects seats) take control of their independent systems.
According to Cedar Fair's Dieckmann, "Mass Effect is an attraction families can enjoy together. It's skewed toward teens and young adults, but it's also bringing in fans who might normally not come to the park. It's important for our park fans to know that this is a custom experience built for them, not just a generic experience ported in."
Mass Effect: New Earth is an integral part of Cedar Fair's technology initiative, which also includes new physical and virtual architectures for ticketing and the FunPix digital photo platform and smartphone apps. With attractions, this emphasis on digital technology has resulted in the interactive dark rides at other Cedar Fair parks, such as Wonder Mountain's Guardian at Canada's Wonderland and Voyage to the Iron Reef at Knott's Berry Farm. The new partnership with Electronic Arts also includes an interactive Plants vs. Zombies attraction at Carowinds, with additional IP from the gaming company being considered for additional attractions.
Cedar Fair has been redefining the regional park scene, but also the park scene as a whole. These contributions can stand up to what the big operators are doing. Mass Effect: New Earth shows that a regional theme park can offer the same high-tech-caliber experience as a major destination park at a reasonable cost.