Flexibility and ease of use characterize AV-equipped classrooms in the new expansion of Cal Poly Pomona's Collins College of Hospitality Management (CCHM). Accordingly, we'll explore the AV design and install in the 12,000-square-foot building, which included undergraduate lecture rooms and graduate instructional support rooms, as well as group study rooms, a conference room and a student commons that were in need of AV technology. Integration was provided by ClearTech of Altadena CA. The general contractor was Gilbane Building Company of San Diego CA. The new extension has the distinction of being targeted to be the first LEED Gold-certified building on campus.
---
Read More: Cal Poly Pomona, ClearTech Co-host Collaborative Learning Environments Symposium
---
Overview
Before we highlight the AV, let's take a look at CCHM. Founded in 1973, it is the oldest and largest hospitality program in California. It is dedicated to advancing the field of hospitality management through its collaborative learn-by-doing approach to education. About 1350 diverse undergraduate and graduate students receive a superior education in 55,000 square feet of state-of-the-art facilities, where they learn to apply hospitality management theories and concepts to research and real-world settings.
"I'm particularly proud of this project because it was a collaboration between us, the various trades that were involved in this project and, most importantly, the client," said Christina De Bono, Principal/President of ClearTech. "We were involved in all aspects: the design phase through the integration phase, which resulted in a very successful project for Cal Poly Pomona."
Challenges
Our interviewees are Joe Perez, DMC-E 4K, ClearTech Designer and Project Manager, and Andrew Naranjo, Project Manager on the CCHM client side.
According to Perez, one of the challenges solved by ClearTech was eliminating obstructions. "There were group study rooms where the large Sharp interactive displays had to be able to move to be ADA compliant," he explained. "That enabled someone in a wheelchair to come right up to the flatscreen display and annotate. MantelMount flatpanel mounts allow the displays to be a certain height and then lowered when needed." The integrator also ensured that display mounts are kept to no more than four inches of protrusion from the wall to avoid a safety-code violation. We'll cover other AV aspects of the group study rooms later.
Fortunately, ClearTech came into this new construction project early on, "so we were able to manage correctly," said Perez. "We weren't scrambling toward the end. We were obviously working very hard, but time was not our biggest challenge."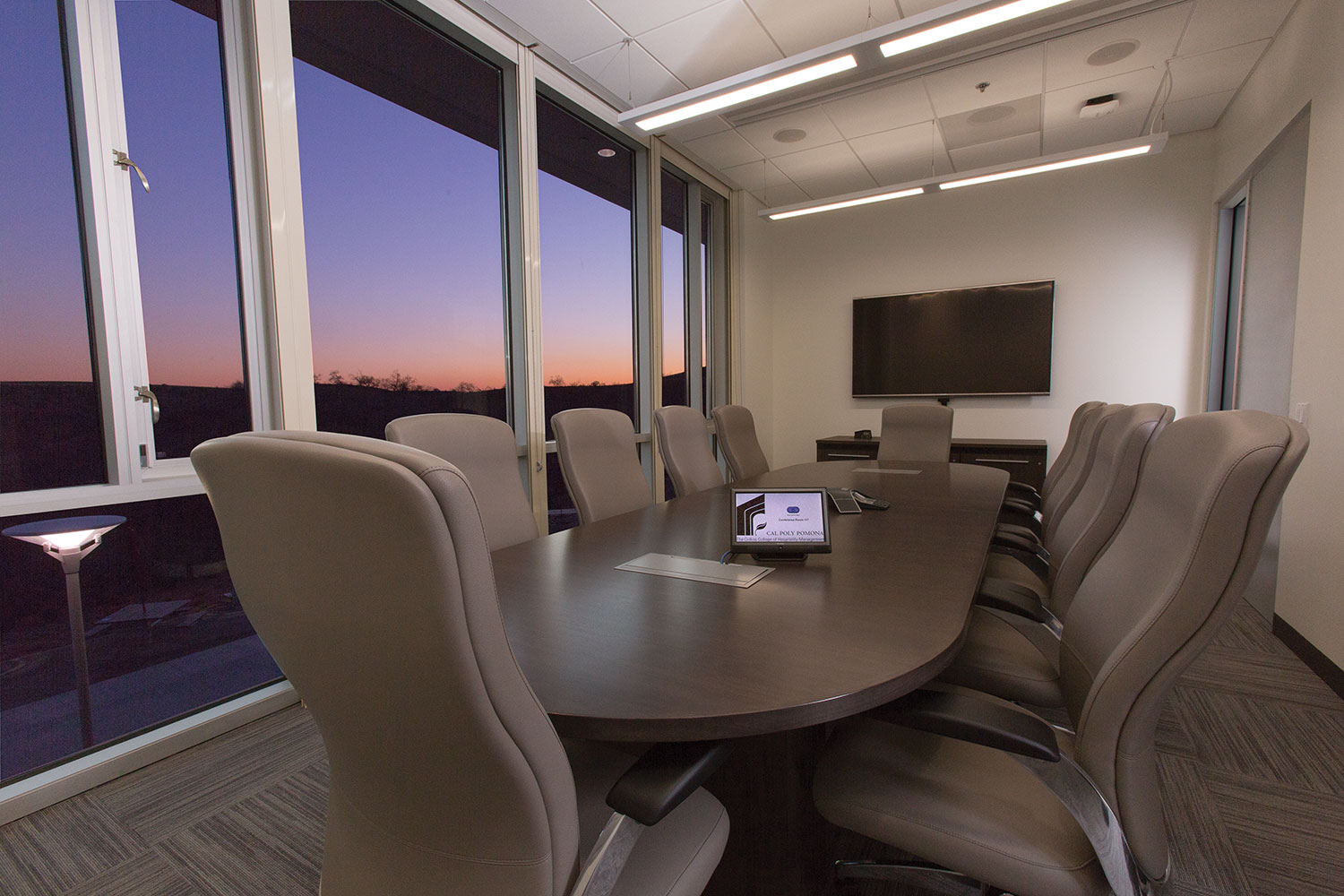 Here are Naranjo's concerns from the CCHM client side: "In a project such as this, there are challenges of some kind throughout, and this was no exception," he said. "Time was one of them, because we only had seven months for our AV integrator to meet, propose, design, develop drawings, specify, procure, coordinate, install and commission to ensure that all the AV systems were fully integrated and operational in the building in time for the Grand Opening.
"Coordination and timing with the contractor and the subs, as well as the inspector of record, was another challenge in that we had to ensure that the location of the infrastructure to support all the AV equipment was in the right place for all the equipment to work, before all the framing was sealed," Naranjo continued. "Also, coordination of the finishes for the Media Credenzas, both in the two lecture rooms and the conference room, had to match with the finishes for the furniture that had been selected for those rooms by the furniture vendor.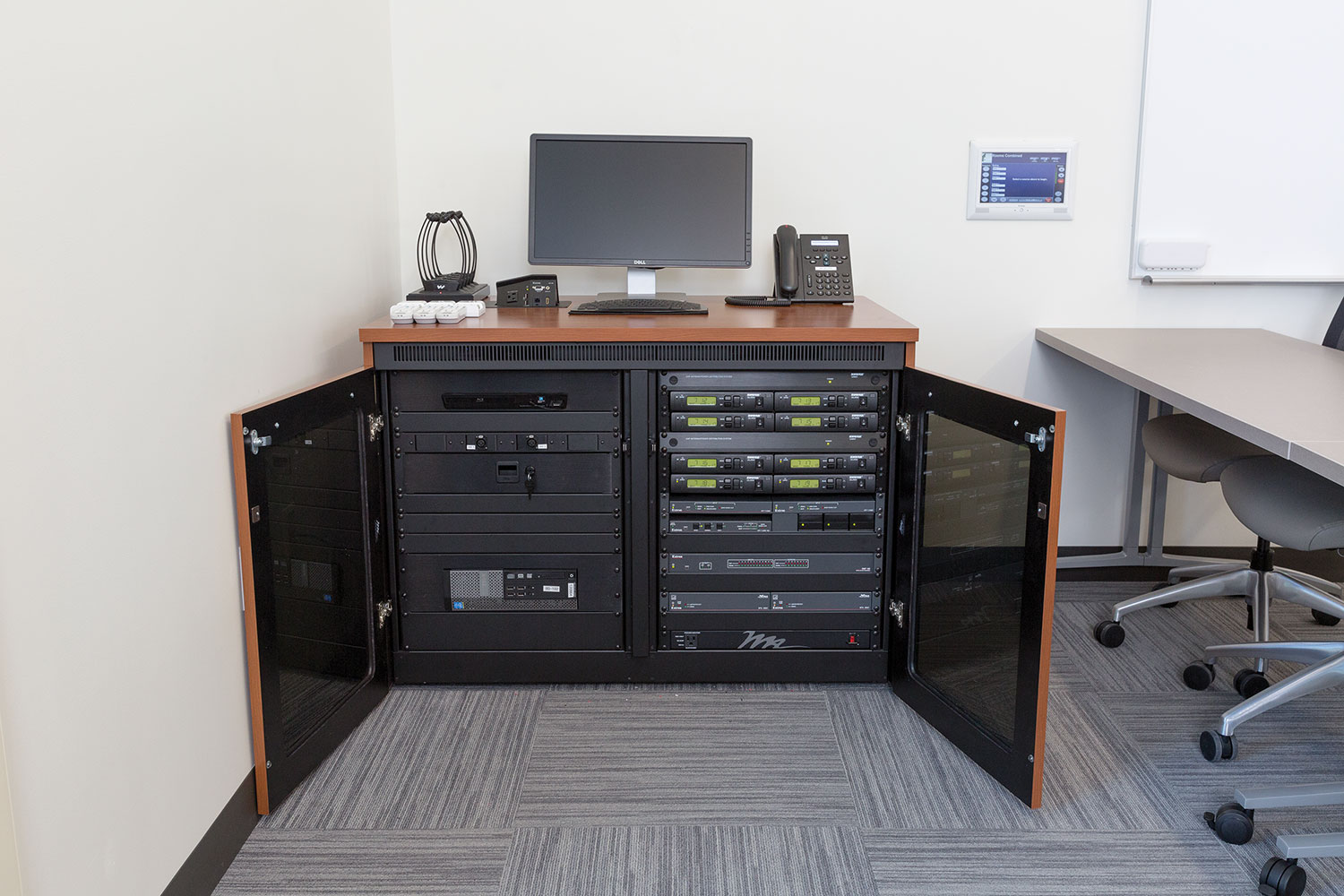 "The ultimate challenge was to ensure that our campus IT would be able to approve and support the specified AV equipment, while at the same time, meeting the Accessibility Technology Initiative (ATI) requirements for the campus. The ability of the specified AV equipment to integrate to the existing campus network was also part of this challenge, as well," Naranjo concluded.
'Learning Adventure'
Let's begin our examination of AV use in the first set of classrooms that includes 48-seat lecture rooms and 36-seat instructional support rooms. The rooms don't follow the traditional scenario where students face a teacher at the front. Instead, there's no designated front or back of the room for the teacher. Indeed, the instructor has not been replaced, but aided by AV in the classroom.
So, get set for a learning adventure where we're greeted by three walls, each of which has its own dedicated touch-enabled interactive projector with accompanying screen. Students can be divided into groups interacting with various screen content.
And the fourth wall? It's a manually operated air door that has the same three-wall AV setup on the other side. Thus, rooms can be uncombined using three projectors or combined into one large room using six projectors.
"For the lecture rooms and instructional support rooms, it was important to provide the resources for both faculty and students to help them enrich their teaching methodology and learning experience in a corporate hospitality environment," said Naranjo. "We wanted to give them the right tools to create endless possibilities, in both teaching and learning without any limitations.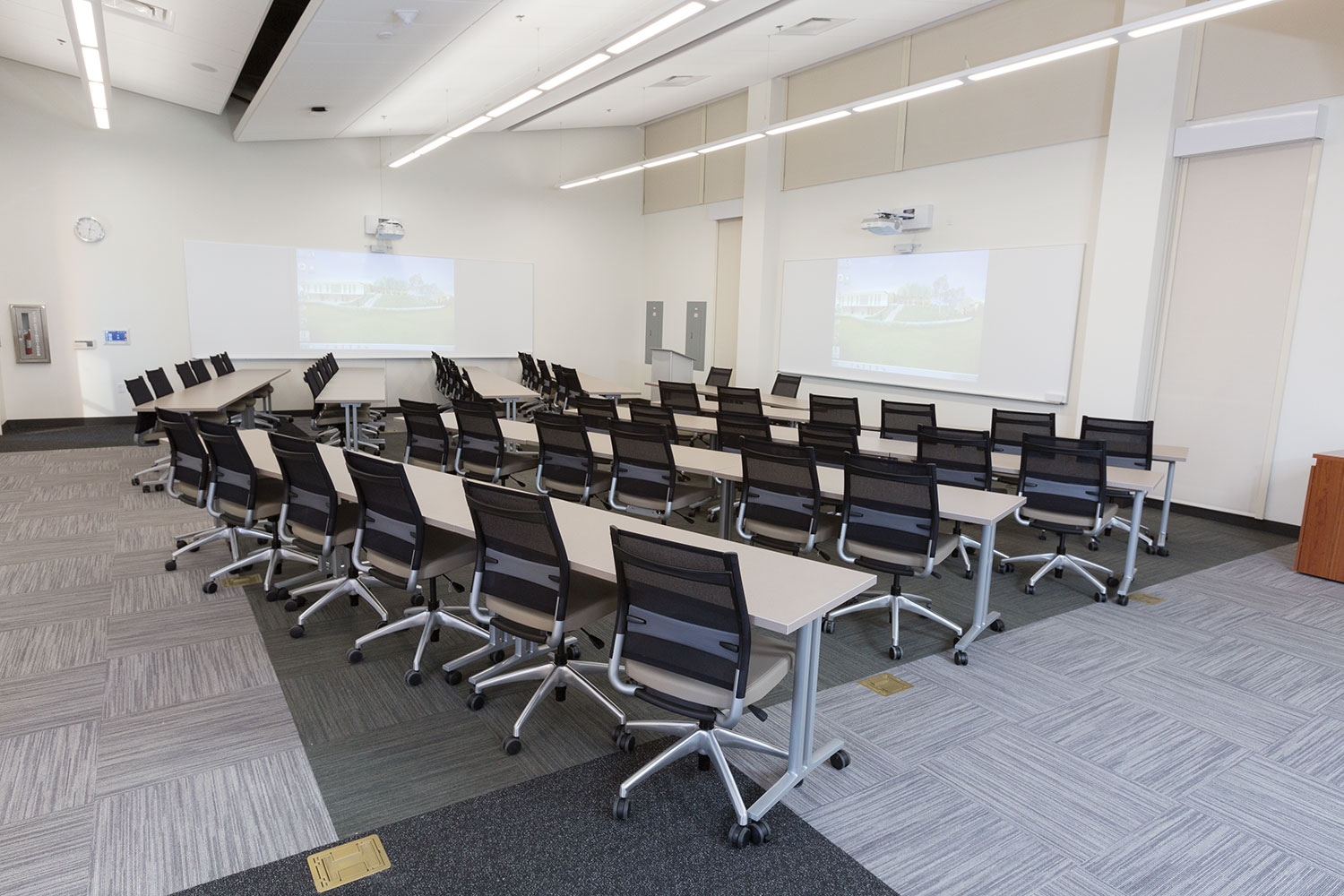 "Our goal was to build a learning environment that stimulates, encourages and engages students in active academic participation and mutual collaboration, while advocating scholarly interest and exploration. We wanted to make sure that the AV systems were consolidated, both architecturally and functionally, in a coherent manner, while developing an interaction between the instructional spaces and teaching. Flexibility was the key element to accommodate the ease for mobility to encourage group interaction, collaborative learning and the capability to teach from any section of the room."
As mentioned, the lecture rooms and instructional support rooms have similar projector/screen combinations. We'll highlight AV features here; you can find other components in the accompanying equipment list.
ClearTech's Perez explained that Epson 595Wi short-throw projectors were mounted above the Da-Lite IDEA whiteboard projection screens. "We have tons of practice with that particular projector," he said. "We have the ability to get those images pretty squared up." He noted that the whiteboard projection surfaces have several uses. "You can project and write on them with dry erase. They're also magnetic."
Perez further explained that the Epson/Da-Lite whiteboard choice came about after meetings with the college, as well as after touring some of ClearTech's existing installs. "It came to our attention this was what we wanted to incorporate into the meeting spaces," he said. "It has to do, in part, with the structure within the rooms, which have very tall ceilings. Another reason is the interactivity of the projectors with the screens, so users can annotate and import images onto the whiteboard, edit them and keep that interactivity stored in the owner-furnished PC. That way, they can save the information for training, printing and emailing."
As a campus-wide standard, the projectors and monitors are secured with a Kensington security locking system. Adding to the flexibility of the rooms, client furniture is completely mobile. The only fixed items are the projector/screen locations on the three walls.
In addition to the projector/screen arrangement found in the classrooms, there are other common components. They include access via two Extron touchpanels per room, which allow the user to set up a room in any configuration. In fact, all rooms described here are Extron controlled. For input devices, classrooms have a client-furnished Dell Optiplex PC. Another source is a Sony Blu-ray player. There's a Middle Atlantic C5K2-5 Media Credenza located in a corner of each room, which houses rackable devices. The Credenza also has an Extron Hideaway HAS 400 surface access enclosure for AV with HDMI, VGA+audio, AC and USB charging capacity.
"We split the Credenza equipment between the two paired rooms," said Perez. "Video is in one room and audio is in the other. That allows the equipment to not overheat. It operates the way it was intended."
Taking the lecture rooms' Credenza/Hideaway HSA rack structure as a specific example, Extron components include HDMI and VGA inputs and Cat5 connectivity, USB charging for devices, DSP, control processor, a huge XTP 16×16 Crosspoint 1600 custom matrix switcher and a power amplifier that drives six pairs of Sonance ceiling speakers. The client furnished 16-port PoE switches. Williams Sound assistive listening systems are installed in all spaces.
Wireless Mics
Shure wireless microphones used in classrooms include handheld ULXP24/58s and bodypack/lavalier ULXS14/24s. Antenna distribution was installed in the ceiling for proper coverage. When projectors are used in one-to-one configurations, the projector's built-in speaker is used to avoid interference via ceiling speakers to other nearby huddle groups. The connection is activated when the user plugs a laptop into the input plate located on the wall underneath each projector.
Onward to the two instructional support rooms next, which are designated for graduate hospitality management classroom instruction. As mentioned, these classrooms have similar AV architecture to the lecture rooms. However, there are some different Extron components, including the IN1608 "all-in-one" scaling presentation scaler with built-in control processor, DMP64 DSP and paired ceiling speakers.
Regarding the conference room, Perez pointed out, "The college wanted a conference room where they could hold meetings and do interviews. We wanted to provide to faculty, as well as the graduate students, the opportunity to engage with industry leaders to learn from their real-world experiences," said Naranjo.
Accordingly, ClearTech installed a videoconferencing system that incorporates a Logitech Skype camera with an accompanying microphone, which can be accessed via the room PC. Video is displayed on a 70-inch Sharp HD monitor on a Chief tilt-wall mount. Images and program access is via a Sony Blu-ray player mounted on a Middle Atlantic rack shelf. An Extron amplifier drives four overhead Extron speakers.
---
Read More: Extron, Ensuring Total Customer Satisfaction
---
"There's a large conference table with HDMI and VGA inputs built into the front and back of the table," said Perez. "There's a single Cubby on the Credenza that allows for HDMI, VGA network and USB charging for devices."
Otherwise, the AV electronics are similar to the other rooms, which include the PoE switch, presentation switcher, Credenza with Hideaway rack equipment and Cat5 transmitter/receivers, and necessary cabling.
"The student commons is the socially interactive space that became the daily event informational hub, keeping the students up to date on Collins College current events and upcoming schedules," said Naranjo. "AV technology here promotes not only auditory presentations, but also visual display of information, images and video."
"It's a very big, open area that leads into the lobby, which ties these meeting spaces together," said Perez. "They wanted to make it very simple within that space. They didn't want to have a bunch of equipment showing anywhere, so we went with something fairly simple, but very useful, for the space. Equipment is housed in a Middle Atlantic wall rack in the electrical closet.
"We incorporated a Sharp 70-inch flatpanel for digital signage, as well as for viewing their campus TV network. We also added Williams Sound assistive listening so everyone can hear what is happening on the monitors and in an adjacent room."
An Extron amplifier drives Sonance CM660 ceiling speakers equipped with a pivoting tweeter to ensure good coverage within the commons and lobby areas. Presenters have a large, open space to address a large gathering for such events as a speech or basic entertainment. "The commons area is a very chic-looking area where people can talk and socialize, as well as sit or stand and listen to events," said Perez.
Presenters are provided with two Shure wireless ULXS14/85 bodypack lavalier microphones: one for the student commons and one for the lobby. A Shure SCM268 mic mixer is also provided. Source equipment includes a campus standard Visix Axis TV digital signage player, which ClearTech installed and configured.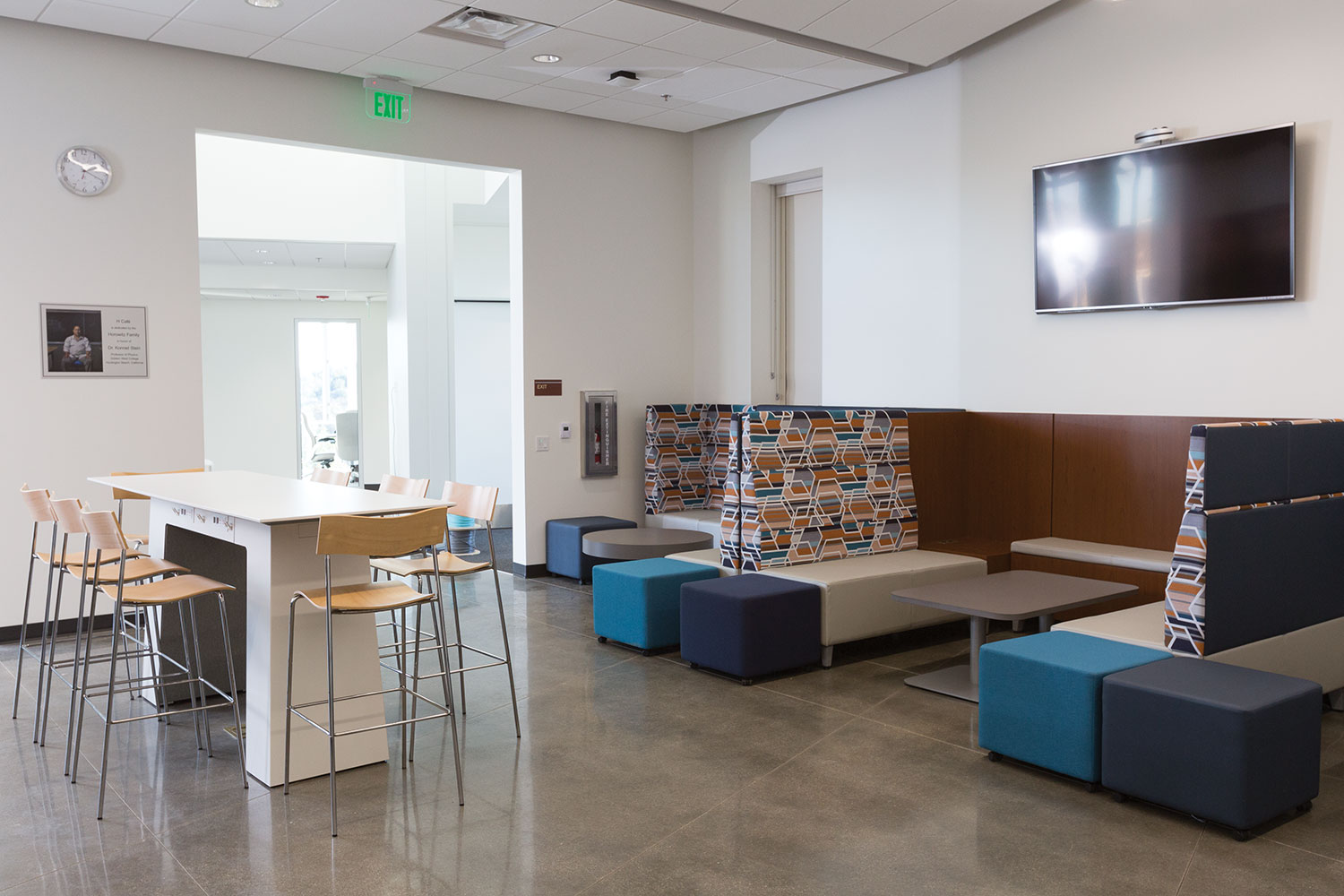 "The two five-seat group study rooms are like working conference rooms," said Perez. "They are small spaces that allow users to connect via HDMI, VGA and DVI with audio on a wallplate within each room. These are the rooms previously mentioned as challenges, where we used MantelMount flatpanel mounts [on the Sharp LEDs] to accommodate the handicapped. The mounts worked out quite well, and we got great feedback from some of the student workers."
Naranjo added, "It was important to provide the students with AV technology that would allow for display, access to data, images and information to help them prepare for their class presentations, interact with one another, promote collaboration and learn from each other."
Now, to further explain two special features in these rooms. The Sharp 60-inch PN-L603A LED Aquos Board with interactive Touch Pen software allows the presenter to annotate on the screen. ClearTech also installed the Extron ShareLink 200 wireless presentation tool, which allows students to share their presentations simultaneously on the display screen. Thus, there can be up to four different students projecting their projects in four windows on a monitor display. In addition, the Extron MediaLink can control AV in the space without requiring much training. As in the other rooms, the standard AV backbone applies to this room, as well.
CCHM's Naranjo likes the flexibility provided by the three Epson short-throw projectors mounted at the top of the screens in the classrooms. "There's no front of the room per se, so the instructor can teach from any side of the room," he said. "There's no obstruction whatsoever. There's no shadow image of the instructor's hand as he points out information on the screen."
Naranjo noted that the Da-Lite IDEA whiteboard screens "are designed so the surface is very uniform. There's no glare. It gives great clarity, especially with projected images. The classrooms have the flexibility to accommodate free mobility for group interaction and collaborative learning."
And, finally, Naranjo pointed out that the Extron panels are "fabulous, as well, because you don't have to go back to the main station where the PC is located to start the equipment. You have the flexibility to turn the projector and Blu-ray player on and off."