Editor's Note: You may have read some general information about the changes in the California Building Code as it relates to the Americans with Disabilities Act, but this exclusive analysis offers details you won't find elsewhere.
Contractors, systems integrators, venue owners and the like nationwide are well aware of certain guidelines that govern how we accommodate patrons with disabilities. The Americans with Disabilities Act (ADA) is perhaps the most well known set of standards, and compliance with these guidelines is not only mandatory and legally enforced, but the right thing to do.
Some regions have an even more specific set of compliance standards, and recent changes to the California Building Code (CBC) present an opportunity for all of us, whether we work in the Golden State or not, to assess in detail how we approach the services we provide to patrons with disabilities, related to both new construction and updates to existing facilities.
Different disabilities hold different places in the public consciousness. For a variety of reasons, hearing impairment has received far less attention than other conditions, despite being the most common disability affecting Americans: 20% or more, by some counts. Accommodating those with hearing impairment generally has not been a high priority among integrators, venue owners and the public at large. Awareness is increasing, however, and more advanced assistive listening solutions are being brought to market, so changes to CBC offer a set of benchmarks for us to reference as we update things to achieve compliance in our facilities.
We know that our channel partners and clients are often not aware of changes in compliance and how they affect AV projects. At Listen Technologies, we spend a great deal of time and effort to first understand the requirements as they relate to our category of products, then to communicate the changes and guidelines in brief so they are understood and easy to follow. We hope these resources help integrators and consultants communicate to the venue owners, because those individuals can be held legally liable.
Our approach is to talk about "why" these requirements are in place, explain what is required to become compliant and inform the venue owners of the tax benefits available for becoming compliant.
The new CBC requirements are relatively straightforward, but a close unpacking is certainly worthwhile. The most recent version of the CBC took effect January 1, 2014. California has adopted the format of the ADA, but the exact code was not adopted. There are two areas in which the CBC differs from the ADA: what they define as Assembly Areas and the amount of assistive listening receivers they require in these Assembly Areas.
In Part One of the CBC, Assembly Areas are defined as, but not limited to, the following types of spaces: classrooms, lecture halls, courtrooms, public meeting rooms, public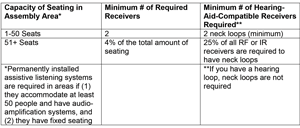 hearing rooms, legislative chambers, motion picture houses, auditoriums, theaters, playhouses and dinner theaters, concert halls, centers for the performing arts, amphitheaters, arenas, stadiums, grandstands, convention centers and conference and meeting rooms.
Most recently, the CBC has deemed houses of worship to be classified as Assembly Areas and not exempt from CBC requirements. When you consider the number of denominations and worship facilities in California alone, this update to the Code has tremendous impact.
So, these types of facilities must offer assistive listening devices on a scale proportional to the size of the venue. The accompanying chart highlights the CBC's requirements for the number of assistive listening receivers required in an Assembly Area.
If a building contains more than one Assembly Area, which requires an assistive listening system, the total number of receivers can be calculated according to the total number of seats in the Assembly Areas, as long as the receivers are usable with all the systems. If all the seats in an Assembly Area are served by a hearing loop system, the minimum number of receivers required to be hearing-aid-compatible will not have to be provided. The CBC is reviewed and updated every three years. In California, if a facility is not compliant, it can be held accountable to the local building department.
In the years leading up to the introduction of Listen Technologies' new iDSP (Intelligent Digital Signal Processing) products, I did my own field research on assistive listening. I would often ask to use the solutions offered by different venues, so I got a real-world perspective on our products and those of our competitors. And by asking for anecdotes about what problems they regularly face, we got a guideline for some simple things we could do to offer a higher level of service.
I found that some venues, although again well meaning, did not have a real grasp on the Americans with Disabilities Act guidelines that state that 25% of assistive listening devices must be compatible with hearing aids and telecoil components, and they were simply not held accountable to full compliance to that end. So, with our new products, we included an integrated neck loop to serve people who have hearing aids and cochlear implants with telecoils: They're all hearing-aid-compatible, so venues will be in full compliance without having to worry about it.
But we invite you to do your own research. There still exist some stigmas associated with hearing loss, assistive listening and ADA compliance, but increasing awareness helps erase those stigmas and serve our customers with up-to-date solutions. Compliance standards laid out by the ADA and CBC are a good starting point, but going above and beyond those guidelines puts venues in an even better position to serve their customers.
And aside from the fulfillment that comes from serving those in need, providing people with a positive experience means they'll be back to your clients' businesses (and bringing friends), leading to customer loyalty and return on investment. Also, by complying with the ADA, some businesses may be able to receive certain tax benefits. But again, above all, providing those with hearing loss with working solutions is a moral and ethical imperative.
If you want to learn more, we offer several resources on our website related to compliance standards:
Regarding the current CBC revisions, go to www.listentech.com/blog/california-building-code-require ments-2014.
General compliance standards outlined by the Americans with Disabilities Act can be found at www.lis tentech.com/legislative-compliance.
Additional information related to training, as well as available courses that fulfill InfoComm CTS renewal credits, can be found at www.lis tentech.com/loop-training.

[button type="large" color="white" link="http://viewer.zmags.com/publication/a03494ab#/a03494ab/1″ ]Read More From This Issue[/button]