TIPS
>> Think outside of the box when presented with unique challenges. A laser focus on the creative outcome should not be compromised by price, timeline or preconceived notions.
>> Do not rush projects where complex engineering is required.
>> Set appropriate expectations and communicate them to the various teams.
>> Value each team player's strength and communicate consistently. When you have a project that pushes boundaries, areas of expertise must be appreciated and utilized.
---
Indiana University in Bloomington IN prides itself on attracting the best of the best. Exceptional faculty, strong stewardship, exciting sports teams, and an expansive and appealing campus all contribute to the admissions effort. Prospective students, however, frequently are forced to quickly surmise whether IU's commitment matches their own passion for innovative learning excellence. That moment of determination often occurs during a very brief, sometimes impromptu, campus visit.
The Franklin Hall is a prominent tour stop for visitors and prospective students. It features an impressively large two-story-high commons and is a branding image for the university. It is especially important for the students and faculty of The Media School who affectionately call it home. The aesthetics and functionality of the space really matter because they are used to attract and retain the next generation of exceptional media professionals. Thus, Franklin Hall needed a makeover, and digital media in the commons was an essential component of the renovation.
Envisioning The Space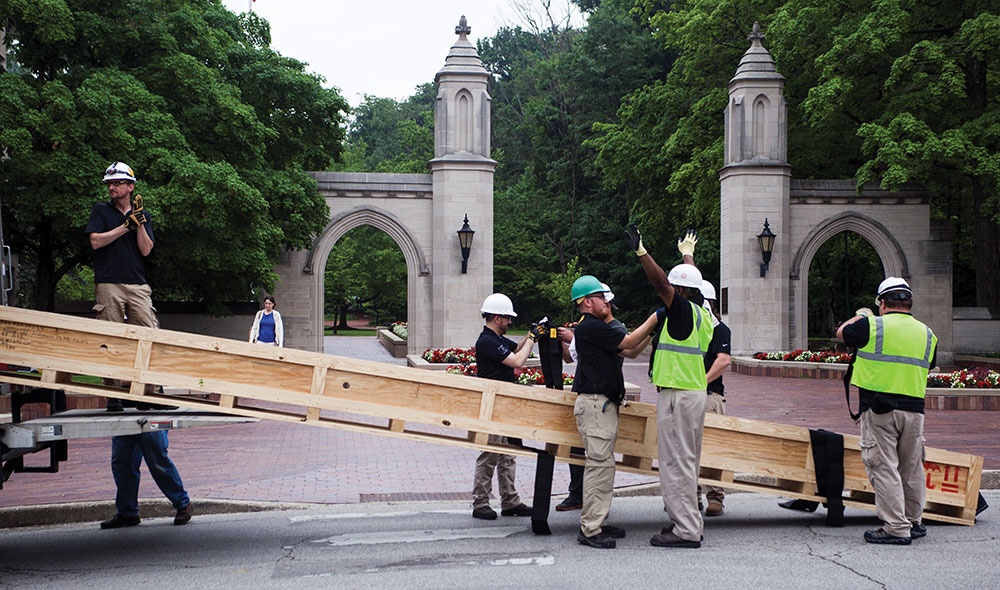 What needed to happen at the Franklin Hall commons? "This is a place for students to engage with each other and get to know their university," said Andy Sellers, Principal of Indianapolis-based Sensory Technologies. Sellers, who had graduated from IU in 1982 with a degree in telecommunications, was excited to see the improvements made to the newly renovated Franklin Hall.
"Franklin Hall is where students are reminded that they are at one of the best media schools in the world. It's a place that could make an impact on visitors who were considering an application to IU. It's a place for students, faculty and staff to stay abreast of the news, including those ever-popular IU Hoosier basketball games," he explained. That's what inspired the vision for the creation of an engaging digital experience.
The focus was on creating an experience that would engage students, "stick" with them and encourage them to return to experience it again. The technologies deployed had to enable students to interact with the content and with each other.
Sensory Technologies was tasked with the design and integration of an interactive system that would be the centerpiece of the space. Working with its partners, the company engineered and installed a massive digital display that looks as if it is floating beneath the glass roof. The 24'Wx12'H LED display can also be viewed from the second floor of the building.
The backend technology provides for more than a simple viewing experience. Students and faculty are able to interact with the digital wall using a variety of inputs, including laptop PCs, cable boxes and a gaming cart with the most up-to-date gaming consoles. Several content sources, including a live feed from the adjacent student control room and digital signage from the campus network, can all be displayed on the screen. Several images can be displayed simultaneously, resized and reconfigured by recalling selected layouts or presets on the touchpanel.
The commons has high ambient light due to its glass ceiling. A NanoLumens NanoSlim LED display was chosen because it offers a clear image from close, far and distances in between. Whereas the glass ceiling is electronically controllable to allow for less light in the commons area, this 2.5mm pixel pitch, direct-view LED, with a native resolution of 2880×1536 pixels, delivers 1200 nits of image brightness and fits the bill for overcoming time-of-day lighting challenges, even when the glass ceiling is fully transparent. Additionally, the product is inexpensive to operate and is rated to run for the better part of 10 years, which is imperative when making a large investment. In conjunction with NanoLumens, a custom support structure and cabinet were designed to ensure a safe and visually appealing installation.
The facility has three input locations where users can plug into the system. These local connection spots also allow for the custom credenza that houses the Xbox One, PS4 and Wii U gaming consoles to move around the space. All sources can connect, move around and window via the use of a large Crestron touchpanel, allowing users to easily recall specific video layouts based on the type of event taking place, as well as select and adjust the program audio source and microphones to be heard over the column line arrays.
Column array loudspeakers from JBL, and Crown amps, were chosen to allow for reasonable SPL and high intelligibility in a challenging reverberant environment. The system also has local XLR inputs to allow for a mixer board for large events requiring more microphones than the four channels of Shure QLX-D wireless mics the system already accommodates.
Biamp's TesiraFORTE CI digital signal processor is used for system EQ, delay and routing.
Video Processing
A Christie Digital Systems Phoenix videowall processor was chosen for processing, transport and windowing. The Phoenix system allows for multiple high-resolution video sources to be displayed simultaneously and at various points around the facility. Because the Phoenix system is node-based and leverages network-based architecture, the system is infinitely scalable to meet the client's needs now and well into the future.
Sources include HD cable tuners, a Blu-ray player, Xbox, PS4 and Wii U gaming consoles, laptop computers, digital signage players and an HD-SDI overflow feed from broadcast facilities. A 52-port Cisco Catalyst network Ethernet switch set up for VLAN is used for multicast streaming with the Phoenix window wall processors and AV systems network control.
Liberty cables/patch cords and Neutrik connectors connect the components. All equipment is housed in two Middle Atlantic racks in a rack room that is shared with the newsroom broadcast control equipment located more than 170 feet away from the main student commons area. The rack room is temperature controlled and all equipment is remote monitored as well, connected to an APC UPS battery backup unit.
There really isn't any template for this type of design and installation project. The Sensory Technologies team had to think creatively, ask the right questions, rely on manufacturer and integrator expertise, and set clear expectations with its client. This included hundreds of hours of design and project management, including coordination of several teams and components to ensure that the plan was well thought out and there were no gaps leading up to the physical installation.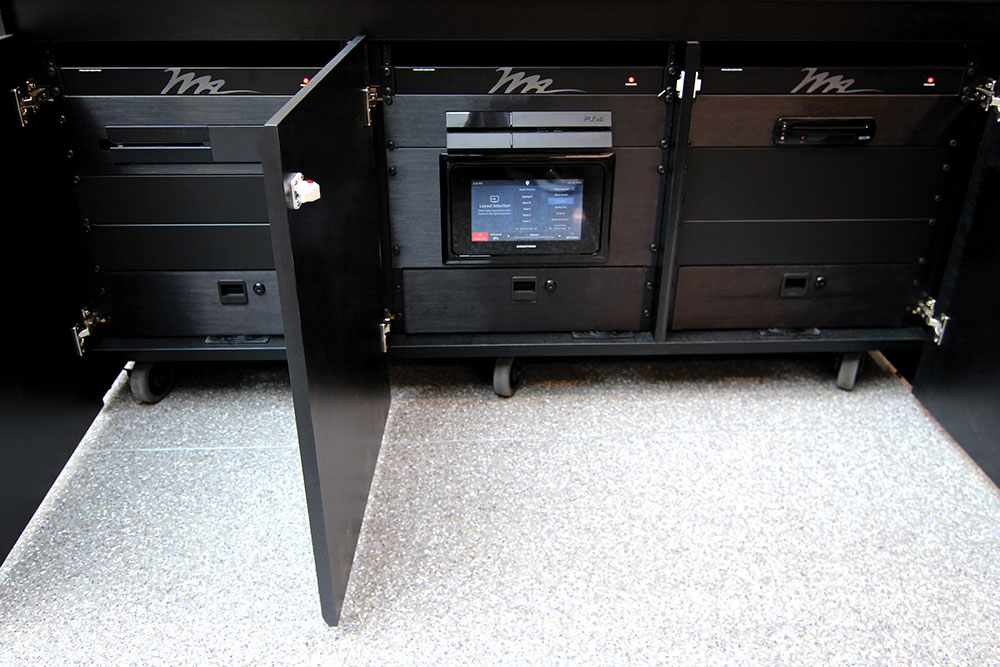 Another challenge was determining how to suspend a display that could weigh roughly 4000 pounds under the glass ceiling. "We met with the architects and structural engineers early on in the project to come up with a safe and aesthetically pleasing way to suspend the 24-foot-wide LED wall to the building steel structure," said Daniel Martin, Design Engineer at Sensory Technologies. "When we are faced with challenges such as this, we bring in skilled partners to consult with to make sure we have thought of every possible way to make the project successful. You have one shot to make this right, so we overcompensate on the engineering to allow full confidence with the solution," he noted.
NanoLumens provided a lead onsite engineer during the installation. Aerial Arts of Westfield IN rigged and installed the support beam. Together with the Sensory Technologies team, they worked tirelessly with structural engineers to ensure that the beams and support overcompensated for the weight, confirming that it was a secure installation.
Scheduling the installation posed yet another challenge. Franklin Hall is one of the oldest classroom buildings on IU's campus and was in use even when construction jobs were underway. Classes end in the spring and pick up in the fall, so the window of time to complete the installation was small. Everything had to be timed accordingly, and all parties had to meet deadlines for expectations and deliveries. Timelines were refined and equipment ship dates were double and triple checked. The 23.5-foot steel beam had to enter the building at a specific time, through a specific door, and had to be hung quickly to allow the other trades to continue to work. The partnerships between the client, contractors, electricians, manufacturers and Sensory had zero room for error.
"WOW" typically is the summative expression many use when entering the space. Most say it's not something you expect to see in a higher-education lobby. The digital display is crystal clear, bright and easily viewable even in its high-ambient-light space. Students say that the display's "floating look," suspended by aircraft cable from above, feels very "futuristic."
The control user interface is graphically impressive, intuitive and accessible, which enables students to engage with the technology spontaneously. The IU Media School team can display customized messaging with its internal digital signage platform. At the same time, the all-important IU Hoosiers sporting games are a mere click away, when needed.