Imagine, for a moment, that you are a typical conference attendee. You arrive on day one, agenda in hand with topics you've had highlighted for weeks. You are excited to be in a new city and eager to get the most out of the experience.
You get through registration with pass in hand, lanyard around your neck and a fresh cup of coffee, but cannot find the room for the first session. All of the venue hallways look the same. You backtrack quickly to look for an elevator. By this time, the first ten minutes of the keynote session has elapsed. Disaster!
The few wayfinding signs are scattered throughout the event, but none are in your present location. The map is not much help—information overload. On the walk back to registration, you ask for directions…again.
There has to be a better way to manage an event. With a little planning, a knowledgeable event integrator can help exhibitors avoid this kind of scenario and better serve attendees.
Attendee Navigation: Challenges and Solutions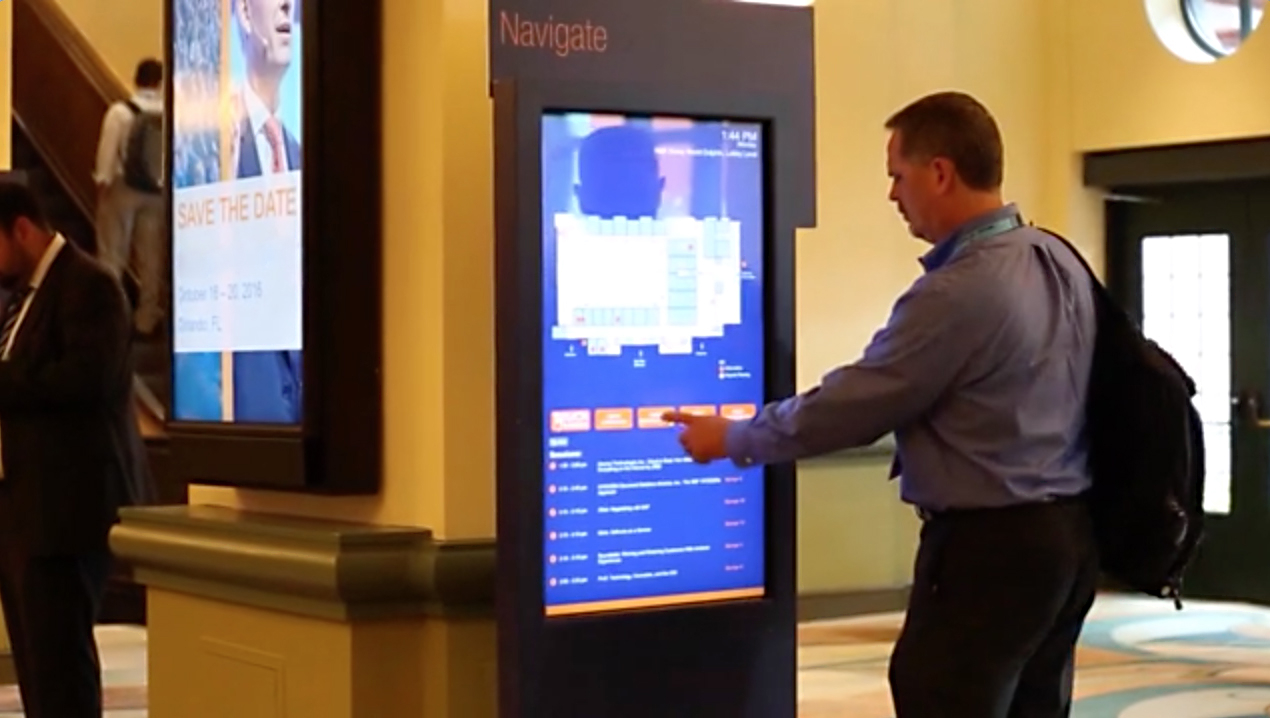 Event integrators know how to streamline the wayfinding process. They can tailor it to fit the traffic patterns at specific events, and make the experience for both attendee and client a great one. There are a lot of factors that need to be considered. There are three major areas where most conferences can be improved.
Placement
Planning out an event anticipates need. It is crucial to take a look at contracted space and the schedule to anticipate traffic patterns during the event. Every event is unique and this is where a networked digital signage option is key.
Whether partnering with a decorator to create a temporary build for wayfinding or rolling out an all-in-one option, it is important to get signs out in front of attendees. No one wants guests to have to backtrack to find signage, which only detracts from their experience. Make sure users can easily access the information they need, where and when they need it.
One Step at a Time
Often, event organizers are onboard with digital signage for wayfinding, and want to give attendees the world. This can easily lead to "information overload."
If you are considering a map with the location of every session, on every day of the conference, as the most helpful guide—don't—attendees often find that very confusing. Large or multi-venue events are most successful when digital signage is used to give attendees the next step in the right direction.
A great option is to show a simple map of the floor they are on, in the building they are in, with today's session information. This is enough to see if they are in the right spot, without making them sift through information for the entire show. If an attendee can glance at the map and find the session room easily, there is more likelihood of on-time attendance for the first, and every subsequent, session.
Another benefit of networked digital signage for wayfinding is the ability to change displays to show timely information as often as needed.
Stay On The Right Path With Visual Branding
Getting attendees to the right room on the right floor is one thing, but how can large groups of attendees be successfully directed to a keynote across the venue—or in an altogether different venue?
To successfully provide more complicated directions to a larger group, dynamic directional are digital signs that point an arrow in the right direction at the right time.
There are a few important things to get right when using digital signage to move a large group of people over a long distance:
Make sure the timing is right. (That means, no arrows pointing to Attendee Breakfast after it's closed).
Make sure each sign gives the group another step in the right direction.
Make sure that the look and feel is coherent across spaces and, more importantly, across venues.
Following these guidelines gives a group confidence that they are still heading in the right direction, because the messaging is timely and consistent with the experience they're already accustomed to throughout the event.
Even if directions instruct attendees to leave one venue and enter another, they will easily pick up the trail if the next digital sign in the new building looks like the last one they saw in the old one. This kind of wayfinding prevents the scenario of "the blind leading the blind," which is sure to put attendees at ease, knowing they will be able to get to the valuable keynote sessions on time.
---
etech is a member of the Digital Signage Federation, a not-for-profit trade organization serving the digital signage industry. The DSF supports and promotes the common business interests of worldwide digital signage, interactive technologies and digital out-of-home network industries. To learn more, go to www.digitalsignagefederation.org.