I've been with Four Winds Interactive (FWI) for five and a half years, and in that time, we've experienced a lot of growth. Just about a month ago, we left our old office space and moved into a new 50,000-square-foot building, which we designed to be the workplace of the future, and it really lives up to our expectations. Visual communications technology is integrated throughout the entire building, with a focus on keeping our workforce informed and engaged.
During the planning and design process for the new office, we knew we wanted to improve the interface between meeting room scheduling and our visual displays because this system represents a universal "pain point" for so many organizations. Even for us, maintaining an accurate meeting room schedule took more time and energy than it should have, and always seemed to lack the intuitive nature that enables a business to operate smoothly.
My team took up the challenge and immediately identified a few specific components that bogged down the scheduling system. Our discovery and development processes led us down a fairly winding path but, ultimately, brought us to a point where flexibility, simplicity and efficiency are realized when scheduling meeting rooms.
Our new office presented a unique challenge. The new space has about 40 meeting rooms and no one, myself included, has them all memorized yet. Compounding that issue, FWI is growing, and there are quite a few fresh faces around the office. It didn't happen all the time but, occasionally, people ended up in a meeting with someone they didn't know, and weren't entirely sure that they were in the right spot.
In order to minimize confusion, we ended up leveraging information we already had to solve the issue. We enabled the app to grab all of the attendee info from the calendar management system, which then integrates with ADP and matches the names with an employee's picture from our internal database. It was relatively simple functionality to implement, but the payoff has been huge and has proven to be helpful to our workforce: All you have to do is know what you look like in order to know you're in the right meeting.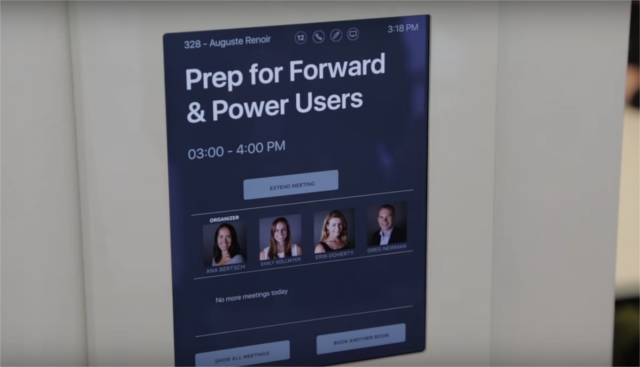 We also wanted to change the inflexibility of traditional meeting room signage. For quite some time, meeting room management systems were not only limited in scope, but also cumbersome if any scheduling changes were needed. Far too often, meetings run shorter or longer than their allotted time, resulting in an empty conference room or an encroachment into somebody else's time slot. We felt that both of these situations were avoidable.
In the past, one would have to pull out a phone or computer, log into email or calendar management, and try to schedule more time. Although this worked, and definitely beat the dry-erase-board schedule that still haunts many conference rooms in many companies, it was inefficient. Our calendar management system was working well, but we wanted to add an option that allowed for the nuances in everyday life.
We were already using iPads outside each room to display meetings in progress so, instead of reinventing the wheel, we simply repurposed the tools we had in place. We built an interface for the iPads that allows for on-the-fly booking and communicates with the scheduling system. Anyone can walk up to one of the conference rooms, see if there is an available time slot and reserve it for whatever time they need. Now, if a meeting looks like it will run long, one can simply step outside and extend it, leaving more time for the work at hand. Conversely, if a meeting doesn't last as long as it is scheduled, one simply hits the "end meeting" button, freeing up the space for whomever else needs it.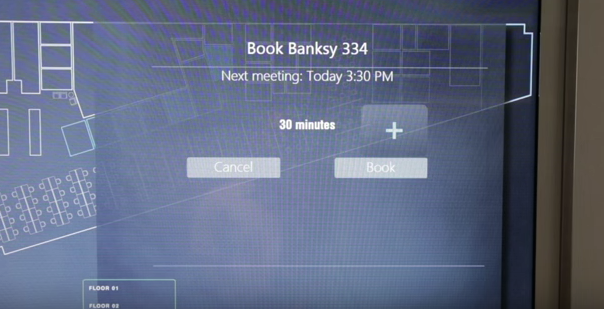 Another feature, which is extremely helpful, is the ability to see the attributes of each room before you book a meeting. All of the pertinent information is available beforehand, making it easy to choose an appropriate room based on the number of seats you need, whether a phone is required or if the room has a monitor.
I firmly believe that a meeting room app should not be static. Every "piece of glass" or endpoint—meeting room-based or otherwise—should have an element of flexibility and be able to display any app. Because our app is built on the FWI platform, our meeting room signage can do exactly that. Our new office is right next to the Denver Art Museum so, as a nod to the old-world masters, all of our meeting rooms are named after artists.
During non-peak hours, we counterbalance meeting room data with information about the artists for whom the rooms were named. We also rotate in top news and entertainment stories, which have been tremendously beneficial to the overall wellbeing of our workforce. The latent, but potentially more impactful benefit of this flexibility, lies in our ability to broadcast emergency messaging. In an instant, every screen in the building can be used to inform our entire organization of an adverse situation, which is an invaluable tool.
The importance of having an effective meeting room scheduling system in place became painfully clear during our move. All of our visual displays were taken down in preparation for the move that, of course, was delayed. That left us without any signage for about two weeks. We were lost. Nobody knew which meeting was where, and inefficiency stemmed from a lack of clearly communicated information. Once the move was complete and our workforce got to use the new meeting room management system, we shared a collective sigh of relief, and got right back into the rhythm of business.
Having a digital meeting room application that replaces paper, white-boards and easels is a good start. However, it's important that the platform on which that application runs be flexible enough to host any application. With that in place, your business is much better positioned to respond to whatever challenges the future presents.
---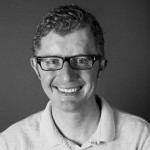 Aaron Bach, Senior Manager of Application Development with Four Winds Interactive, is a product development leader, application designer, architect and client-relations specialist with extensive experience in the full software-development lifecycle. See more about Four Winds Interactive at www.fourwindsinteractive.com.
Author Aaron Bach will be a panelist on the Digital Signage Federation's November "Hangout" discussion entitled, "Implementing Room Scheduling Signage," on Tuesday, November 10 at 2:00pm EST. More information about this and other DSF events can be found on the DSF website. Both DSF members and non-members can join this or any of the DSF's scheduled Hangout conversations for free, but registration is required and can be accessed on the event page of the DSF website at digitalsignagefederation.com/event-2053620.