Learning Studio 125 features six screens and is one of the flagship spaces that drove the technology for the main part of the building.
---
Medical students can learn a lot from a dummy.
The University of Florida (UF) in Gainesville recently opened the new George T. Harrell, M.D., Medical Education Building, which innovatively gets students out of the traditional classroom and into an immersive, collaborative learning experience made possible by multi-system AV integration. Thus, the four floors in the building contain technology-enabled spaces supporting the instruction of medical and health sciences, including task training rooms, standardized patient and manikin simulation spaces, large learning studios, student and faculty spaces, meeting and work rooms, and an experiential theater.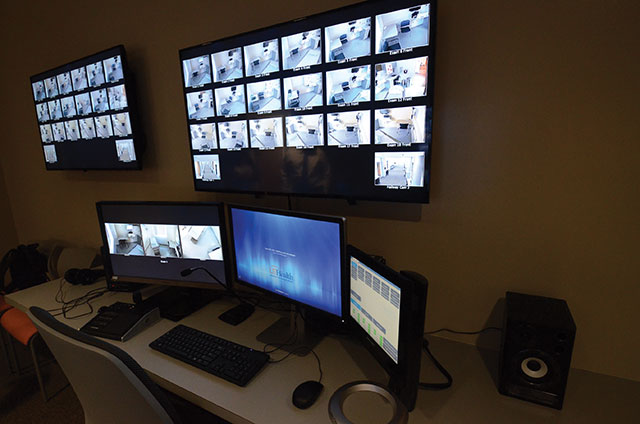 Patient-Centered Approach
The concept for Harrell Hall came after the need for creating a patient-centered approach to medical education. According to a statement from the school appearing on AV integrator LMG's website (www.lmg.net), "Instead of focusing on the academic disciplines of medicine, we ask our students to concentrate on the life systems of our patients that guide so much of their care. We can't take care of patients sitting in lecture halls," said Dr. Good, Dean of the UF College of Medicine. "This is the first time that medical and physician's assistant schools will be housed together."
Several spaces include videoconferencing, lecture capture and livestreaming of classes, events and clinics. The integrator installed complex audiovisual systems designed to help students engage and review life scenarios. "LMG was selected to integrate a world-class environment that influences the choices and actions of the next generation of life-saving physicians and medical practitioners," stated Ross Hancock, Director of Systems Integration. "Throughout the project, our team remained focused on the responsibility to the community that went far beyond the installation of amazing technology by knowing that one day our work could make a difference in the health and wellbeing of a loved one."
[accordion]
[accordion_item title ="Case Study: Projection In Domed Rooms"]
At first glance, it might appear that successful projection coverage from six projectors in rooms 125 and 135 in the new George T. Harrell, M.D., Medical Education Building on the UF Gainesville campus would be doomed in those domed spaces. However, the challenge was successfully met. Here's consultant Travis Seibel of Sextant Group to tell us all about it.
"It was an interesting case with these rooms," said Seibel. "Initially, the architect [Ballinger] saw a space that we had designed for the University of Virginia, where it was a similar type room: a circle shape with five screens. We had the projectors on a single lift. So, all five projectors came out on this one giant disc in the ceiling. It kind of looked like the ending of the movie, Independence Day, when the spaceship came down.
"[The UF medical school] saw that, liked it and wanted to implement that in these rooms. However, it was simply going to cost too much, so that's where we transitioned to the catwalk design. We worked with the architect to get the catwalk laid out right with the projectors. It was a bit of a challenge because we had to pitch the projectors so they were about 7º within azimuth. We felt that it was not going to be noticeable from the seats on the floor."
Seibel mentioned that a lot of time was spent doing sightline studies. "We did a study where we showed a couple of different layouts. We colored the seats based on the quality of the view that a person would have. So, one [layout] had a bunch of red seats and some orange seats and some green seats. That way, the owner could get an idea of the layout of the space and what would be best for viewing images on the screen.
"We spent several months going back and forth with where to position the screens, how to shape the room and the elevation to set the screens so we could get an optimal view of all the screens from all the seats.
"We had round tables on the floor so you have people facing all directions, which was an added challenge. There are a few seats where you are just not going to win, where people face that outside wall. They're just going to have to turn around. However, we got it down to under 6% of the seats having bad views, which was acceptable for everyone."
In summary, Seibel said, "We spent a good amount of time on sightlines, laying out the projectors and the catwalks, and getting the right angles and dimensioning in there. It turned out really good. LMG and their guys in the field did a stellar job of wiring everything up. And the way they laid it out, it looked very professional once it was complete." [/accordion_item]
[/accordion]
Overview
We will highlight AV used in a pair of Learning Studios as a template for other related rooms, and also highlight Education Management Solutions (EMS) AV used in the top floors of the medical center.
We'll include the perspective of Larry Andrews, Director of Engineering, with AV integrator LMG of Orlando FL, along with Travis Seibel, AV Designer/Consultant, with Sextant Group (Decatur GA, www.thesextantgroup.com) and Mike Brookhouser, VP Sales, with EMS (Exton PA, www.ems.com), who will comment on the third- and fourth-floor special AV.
Charles Perry Partners, Inc. (CPPI, www.cppi.com) of Gainesville was the general contractor, and lead architects for the project were Ballinger Architects (Philadelphia PA, www.ballinger-ae.com) and Heery Design (Orlando FL, www.heery.com).
The first floor is comprised of two innovative two-story Learning Studios. These oval, domed spaces somewhat resemble a blimp. They function as a theater-in-the-round in which professors can provide background material and a place for small-group learning, where students can teach one another.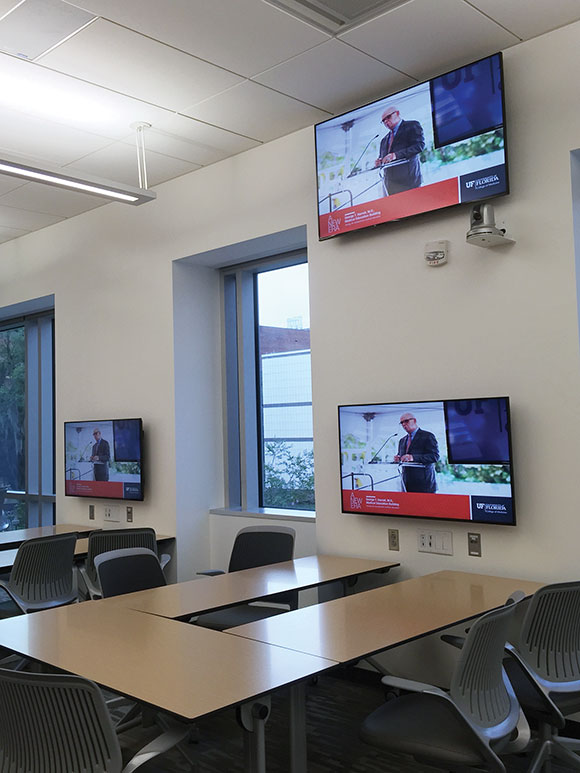 The fourth floor includes the CS Hospital Room and Observation Room, which support the demonstration and practice of nursing, surgeon and other healthcare skills required in a surgical suite through the use of Hi-Fi (high-fidelity) manikins, as well as non-Hi-Fi manikins. These rooms can also be set up as an ICU (intensive care unit) room or Labor, Delivery, Recovery and Postpartum room, and enhanced by a specialized capture and integration system, which was provided by EMS.
'Multiple Areas Of Concern'
"We have multiple areas of concern," said LMG's Andrews. "Rooms 125 and 135 are the first-floor domed Learning Studios. Those are the flagship spaces that drove the whole technology for the main part of the building. The contractor built a whole platform for us to walk up and go through the dome for the cable path."
Regarding challenges, he said that time was a huge factor. "The whole project was pushed. Timelines were pushed and challenged at all aspects from the very beginning. It was close to an eight-month project from start to finish."
Now let's explore the interior of these similar domed rooms, each of which is served by a common control room. The two 4600-square-foot, circular Learning Studios are accessed via Crestron 10.1-inch touchscreens. Several students are seated at 25 tables, with the instructor having the flexibility of moving the podium to the center for in-the-round discussions or anywhere else in the room, as desired. The instructor has a Samsung LED confidence monitor mounted on a cart.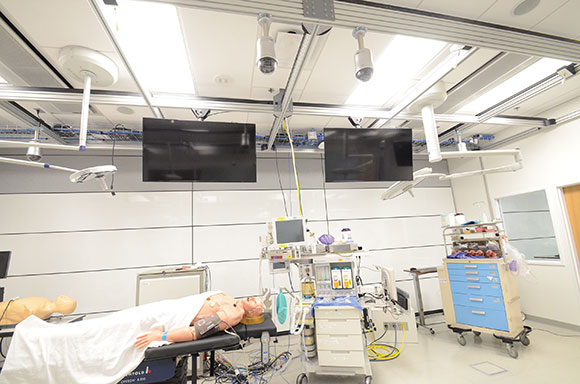 Strategically Placed Monitors
Mounted in the ceiling are six strategically placed 10K Panasonic projectors, which include rigging frames and custom floor stands to direct proper imaging to the screens located on the surrounding wall. The screens were supplied by the electrician during installation. The students and the instructor can input medical images and text into the projectors for discussion from a variety of sources, including a Crestron AirMedia presentation system, Wacom interactive pen display, OPPO Blu-ray disc player and an HDTV tuner. All six screens in both rooms have a dedicated AirMedia, which allows quad views. That's a maximum of 24 images per room on the screens.
Each room has four Panasonic robotic PTZ cameras that are controlled from the adjoining control room. Production is via a Blackmagic Design Studio 4K production switcher. Within the control room, video display is on a Samsung LED display, and sound monitoring is from a Wohler four-channel audio monitor.
Recordings are all scheduled ahead of time. "Recording is done with Cisco SX-80 videoconferencing codecs," said Andrews. "That's managed by the medical center's IT team, who are using managed services from Cisco." Routing is via a Crestron 64×64 fiber router. There's also a Blackmagic 40×40 SDI router. The Cisco SX80 codecs are found in other rooms for videoconferencing.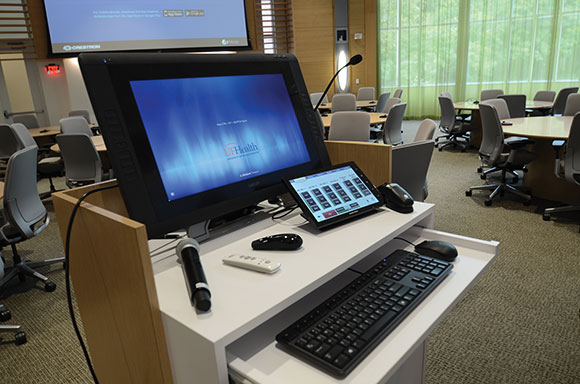 On the audio side, DSP is via Biamp Tesira. Shure mics in 125/135 include four SM58 wireless in addition to four goosenecks and four lavaliers. And there are 54 Clockaudio boundary mics on the student tables for maximum response pickup. Even speaker coverage is assured via four Tannoy self-powered steerable column arrays with subwoofers. Listen Technologies supplied the assistive listening system.
Mobile Station Cart
In addition to the control room, onsite technicians can roll a mobile station cart into the learning studio to assist the instructor in studio and/or in recording. The cart has a camera controller and a touchpanel to control the system. There's an LCD monitor, stereo headphones and an audio monitor. Mobile tech stations are provided in other rooms, as well.
"The racks are actually in an IT closet behind the control room," said Andrews, adding, "There are four large equipment racks just to handle these two large rooms."
The Extreme Networks network switch is an indication of the huge set of connections within the building. "We've built a massive network comprised of many layers," said Andrews. "That's one of the most fascinating things about this project from a technical standpoint. There are five networks throughout this building. Some are for the college and then there are several AV networks that are private.
"Behind the main networks, there are an estimated 200 to 250 devices that had to be set up on multiple networks between the AirMedia, Crestron touchpanel, Crestron processors, cameras and televisions that were all network based. It was one giant puzzle between our engineering team and the university's IT staff. The key is getting all of the addresses and getting all these networks to talk to one another and being secure."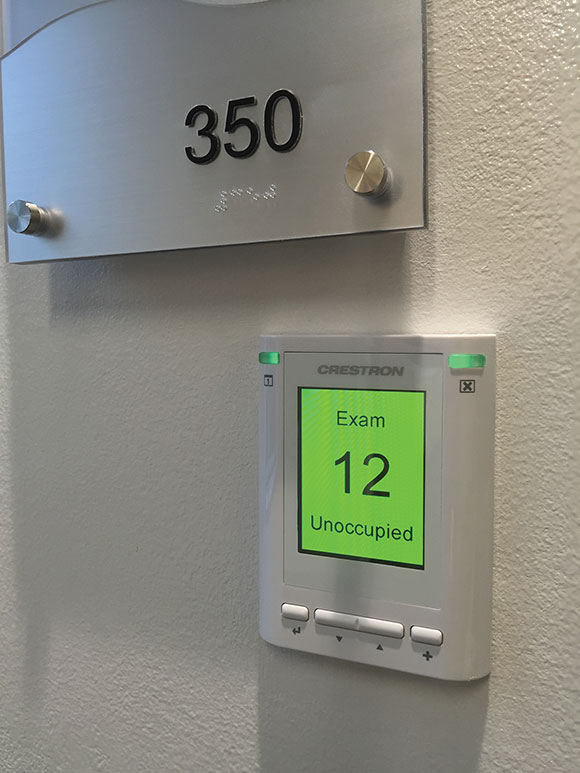 Other Rooms
There are various other classrooms and huddle rooms, which are beyond the scope of our discussion here. However, two other spaces worthy of mention because of their interesting functions include a divisible classroom on the second floor that, when combined, seats 80 people. It can be divided into two 40-person rooms. Each room is equipped with videoconferencing.
The experiential learning theater on the fourth floor can be configured to represent hundreds of simulated scenarios to help bring clinical situations to life and teach new and complicated, high-risk skills to students, residents and healthcare professionals. This large divisible space can have up to eight bays with a mobile medical wall for manikins where cameras, mics and monitors can be moved around and events can be recorded.
"Our role was as a consultant to the architect and the owner," explained AV designer Travis Seibel. "So we were heavily involved in the building design, infrastructure design for the building, and then we did the systems design. Larry's [Andrews] company, LMG, did all the integration. We were involved in the project from start to finish, throughout construction administration to our final going through all the systems and verifying that things were done as intended. And, we coordinated EMS involvement."
Eager Learners
"Using the dedicated AirMedia screen, you can put the room into active learning mode," explained Seibel. "Then groups around the tables can send content to the projectors without attaching cables. It was real fun when I walked into one room as I was testing the systems out. There were students everywhere. I turned the system on, and before I could even send something to one of the screens, one group of students had already done that. The students just take on these things quickly, faster than the instructors in many cases" (see sidebar, "Case Study: Projection in Domed Rooms").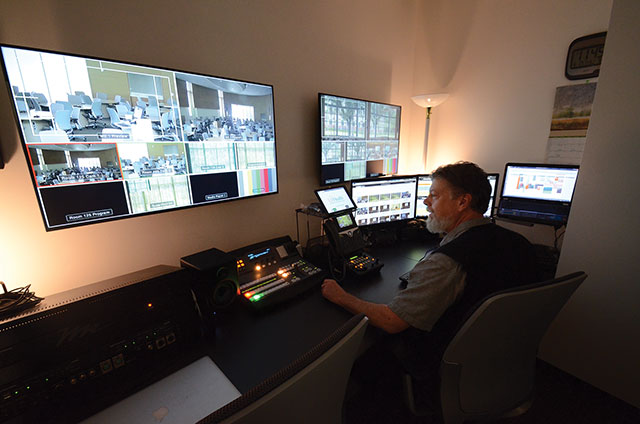 However, the screens all input from other sources. In addition to those aforementioned in the integrator perspective, Seibel noted that "Students may be using Google Chromebox or PowerPoint, for example. Images can be put up on the screen using a laptop to change or add images and [they can] put up information to complete a project that has been assigned to them. Instead of doing projects individually in the dorm, they do it now in groups with the classroom."
Simulation
EMS provided onsite training and customer support for both hardware and software installed on the third and fourth floors of the Harrell building. EMS involvement included integration with the Hi-Fi simulators/manikins, as well as LDAP (Lightweight Directory Access Protocol) integration and paging. LMG installed all the hardware associated with EMS' AV software on the earlier-mentioned third and fourth floors, which included the anesthesia and the simulation rooms.
Brookhouser clarified the EMS and LMG roles: "LMG had the task of installing the equipment," he affirmed. "My engineer, Jeff Mosiniak, and I designed the EMS system required for the University of Florida Simulation Center. We recommended the cameras, microphones and other AV. The Sextant Group was involved as consultants for the overall design for the center."
The two EMS medical student training areas are the team training environment featuring manikins, and another facet featuring real-life, standardized patient encounters with actors posing as patients.
On the manikin side, EMS' Brookhouser explained that multiple students work in different roles in different medical scenarios. "The manikins are computers with someone in the room controlling them," he said. "They do different things like produce pulse rate and breathing sounds. They blink." These simulated human reactions are fed to a simulated monitor. "It's similar to if you were in the ICU, hooked up with different leads. There's a similar monitor that records all your vital signs."
Brookhouser continued, "We capture that video, which is linked with cameras in the room. So, if anything happens like a pulse drop, you can see how quickly your learners are going to react. That's something you're trying to evaluate. We're taking the video feeds from all the cameras and also the video feed from the manikin."
Real Actors, Realistic Sound
Here's where they have fun using ambience and actors' voices for realistic sound effects. "There's also a system where you can play background noises," added Sextant Group's Seibel. "They will record paging and hospital sounds that you'd typically hear over the speakers.
"In addition, local actors come in and make sounds for the manikin. Although the simulator comes with a built-in speaker in its throat and makes sounds as if it's choking, it may not sound real enough. So [the medical center] will have a real person make gurgling and choking sounds. It's pretty amusing to watch sometimes."
Now onto another facet of simulation. Remote learning is a technique where another group of students watches videos in a lecture hall or a conference room with the instructor critiquing various procedures. "What's typical is that, after a scenario is over, the group that participated would go to a conference room and pull up the video," said Brookhouser. "Whoever is moderating the 'debriefing' would [use our software] to jump to different bookmarked points in the video for critiquing."
AV equipment in the simulation room would be a similar build to the other rooms with the exception of the Clockaudio mics, which are ceiling mounted here. However, control room equipment varies, depending on the application (see the accompanying equipment list).
Live 'Simulated Patient'
So far, we've been discussing the Hi-Fi simulator. However, there's also a live "simulated patient" part of the clinical skills program. The standardized patient is an actor trained to simulate symptoms and health problems to help students master their communication and interactive skills. In fact, the University of Florida was one of the first medical schools in the country to use a standardized patient.
However, the pretend patient need not be a pro. This is not a steppingstone to Broadway. (For that, you have to suffer, suffer, suffer.) The standardized patient actor would be trained by the University of Florida. "A lot of times it's a retired person or someone wanting extra income," explained Brookhouser.
The simulated doctor visits typically involve a group of eight students who go through different patient encounters. Thus, each room has a different actor discussing symptoms. "The students have a specific amount of time to do the encounter," explained Brookhouser. "Afterward, they type up their notes and the actor evaluates them with a yes or no questionnaire."
Here are the EMS AV features of the encounters: "With the clinical skills exams where they go from room to room, the important part of managing is making sure it flows," declared Brookhouser. "In our system, our software talks with the DSP. It provides a paging system that walks the student through the entire process. So, you have your students start in front of the first room, then our software paging system tells them they can enter the room.
"Everybody should be doing exactly what they should be doing. There's a specific time set aside for each one of the activities. For example, you have 10 minutes to do your post-encounter and evaluation. Then you move to the next room."
EMS provided the LDAP integration, which is essential for internal communication. "It allows our system to talk to the campus' database," Brookhouser pointed out. "We use the same user name and password they use. So, if we have an active directory or an LPAD system, we integrate with the campus network."
Specifically: "The student can log in. The standardized patient/actor can log in. Faculty can log in. The administration can log in. They each have their own user name and password."