Over the years, I have collected a technical library of around 200 books about audio and acoustics, and it's my ambition to read them all one day! Some are quite specialized ones that I only need to refer to occasionally and others are slightly more general. In reality, I probably only use about 10 of the books on a regular basis; these are the "go to" books to check formulas, sound absorption and acoustic transmission data, weighting coefficients or recommended reverberation times and the like.
Then there are others that provide the general background to the subject. Whereas these days it is easy to look up information on the web, this approach is fine if you know what you are looking for or just need a simple answer. But to my mind, you can't beat a book to provide the overview and detail that I am often looking for. Equally, I can sit and read a book at my leisure and in almost any environment. If necessary, I can copy pages and write notes on them.
So, to me, books are an important part of both my professional and home lives, and I am always on the lookout for new ones. I am currently working on a multipurpose music room; the building it is in was built in 1865 and has quite a lot of baggage with it, including a prestigious concert hall next door. The problem with multipurpose rooms is that they often try to be "all things to all men" and often fail dismally in doing anything well…acoustically speaking, that is.
I have designed the sound systems for many multipurpose spaces but, to many acousticians, "multipurpose" means that they need (or rather want) to design the space for orchestral music on the basis that the sound system can sort everything else out! No it can't, but that's a discussion for another time. Unfortunately, many acousticians only seem to know about acoustics for orchestral music (and often symphonic music at that), and concentrate on optimizing the space for this, to the detriment of all other uses.
I have some fairly strong views about the correct acoustics for a multipurpose hall. The first thing to do is to establish what the hall will be used for, and for how much of the time. I then find out what events will be bringing in the most income, because it seems quite daft to me to design the acoustics for a function that will account for only 10% of the program and typically only 5% of the income. To my simplistic mind, it is better to design for the majority of the uses and paying events, and compromise, if necessary, on the minority program needs and uses.
Imagine my delight, therefore, when I came across a book, published just this year, dedicated to the design of multipurpose halls. Acoustics of Multi-Use Performing Arts Centers (CRC Press) was written by Mark Holden, a partner in Jaffe Holden Acoustics, one of the leading consulting firms in the US that deal with auditorium acoustics. One of the great things I like about the book is that it has a very readable style and practical approach that makes it accessible to both the acoustics and audio fraternity, as well as venue owners and operators.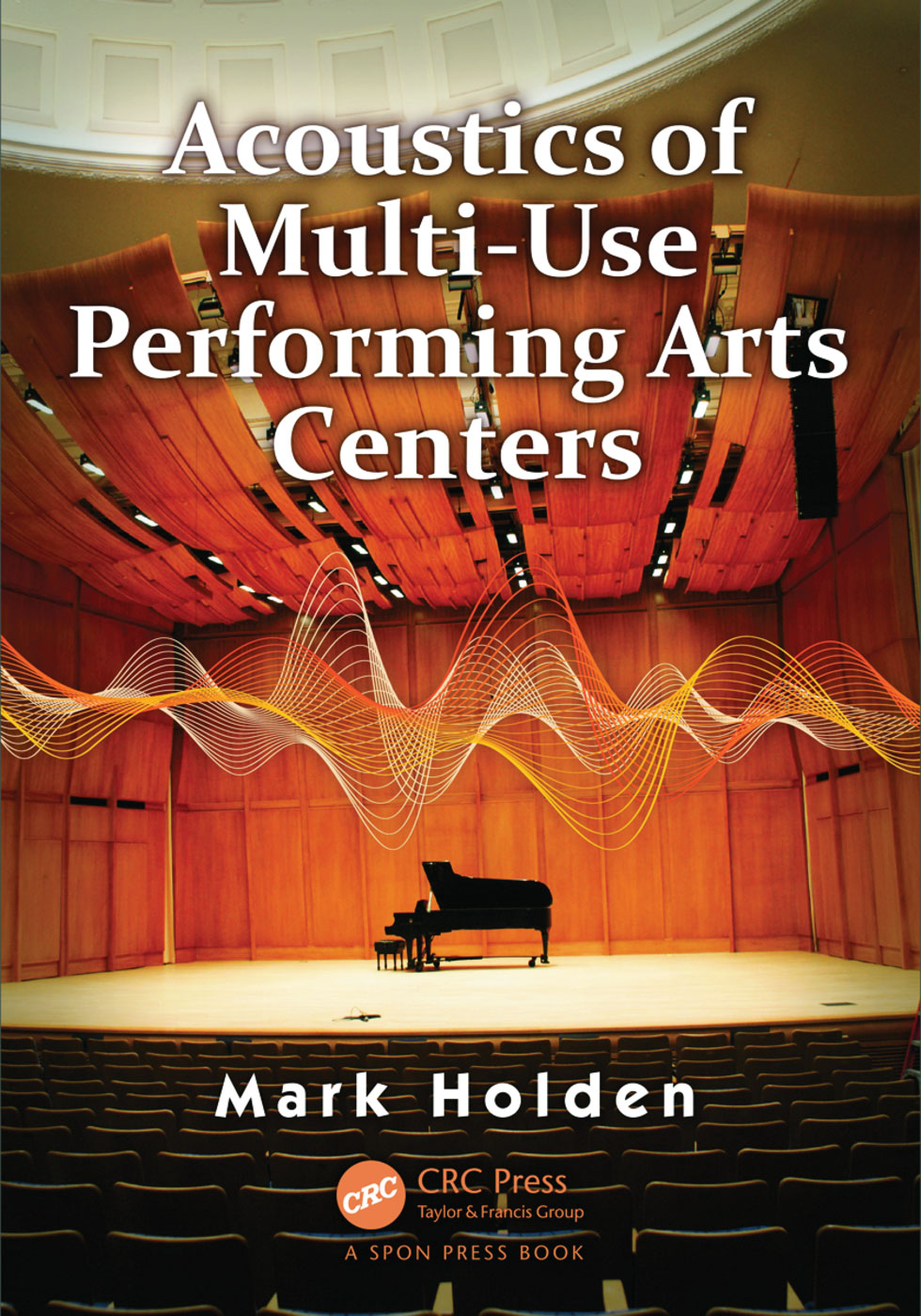 It is a very practical book that not only discusses the requirements of a hall, but also goes right through the process of building a new hall or renovating an old one. The described approach draws heavily on Mark Holden's vast experience and provides a number of case studies to show "how it was done." For anyone involved in the design of systems for an auditorium or operation of a venue (and not just a multipurpose space, but halls in general), this is a must-read book.
It is split into five main sections:
Building Blocks discusses the history of multipurpose halls and the requirements for good acoustics.
Creating the Building discusses how to convert the acoustic requirements into a real building. This chapter contains two great sections on myths and misconceptions relating to new halls and renovations.
Architectural Details discusses the required shaping of the walls and ceiling, as well as the acoustic design of the stage and the seating. Again, each subsection concludes with a series of myths and misconceptions that are worth buying the book for alone.
Measuring Results is an interesting section that few other books cover. It deals nicely with the use of adjustable acoustic systems, such as banners and fabrics, and also electronic architecture systems, a concept and technology that Jaffe Holden has been at the forefront of for many years, providing considerable impetus to acceptance of this approach and the success of modern systems. The final part of the section deals with tuning the hall, and brings together many of the previously discussed ideas and requirements. Again, the topics are rounded off with an excellent section on myths and misconceptions.
Case Studies, the final section, presents a series of 11 case studies that really bring to life the background ideas and, again, make the book such a practical asset.
The book is summarized very nicely by two of the fly-cover reviews. The first, from David Finckel, an Artistic Director at Lincoln Center in New York City, states, "Finally, institutions and arts leaders have a time-tested, transparent resource which can guide them through the turbulent, mysterious waters of performance hall design and construction. This brilliant book should be in the hands of anyone interested in the successful creation of a useful, sustainable, high-quality venue."
The second, from Bill Cavanaugh, a veteran US consultant, comments, "A long-needed book of extraordinary value for all concerned with the programming, design, construction and, most importantly, the use of performing arts facilities. This is a must-buy for the libraries of musicians, architects, engineers, consultants and facility managers." I couldn't have put it better myself, Bill.
So, if you work in, design or operate systems for multipurpose venues, this might be just the book you are looking for if you want to understand a little more about those pesky acoustics that often come to plague us.