A 75-inch display in one of the newly renovated Grand Villa suites takes its content in through the headend, the same one that feeds the sports book's huge screens, from a total of 77 satellite, cable and hotel-marketing feeds.
Red Rock's Resort AV amenities integrate old and new.
In Las Vegas, the ultimate aspiration is to be an insider. The Red Rock Resort, built in 2006, is considered the ultimate insider destination. In fact, it's so inside, it's outside: 18 miles off the Strip in suburban Summerlin, Red Rock was the first off-Strip billion-dollar casino resort property in the US, and it feels like it. It features 26 extravagant suites, the smallest of which are more than 1000 square feet, with a dining area, wet bar and living room, on up to the crown jewel, the 6500-square-foot One-Eighty Suite, which includes an enormous rooftop patio with outdoor spa and spectacular views of the city and the canyon. It has maintained its AAA Four Diamond rating since its opening, and was named one of the world's best new hotels by Conde Nast Traveler magazine.
Needed A Refresh
But even this kind of luxury eventually needs a refresh, and the Red Rock Resort has just completed a $35 million renovation, including the spa and other public spaces, as well as the addition of four new restaurants.
Those who find their way into Red Rock's suites will find AV amenities such as Crestron DigitalMedia video distribution to multiple Samsung 55- and 75-inch high-definition LED displays, and the largest, a Sharp 90-inch display, via 8×8 or 16×16 DM switchers (depending on the size of the suite), plus a Crestron Sonnex multiroom audio distribution system, ensuring that guests can send any video or audio source to any room they choose, as well as Crestron's InfiniNET control modules for the existing Lutron lighting in the suites.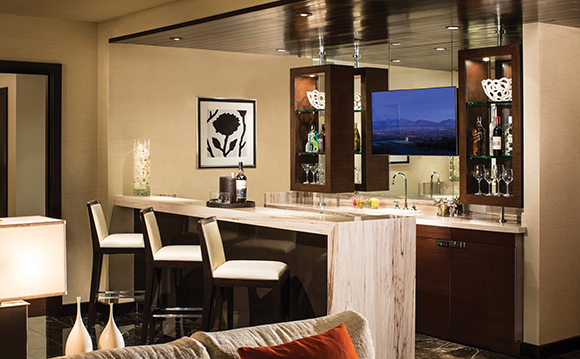 Underscoring how much hotel AV culture has changed since the resort was built nine years ago, the typical hospitality-centric video content that usually is found on free and pay channels in hotels is augmented here with Crestron iPod docks and Crestron DM-TX 401-C interfaces, which provide connectivity to VIP guests' own video and audio content from their phones, tablets and laptops.
"We were asked to upgrade all of the audio and video, and create new automation standards for the climate, lighting, shading and other key systems," said H Waldman, Chief Operating Officer at National Technology Associates (NTA, www.ntechassoc.com), the AV systems integrator on the renovation project, and a services vendor to Station Casinos, which owns 10 hotels and casinos, as well as nine smaller casinos, including the Red Rock Resort, its flagship property. The decision to reuse existing Cat5 cabling was to avoid the expense and delay of cutting into walls or ceilings, he said; Waldman estimates that 95% of the cabling used in the renovation was already there, with much of that freed up when the resort moved guest internet access to a new WiFi network.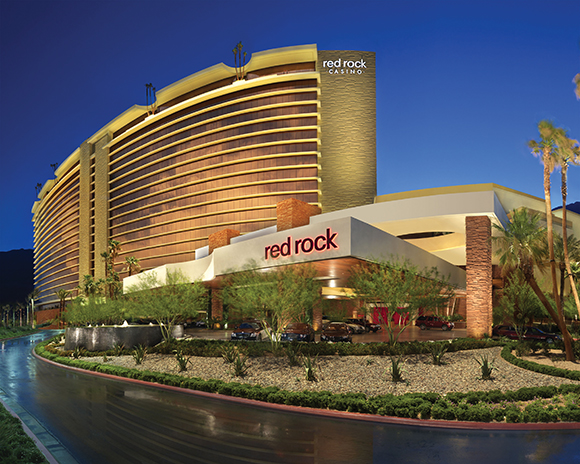 Old And New
According to Waldman, one challenge on the hotel side was pairing new and old control systems, including the existing Lutron HomeWorks lighting control and HVAC control systems, with the Crestron InfiniNET system. "You have two control systems running in parallel, and the trick is finding the codes for the older systems, then matching them to the new control system," he explained. Combined with the blackout/drape automation, it became a lengthy and tedious process, he recalled. "The thing is that, going in, you don't know what you don't know, so that's what you first have to figure out. Then, you need to match the programming between old and new." NTA crews discovered that, in some cases, multiple rooms were connected to a single lighting control junction, which required extreme caution to keep suites that were still in service uninterrupted and fully operational during the upgrades.
However, this complication was mitigated somewhat by the fact that there was virtually no conduit to install or wires to pull, with all of the new control and other systems able to ride on the existing cabling. This, said Waldman, saved at least 40% of the overall cost of a project like this. In addition, it enabled them to complete most of the hotel-side work before the FFE (Furniture, Fixtures and Equipment) teams began their work of refreshing the hotel rooms aesthetically.
Systems Interactivity
The Crestron control systems were chosen in part because they can interact with some of the key hotel-ecosystem platforms, such as the Axxess Industries do-not-disturb and doorbell systems and a new IPTV system from Allin Interactive, which provides access via the TVs to movies, room service, restaurant reservations, event ticketing, messaging and airline flight information.

NTA developed a custom Crestron module to interface between the dedicated lodging management systems (LMS) used by the hotel and the Allin Interactive room-entertainment system, allowing a simple, intuitive user interface for guests. "Axxess has already built a Crestron infiNET EX module into their product, so it was very simple for us to include the interface," Waldman said. Guests control all of these systems from multiple Apple iPads and Crestron MTX-3 handheld remotes, all of which are tied into a Crestron 3-Series control system installed in each suite. "This was much more a matter of programming than it was of installation," he noted. "The Crestron system has been rock solid, even where it interfaces with the Allin system and other existing systems."
But the big story for Red Rock's AV starts at the other end of the property, both because it was about to host the largest 2.5mm-pitch displays in North America and because it's also the location of the AV headend for the entire resort: Content that comes in from 77 satellite, cable and hotel-marketing feeds is managed using an Evertz 96×32 3G/HD/SD-SDI video router and an AMX 64×64 audio matrix mounted in five Middle Atlantic racks located back of house. But much of that content is also distributed to other locations on the property, including the casino, sports bars, restaurants and the lobby. The content is distributed by an IPTV system via existing fiber cabling out of the sports book to several IDF closets on the property, and then onto existing Cat5e cable for local distribution.
Outside of the sports book, most of the existing video screens and speakers are still in place, and new STBs were installed at existing displays providing digital HD picture quality. The same goes for the cabling in the suites and hotel rooms, though the televisions there were new. "The idea of brand-new cabling is nice, but it's cost prohibitive on this scale," said Waldman.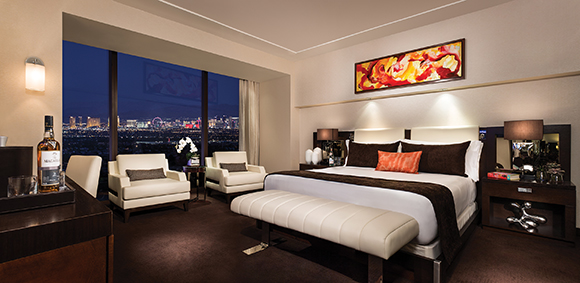 Three towering video screens dominate the large book. Since it originally opened, each of these had been illuminated from behind by six high-powered video projectors, three on top and three on the bottom, all edge blended together. "It could get pretty hot back there," observed Waldman. "The projectors were getting old and edge blending is harder to maintain over time. These needed to be replaced."
The solution entailed replacing the rear projection approach with three huge LED videowalls, each one 31½ feet wide by 17 feet tall, for more than 1600 square feet of display surface. The NanoLumens videowalls, which have a 2.5mm-pitch resolution (reasonably able to be deemed cost-effective state of the art because, although values such as 1.9mm are currently attainable, they'd be prohibitively expensive at this scale and provide little additional usable resolution) fill in the cavities previously occupied by rear-projection screens.
The difference in brightness was apparent immediately, and Waldman pointed out that the new videowall screens are only running at 10% to 15% of their maximum brightness capability. Echoing that, Doug Fundator, NanoLumens' Vice President for Gaming/Casinos, said, "To get this kind of resolution and brightness at this scale using projection, you'd get a suntan from it," noting the lower cooling and power costs associated with LED, and adding that the 3840×2112 native resolution of the displays readies the book for 4K and beyond.
The replacement of the sports book's video was a major undertaking, though it fortunately took place during the slowest season in sports, with only MLB and horseracing to bet on. "The critical thing was to make sure that the sports book stayed up and running the entire time," said Waldman. "This is a hotel and casino in Las Vegas, and it can't have any down time."
The walls were assembled onsite, with NTA working with rigging subcontractors In-House Productions in a week-at-a-time ballet that saw a masking curtain go up over one projection screen while the other two remained illuminated, keeping the book up and running.
Working behind the curtain, crews disassembled the projectors and screens. They built the videowalls up from below and slightly back from what would be their ultimate position, in order to access them front and back, before swinging them into place, with a scrolling ticker-type 6mm pitch display mounted at the base of each videowall. Overall control of the displays is via the Crestron PRO3 platform, accessed through a Crestron V-Panel 12-inch HD touchscreen.
At a time when Las Vegas books have to cover more sporting events than ever, the ability of the videowalls to be configured to display multiple video streams gives Red Rock's book some useful aesthetic flexibility, as well as offering some practical advantages, such as no projection lamps to maintain. But this is Las Vegas, and pragmatism easily gives way to the never-ending search for the spectacular.
Fundator said that Stations Casinos was ready to go for the 4mm displays that were available two years ago, as the renovation was being planned but, as time went on and resolutions sharpened, they were eager to keep the book at the bleeding edge. "We did a side-by-side comparison between 4mm and 2.5mm, and the 2.5 was just astounding," he said, adding that the higher cost of the higher resolution will be offset over time by the economies of LED.
A Station Casinos spokesperson agreed, commenting, "This allows Red Rock Race & Sports Book to be ready for 4K when that content becomes more readily available. We're not going to have to worry about upgrading for at least another five years, and the pixel warranty is longer than that. We are more limited by the video source than the LED displays."
The hotel business is changing, compelled on all sides by the deepening of BYOD into the larger culture on the technical front, with iPads and iPhones challenging old content revenue models, and by even deeper disrupters such as AirBnB and other social-sharing platforms. What hotels can do in response is what they're really best at: creating an experience that you can't get at home.
[accordion]
[accordion_item title ="Equipment List"]
Download
[row]
[col width="six"]
SportsBook
1 AMX FGP44-6464-007 Octaire 64×64 stereo audio matrix switcher
1 BSS BLU800 existing DSP processor
2 COX Cable Explorer HD cable receivers
1 Crestron 3-Series control system
1 Crestron SWAMP-24×8 Sonnex multi-room audio distribution system
20 Crestron HD-DA-2-QUAD quad 1-to-2 HDMI distribution amps
2 Crestron PRO3 3 Series control processors
2 Crestron TPMC-V12-TILT-B V-Panel integrated 12" HD touchscreens
2 Crestron MTX-3 handheld remotes
Crestron DM-TX 401-C interfaces
Crestron iPod docks
Crestron CLW-LDIMEX InfiniNET lighting control modules (each suite)
40 DTV H25 HD satellite receivers
45 Evertz 2432TX-2 dual-path dual-link DVI to serial digital converters
1 Evertz XE8-3232-3G-XLINK+2PS 96×32 3G/HD/SD-SDI video router w/3 Xlink outputs
3 Evertz XE-IP32-3G 32 3Gb/s inputs
1 Evertz XE-OP32-32 32 3Gb/s output w/reclocking
1 Evertz XE-FC redundant frame control module
6 Evertz 7867VIPA16-DUO-RGBR-DIN+3RU 16-input multi-image display modules, RGB/DVI
6 Evertz 7867VIPX-RP2 rear plates for 7867VIPX
2 Evertz 7800FR-QT+78PQT Quiet Frames w/intelligent front fan cooling
3 Evertz XLINK-BHPS-5 5m split X-Link cables
5 Middle Atlantic BRG4532 equipment racks
3 NanoLumens Nano-2.5 2.5mm LED walls, 17'5"Hx31'7"W
1 NanoLumens 6MMS 6.0mm LED ticker, 1'Hx94½'W
1 RackMountmart LCD1U17-31 17' 1920×1080 rackmount LCD keyboard, mouse, w/KVM
24 Roberts Comm/Dish Horse Race Receivers
1 Superlogics custom NUC Mini PC for C-Scape stream
21 Superlogics custom NUC Mini PCs for Custom Odds System
[/col]
[col width="six"]
Suites
42 Chief MSTU medium thinstall wall mounts
21 Chief PAC511 in-wall back boxes
52 Chief PAC526 in-wall back boxes
31 Chief PAC526F-Kit flange kits, black
19 Chief TS325TU medium wall mounts
26 Chief TS-525TU articulating mounts
80 Crestron C2N-iO control port expansion modules
1 Crestron CEN-Cl3-3 card interface, 3-slots
19 Crestron HD-Scaler VGA scalers
2 Crestron INET-IOEX-RYIO wireless relays
7 Leon HzOTO sound bars
4 Leon PrUT-MC side-mount LCRs
7 Leon Hz-UMB-UT speaker brackets
4 Leon PrSMB speaker brackets
6 Leon custom grilles
30 Monitor Audio A40 Apex Series speakers
3 Monitor Audio R225 2-way full-range plasma speakers
19 Peerless ACC-450 adapter plates, F/FPS-1000 Vesa 200×200
1 Peerless SF680 display mount
13 Samsung HG26NA477PF 26'' direct-lit hospitality LED HDTVs
22 Samsung HG46NB890 46'' edge-lit hospitality LED HDTVs
51 Samsung HG55NB890 55'' edge-lit ultra-thin LED hospitality TVs
2 Samsung UN40H6400 40'' 3D LED 1080p smart HDTVs
2 Samsung UN48H6400 48'' 3D LED 1080p 120Hz smart TVs
26 Samsung UN75H7150AF 75'' ultra-slim 1080p LED HDTVs
1 Sharp LC-90LE657U 90'' LED LCD smart display
List is edited from information supplied by National Technology Associates.
[/col]
[/row]
[/accordion_item]
[/accordion]