Falls Creek Baptist Assembly, located in Oklahoma's picturesque Arbuckle Mountains, is the ultimate religious nature retreat. Established in 1917 by the Baptist General Convention of Oklahoma (BGCO), Falls Creek occupies a 300-plus-acre parcel of land in Davis OK that is practically its own municipality, complete with roads and a water treatment plant. It is home to a 7000-seat enclosed tabernacle building, a 6000-seat amphitheater, more than 100 cabins, a hotel and a host of administrative buildings, as well as numerous recreational facilities and an expanse of untamed mountain terrain that's perfect for hiking. The camp is well known in the Oklahoma area, and its leadership boasts some notable alumni, including current US Senator James Lankford, who served as Falls Creek's Program Director from 1996 to 2009.

Falls Creek is one of the largest, if not the largest, Christian youth encampments in the United States, with roughly 50,000 young people attending its eight-week youth program each summer. When the youth camp is not in session, the camp is host to religious conferences and retreats that are open to worshippers from various Christian denominations. In short, it is a place where people of faith can commune with nature as they reflect on the wonders of creation.
Conference Center/Storm Shelter
However, as Oklahomans in particular are aware, Mother Nature is not always peaceful. The state is often hit hard by tornadoes, and after tragedy struck Moore OK in the form of an F5 tornado that destroyed several homes and an elementary school in 2013, Falls Creek's leadership decided to make an important addition to the camp: the Mathena Family Event Center, an AVL-equipped conference and worship center that doubles as a storm shelter.
Construction on the Mathena Center began in August 2014. Tulsa OK-based TES Productions was tasked with designing the AV system for the new facility and was involved in the project from the early stages of construction. Don Worley, TES Productions' Director of Equipment Sales and Installations, explained the concept behind the facility. "When the elementary school was hit in the Moore tornado, that kind of changed the dynamics in Oklahoma about how people deal with public facilities and storm shelters," he said. "So, Falls Creek decided to build a monolithic dome storm shelter that would be able to withstand a direct hit from an F5 tornado. They wanted something that they could, in an emergency, move 6000-plus people into temporarily and still host events." The bulk of the funds for construction of the Mathena Center were donated by oil field drilling equipment magnate Harold Mathena.
With the completion of the Mathena Center in March 2016, Falls Creek attendees now have little to fear from the region's most extreme weather conditions despite the camp's relative isolation. "The camp sits about an hour south of Oklahoma City in an area that's the starting point for a lot of tornadoes; they tend to form in the southwest and move toward the northeast. Moore, which is also on the south side of Oklahoma City, has been hit several times, and Falls Creek has had some close calls over the years," said Worley. "They've also had some wildfire issues, but because the Mathena Center is a completely concrete storm shelter, it's also firesafe. And the building has encapsulated power systems so, in the event they were to lose power, it's very easy for them to reconnect via portable generator."
Multipurpose Layout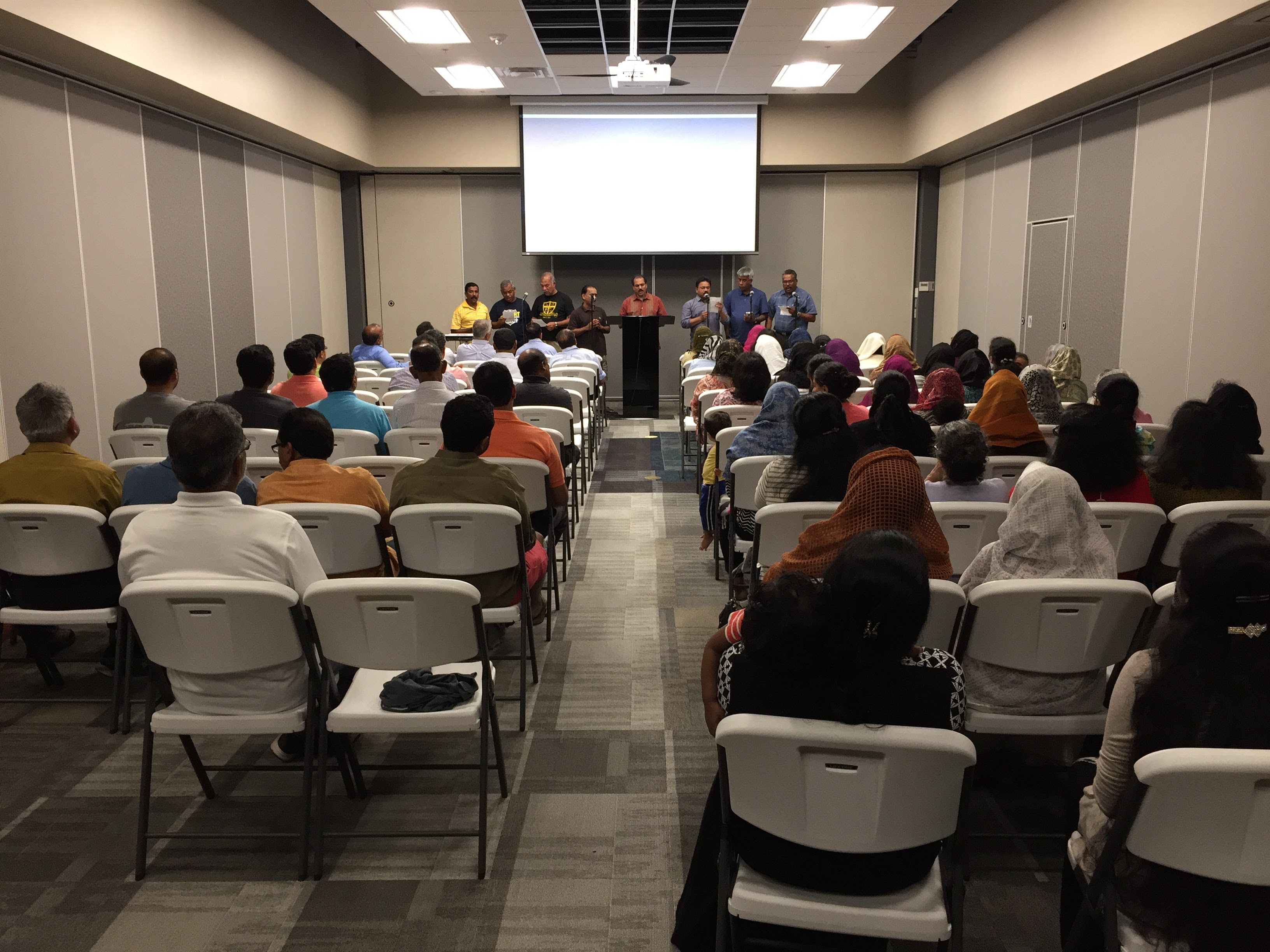 Although a monolithic concrete dome may not immediately spring to mind when imagining a worship space, the Mathena Center is well equipped to host a wide variety of faith-focused events thanks to the AV system designed by Worley's team, and the facility's multipurpose layout. The venue features a main seating area with a stage for speakers and performers, as well as several versatile breakout spaces designed for small group work.
According to Scott Phillips, BGCO's Operations Team Leader, Falls Creek leadership had three main concerns when it came to the AV system design. "One was that the building affords particular challenges because of the sound dynamics. The second thing was that we had a lot of multifunctional needs. The third thing was that we required an integrator who understands who we are and how we operate. We'll celebrate Falls Creek's 100th anniversary this year, so we have a long history, and understanding who we are and how we do things was essential for a successful AV design for the facility. One of the reasons is that it's tempting to treat Falls Creek like a church, but it's not a church exactly. It's more like a conference center where we do a lot of other things. And so, you can't just take that singular viewpoint."
Fortunately for Falls Creek, they had Don Worley and TES to turn to. Worley's relationship with Falls Creek goes back almost two decades, and he's had a hand in more than a few major AV projects at the camp. "About 15 years or so ago, I was working for another company, and we had a contract with them to run sound during the summers in their old open-air, outdoor tabernacle, which they had held services in for 80 or 90 years," Worley recalled. "Around that time, they started working on building the 7000-seat indoor tabernacle building, and I became involved in helping them design that facility."
'Understands Our Vibe'
"There are few people in this world who could have solved this problem for us as well as Don Worley," said Phillips. "The reason why is that Don has worked with us for years down at the camp. He understands our vibe, he understands what we're going for, and he knows who we are." And, according to Phillips, TES' proficiency in designing breakout rooms for other venues was a big point in their favor. "As a company, TES has dealt with this problem in convention centers around the United States," he explained. "Every group that hosts an event wants a main stage and then breakout rooms where speakers can come in and plug in their laptops and a microphone and do a presentation trouble-free, and have it be automatic. TES solves that problem every weekend."
Worley's experience running the sound system in the outdoor tabernacle and assisting in the design of the indoor tabernacle building gave him an intimate understanding of Falls Creek's unique approach to worship and evangelism, and he and his team at TES were well prepared to put together a system that could handle the multifunctional nature of the Mathena Center.
"The facility itself has lots of functionality to it," said Worley. "Half of the building is a large meeting space that seats in the 600- to 700-person range with a concrete permanent stage at one end. The other half of the building has two levels of hotel-style ballroom breakout rooms that can be divided into 12 total breakout rooms. They can also open up all the breakout rooms and accommodate about 2000 people in an event setting where they're all facing the stage. The facility also acts as a dining hall with a full-service kitchen that can serve about 1000 to 1500 people."
Facility For Hire
In addition to the flexible nature of the space itself, the Mathena Center hosts a wide array of events throughout the year. "It's a facility for hire, so it's not that there's a particular church there every week," said Worley. "It's open to whoever wants to come in and use the facility."
To put the various uses of the Mathena Center in perspective, Phillips broke down how the facility is used during youth camp season and how that differs from conference season.
"During camp season, the Mathena Event Center hosts teaching and breakout sessions throughout the day," he explained. "In the morning, we break up the high school and middle school students into different worship and teaching groups. The middle school students go to the Mathena Family Event Center for the morning teaching session. Typically, we'll have multiple speakers who take turns speaking at the beginning, and then we'll have the worship team, which is a typical multipiece band just like you would see anywhere: bass, a couple of electric guitars, a drummer or two, keyboards, vocalists, and they'll play fairly contemporary music. In the afternoon, there'll be breakout sessions, as well. And then upstairs, on the mezzanine level, is where we feed our staff. So we'll feed 200 to 250 people three meals a day while everything else is going on."
"During conference season, it's very much a self-contained facility," Phillips added. "Groups of up to 1500 can come and use the facility, and they can also dine in the same facility. Thus, they don't have to go to other buildings on the campground, which is especially nice during the winter. The building is actually physically attached to our hotel, so our guests are able to move from the hotel to the Mathena Center quite easily."
Although the multipurpose nature of the Mathena Center presented some challenges for TES, other aspects of the installation were fairly straightforward. For instance, the 32'x16′ main stage is a typical setup, with left and right flown line arrays and a large, central projection screen. An Eiki LCHDT2000 15,000 lumen projector fires on the 11¼'x20′ Draper StageScreen. To allow for maximum flexibility, the seating in the main stage area is not fixed.
Main Stage Sound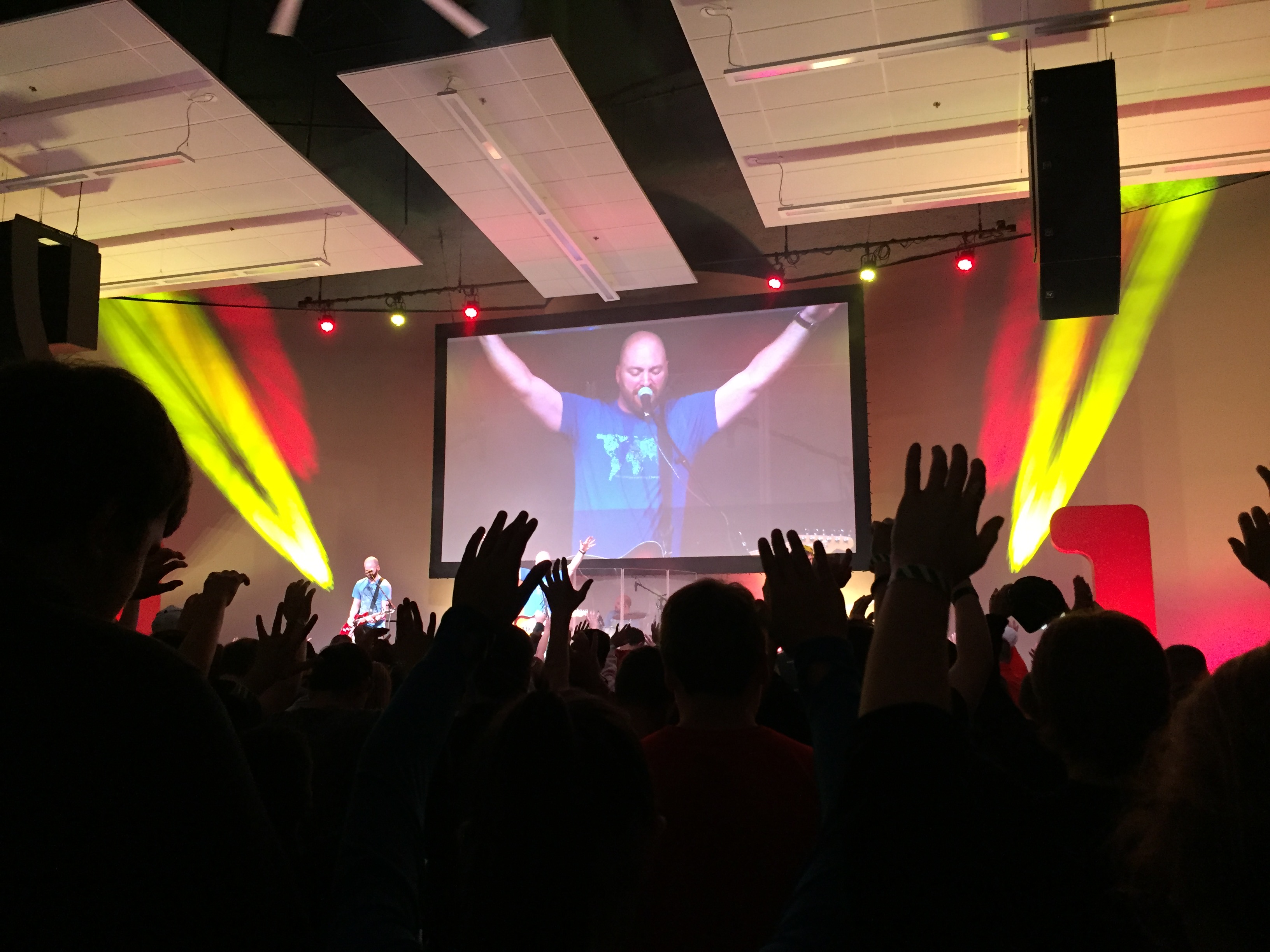 The line arrays are comprised of Electro-Voice EVA speakers and subs. "We put a line array on either side of the stage to give us some coverage for music," said Worley. "Each array has dual subs and four tops on each side, and that covered that large meeting area pretty well. We had really good luck with the Electro-Voice EVA series array because their rigging components allow you to double stack the subs behind the line arrays as one unit, and it helped us save ceiling space. I only had about 22 feet to work with. Because we did a center screen, we wanted that screen to be as big as we could make it but, for sightlines, we needed arrays that would not block the screen. We were prepared to block a little bit of the screen to not compromise sound coverage, but it just worked out that, by being able to drop those subs behind the arrays and stack them, the bonus was that we stayed out of the screen. And we were literally within just inches of it all fitting together."
The front of house console is a Midas M32. Two Electro-Voice CPS 2.9 amps serve the line arrays, and a CPS 2.12 amp serves the flown subs. Three CPS 2.4 amps power four Electro-Voice TX122FM stage monitors, two Electro-Voice 2082/95 front-fill speakers and a small amount of speakers that cover the lobby area. Four Sennheiser EW300 systems are available for performers who prefer in-ear monitors. Four Shure ULX wireless mics are used interchangeably by both presenters and musicians, and two DPA d:fine 4088-f10 headset mics are also available. A Dante-equipped Electro-Voice NetMax 8000 handles digital signal processing, and a Midas DL32 stage box offers 32 inputs. And, of course, because the space was originally designed as a storm shelter, it features an emergency paging system that can override the sound system.
Acoustic Challenges
The domed shape of the Mathena Center presented some challenges, as did the positioning of the balcony. "There are a couple of places where, because the wall is curved along the back, it acts as a sound shell. We did quite a bit of 3D mapping of the room, so we could make sure the sightlines all looked right and the coverage was all right, particularly with the way the balcony was shaped," recalled Worley. "We wanted to make sure we didn't cause any undue reflections off of that balcony, which has a gypboard front and a glass rail."
Although the balcony issue could be solved with 3D mapping and signal processing, the acoustic problems caused by the shape of the room required a different approach. "One thing that was kind of unique…because this is a dome, you can actually stand in the lobby and have a conversation, and you can hear that conversation on the other side of the building on the stage," said Worley. "Believe it or not, it doesn't affect the intelligibility of the system out in the audience at all. I was more afraid of that, but in the audience, there's great intelligibility. If you're in the first-floor breakout rooms, it's not a problem. If you're in the second-floor breakout rooms, it's a bit of an issue, with some sound coming out over the tops of the walls. And you can hear it on the stage. That's been a challenge and, frankly, acoustically, that's above my head. So, we're talking to some acoustical engineers who can hopefully solve that problem."
Main Stage Video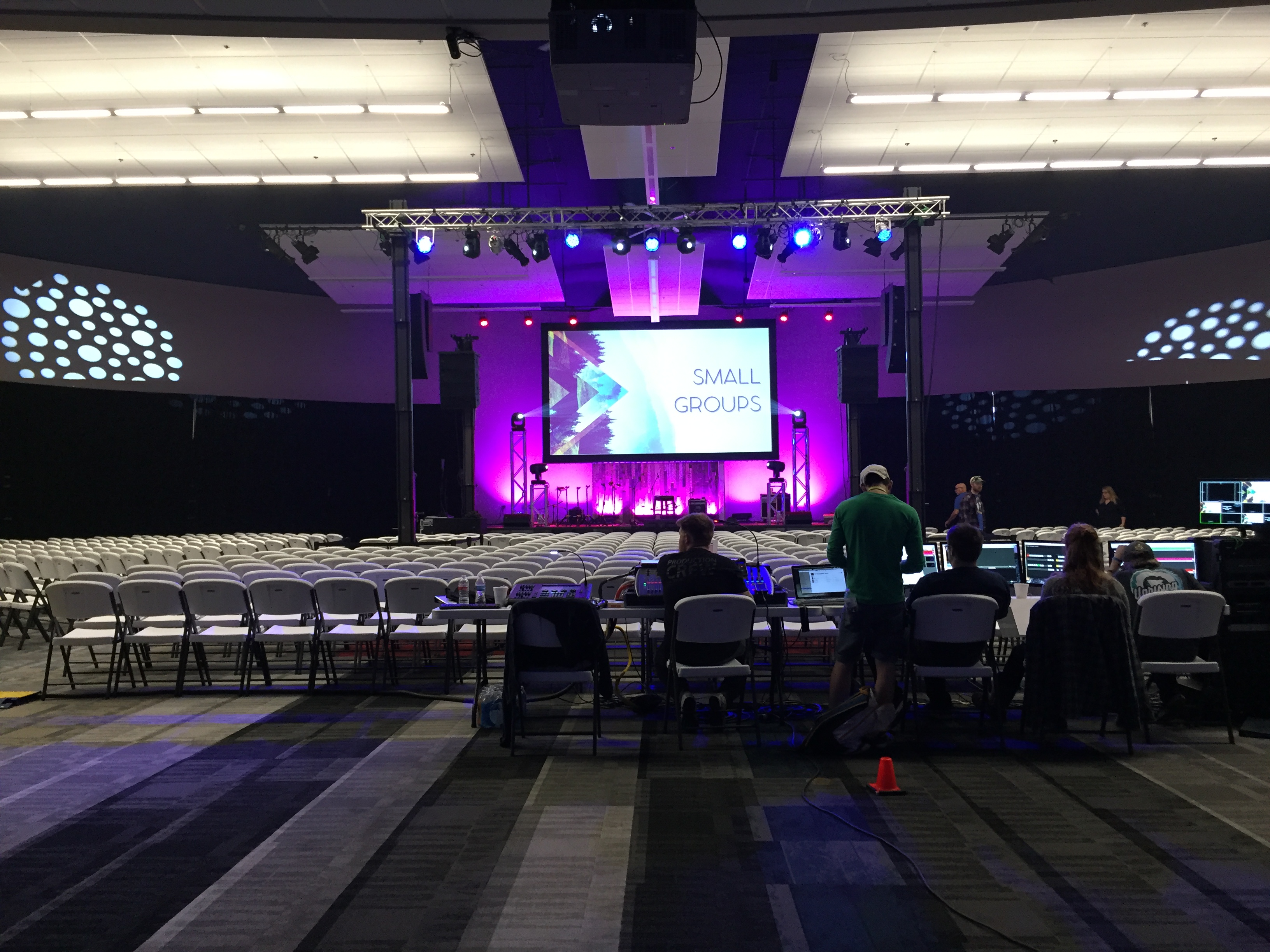 A small video control suite located in a back hallway houses a Ross Crossover 12-channel HD switcher, which controls up to five camera feeds in the main meeting area. "They primarily use preexisting JVC cameras," said Worley. "They can wheel those in and plug them into floorboxes, and then from the Ross Crossover develop a very traditional three-, four- or five-camera shoot with very typical church video switching between image magnification and lyrics, words and graphics. And they can send that same program feed to any combination of the projectors." The video control suite and cameras are operated by a mix of full-time professional AV staff and student trainees.
Content shown on the main projection screen includes themed graphics, song lyrics, PowerPoint and ProPresenter presentations, and IMAG. "There are some local computers there, so if a client wants to show something on the screen, they can just load it up," said Worley. "If the client wants to bring their own computer, there are some extra inputs, so they can just patch in their computer and route it. The video team will produce themed videos and graphics, bumpers to call people up on the stage, teasers, that kind of thing. They're so creative, it just boggles my mind. They've even done weathercasts, because the weather is such a big deal over there, to let people know it's a million degrees hot or when there's a tornado coming, or what have you."
Falls Creek also features an extensive fiberoptic backbone, which is used to share video and audio content between the various buildings on the campus and BGCO's headquarters in Oklahoma City, and particularly to run two-way video and audio between the indoor tabernacle building and the Mathena Center.
"Over the years, every time they've done a construction project, they've installed fiber everywhere they possibly can," said Worley. "They have a complete ring of fiber around the camp. So, although this project was the first deployment of Dante for them, once they really have their arms wrapped around it, it's going to be a huge tool for them. For now, the application that they use it for most of the time is to send programs from the tabernacle to the Mathena Center. And because they're connected to their production studio in the headquarters in Oklahoma City, they can pass content back and forth to the studio in Oklahoma City and use it for webcast or radio broadcast."
Lighting
The Mathena Center's unique architecture made it a surprisingly apt venue for theatrical lighting. "From a lighting standpoint, this is a dream setup, because there are no windows in the monolithic dome," said Phillips. "Thus, it's really sweet to not have to worry about any ambient issues when it comes to lighting."
The lighting system includes 12 ETC ColorSource pars and six ETC ColorSource spots, which are permanently installed in the rigging above the stage, as well as four Elation EPS843 moving lights and six Elation CuePix strips, which are portable.
"We put DMX jacks and power jacks along the back wall, which allows them to move the portable lights around based on the set design," said Worley. "They do lots of different things with sets, so they wanted to have the flexibility to do that. We also installed three static lighting pipes that hang from the ceiling. They had an existing Jands Vista S1 lighting console. The house light system is all one-color LED, but they do have the ability to DM the house lighting system from the lighting console."
Breakout Rooms
Opposite from the main stage in the Mathena Center are two levels of breakout space that can be divided into 12 individual breakout rooms; six on each floor. Each breakout space has its own Draper Targa e16:10 projection screen fed by an Eiki LCWBS500 5000 lumen projector. The breakout rooms are oriented in such a way that, if you're facing the projection screens, you're also facing the main stage. With this setup, all of the breakout spaces can be opened up to create theater-style seating with an upper mezzanine level, and the video feed shown on the main stage screen can also be shown on each of the 12 satellite screens.
The breakout spaces were designed to maximize versatility and ease of use for small group sessions. "Primarily, those rooms were designed for speeches and presentations," said Phillips. "However, no matter what your intentions are for the rooms, once people start using them, they're going to use them in ways you didn't expect."
TES had to account for a lot of variables in order to design such a versatile space, especially when determining how to provide sound coverage that would maximize intelligibility in all possible configurations. Scattered throughout the breakout space are 56 Electro-Voice Evid C8.2 eight-inch ceiling speakers, powered by four Electro-Voice CPS 4.5 four-channel amps. An additional NetMax 8000 handles signal processing for the distributed ceiling speaker system.
"Each room got its own individual floorbox, and each individual floorbox had a video input, a line input for an iPod or 1/8-inch jack and a mic jack," said Worley. "And every room has its own local volume control for the microphone or iPod, so you can control the volume of the iPod or the volume of the local mic, or you can also pump a program to it from a preset in the mixing console." The presets on the NetMax DSP are accessed via a Microsoft Surface tablet.
"We ended up creating preset pages with a lot of potential preset configurations for the breakout rooms," Worley explained. "We created a map that would allow them to track back through the configurations and set a preset based on a predetermined configuration of the room. It sounded simple at first, but the fact that, when you opened up the walls, we had to have the entire space act as one room, created some complexity in terms of how we programmed the room combining."
Audio Control Challenge
"The first challenge for us in the breakout space was to figure out how to make everything work together in a classic multiline delay system, because it's almost 200 feet from the stage to the breakout rooms, so that's a very traditional multitap delay," continued Worley. "But then, when you put up those Airwalls, now you're into a very traditional room-combining system. And they also wanted the ability to have local audio control in each room. So, the way we solved that was with an Electro-Voice NetMax. We did multiple lines, and then we took programmable volume controls in each room, and allowed the volume control to change the inputs to the room, but not the outputs to the room, which remain fixed."
This setup allowed the system to remain foolproof despite the high level of end-user interaction and customization. "An end user can never change the output settings or the output balance," said Worley. "So, when they open up the walls, the whole breakout space still functions as a big room with delay, and they don't have to go around to every room and change the output volumes to get them balanced again. Instead of having the traditional 70-volt volume control, we did it with programmable volume controls."
Although the Mathena Family Event Center wasn't the easiest venue to work with from an AV system design standpoint thanks to the sheer versatility of the space and its architectural quirks, it stands as an excellent example of the transformative power of AV technology. Just add some sound reinforcement, video capabilities and theatrical lighting, and a storm shelter can become a topnotch worship space and conferencing center.
"They're going to have to make some adjustments just because it was such a strange architectural piece, but overall the facility turned out really nice," said Worley. "It was the culmination of a 20-year dream of the executive director, so he was really pleased with how everything turned out. And, functionality-wise, I got zero phone calls [the summer after completion] and they were using the system hard every day, so that tells me that everything went pretty well."