There's no doubt about it: Football—whether college or professional—is one of the most watched sports in the US, and it has been for many years. During those years, however, the experience has changed dramatically.
Think of a spectator at the Los Angeles Memorial Coliseum watching Super Bowl I live in 1967. The stadium was an Olympic-style setting with running tracks, and it was equipped with only basic amenities. No flashy, oversized scoreboards; no spectacular lighting; no digital experience. Nevertheless, it was one of the most exciting events of its time, and fans had tremendous enthusiasm and love for their favorite sport. The lack of technology didn't really detract because stuff like giant viewing screens were unheard of…simply unimaginable.
Now think of a spectator at Super Bowl LII earlier this year, and you'll see it's a whole different ball game. Fans were greeted by the legacy ship featuring a sail-shaped display when they arrived at U.S. Bank Stadium in Minneapolis MN. Inside the arena, visitors' senses were heightened by the beautifully designed indoor Minneapolis Skyway tunnels connecting to hotels, and fans got to enjoy restaurants, incredible lighting effects, heated seating (fitting for a chilly five-degree day), concession areas, team swag and fabulous halftime performances.
Enhancing performances such as those is at the core of how LED displays serve stadiums and arenas. Take Justin Timberlake's halftime performance at Super Bowl LII, for example, which attracted more than 100 million viewers nationally and more than 100,000 live spectators. The entire stadium experience was magnified, with larger-than-life LED displays both onstage and offstage. Capturing dancing, facial expressions and dynamic sets on big screens served to utilize sound, image and lighting to arouse the senses and generate excitement.
Timberlake's tribute to Prince could be seen up close, even in the steepest of nosebleed seats the arena had to offer. Eye-popping and quick-changing displays, multitudes of purple lights and panning views of the crowd enabled a stadium experience that fiercely grabbed each fan's attention and never let go. This is a prime example of how integrated LED lights dazzle during halftime performances, and they have customized the entire stadium experience from start to finish.
The entire spectator experience at U.S. Bank Stadium is visually impactful. The venue features a 55-foot-tall curved LED screen that spans more than 31,000 square feet. The video board is composed of a total of 23 displays featuring a 13HD pixel layout. Fans in attendance felt the intense and ultimate exhilaration of the live action each time a team scored.
Even virtual reality (VR) was deployed to enhance the digital experience at Super Bowl LII. Fans could put on a VR headset to immerse themselves in the close-up action, without risking their physical safety and without having to have any knowledge of the game. And NBC Sports used augmented reality (AR) and virtual graphics to allow animations of players in 3D motion to be inserted in the telecast process.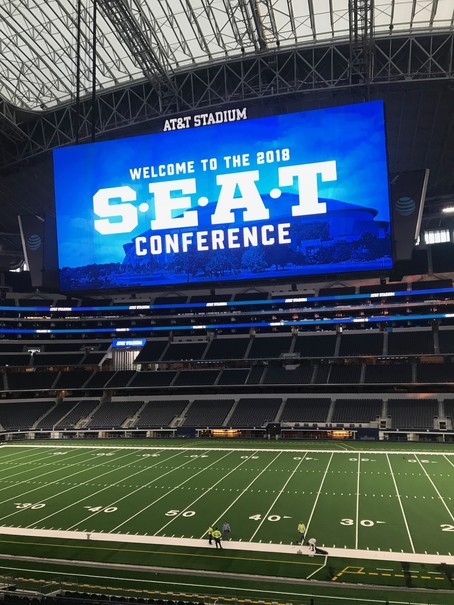 When the Dallas Cowboys unveiled what was, at the time, the world's largest HD LED screen at AT&T Stadium in 2009, the football-watching experience transformed forever, as fans could get up close and personal with their favorite players. Now, fans get their information about parking, ticketing, restroom wait times, concession options, etc., from screens. And that, of course, is in addition to the must haves—game action and instant replays. This type of content brings fans closer to the game-day experiences and makes them want to return to stadiums and arenas for more games.
Giant video screens and advanced technology have affected the college football fan experience, as well, where digital enhancements are quite prevalent. The Auburn Tigers' Jordan Hare Stadium, one of the most legendary venues in the Southeastern Conference (SEC), boasts the largest video screen at any college football stadium in the country. It measures a whopping 10,830 square feet (190'Wx57'H). For an overall technologically advanced experience for college football spectators, there's Baylor's McLane Stadium, which offers fans free Wi-Fi through its partnership with Extreme Networks and AT&T. The university even has a stadium app that allows fans to access live video, in addition to the large video screen that ranks in the top 15 biggest screens (5,029 square feet, or 107'Wx47'H) in college football.
The entire football experience in the 21st century is simply epic—and it's no longer just a spectator sport. Now, fans can participate on endless levels, enjoying exposure to multiple choices of entertainment at championship sporting events. Indeed, fans can immerse themselves in all the nonstop action. One can only imagine what virtual and digital surprises Super Bowl LIII will have to mesmerize and engage fans from all over the world.