From inner space to outer space, the Frost Planetarium at the Phillip and Patricia Frost Museum of Science in Miami FL delves into the far reaches of the universe. The journey includes explorations of the deep inner recesses of human DNA and the awesome outer limits of space. Audio, video and lighting (AVL) play key roles in presentations, which employ multiple, specialized digital projectors, surround sound, live production and laser shows.
"We have a planetarium traditionally used for astronomy in the past," Dr. Jorge Perez-Gallego, Curator of Astronomy at the museum, explained. "But new advances in projection technology can take us into the human body or the depths of the ocean. So, we can talk about many different aspects and fields of science. The software installed can show cinema, but it also allows us to do live shows involving celestial objects. For example, in the presentations, we can see the moon, and we can go to Mars and Jupiter. We can also go beyond the solar system and peer into the galaxy. We have a library that comes with the system. By the power of our computers, our live shows can be in 2D and 3D." He added, "We're very happy to have one of the best planetariums in the world."
The new AVL project was designed and installed by Sky-Skan, Inc., of Nashua NH. George Barnett was Project Director for the integrator. Sky-Skan created a design that features an 8K 3D projection system that employs six Christie Digital 30,000-lumen, 4K 3D video projectors, powered by 14 Dell workstation servers equipped with Nvidia Quadro M6000 24GB graphics cards and G-Sync cards. Each projector delivers multiple channels of 4K images to standard 2D, as well as 3D, in the dome.
"This is the first planetarium project in which Sky-Skan installed a live 4K production system," Barnett stated. Details on that are later in this story.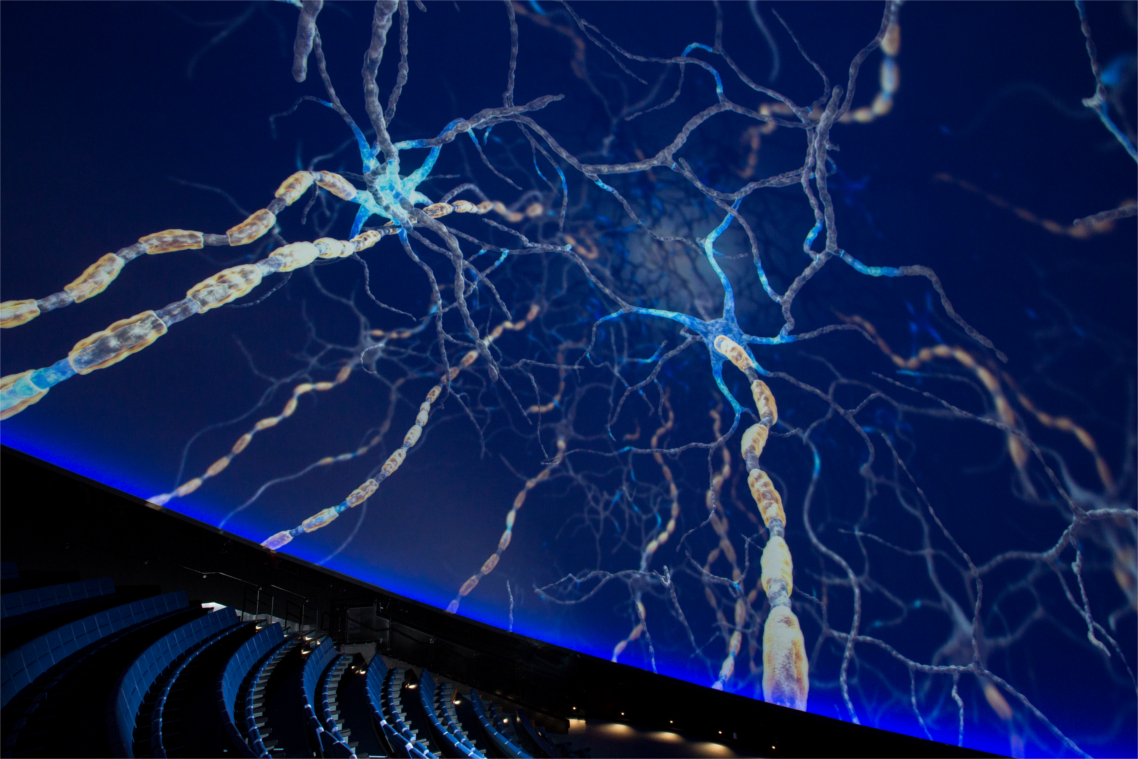 "There's a computer-based control console with quite a few Dell screens," Brooks Weisblat, Vice President of Technology at the venue, said. "You can scroll and do different objects in 3D using just the mouse and keyboard. We do plan to add some additional controls via Xbox to make things a little smoother." He noted that there was a lot of engineering that went into blending the Christie projectors for the best imaging. "So, the install took a couple months to get fine-tuned and aligned in conjunction with the tile of the dome," he added. "The servers also had to be calibrated."
Sound & Communications thanks Paola Villanueva, Public Relations Manager at the museum, for setting up the interview with Weisblat, as well as with Dr. Perez-Gallego.
The Frost Planetarium is a 67-foot Spitz, Inc., Premium Seam dome, which is tilted 23.5 degrees. Under the dome are 250 unidirectional seats, and a small stage at the front with the capability to view live presentations, pre-rendered content or laser light shows.
"Sky-Skan was proud to have their production of 'Asteroid: Mission Extreme' in both 2D and 3D selected for the opening show," Barnett enthused. "This full-dome movie was produced in-house by Sky-Skan's Creative Content Producer, Annette Sotheran-Barnett, in conjunction with National Geographic. We also worked closely with the staff to produce a custom signature piece for their opening teaser. We worked with local artist Nathanial Wolkstein, who composed an amazing custom score. It was mixed in 12.1 surround by award-winning sound engineer Brian Elmer. They also brought back a favorite from the old theater—laser light shows." Other museum personnel who worked with Barnett included Frost Planetarium Director Mark Bennett and AV Manager Marcus Montgomery.
Several challenges arose during the design phase, owing to years of delays in the construction. "Several of the concepts the consultants visualized were out of date, and several of the components were not compatible," Barnett pointed out. "Once Sky-Skan was awarded the contract, we had to completely redesign the systems. There were also challenges with budget, which caused yet more redesign. Initially, the system was designed to utilize DisplayPort for all the video signal delivery; however, after further advancements, it was decided to use HDMI, as it was a more commonplace standard for consumer devices and, thus, a less-expensive alternative. Installation took almost two months, and there are still some final items being worked on."
Creating An Immersive Experience
The dazzling imagery supplied by the video system needed complementary technology to enhance the planetarium presentations. Therefore, Sky-Skan's design included a Harman solution that included surround sound, lighting and system controllers for both audio and lighting.
Barnett chose the manufacturer's product-integration approach. "It would cover the museum's needs and exceed their expectations, without breaking the bank," he said. "Because of the integration between brands like BSS and Martin, we were able to solve any issues quickly and efficiently. It makes life a lot easier when you have a one-stop shop that can pretty much cover all the bases, especially when you're trying to integrate a system with so many components."
The sound system was a major consideration. At the suggestion of Paul Hanoud, of Hanoud Associates, Barnett went to Harman headquarters in California to preview the new prototype JBL CSX F35/95 three-way speakers. "I fell in love immediately," he enthused. "There's a significant improvement with the D2 Dual Driver technology. They're smooth as silk all the way through the frequencies. We don't have to compensate much or use additional processing. The EQ curves are nearly flat. They're pretty amazing."
Barnett continued, "We're trying to create an illusion in the theater, whether it's taking you out to the edge of the galaxy or exploring the inside of a cell. A lot of times, audio is overlooked in planetarium design, but it's an important storytelling tool. For example, there's obviously not any sound in space. But sound designers can use audio to create a feeling of moving through space."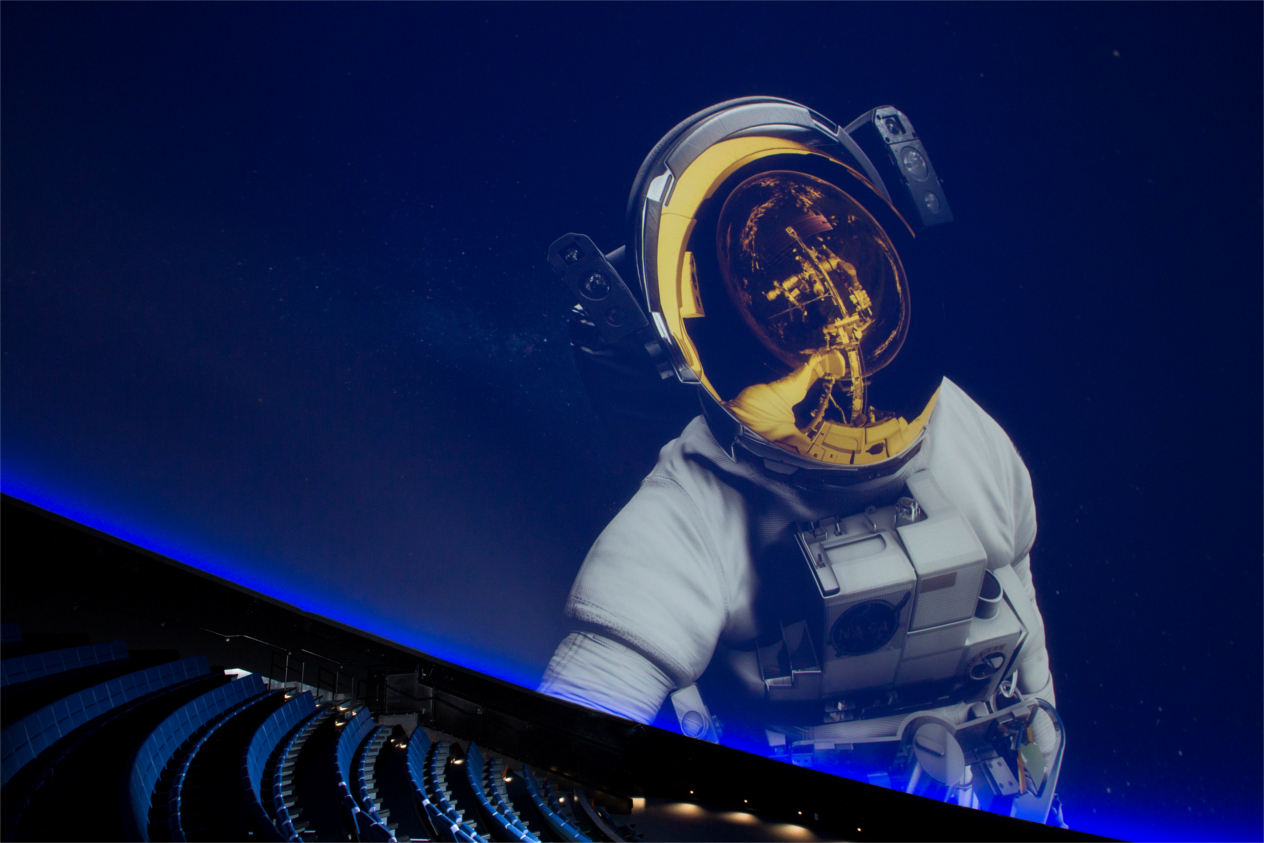 The entire Harman audio solution includes 12 JBL CSX F35/95 loudspeakers, four JBL 5628 subwoofers, Crown DriveCore Install and I-Tech HD Series amplifiers, and BSS Soundweb London BLU-100, BLU-160, BLU-800 signal processors and BLU-USB interfaces. The system is controlled by Martin M-Play, M-Touch and M2PC control surfaces with Martin M-PC controller software. Sky-Skan also created a custom software interface that enables the Martin control surfaces to control audio from the BSS processors and the house Lutron lighting system. AKG WMS470 wireless microphone systems and presenter sets are used by special-event hosts and projector operators.
In addition, the 12 JBL three-way speakers have Spitz, Inc., custom mounts. There are nine Middle Atlantic racks to house equipment; they include six WMRK-4242SVR racks, two BRK16-28 and one BRK12.
Barnett noted that the BSS software has three levels of access. The first is the installer level. That is where the main configuration was written, designed and tuned. "We keep this area locked to protect the design and, for safety reasons, we keep the limiters locked down so SPL cannot be exceeded," he said. The second is the technician level. That level gives Frost technicians the ability to adjust the patching of the speakers, do custom EQ curves for operators or guest lecturers, and control mixes for live broadcasts, stage shows, bands or DJs, and third-party rental events.
The third is the operator level of access. That is the default access, which gives the operators control of volume levels; it keeps most things out of sight, however, so the system cannot be misconfigured, thus minimizing the possibility of audio issues.
David Glaubke, Director, Public Relations, Harman Professional Solutions, was extremely helpful in supplying AV technical product background for this story.
Inset Projector, 4K Production System
"Initially, they wanted to be able to have a projection system separate from the main full-dome system," Barnett explained. "Obviously, the full-dome system runs on lamps, and they're pretty expensive. The Christies have six lamps in each projector. They wanted to be able to do presentations where they didn't have to turn on the full-dome system all the time."
He continued, "Having one projector that can display standard 16:9 aspect ratio content made better sense to them, where they can play a PowerPoint or a movie, or they can do a WebX or Skype session. Then, it's one projector facing toward the front of the dome. The resolution is superb, and the aspect ratio is compatible with cinema, UHD or HD inputs.
The inset Sony VPLGTZ270 laser-illuminated 4K projector was a choice made late in the game. According to Barnett, "Being a planetarium company, we decided it was better to have something that had a very good black level, and the contrast ratio with a laser is really good at 20,000:1. The black levels are really important. So, if the Sony inset projector is running while the full-dome system is going, you don't get a gray rectangle when the projector is projecting black."
The Blackmagic Design 4K production system was unique to Sky-Skan. "This was the first time we've used such a complement of their equipment," Barnett revealed. "However, we've used their capture cards for years. Once we were awarded the project at Frost, we talked about their needs, and we had to go back to the drawing board. We talked to Blackmagic Design, and they helped us pull together the right equipment for the job. We built the system around the ATEM production switcher."
Specifically, Barnett related that the 4K production system utilizes a Blackmagic Design backbone and camera system that gives the technicians professional control to allow broadcast-quality productions. Eartec's HUB651 intercom system facilitates wireless communication for staff and camera operators. "With two Blackmagic Design 4K studio cameras, one Sony PTZ remote camera and an interface to the BSS software, the producers can have full flexibility in their productions. They have the ability to send their live feed to a broadcast truck, record native 4K on SSD hard drive recorders or send out a live stream to the web."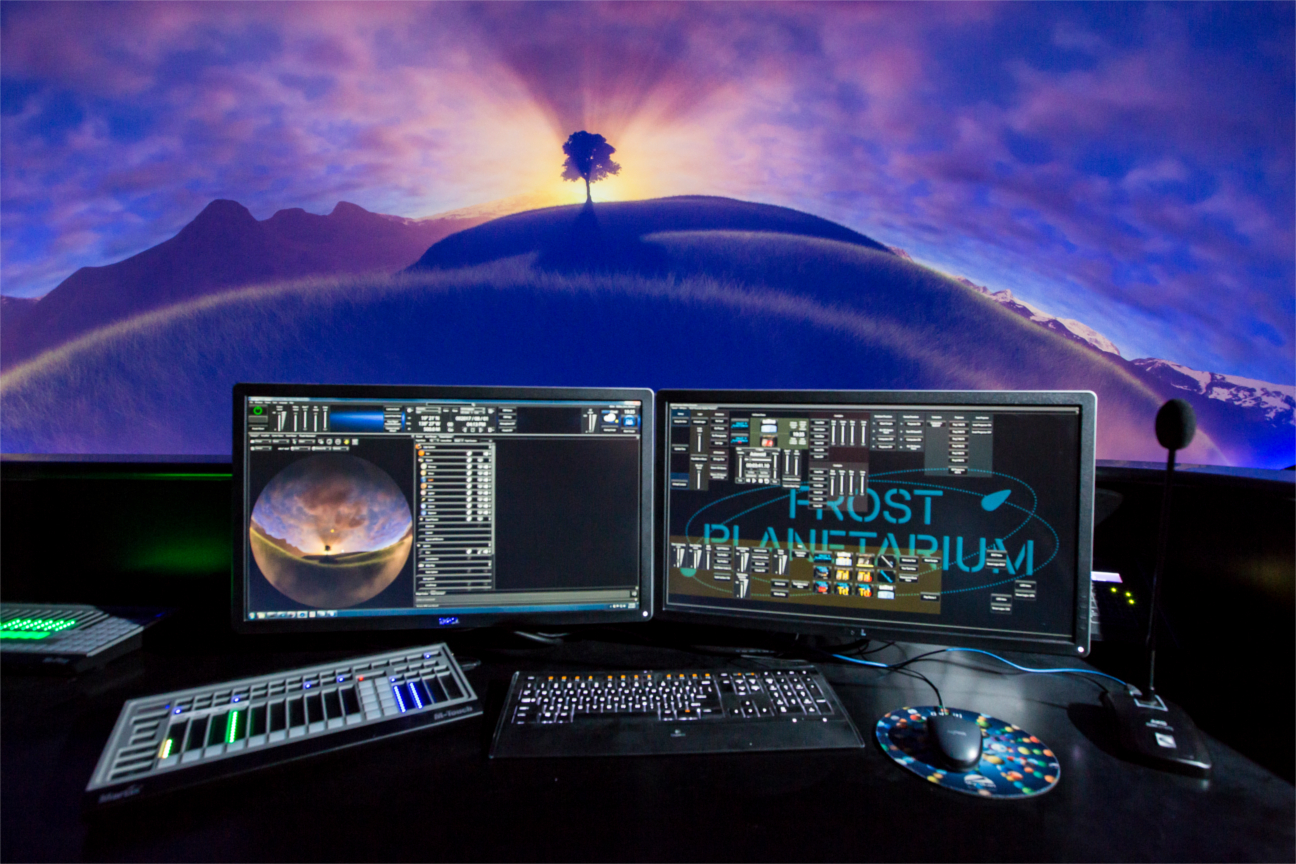 The imagery can be played back natively through the previously mentioned inset Sony laser-illuminated video projector, or the native 4K video-capture system in Sky-Skan's DigitalSky Dark Matter software. According to Barnett, "This gives them flexibility where the imagery is presented. Having the capture system means bringing video into the full-dome system is easy, and it can be placed wherever the user wants it. Being able to mix live video from the production system, from the web or local sources, gives the Frost planetarium ultimate flexibility and control."
Sky-Skan has developed a software/hardware package for its full-dome, multi-projector systems called DSPerfectSky. "This allows an operator to do a pixel-perfect alignment of the six-projector system in as little as 30 seconds," Barnett said. "DSPerfectSky will also calibrate gamma and color of each of the projectors to allow for brightness and color discrepancies due to wear or lamp changes. The system also has the ability to correct for minor flaws in the projection surface, because it uses two high-resolution fisheye cameras; the images are compared in software, and the user can chose to correct for issues. Examples of this would be staining on the dome due to water or panels that have been damaged."
"We had to be flexible in our approach to lighting for this theater," Barnett commented. "The customer wanted to have the ability to light the stage for events or presenters without washing out the night sky projected above. Sometimes, more is not better. So, we chose affordable fixtures from Martin to achieve this. PTZ capability meant they not only could light the stage area, but could also be used for effects lighting or to assist with room lighting."
Components include Martin M-PC software. Hardware control is via an ADEK custom 2RU control PC and a Martin M2PC control surface. DMX routing is provided by a Martin Ether2DMX8. Martin Wash lights and Profile Plus lights are also provided.
Sky-Skan installed 210 of its CoveEX LED lights in the dome cove trough. "This system, designed exclusively for planetariums, gives very accurate control of each one-foot-fixture RGB LED for room lighting, show lighting and special effects," Barnett explained. "The reason they are exclusive to planetariums is their ability to dim smoothly in the 0% to 5% range. When the viewing public is dark-adapted, the last thing you want is the lighting system to pop on. Theatrics are paramount, and having that smooth transition out of darkness makes the user experience much better." He continued, "We also had to interface with the building lighting system. Lutron and Pomeroy Electric were great to work with, making sure we had everything we needed to control the house lights, step lighting and vestibule lights—all of which are seamlessly integrated into our controls."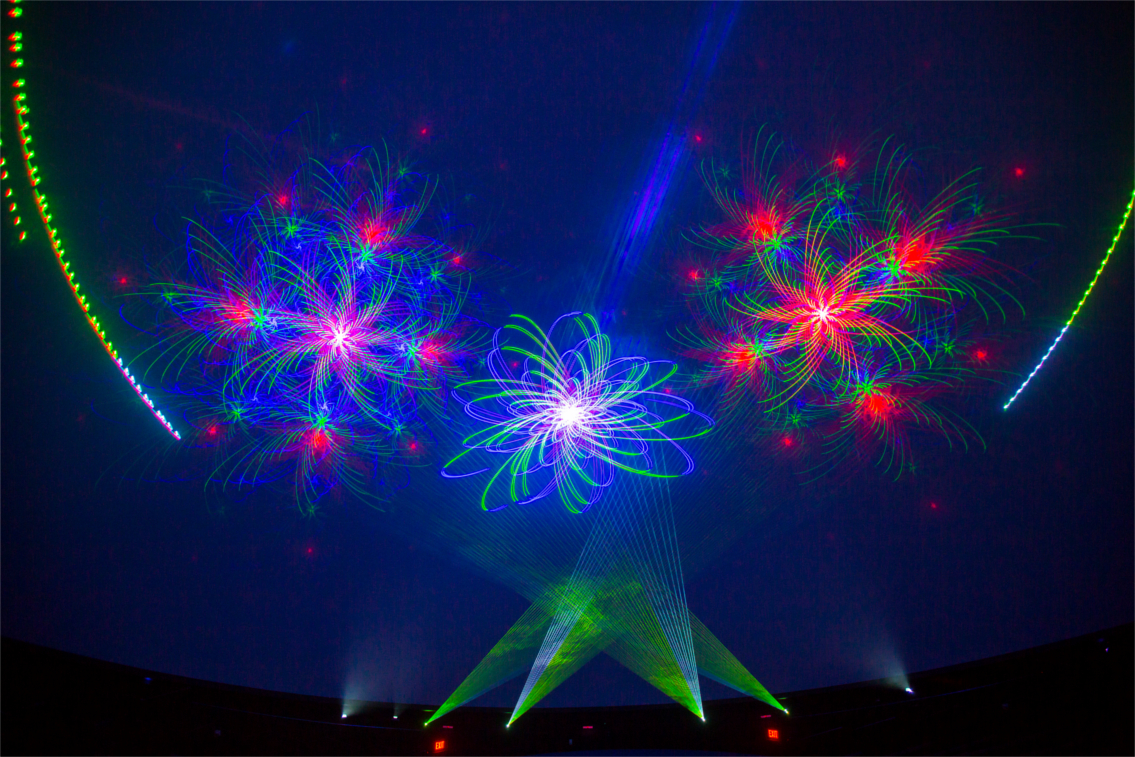 Regarding the laser system, the integrator worked closely with Tom Harman and his company, LaserNet. "Tom and his team have been an integral part of the Miami Science Museum [the old building] for several years, bringing state-of-the-art laser shows to the public," Barnett pointed out. "These shows had such popularity that they were part of the new build."
Therefore, LaserNet provided the following components for the Frost Planetarium: four RGB Laser Brite projectors; two RGB ScannerProFXs (a new product developed just for the Frost facility, with various lumia and diffraction effects); and one dual RGB ScannerPro that consists of two projectors in one handcrafted enclosure, which allows for overlapping scanner projection, permitting twice the image complexity. Control is via Pangolin Laser Systems' BEYOND network software.
Safety control features LaserNet's control panel/annunciator panel with emergency stop button and projector feedback for individual control of laser output with on/off power key switch. In addition, LaserNet also provided programming for the laser-show content.
Sidebars
Sky-Skan & George Barnett
George Barnett, Project Director at Sky-Skan, worked extensively on the Frost Planetarium project. He is a veteran of the planetarium industry, with almost 30 years' experience. He has been with Sky-Skan for nearly 10 years. And he loves the industry, as evidenced by the synopsized biography presented here. Barnett started out as a volunteer at a college planetarium, making laser effects; then, he went to work two nights a week at the Miami Space Transit Planetarium doing laser shows with Mark Bennett, who is now Director at the Frost Planetarium. While at the Miami Space Transit Planetarium, Barnett worked with director and renowned celestial showman Jack Horkheimer, creating a lot more laser special effects. Barnett later went to the UK to help build the National Space Centre in Leicester, England. He also worked for dome manufacturer Spitz, Inc., in the US.
For nearly 50 years, Sky-Skan innovations have defined the immersive theater experience. Owned by Steve Savage, the company has created award-winning technology and content for planetariums, science centers, attractions and multidisciplinary installations across the globe. The integrator was the first to display full-dome multi-projector movie playback, and it's been supplying custom special effects, control automation and other services, as well. Sky-Skan writes its own software for astronomical data, full-dome media playback and automation, which can be integrated with most manufacturers. In addition to Frost, some other completed installs include Brother Earth Planetarium in Nagoya, China; the Museum of Science in Boston; the Hong Kong Space Museum; and the National Air and Space Museum in Washington DC.
Historic Perspective
Barnett provided the following perspective of celestial viewing. Up until the 1960s, planetarium technology was dominated by large optical/mechanical star projectors that cost between hundreds of thousands and millions of dollars. They depicted an arresting view of the night sky, but they couldn't display much beyond what astronomers such as Ptolemy had known since antiquity. Then, the '60s brought manned spaceflight, the moon race and the first close-up pictures of other worlds. Enormous telescopes were producing astronomical and cosmological discoveries at an accelerating pace. Audiences increasingly expected planetariums to reveal and explain a modern understanding of the solar system and universe, rather than just showing the night sky. In response to this need, Sky-Skan began in 1967 to fulfill the needs of planetarium theaters worldwide. It continues to innovate as a leader in the industry.