The systems integration community already knows that InfoComm is the AV industry's major must-attend event of the year. And with a projected 38,000 attendees, and more than 925 exhibiting companies occupying 500,000 square feet, InfoComm15 is shaping up to be no exception to this rule.
That being said, the show's organizer, InfoComm International, is never content to coast on the event's reputation alone, and is constantly devising new ways to make each year's show an even greater value for integrators, manufacturers and clients alike. Sound & Communications talked to Executive Director/CEO David Labuskes, Vice President of Communications Betsy Jaffe and Sr. Vice President for Expositions Jason McGraw about the newest exhibits, the latest product trends and the expanded educational and networking opportunities that will be offered at InfoComm15 in Orlando FL, June 13-19.
Educational Offerings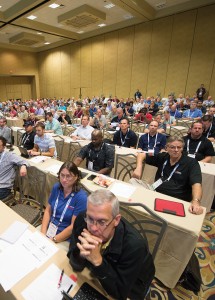 InfoComm has a long history of catering its educational offerings to systems integrators, but this year's course listing promises to be more comprehensive than ever. For the first time in more than a decade, "We're offering an entire Install School, with lower-level and advanced installation classes," explained Jaffe. "We're hoping that integrators will take advantage of these courses and bring some of their newer employees to the show to get this training, because we rarely take it on the road, and it will save you a trip to Fairfax."
Those who have been to InfoComm before will find a slew of new attractions on the show floor. "Our Innovations Showcase will feature 20 new-to-market, first-time exhibitors, showing a variety of new solutions," offered McGraw. Attendees will vote on which company has the most innovative product, with the winning company receiving $10,000 and a free booth for next year, plus lots of publicity. "It's also a networking area, so integrators can meet with these companies one on one," said McGraw. "But more importantly, the Innovations Showcase highlights a lot of new technologies. There's a presentation stage, so the companies can talk about their new solutions, including everything from collaboration tools and software, to control systems, wireless video technologies, room scheduling software and more."
Redesigned Pavilions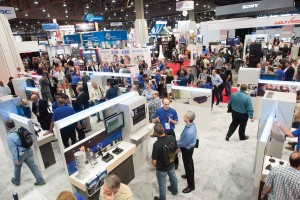 This year's show will also boast a redesigned Digital Sign-age Stage, featuring daily broadcasts of manufacturers and industry insiders discussing today's hot digital signage topics in live interview style. Additionally, the show will feature an expanded Security Solutions area; more than half of the companies are new to the show this year. McGraw stated, "We're trying to connect with that crossover in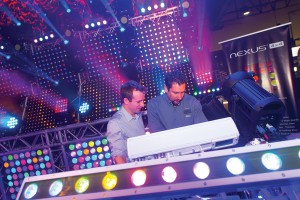 the channels between the AV integrator and security applications, especially around IP video, as well as access control, remote management and other topics."
Another addition, the Drone Pavilion, is already generating a fair amount of buzz. "We'll be talking about the natural extensions of drone technology for AV applications," explained McGraw. "We're working with Stampede and Unmanned Vehicle University to do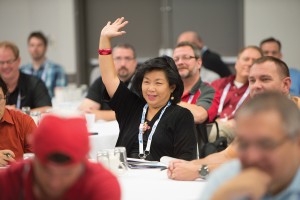 demonstrations and some education sessions, to really help AV integrators understand opportunities presented by drone technology and how they can present those to their clients."
Informational Summits
Several informational summits and keynote addresses will take place throughout the week. InfoComm15 will kick off with a keynote on the Internet of Things, featuring senior executives from Cisco, Samsung, Harman and Crestron. The Digital Signage Solutions Summit will look at digital signage from a technology manager's perspective and how advertising agencies use digital signage. And the Unified Communications Solutions Summit, a joint presentation between InfoComm and the Interactive Multimedia & Collaborative Communications Alliance (IMCCA), will feature analysis on the state of collaboration solutions from major players in the UC industry.
Although the new attractions and educational and networking opportunities get the majority of the pre-InfoComm buzz, these simply serve to add value to what is already the defining event of the AV industry calendar. "We talk about what's new every year, but we can't overlook the fact that we have more than 100,000 square feet of audio exhibits from 250-plus manufacturers," said McGraw. "It's the largest Pro Audio event in the Western Hemisphere. And that complements the video side, where you can find the latest advances in displays, projection, LED and more, from all the top brands."
For Labuskes, InfoComm is more than simply the sum of its parts. "It's not only the event. It's not only the products. It's not only the education. When you put them all together, what you have is the center point of the AV industry. InfoComm is the only place in North America where you can experience the AV industry as a whole."
For more information, go to infocomm.org.