From a 32-person gathering to a 500-person event, every seat is an AV sweet spot for presentations in the newly renovated conference rooms at the main campus of Celgene Corp. The main emphasis for this article will be the quad divisible ballroom on the first floor, because it has an abundance of AV in one area. It's beyond our scope to detail all the AV in this huge project; however, the equipment list provides a much more expansive picture.
The quad divisible ballroom contains two large, 4×4 videowalls that can be split into several separate configurations. The flexible, moveable spaces can function with full audio and videoconferencing capabilities, and they boast a rather extensive selection of microphones. As the company continued to grow in New Jersey, there was an internal need to meet under one roof. Obviously, bringing meetings to its Summit NJ headquarters was more cost effective than renting a hotel for a variety of departmental gatherings and group presentations.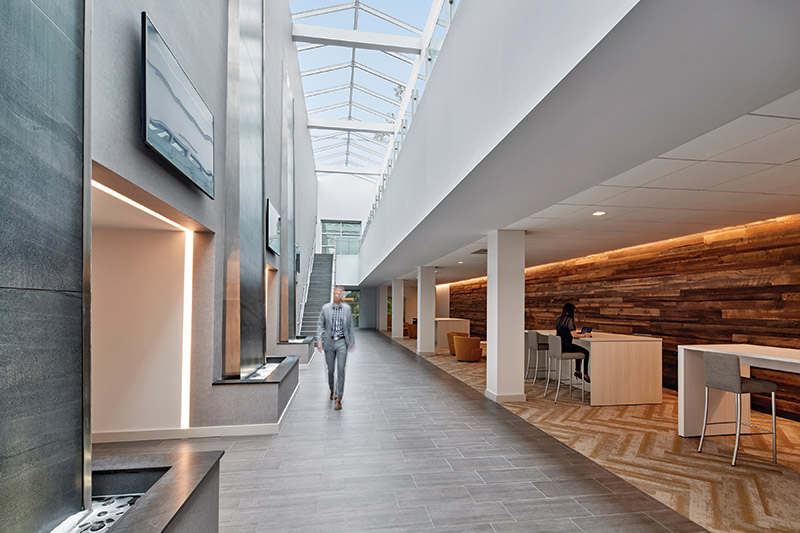 The updated J building, which occupies approximately 140,000 square feet at Celgene's global headquarters, was designed to accommodate office and conference space, but with a big emphasis on special events. Because of its extensive experience and its focus on corporate AV and construction—from conception to post-install service—Avectus was chosen as integrator for the project. Avectus, based in Lebanon NJ, had a longstanding record of success doing projects for Celgene, as well.
Mark Meyer, CTS, Operations Manager, Avectus, worked hands on with Kyle Jensen, Senior Manager, IT Site Delivery, Celgene, to see the project through from concept to installation. According to Meyer, "Because we've worked side by side for roughly a decade, we've become intimately familiar with what Celgene requires from technology in their workspace. We have integrated AV-related spaces across the country and found what works for their end users and what doesn't. We had the opportunity to create something special here that would 'wow' the users and fulfill all the requirements that make up an event center."
Client Perspective And Overview
Jensen noted that "the most eye-catching items" in the quad divisible ballroom are the videowalls. "The architectural challenge left us no other choice than the videowall," he declared. "It's a great solution. Traditionally, people would go with an enormous projector and projection screen. The architectural challenges forced us in the direction of the videowall. It allowed us to get a more visually appealing space."
"Then, there's the flexibility underneath," he added. "You're dealing with fairly large technical challenges. A room can be divided several ways. Each room can function with full audio and videoconferencing capabilities, and a rather extensive selection of microphones."
"Furthermore, we have an internal need to meet under one roof as we continue to grow here in New Jersey," he continued. "We have quite a large sales force that has a very large training need. There are departmental meetings where some of our departments are very large. It's a cheaper proposition to build out on campus than to have meetings and presentations in a hotel."
"I'm very happy with the install," Jensen concluded. "We had a couple weeks after we launched to iron out all the issues. Since then, the customers have been extremely happy."
The design started in October 2015, Meyer said. "We started AV construction in January 2017, and we had a five-month build and commissioning in 2017," he stated. Meyer worked closely with architectural firm Highland Associates on the project. Avectus also worked closely with ClearOne's new CONVERGE Pro 2 audio DSP platform for conferencing and sound reinforcement, field-testing under the guidance of the manufacturer. Those aspects will be discussed later. Turner Construction, a worldwide construction company, was also a project collaborator.
Challenges And Solutions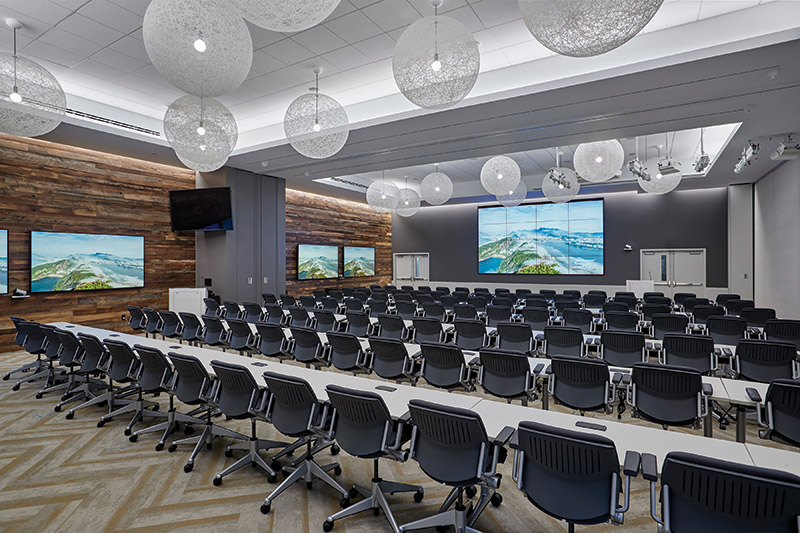 According to Meyer, the biggest hurdle was building the new space from an existing warehouse, which was taken down to its shell, and an adjoining small lot. "Everything in the warehouse was stripped down and gutted to block walls and a concrete floor," he said. "The windows and the roof were replaced. The floors were carved up for floor-box connections and new walls were constructed with multiple ceiling heights, contributing to the challenge. Then, we had to do all the AV plans on paper, assuming what the end result was going to be, but not knowing exactly what the building would look like. This made things like cable pathways and sight lines quite a hurdle."
Audio management and camera locations were two major challenges in the quad divisible ballroom. The 16-foot ceilings made it impossible to install ceiling microphones and difficult to manage table and floor microphones. Fortunately, a huge variety of Shure wireless—including 80 boundary mics, along with various handheld, lavalier, ear set and desktop goosenecks—was available.
"We had to come up with a solution that allowed audio to be heard clearly throughout the entire space, and every seat and presenter's location to be picked up to go to the far end," Meyer explained. He noted that 64 standard JBL Professional 26CT 70V ceiling speakers "certainly did the trick," accommodating the high ceilings. Speakers are driven by Crown and Extron amplifiers.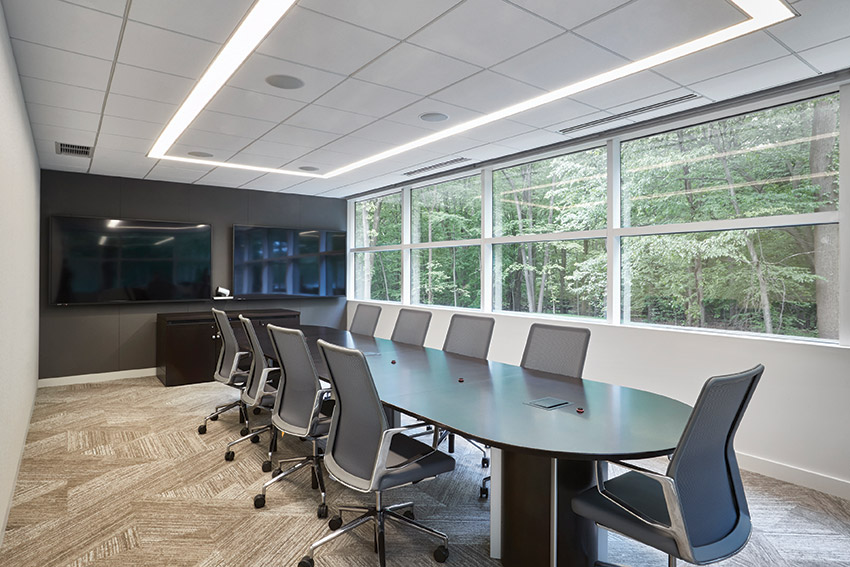 According to Meyer, audio processing was a major consideration. "We worked very closely with ClearOne's new CONVERGE Pro 2, so they could develop the firmware as we were [addressing] issues with the size of the room. Three weeks prior to our final turnover commissioning, Shure Microflex released a new firmware that would allow enough frequencies as we'd designated in the place." He added, "Those were just some of the audio hurdles. Programming of that divisible space was arduous, to say the least!" Equipment is housed in Middle Atlantic racks.
On the video side, placement of Cisco ceiling cameras for videoconferencing was another challenge, because they couldn't be permanently mounted on moving walls. The solution was four Custom Display Solutions custom motorized-lift ceiling camera mounts strategically located to cover the ballroom. More details on audio processing and cameras are to come.
Acoustic Innovations And Paneling
Meyer acknowledged that every wall on the site that was used for videoconferencing or audio reproduction had a need for sound paneling. An innovation brought to bear was recycling reclaimed wood from old New Jersey and Pennsylvania barns. "We used that wood surrounding our displays," he revealed. "Because those wood planks are rough hewn, they worked surprisingly well from an acoustical perspective. The sound paneling system was made by piecing together a custom nylon track system, one-inch batting and fabric wrapping to match the interior décor." The divisible wall manufacturer is Modernfold.
Spectacular Videowall
The quad divisible ballroom boasts two Planar Clarity Matrix videowalls, each with 16 55-inch LCDs in Planar mounts. The 4×4 pattern displays can each serve two divisible rooms 45'Wx60'D. There's also the ability to do four independent 2×2 layouts. Relatedly, two two-way divisible rooms have side-by-side 3×3 Planar videowalls. (Check out the summary of other conference center spaces that have AV in the "Breakdown Of Rooms" sidebar, as well as in the equipment list.)
"When the rooms are divided into four spaces, the orientation of the rooms changes 90 degrees," Meyer pointed out. "In this configuration, we put in twin 98-inch Planar displays with a Cisco videoconferencing camera between them. Each of those rooms can fit 32 people in a conference/boardroom setup for completely independent meetings." Accordingly, 20 Shure wireless microphones are assigned per quad room: 16 boundaries, two handhelds and two lapels. There are several Crestron wireless touchpanels for each quadrant, as well.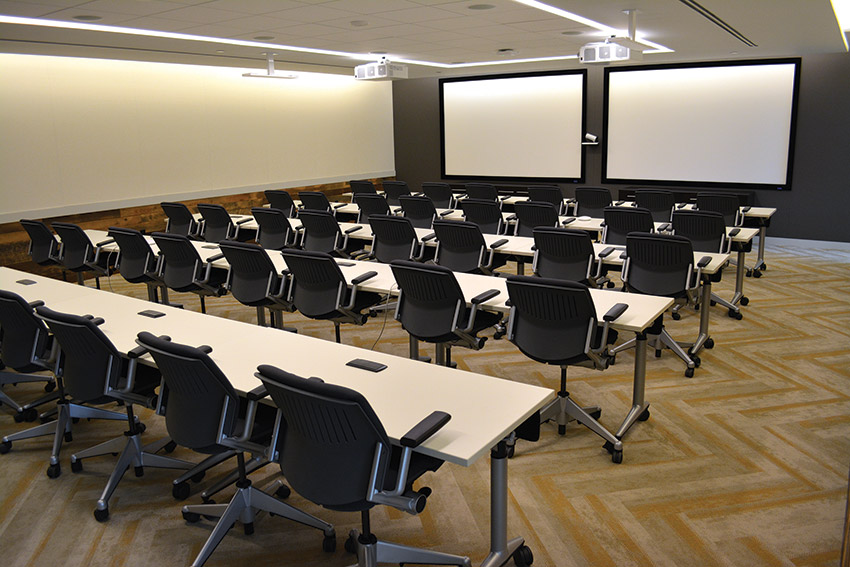 In addition, there are four 80-inch and two 90-inch Sharp LCDs positioned strategically on Chief mounts throughout the space when it's completely open, allowing people to view the smaller print on the front displays. Taking into consideration the widest view, the ballroom's 16-foot-high wall can be opened into the atrium seating area. Thus, once the combined atrium and quad divisible ballroom are fully opened, 500 people can sit for large gatherings, such as corporate events.
Meyer also noted that Avectus worked with Eric Scott, RA, Architect and Senior Associate at architectural firm Highland Associates, to put together four large, 6'Wx25'H water walls in the front entrance atrium. In between each one is a large, 70-inch digital signage display from Sharp. "It's a good mix between natural aesthetics and technology," Meyer affirmed.
The main conference center skylight atrium brings natural light deep within the building to provide tranquil areas for collaboration and, for longer functions, food service. Thus, the atrium is a delight of visual and auditory sensation for employees and visitors alike. In the atrium and outside the many rooms and hallways, Celgene's internal digital signage runs multiple screens of content created specifically for the space and its attendees. Information is provided by Omnivex Moxie software that plays on IBASE digital signage players. Avectus has installed IBASE players and Omnivex-run digital signage solutions for Celgene across the globe. Background music throughout the atriums and entranceway is via CATV music station.
Presentation And Switching
A wireless AirMedia AM-101 presentation gateway, from Crestron, was provided for meetings and collaboration for each quadrant of the quad divisible ballroom. Crestron access was via TST-902 nine-inch, pop-out wireless touchpanels (one per room) that could be taken anywhere within the room. In addition, a TSW-1060 10-inch touchscreen was built into each lectern. Device access provided full control of the AV systems, including Lutron lighting and camera control for videoconferencing, as well as input source selection and volume control.
At the heart of media switching is a Crestron DM-MD64X64 digital media switcher with multiple card inserts and floor-box access. "If the rooms were all open, everybody would be facing toward the big videowalls," Meyer stated. "So, we had to have the lecterns on the 'front side' of the room. But, when the rooms were divided and the divisible walls went into place, those rooms turned 90 degrees aimed toward the 'side' walls. That meant we had to create a secondary lectern location, as well as orient the floor boxes and inputs to work in multiple room layouts. Even the rear rooms have this compass-changing ability, with inputs and displays for every orientation required."
There are also two Extron DTP CrossPoint 86 4K scaling presentation matrix switchers specifically used for VTC camera switching.
Videoconferencing
Videoconferencing in the quad divisible ballroom is via four Cisco TelePresence SX80 codecs with 10 Precision 60 PTZ cameras. The SX80 delivers high-definition video and, by having four codecs—one per quadrant—it allows each individual, divided room to separately have its own VTC meeting. The aforementioned challenge of no fixed wall to anchor the cameras was solved using four CDS custom motorized ceiling camera mounts.
"The lifts drop down six feet out of the 16-foot ceiling," Meyer explained. "So, the cameras don't shoot down on people's heads. They formed a cluster right down the middle of the divisible wall intersection. Each of the cameras is positioned to be able to come down within its own room section."
He continued, "And then, there's a camera in between each of the 98-inch Planar displays in each of the rooms, along with a camera on each side of the front wall. Camera placements were an important design aspect, as we needed to make sure we were capturing multiple presenter locations, as well as the audience in various orientations of the room, whether divisible or combined."
Now, let's turn to the details of Avectus' use of the new ClearOne CONVERGE Pro 2, of which a total of 13 products is installed. For the 128TD Telco unit, there's a Telco system for each of the quadrants of the quad divisible ballroom. And, there are nine more 128Ds for all the individual source inputs from each of the Crestron DM inputs, as well as the 80 wireless microphones in the quad spaces alone. Both the 128TD and 128D models have 12×8 mic mixers with Dante network bridge. There's also a ClearOne universal control interface and dialer for CONVERGE.
"We had to have all that switching capability from an audio matrix," Meyer pointed out. "We were communicating back and forth with ClearOne as they were testing out in house, actually writing firmware code to overcome some of the hurdles that we had. Our audio programmer worked closely along with ClearOne for a month or two to complete the full audio programming." He continued, "We went in with the mindset of, 'Let's figure out this sharp learning curve,' because we were going to test out things that even ClearOne hadn't tested in their Pro 2 systems. Nobody to date had put together a system this large with that product."
Overview
Concluding, Meyer stepped back for a personal overview. "Personally, this is, as a single project, the largest AV project of my career," he said. "The intricacy of the AV…the nuances of being able to create something so unique…the luxury of working hand in hand with the architect."
He continued, "I think the architect deserves a big hand here. We've done many projects with Highland Associates on Celgene campuses. Senior Associate Eric Scott and I worked in lockstep on this to get it just right. He did all the coordination with his architectural drawings to make sure the AV fit like a big jigsaw puzzle. Everybody needs to coordinate with everybody else—and, in this case, they did."
"Turner Construction did a great job in putting together a building that went from design to build in a year and a half," Meyer added. "That's a huge, huge undertaking for a commercial building with this much technology."