With the rapid proliferation of digital displays, it is becoming a real challenge to get viewers to pay attention to content that's presented on those screens. Some stakeholders go for increasing the size and quantity of displays to create an impact, whereas others jazz up content with flashy graphics and animations. Although those tactics do grab the attention of some viewers, it takes a bit more ingenuity to create a truly engaging experience and make a lasting impression.
Memorable experiences can be created in many ways; targeted content and interactivity are two successful approaches. Museums and theme parks have a long history of combining those two methods to increase viewer involvement. The best of those applications features compelling video with touch and mobile interactivity, and even familiar tools embedded with sensors to provide unique experiences.
A quick look at today's successful "experiential" projects might provide some useful ideas, as well as possible ways that integrators, designers and marketers can benefit from new approaches to customer engagement. Some of the best places to explore the latest technologies' leading-edge applications are at Innovation Centers, which have recently been deployed by several corporations and institutions. These spaces use high-tech equipment (and commensurately high budgets) to demonstrate to customers, visitors and the larger community the commitment to excellence of the company, organization or sponsor.
At Samsung 837, an experiential digital playground of consumer technologies in New York NY, visitors can experience Samsung's new products, such as the Galaxy S8, 360-degree cameras and VR gear. A recent addition, dubbed the "Infinity Dome," includes an array of 112 Galaxy smartphones. As the viewer physically moves the "dome" around a turntable-style pedestal, it delivers a VR-like experience of the site where a 360-degree image was originally captured. A custom-built Android application enables tiling of images across the concave display. Samsung worked with several partners that designed and engineered the system, custom built the mount and pedestal, and programmed the content.
Innovators in the AV and IT industries often create such immersive experiences using convergent technologies, either in response to a client's challenge or based on their own vision of new ways to communicate and engage audiences. For instance, David Durlach, Director and Founder of TechnoFrolics, developed the Frame-Glide | Spin Browser (FG|SB) system as a way to help museumgoers navigate video and multimedia content more intuitively. The Spin Browser is a dial that resembles the ergonomic scroll-wheel frequently used by professional video and audio editors; when combined with the FrameGlide software, it physically engages the viewer in the control of his or her visual journey.
Recently, a customized version of the FrameGlide software was installed at the Adirondack Experience in upstate New York for the museum's 60th anniversary exhibit, entitled "Life in the Adirondacks." The exhibit offers visitors a virtual ride on Blue Mountain Lake in a "Guide Boat," which is a physical boat with instrumented oars.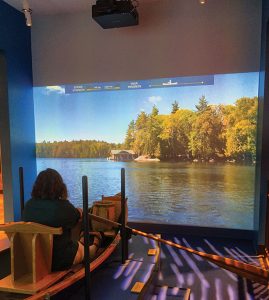 "The oars' motions are continuously sampled in up/down, as well as forward/back direction," Durlach noted. "Programmed logic enables variable-speed forward/back rowing, as well as turning (by panning left/right in ultra-wide windowed video), similar to a real boat." There are two wall-size projections: one that presents an immersive, on-lake POV out the front of the boat, and another that offers a POV back view. Durlach added, "We worked with the design firm Richard Lewis Media Group (RLMG), which shot the lake trip in 4K 60fps, providing POV from the front and back of the boat to enable this realistic experience. The team at RLMG also provided visual design direction and all the media content, including instructional and annotative elements." Electromechanical, object/case work, fabrication and installation were provided by Design and Production (D&P). Gallagher & Associates provided the exhibit experience's overall design.
Although originally inspired by the site-specific needs of museums and attractions, TechnoFrolics is now looking to partner on hospitality projects with design firms and systems integrators to adapt the FG|SB experience to the needs of guests and other viewers. "You can promote specific aspects of a restaurant or hotel via location-specific content that is uniquely, interactively explorable via the FrameGlide | Spin Browser," Durlach explained. "User focus is entirely on imagery and movement—no technology elements are in the way." According to Durlach, dwell-time logging capabilities enable content-perusal tracking by evaluator-selectable topic, and custom development could expand the ability to collect more information that is useful.
If your challenges include satisfying a client's need to create a more durable impression in an age of digital noise, or more fully engage customers with a brand and its message, you just might want to "think outside the screen." Sometimes, the key to creating a great experience is waiting to be discovered in an app on your phone…or just across the table from you during lunch with a colleague who works in a slightly different field.