Atos, a European leader in big data, cybersecurity and digital workplace solutions and services, opened its North American headquarters office in Irving TX earlier this year. With digital AV and IT systems worth more than $1 million, the company's four-story, 100,000-square-foot office space features a Business Technology & Innovation Center (BTIC) to demonstrate the latest digital technologies for presentation, videoconferencing, collaboration and digital signage, as well as a plethora of meeting rooms and spaces in which teams of various sizes can work on projects.
Atos assembled an all-star team—it included general contractor K2 Construction, architect Gensler, Stravis Consulting and systems integrator FSG—to design, build, install and integrate the new BTIC and offices. "As technology continuously disrupts the norms, our clients can rely on us to guide them through a successful digital transformation," Benni Bueckert, Senior Director, Atos IT Solutions and Services, stated. "Digital transformation, innovation and value creation are keywords, both for our company and for our clients. At our North American headquarters, and at other Atos BTICs in the world, we have implemented the latest flexible technologies, backed with the resources, scale and know-how that our clients need, so they can experience digital empowerment at any of these locations."
Tech Landscape
At Atos' North American headquarters, there are more than 40 meeting rooms and spaces throughout the office building. On the top floor, the BTIC features a round stage with three Vignettes to demonstrate typical meeting formats and the technologies available to make every meeting efficient (read more about the Vignettes further on in this article). An adjacent large BTIC conference room, three smaller BTIC conference rooms and a reception area are equipped with appropriate-sized displays and AV devices.
Among the larger AV-equipped rooms of note is the Executive Training Room; it has two 65-inch Samsung displays that flank an 84-inch Microsoft Surface Hub with built-in camera and microphone for videoconferencing, Biamp Tesira Audio DSP with USB and VoIP interface, eight Shure MX Series wireless microphones, nine JBL ceiling speakers, two table inputs and Crestron Touch interactive control panel. Additionally, there is one Executive Conference Room; two Communication Round Rooms; and two Lecture Round Rooms, both with roundtables, which are used for meetings with internal employees and external customers. There are numerous small and large meeting rooms, as well as open workspaces (which Atos refers to as "Open Share") and Think Tank Rooms (more about the technologies in those rooms further on in this article).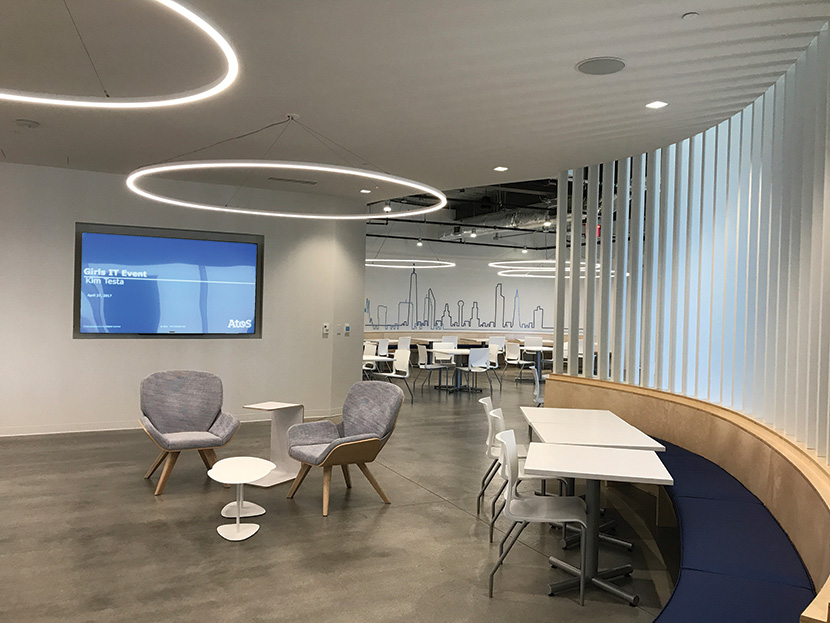 Four digital signage rooms (which Atos refers to as "Social Spaces") are equipped with 65-inch Samsung commercial-grade TVs with built-in tuners and Samsung Signage players with Magic Info. A 65-inch Samsung 4K display and Microsoft Xbox One are installed in the Game Room. The Café, which has three distinct areas—Café Seating, Café Presentation and Coffee Shop—features a super-large, 90-inch Sharp LCD display, Shure wireless for speech reinforcement, media player input for background music in the Café and Coffee Shop, and JBL pendant speakers throughout the space. Other social and relaxation areas with displays and device connectivity include a Reception area, Sitting Area and Lounge. The lobby features a 65-inch digital signage display and a custom-built kiosk that houses a Lenovo Yoga Home 900 PC with 27-inch touch-interactive display and virtual receptionist software to check in visitors.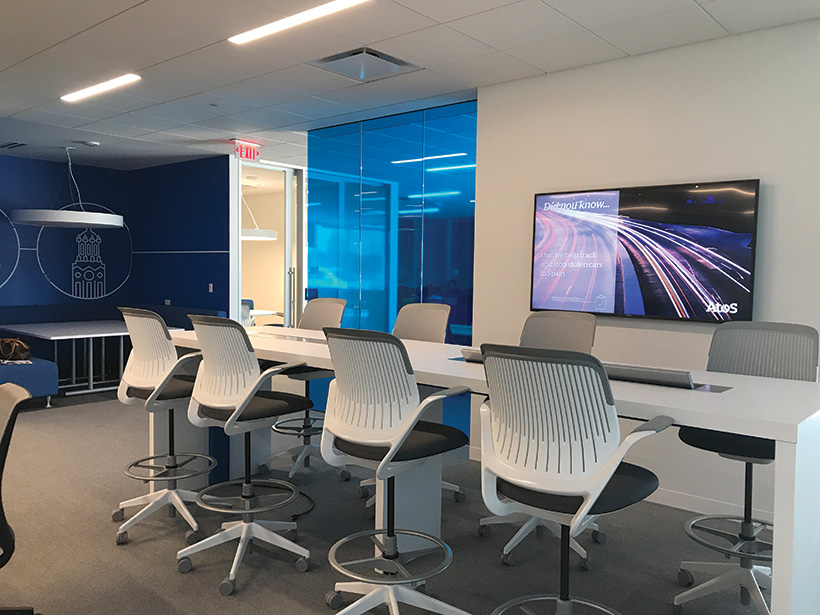 Design Considerations
Stravis Consulting was engaged to provide the design and project management for the low-voltage technologies for the site, including audiovisual, data infrastructure and security systems. "It was an exciting challenge, as Atos wanted to push the envelope beyond what they had done before," Dana Shorter, Director, Stravis Consulting, said. "We reviewed quite a few concepts and approaches. There are European facilities that offered a baseline for ideas, but nothing was off the table here. In the end, I think we accomplished the goal."
The BTIC includes various interactive technologies from Microsoft and Samsung. The objective was to create an environment that would allow a presenter to take people through a journey of Atos' capabilities. A centralized switching platform allows the presenter to control the environment and orchestrate the presentation for both small and large audiences. "We created the capability for control both in the room and from a remote location to allow support staff to assist in the production and presentation of content, allowing a very smooth and integrated experience," Shorter noted.
The data infrastructure inside the facility, to embody the client's philosophy, was to be as flexible and mobile as possible. FSG conducted wireless mapping studies, and solutions were engineered to be able to accommodate the normal flow of staff throughout the space. Special considerations were made to ensure that wide variations in user density in all meeting spaces could be supported.
Atos' core IT team is primarily located far from this location. "We took special care to ensure that all aspects of the technology systems were coordinated in the new space to meet everyone's expectations," Shorter said. International carrier services were based on a company standard, targeted to be deployed at this facility. "This required very specific planning for effective deployment," she said. "The whole team invested quite a bit of focus to ensuring the network implementation was successful and achieved the project deadlines."
FSG installed structured cabling, security systems, surveillance and access control, as well as AV, VTC and UC systems, digital signage and a custom-built kiosk.
---
TIPS
>> Make friends with the electrical contractor on the project as soon as possible. Electrical contractors are among the most important players on the field, and they can be a great ally.
>> Engage the client's IT and AV teams early on and over-communicate. Good IT coordination is critical.
>> Collaborate with project stakeholders throughout the implementation process. So much can be lost in translation from what the end user needs, through the bidding process, to implementation.
>> An important part of complex AV designs is maintaining design flexibility throughout the project cycle. Being headstrong on the original design impedes the ability to adapt to needs as the project develops.
---
Vignettes Of Meeting Technologies
The Presentation/Capture Vignette features advanced visual presentation capabilities and an immersive audio experience with Crestron 5.1 surround sound. There are three displays: an 84-inch Microsoft Surface Hub in the center, a 65-inch, non-interactive LCD flatpanel on the left, and another 65-inch LCD for digital signage, which can be manually rotated to portrait position, on the right. Videoconferencing and touch interactivity are available through the large center display. All the displays are pole mounted. Below the center display is a flip-up shelf for a laptop or other BYOD device to be placed and connected via HDMI, VGA and USB 2.0 (for HID and/or mass storage) using retractable cables. Both side displays can swivel 60 degrees horizontally. This area also has video-capture capability via a recessed, ceiling-mounted 1080p Vaddio PTZ camera and two ceiling-mounted microphones.
The VTC/Interactive Vignette features two displays: a 55-inch Microsoft Surface Hub and a 65-inch Samsung LCD for digital signage. Videoconferencing capability is via soft codec and the built-in camera and microphone on the Microsoft Surface Hub. There are HDMI, VGA and USB connections via retractable cables for BYOD use.
The Interactive Vignette is also equipped with two displays: a 65-inch touchscreen LCD and a 65-inch LCD for digital signage and presentation. This area also demos VTC via soft codec and the camera and microphone on the Microsoft Surface Hub, and it has retractable HDMI, VGA and USB connections for BYOD.
Experience Kicks In
Aware that placing dissimilar displays next to each other can create a lack of visual harmony, FSG selected units comparable in form and function to the Microsoft Surface Hub, and it routed all cabling for the displays through the mounting pole.
The digital signage displays can be rotated from landscape to portrait mode. The other displays have a 60-degree swivel articulating mount, which provides flexible viewing angles for different meeting configurations. The mounts are custom built, and they include floor-to-ceiling poles and supports in a configuration that's suitable for the size and weight of each display.
Each of the three Vignettes has a separate zone for voice reinforcement. Handheld and lavalier microphones are available to the presenters. The audio sound shower is focused over the presenter. When the presenter moves out of the area, the sound will dramatically decrease. That keeps the audio zones segregated, so as not to confuse the audience with sound that bleeds from another area.
Demands Of Unique Spaces
There were several unique spaces, including round rooms, curved ceilings, suspended design elements, custom millwork and custom finishes. "When the project started, the functions of some of these spaces were still fluid and open for interpretation as to how the final concept was going to be achieved," Peter Hensley, CTS-I, AV Project Manager at FSG's Technology Group, said. The BTIC customer experience center was the most challenging custom space for AV in the project. "With no off-the-shelf product-mounting solutions for what we were trying to achieve, we needed to come up with a design to integrate manufactured parts with some custom-fabricated parts," Hensley said. "From the 84-inch Microsoft Surface Hub, to Samsung interactive displays that needed to swing out and rotate from horizontal to portrait mode, to the sound showers above each Vignette, there was a lot of time, energy, research and brainstorming that went into this space."
Hensley continued, "There are three different sound systems—a Crestron 5.1 surround system, Panphonics sound showers and background audio zones—and three different Vignettes in this space. Each Vignette serves its own purpose and functionality for the customer experience and content, depending on the vendor touring or using the space, and the technology that vendor provides. This took an enormous amount of attention to detail and a ton of coordination with Atos, K2, Gensler…everyone," he explained.
Ensuring Network Security
The AV-IT integration of network components is often more challenging when working through a customer's IT security protocols. Any device that will be attached to the network typically has to be submitted, approved and perhaps even physically tested by the IT department before installation. This project was no exception. "Some equipment was declined and had to be substituted, either due to a security risk to Atos' network or incompatibility with their systems," Hensley noted, citing the change from the wePresent 1800 Series to the 1600 Series and the Evoko Liso to the Evoko Room Manager. "In other instances, we decided to change the network topography of the components and separate what we could off the customer network without compromising the project's intended functionality."
Time Crunch
In light of the number of changes and/or additions to any large project, timelines are typically a challenge. "We had 34 AV changes, 16 data changes and 13 security changes in the first phase of the project," Hensley said. "In the second phase, we had 10 more AV changes, three more data changes and five more security changes. In addition, we had a few items, such as Microsoft Surface Hubs and Evoko Room Schedulers, that had a very long lead time for procurement—and there was a little nail biting as we neared the end." According to Hensley, there were other tasks that were challenging, given the time frame; those included programming the BTIC AV control system. "The programming scope was fairly open-ended on the BTIC end-user functionality," he noted. "The overall concept was clear, but, about mid-project, we decided to make the controls much more dynamic and on-the-fly configurable for the end user…not so much hard coded to where it would be difficult to adjust in the future."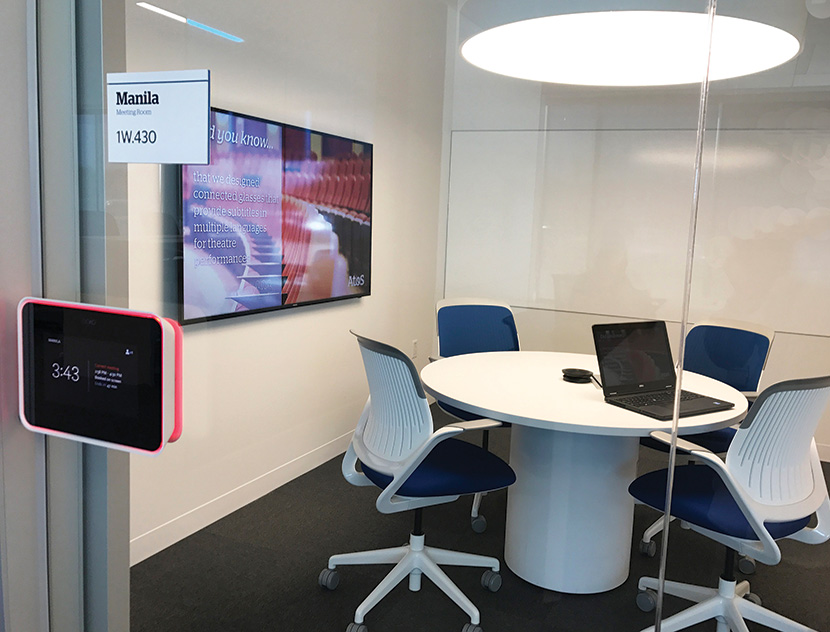 Building in future flexibility takes exceptional software skills. "I don't know how we could have pulled it off without a programmer like Daniel Ostertag," Hensley remarked. "His passion for programming and ingenuity really shined. We all had a few long days and late nights, but we did get the system installed and up and running in time for our customer to succeed with their objectives."
Central Control & Routing
The main control and equipment room provides centralized routing, audio and control of the various BTIC areas. This area includes a 4K Matrix 32×32 modular video switch with input and output HDMI, HDBaseT and IP video streaming cards. The sources located in the centralized rack include three wireless video gateways, three OFE cable boxes, eight OFE PCs and one digital signage player. Audio is handled with a Tesira Server IO with all the necessary cards to handle audio inputs, EQ, level control, routing and outputs. The amplifiers for the various audio zones are housed in the centralized rack. A centralized processor provides control for the system. A nine-inch wireless touchpanel is utilized for control and preview of the various sources before routing. Crestron X-Panel controls are provided for control of the system outside the main control room. Two full-sized AV racks hold all the centralized equipment, which is located in the Intermediate Distribution Frame (IDF) room.
Collaborate Everywhere
In addition to the BTIC, Atos' North American headquarters has many large and small conference rooms and workspaces, providing suitable locations for a wide range of meeting styles and sizes. These include:
Three Interactive Presentation and Unified Communication (UC) rooms are equipped with a single 55-inch Microsoft Surface Hub display with built-in camera and microphone for videoconferencing, wePresent wireless presentation bundle and Evoko Room Manager.
Three Large Interactive Presentation and UC rooms, each equipped with an 84-inch Microsoft Surface Hub with built-in camera and microphone for videoconferencing, wePresent wireless presentation bundle and Evoko Room Manager.
One Executive Videoconferencing Room with Cisco MX800 videoconferencing system, wePresent wireless presentation bundle and Evoko Room Manager.
Five six-person Sharing/Presentation and UC Rooms, each with a 65-inch Samsung LCD flatpanel, wePresent wireless presentation bundle and Evoko Room Manager. Each room also has a Bluetooth Jabra Speak 810 MS for audio conferencing.
Four four-person Sharing Presentation and UC Rooms, each with a 65-inch Samsung display, wePresent wireless presentation bundle, Evoko Room Manager and Bluetooth Jabra Speak 510 MS for audio conferencing.
Fourteen four-person Communication Rooms with a 65-inch Samsung display, Evoko Room Manager and Bluetooth Jabra Speak 510 for audio conferencing.
Eleven Think Tank Rooms, equipped with Bluetooth Jabra Speak 510 MS for audio conferencing, are located on three floors of the facility.
Eleven four-person Open Share Presentation and UC Rooms, each with a 65-inch Samsung display and wePresent wireless presentation bundle.
Sound masking is installed in the Open Share areas for speech privacy and to help block ambient noise from the surrounding areas. To accomplish that, a Dynasound sound-masking system is installed on the fourth floor. It consists of one three-zone control module, 100 emitters, one rackmount bracket for control module and 30 universal mounting brackets.
The Security Operations Center and Network Operations Center each have three 55-inch Sharp LCD monitors connected to remote PCs, which are located in the IDF room.
Versatile Connectivity
To maximize the versatility of the various stations, additional connectivity and capabilities are provided in many of the less-elaborate locations. For example, the reception and lounge areas feature 65-inch Samsung flatpanel LCDs with LAN connectivity to the BTIC system for display of content from Atos' wePresent, and presentation control from the BTIC main.
The BTIC vendor area has two HDMI wall plates with one HDMI in and one HDMI out. The transmitters for those I/Os live in a plenum-rated box, and they have plenum-rated cables running to the wall plates. Two USB wall plates are provided in that space, and the USB connections connect to two OFE PCs. In the Desktop Alcove, an HDMI and a VGA (with audio) transmitter are installed in the BTIC. The BTIC Desktop Alcove also has an additional input to the BTIC system, along with a USB wall plate.
The BTIC Admin Control has an HDBaseT receiver that provides the ability to route any BTIC source for viewing and the capability to connect a PC with a Crestron X-Panel to AV LAN for control. Sources to the 84-inch Microsoft Surface Hub display in the large conference rooms are HDMI and VGA, with audio via an HDBaseT transmitter/receiver pair. Control is provided by a button pad that lifts up from the cable cubby located in the table. The BTIC Sitting Area also has one Lenovo Yoga Home 900, an all-in-one PC, on a roll-in cart. The PC runs a Crestron X-Panel for control of the BTIC system on the AV network.
"Helping Atos deliver on their North American ambitions was constantly challenging, engaging and fast-paced…a unique project for FSG to be part of," Laurie Harrigan, CTS, Executive Account Manager, FSG, said. "The project had requirements for converging technologies, custom solutions and singular functional requirements. It was essential to have a highly fluid and collaborative relationship between consultant/GC/installation contractor. Our teamwork between the project stakeholders was key to its success, and it resulted in a world-class technology showpiece for Atos' North American office."
When the client, the architect, the GC, the consultant, the integrator and other contractors are all on the same wavelength, exceptional results can be achieved.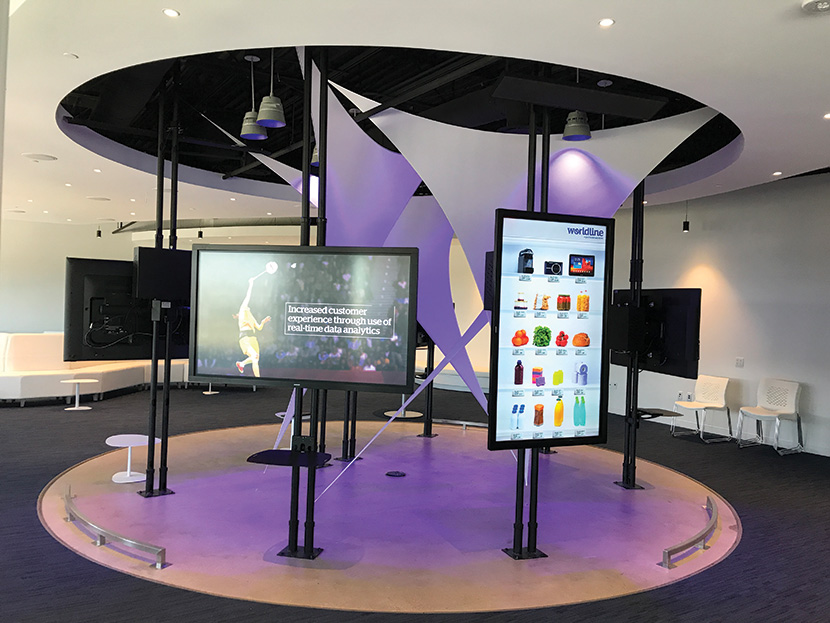 Key Components
6 Audix M55WHC hanging ceiling mics
1 Biamp TesiraFORTÉ CI external codec conferencing solution
1 Cambridge Sound Management Qt 300 sound masking processor
5 Chief LSM1U large fusion micro-adjustable fixed wall display mounts
38 Chief LSTU Large THINSTALL fixed wall display mounts
5 Chief PSMH2079 heavy-duty flat-panel wall mounts
5 Chief TS525TU dual arm swingout mounts
1 Cisco TelePresence MX700 display and camera system
1 Cisco TelePresence SX20 Quick Set
1 Crestron AV3 3-Series control system
1 Crestron CAPTURE-HD-PRO hi-def capture recorder
1 Crestron DM-MD32X32 32×32 DigitalMedia switcher
17 Crestron DM-RMC-SCALER-C DigitalMedia 8G+ receivers and room  controllers w/scalers
1 Crestron TST-902 8.7″ wireless touchscreen
35 Evoko ERM1001 Room Manager interactive room signage systems
23 JBL Control 47LP ceiling speakers
1 JBL Control 19CST subwoofer
7 Microsoft 55″ Surface Hub multi-touch collaboration devices
6 Microsoft 84″ Surface Hub multi-touch collaboration devices
3 Middle Atlantic CFR-14-18 CFR Series credenza racks
1 Polycom RealPresence Group 500 solution
3 Premier Mounts RTM-L rotating tilt mounts
53 Samsung 65″ class KU6300 4K UHD displays
10 Sharp LC-55LE643U 55″ displays
1 Sharp LC-90LE657 90″ display
2 Shure MX185 lavalier microphones
2 Shure MXW1/O Z10 omnidirectional microphone hybrid bodypack transmitters
6 Shure MXW6/O Z10 omnidirectional wireless boundary microphone transceivers
1 Shure MXWAPT8 access point transceiver
4 Tannoy CVS6 ceiling speakers
78 wePresent WiPG-1600 wireless collaboration presentation solutions