So what's ahead for us?
Twice each year, NSCA provides its Electronic Systems Outlook report: once in the summer and once again in December. This report is designed to provide integrators and those allied to the field with a helpful view of current and future business backed by more than just assertions and feelings but, instead, solid data analysis.
Just like every other business, the work we do as electronic systems integrators is highly connected to the performance of the greater overall economy. This is why it's so important that, as business leaders, we take time to understand what's going on at a macro level. This helps us better understand the forces that are going to shape our business down the road, allowing us time to adjust our strategies to support these market forces.
For any business to successfully apply macro trends to business planning, the first thing that has to happen is an examination of some of the broadest data points that explain how the markets are performing. Three of the major leading indicators of market success are inflation, employment rates and consumer confidence. All of this data is important to integrators, too.
First, it's important to look at inflation. With inflation numbers low, and interest numbers low as well, people are going to feel better than usual about spending money. The employment rate provides insight as to how successful the economy is at keeping its workforce on the job. Lastly, the consumer confidence rating offers a strong indication about whether or not consumers (businesses or individuals) feel like spending money.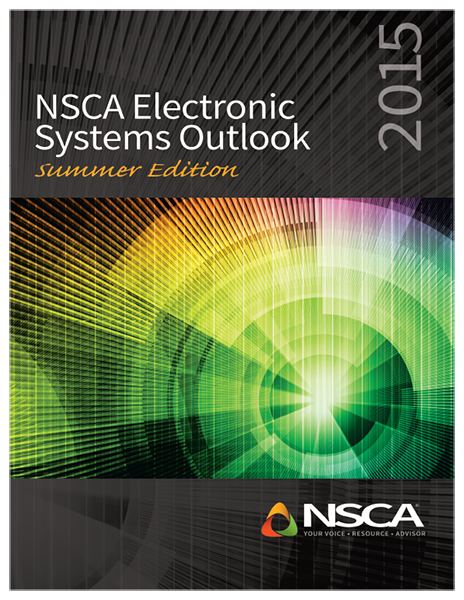 In the Summer 2015 Electronic Systems Outlook, the good news is these three leading indicators are showing strength. With inflation and unemployment rates staying low, consumer confidence has spiked, which often means that people are more comfortable spending.
Even though these numbers look good, they're just a starting point for our report. We dive into more industry-specific predictions and data in areas such as construction growth and electronic systems growth, along with an up-close look at each one of these areas by industry.
In the Summer 2015 report, we start exploring the future of our businesses by looking at total construction growth. FMI, our research partner, modified its construction forecast to show a total of 5% growth in overall construction, which equates to an annual spend of more than $1 trillion. Although 5% is solid growth, this is a cautious number that has been tailored downward in most areas, with residential, corporate and manufacturing being the exceptions.
With overall construction growth up, albeit less than expected, let's talk about some areas of the market that are going to perform the best, and then a few areas where we need to be very cautious moving forward.
For 2015, the largest dollar contributor to electronic systems spending will be the education market, with a total spend of more than $5 billion. The next three biggest spenders are corporate, manufacturing and healthcare.
These strong numbers do come with a caveat. For education, the 2015 prediction actually shows the market's total spend to be flat to slightly down from the 2014 number. This differs from healthcare and corporate, which are both substantially smaller than education, but show modest growth over 2014 numbers.
Of all of the verticals that show strong growth in electronic systems work, it's (surprisingly) manufacturing that shows the biggest growth of all.
With all of this in mind, the question becomes, "What are the best things we can do with this type of data?"
After many years spent with integrators, providing research and experience-backed guidance, economic and business data are two of the more underutilized assets that a business has at its disposal.
With data such as that in our Electronic Systems Outlook, integrators can pinpoint how changes in the macro economy, the construction industry and the electronic systems industry will impact them. Having a solid understanding of these levels of analyses are important for making business decisions going forward:
Where should you invest your sales efforts?
Do you have to market differently?
What industry knowledge and technical skills do you need to compete more effectively?
What systems might you want to invest in?
Are there partnerships you should be considering?
With the overall data appearing encouraging, this is an opportune time to look under the hoods of our own businesses to determine what we can do better. Let this Summer 2015 Electronic Systems Outlook be your guide to making better business decisions. To download a copy of this report, visit nsca.org.
Here's to a great rest of 2015 and beyond!