A "House of Worship Audio Boot Camp" was held to celebrate the room's debut.
Dale Pro Audio, a New York City-based pro audio dealer for nearly 60 years, unveiled a sleek, high-end, Event and Demo Room in its Queens NY location. The 1100 square-foot room is equipped with Studer's flagship Vista-1 live/broadcast/studio console, a projection screen complemented by flush mount Bose speakers and four premium speaker arrays flown in on a lighted truss that can be A/B switched for audio demonstrations and brand comparisons. In addition, product showcases around the room spotlight the newest selection of products that serve the broadcast, live and studio markets.
To celebrate the room's debut, Dale Pro Audio hosted a "House of Worship Audio Boot Camp" on Friday, September 18th and Saturday, September 19. Respected HOW market veteran Doug Gould presented in-depth, how-to audio presentations and workshops on a variety of essential hot topics for anyone who works or volunteers in the HOW market. More than 100 guests learned new techniques and discovered some of today's top audio gear solutions. The event was offered free to the audio community, with support from leading audio brands including Audio-Technica, Presonus, Aviom, Williams Sound, Alclair and Onsong, plus select sessions offered in Spanish, courtesy of D.A.S. Audio.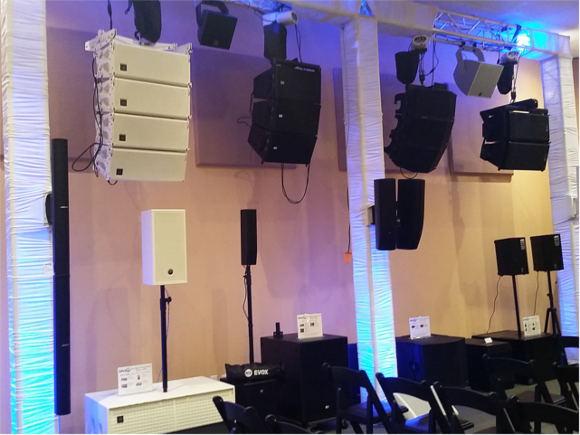 The reconfigurable room will be used to host a variety of staff and customer trainings by Dale vendors, as well as special events and private customer demos. Dale Co-owner Valerie Lager enthused, "This multi-use room represents the culmination of a year-long vision, and we're proud to be able to offer our customers a beautiful space where they can learn ways to fine-tune their craft, discover new audio solutions, and network with our vendors to offer feedback and have an exchange of ideas."