A few years ago, the open-plan office emerged as the "Brooklyn" of corporate-design philosophy—a trendy, life-stylish environment in which people and their ideas could circulate freely. If you fast-forward to today, the open-plan office is experiencing a backlash, driven by a lack of privacy and uncertain boundaries. However, the open-plan office has nonetheless made its mark; it remains an icon of a millennial creative corps that scratches its head at the mention of privacy—a concept that's so 20th century.
So, when Planit, a Baltimore MD ad agency that won 14 trophies at this year's American Advertising Federation of Baltimore awards, wanted a workspace that reflected the positive values of the open-plan environment, but that had efficient and effective AV to support collaboration and communication, it looked to combine a 19th century warehouse space with aesthetically integrated video and sound that could deal with exposed concrete surfaces.
"This is a hip, young agency that wanted to do a lot of entertaining in its offices, but still get work done and let the ideas flow," Kevin Filano, Systems Design Engineer with Human Circuit, explained. Human Circuit is the Gaithersburg MD-based AV integration firm that was tasked with making that happen. "They're trying for a club-like atmosphere…someplace that people will want to hang out…someplace they'll find it easy to communicate in," he continued. "Lots of concrete and brick and glass and open spaces. It's trickier than it looks."
Planit's Co-Founder, Matt Doud, was focused on making the new space as accommodating as possible to as many different configurations of working as possible. "People work in a lot of different ways," Doud told local business/technology publication Technical.ly Baltimore as the project was reaching its conclusion last year. "You work by yourself; you work as a pair; you work in a team; you work in a group. So, we had to figure out, 'How do we create the right environment so you have all of the destinations for how you work?'"
Welcome Inside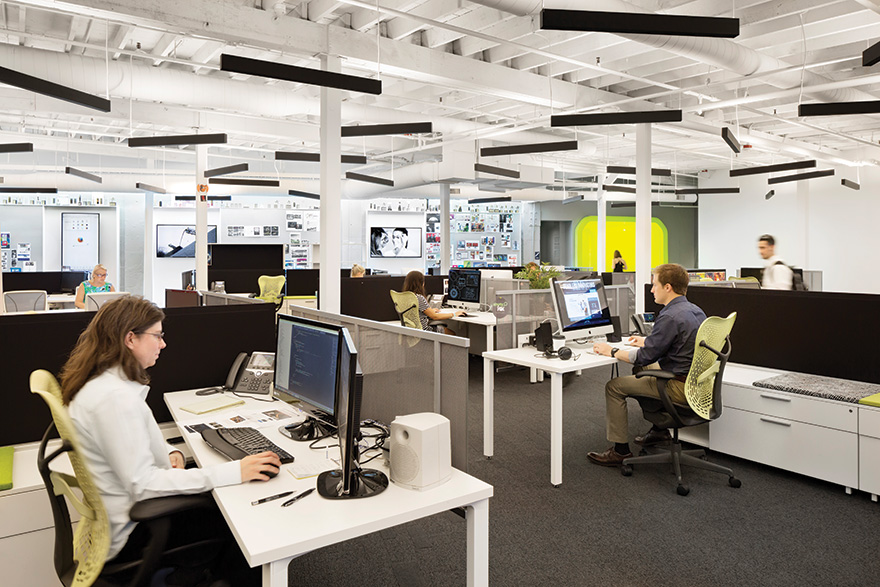 What was once a railroad loading dock is now the entrance to the new, 26,000-square-foot space that houses the ad agency's 105 employees; it's also where Planit has invested about $4 million. And, like any good communications company, Planit has built its design around a narrative. In this case, it's the "Hero's Journey," which mythologist Joseph Campbell famously laid out. Here, the journey—three acts representing order, chaos and the creation of a new order—is manifest in spaces that are defined as much by their sound and vision as by their interior design. In concert with architect Gensler, the work was done by Human Circuit, which comprehensively provided the design of the IT infrastructure; access and security systems; video production, meeting, presentation and collaboration systems; and entertainment/leisure systems.
"That's why it was important that we, along with the architects, got into the space early," Filano said, voicing a sentiment most integrators share, even if the experience is always hoped for but rarely fulfilled. "They hadn't yet started swinging sledgehammers when we came in. The railroad tracks between the buildings were still there."
The entrance area—a sleek, white reception desk guarding a long, white hall with a sawtooth ceiling design—was a harbinger of audio challenges to come. In areas in which the ceiling was low enough, JBL Control 47LP recessed ceiling speakers were installed and aimed down the corridor; in areas in which the ceiling was higher, the integrator used JBL C67 pendant speakers and C47HC speakers. In the nearby pool table area, where the ceiling was even lower—too low to position ceiling speakers comfortably— to create a more intimate atmosphere, Control 28 speakers were installed in the wall.
"This area was the first impression, so to speak; so, it had to be close to perfect," Filano said. "The sound had to be present and even, all throughout a changing circulation area. So, we used different types of speakers, and also used a Crestron Sonnex system for zone control." Full-range speakers were also chosen, along with a single JBL Control 19CS subwoofer placed in the ceiling so that the area can host a DJ. "You don't need a whole lot of subs with that much concrete," Filano said.
The welcome area also has digital signage in the form of an 11,000-lumen Digital Projection laser-phosphor projector aimed at a far wall. A laser-type projector was chosen because the unit would have to be installed about 20 feet off the ground, and it would be difficult to access for maintenance. However, using Mersive's Solstice collaboration software and the Crestron DM for control, the space and its projectors and audio can be corralled for presentations, as well.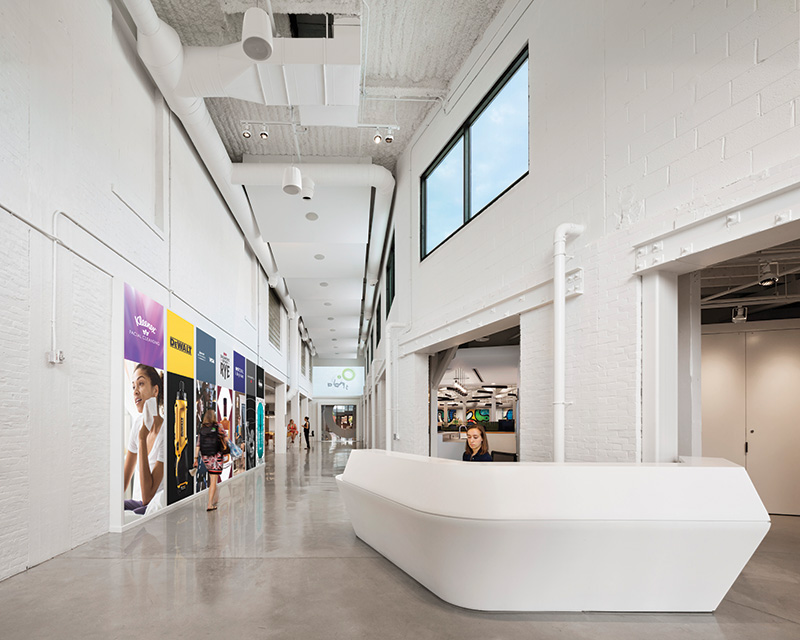 The arrival area also reflects the large amount of cabling that Filano said the project required; there are more than 600 individual cable runs, with many coming close to the recommended 100-meter upper distance limit on Gigabit over Cat6. This was complicated by the fact that, although the interior design calls for plenty of the exposed HVAC ducting typical of revitalized industrial spaces turned office environments, it did not apply to the cabling. The first choice for cable runs was in conduit under a one-foot-deep, poured-concrete floor; when that wasn't feasible, the team ran narrow cable trays that were painted white as camouflage and that closely followed the tracks of HVAC ducting.
Collaboration Spaces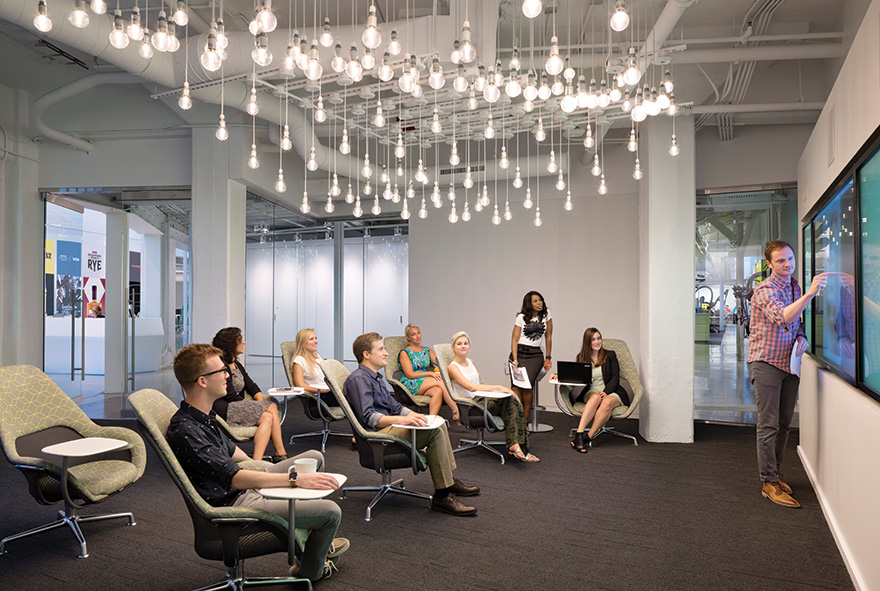 "Chaos" is typical of the collaboration spaces that Human Circuit designed and outfitted for Planit. The largest of those areas is called the Garage. The space features two 85-inch Samsung displays in landscape mode, as well as two 48-inch Samsung displays in portrait mode. All displays have touch overlays. All four screens are run from a single computer, allowing any of the content to be configured across all the displays using Kramer and Extron extenders and multiple outputs from a Mac Tower or Alienware computer (to accommodate Apple and Microsoft applications, respectively) in a 16RU, surge-protected Middle Atlantic rack.
Reflecting a millennial bent, Planit eschews Polycom and Cisco videoconferencing systems, opting instead for Google Hangouts. It also switched other software from Microsoft to Google—an even more fundamental statement of intent, at kind of a DNA level, in the office-design world. In fact, the scheduling panels at each collaboration and meeting space use the Google calendar system through the Crestron Fusion control system. "They really wanted to move beyond the traditional in this space," Filano affirmed.
However, Cisco is well represented in Planit's equipment list; foreshadowing the imminent future of AV integration, Human Circuit installed much of the office's IT infrastructure, as well as the security access and surveillance systems that ride on that network, along with mobile-phone repeaters and wireless access points.
"Doing the IT, along with the AV, as part of the larger job is a kind of cultural shift," Filano explained. "We have to do a lot more coordination with other trades and vendors. But, in the end, that gives us more control over the entire project. It was good for us, especially since there was so much cabling on the job; cable paths needed to be coordinated, and it let us keep better track of it. It was also good for the client, because they had one point of contact for that much more of the project."
Planit's office space has a few more hipster touches; they include a sunken area called the Backyard that architects built a ramp leading to, and where Human Circuit added two more 85-inch Samsung displays and a Sennheiser ew100-ENG wireless microphone kit. All together, it was turned into a chill presentation space. Then, there's Order & Chaos Coffee, which is an 1,100-square-foot, fully functional coffee-and-snack quick eatery that's also open to the public. It could give a neighborhood Starbucks a run for its grounds, boasting a two-zone audio system for paging and premium-level Pandora background music.
Filano chuckled at the idea that "Brooklyn" has become a concept as much as a place…one that's become a template for office aesthetic in the last decade as the country's urban core has begun to renovate its past, even while leaving lots of it—from bare brick walls to plumbing—in plain view. At the same time, AV and IT continue to both evolve and converge. The challenge for integrators and architects alike will be to make all of that work together for the client.
"We're only going to see more of this; this isn't just a moment in time or a passing trend," Filano declared. "More of these types of spaces are becoming more available to more people, who want to make them hip and creative and unique. This is where cities are going. We have to make it work."