Levitt Pavilion brings people together with free music events.
Levitt Pavilion for the Performing Arts is a stellar example of the power of eclectic music in bringing people together. Located in the heart of downtown Arlington TX, the outdoor venue provides more than 50 nights of free, culturally diverse music every year. The broad-based concert calendar features professional musical artists from around the world, ranging from jazz to country to indie rock.
Community Gathering Place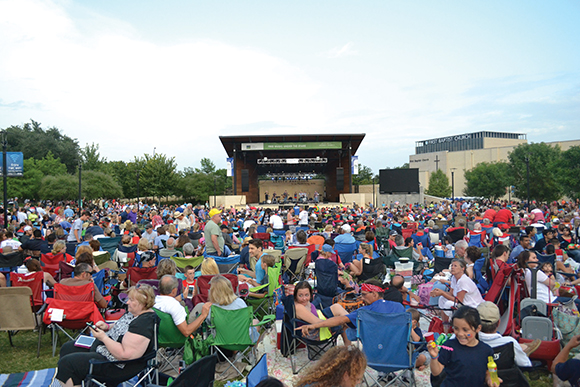 The Levitt Pavilion provides the community with an accessible, safe gathering place. The great get-togethers include people of all ages, ethnicities, neighborhoods and income levels, especially those who could not afford to enjoy and benefit from live music and the performing arts in any other way (see, "Levitt Foundation Inspires Arlington Levitt Pavilion"). A new front-of-house console and new weatherized line arrays are key features in the facility's audio update. Accordingly, we'll have perspectives on the project from the integrator and the venue's production manager.
Groundbreaking and construction began in March 2008. Signifying the diverse offerings to come, opening night in October 2008 featured two-time Grammy-winning Brave Combo, a polka/rock/worldbeat band from Denton TX. More than 1800 people attended the first concert. The pavilion lawn can hold about 3500, and there's room for people to spill over up to the steps of City Hall.
More recently, an estimated 125,000 attended concerts in 2014. And July 4, 2015, had a little more than 6000 attendees. September bookings include Brave Combo, the rock/pop/Celtic Killdares band, the Fort Worth Opera, and the UTA Wind Symphony and Jazz Orchestra. October will bring Grammy winner Kenny Loggins and the New Orleans-style Stooges Brass Band, among others.
Audio Install
Our interviewees are Ryan Walker, CTS, Account Manager, Electro Acoustics, Inc., Fort Worth TX (www.eavi.com), and Richard Treat, Levitt Pavilion Production Manager, Arlington TX. Walker noted that it took slightly more than 2½ weeks to do the design. The primary designer was Electro Acoustics System Designer John VanStipdonk, CTS. "John and I met with the client," said Walker. "We put our heads together. I told John what I wanted and he came up with the parts and pieces." Electro Acoustics' credits also include Main Installer Preston Myers, CTS-I, and Shop Manager Ben Lanmon, CTS-I, who custom designed the rigging for the arrays that we'll detail later.
[accordion]
[accordion_item title ="Variety is Key
to Electro Acoustics' Success"]
Although the Levitt Pavilion audio install is a good example of an Electro Acoustics entertainment venue project, variety is the key to the AV integration company's success. "We are so diversified at what we do," said Account Manager Ryan Walker. "We don't just hit one market and stay there. We are a regional company, and we try to stay local. So we have to be open to doing anything from a convention center to a football system, and everything in between."
Here's an example of a unique Electro Acoustics project: The Lewisville TX Independent School District has a thriving theater department that spans four high schools. Renovated AVL systems brought this district's performances to the next level, and helped prepare students for careers in theater production, thanks to hands-on experience with the latest technology. There were 32 wireless microphones for each of the four theaters, which matched specs in professional theaters. Remarkably, Electro Acoustics was also the general contractor. "It allowed us to win the project due to price," Walker declared. "So we were the GC, and electricians fell under us. We pulled all the permitting codes and related tasks. That's not what we typically do" (for a more typical Electro Acoustics installation, see "Getting Students Involved," Sound & Communications, May 2015).
As another example, the company installed four new line arrays for stereo sound and a new mixing console at Christ Chapel Bible Church, Fort Worth TX. "This install is dear to my heart because I was the lead installer on it many years ago," said Walker. "Their stage is set up for traditional and contemporary worship. They have a full orchestra and a full choir loft. But then, they can bring in a scrim in front of the choir loft and completely change the look of the stage and the auditorium within minutes, in between services." [/accordion_item]
[/accordion]
Let's begin with an explanation about the venue's need for new loudspeakers. According to Walker, the old speaker system was not weatherized and was falling apart because of sun and weather exposure. Furthermore, the old system didn't have the headroom to meet the SPL levels required by the Levitt Pavilion. The system had to be pushing 90dB at the FOH location with 12dB of headroom. The FOH location is 90 feet from the stage apron. The stage is about 55 feet deep and 45 to 50 feet wide.
In addition, the system had to be mobile enough to be flown on the weekend, and stored during the weeks between performances and when it is packed away for the winter. The new speakers chosen were a left and right pair of the install version of weatherized Electro-Voice XLCIDVX-FGB (fiberglass, black) three-way compact line arrays without passive network. Each array is comprised of eight boxes. The line arrays are about 40 feet apart from each other. In addition to the arrays' tech specs, another main reason for choosing EV was budget.
Special Line Array Rigging
Walker pointed out that the weatherized cabinets don't remain flown full time. Instead, they are brought up and down for every event. Shop Manager Ben Lanmon custom designed the rigging. "They are not a permanent install," explained Walker, "and being weatherized cabinets, they don't connect and disconnect easily. So, we had to come up with custom boxes."
Specifically, the custom boxes are equipped with parallel speakON connectors to allow routing for the line arrays' weatherized cables on the back. Then frames were built that support the line arrays while they are curved.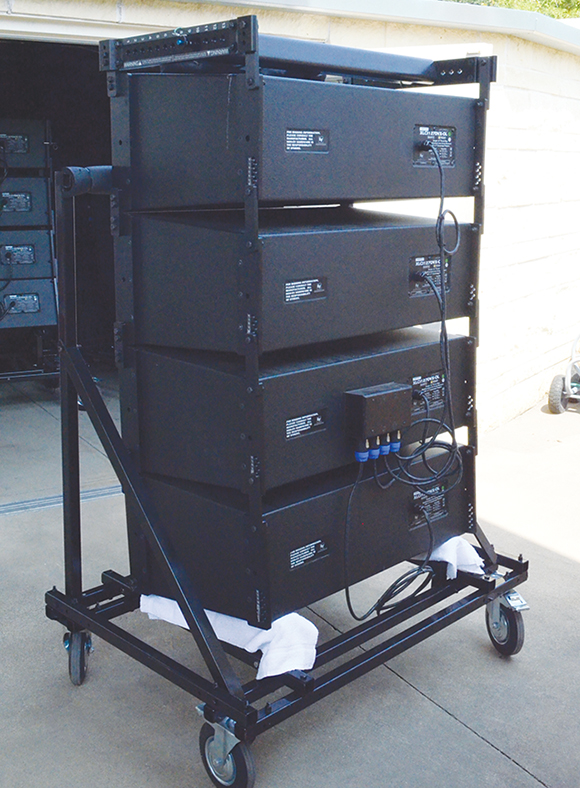 "There's a motorized chain hoist that's mounted up in the structure," continued Walker. "As they're lowered, the bottom four cabinets are set in, disconnected and wheeled out of the way, so the next four cabinets can be taken down. That way, they can be taken off to their storage area and stored when they're not in use." The install took about two weeks. "The most challenging part was that, every time we went out to EQ, it was raining," continued Walker. "It was a soggy job."
Four EVU-2082/95 dual eight-inch front fills sit on the front apron of the stage. "The stage is curved and five feet up from ground level," Walker pointed out. "So, we chose those [front fills] because they're low profile, covering the first 10 to 15 feet until the arrays take over. We wanted as much coverage along that curve as possible."
Companion Subs
Six companion dual 18-inch Xsubs for the line array are lined up on the concrete block on the front of the stage. "We don't need a cardioid effect because all the energy is coming out [at the audience]," Walker said. "Being outdoors, they needed a little more oomph. We originally wanted to go with eight, but we were pared back to four. After the first performance, a change order was approved to add two more, for a total of six Xsubs."
There are two models of stage floor monitors: eight TX1122FMs and four TX1152FMs. "The 1122, 12-inch versions are more for vocal and guitar," said Walker. "The 1152, 15-inch are for drummers or bass players to give a little more bass response."
Cabling was all outdoor rated because of exposure to the weather. Although the stage has a roof, it is not a closed-in facility. "We had a couple of custom plates made for the junction boxes," explained Walker. "We did an 8×8 speaker connection point on either side of the stage so the cabling that ran up into the rafters came down to the speakers. During their offseason, they can disconnect and coil it, and put it back in storage, so it's not exposed to the rafters all year long."
Three DX46 speaker controller processors feed the power amplifiers, which are housed in two Middle Atlantic racks located behind the stage. Two controllers are split between the line arrays and the third one controls the subs and front fills.
Pre-existing Equipment
Existing rack equipment from the original install includes TC Electronic M-One and D-Two delays. "I decided to keep them in case a touring guest engineer happens to like those units," said Treat. "It's pretty easy to patch them into the digital console, and it gives another option to work with."
In addition, Treat gave examples of the venue's wide range of microphone options available for engineers. Their Shure package has grown over the years to include a number of SM57, SM58, SM81 for overheads and KSM137 cardioid condenser microphones for acoustic instruments and choir miking. An Audix drum mic package consists of D2, D4, D6 for kick drum and ADX51 for drum overheads. "The Audio Technica AT2021 condenser might go well as a high hat mic these days."
Sennheiser MD 421s find their use on saxophones and bass cabinets. "We see a lot more bands travelling with Leslie cabinets these days, where the 421 has been great to have, and the Sennheiser e609 is an amazing mic for guitar cabinets." Sennheiser wireless handhelds are for singers who like to walk around the stage, and for announcements. And there's a complement of Radial direct boxes.
The Console
The new FOH console is a Yamaha CL5 mixing console with R series firmware, located about 90 feet off the stage, almost in the middle of the lawn. "That's a common console we install," said Walker. "Our guys are really familiar with it. It's connected to an app so it can be controlled off an iPad when bands are being set up. It can be used for setting up monitor levels while on stage. An Apple AirPort Extreme at the FOH allows an iPad to network to the CL5."
The R series units offer Dante-protocol network connectivity with the CL5 and lots of additional in/out capabilities. "That enabled us to send our stage inputs into the Rio3224-D located in a rack backstage and then get the signal to the FOH CL5," explained Treat. "We just send that through a pre-existing Cat5 cable from the original 2008 install. So, we have conduit running under the stage and then under the lawn to the FOH position. We don't have a huge fat snake going down the middle of the audience where there are lots of kids running around, creating a tripping hazard."
Treat noted that, in addition to the 3224 (32 in/24 out), there are two Ri8-Ds in the amp room. "To ensure that we have enough flexibility, like on a festival day, we might need a lot of inputs," Treat pointed out. "We expanded that to 48 inputs by adding two Ri8-Ds: one into the network gets us up to 40, and the other gets us up to 48 inputs. Then there's a third Ri8-D located at the FOH because the CL5 itself has only eight physical inputs on the back. The added Ri8-D gives 16 inputs at the FOH."
The Cisco 10-port managed switch connects the Rio units and the Dante network to the CL5. There are three Cisco switches in the backstage rack and another in the FOH rack that do all the signal routing for the Cat5 cables for the Dante network. It also allows a laptop connection at the FOH position and the signal processors backstage.
A handy accessory is the ProCo iRack, which is a rack-mounted direct box near the FOH console. It conveniently takes RCA inputs and has XLR out. It will accept devices such as portable audio players, iPads or laptops, and feeds into a stereo channel in the console.
"So far, everybody has been thrilled with the system. One of our concerns was having a system that was rider friendly," said Treat. "Everyone has been really receptive about the CL5. It seems to be taking off and growing in the industry."
Coming this year is an install of a Daktronics display. The structure holding the screen will be installed by 3DI Sign + Design in Arlington, with Daktronics programming the sign.
"The immediate goal of the Daktronics screen is to be able to show support for our sponsors. Because our shows are free, all of our expenses are completely covered by sponsorships and donations. Being able to give recognition back to our sponsors is really crucial," Treat explained. "Then we could also promote the concerts that are coming up later in the week, next week and select shows where we know we are going to have a large audience. We also have the capability to do live video feeds of the band on stage. Wherever people are sitting, they can still get a great view."
[accordion]
[accordion_item title ="Equipment List"]
Download [PDF]
400 Anixter 4A-1206 cords
1 Apple AirPort Extreme WiFi base station
1 Belden 1818R 0101000 multi-conductor cable
4 Cisco SG300-10 10-port managed switches
1 Covid Custom 1RU rack panel
1 Covid Custom 3RU rack panel
3 Covid Custom 8″x8″ wall plates
16 Electro-Voice XLCIDVX-FGB 3-way compact line arrays
4 Electro-Voice XFD-127 custom dollies
4 Electro-Voice Xsub 18″ subwoofer elements
3 Electro-Voice XLD-DOLLY dollies
4 Electro-Voice EVU-2082/95-BLK ultra-compact 2-way speakers
8 Electro-Voice TX1122FM compact vertical floor monitors
4 Electro-Voice TX1152FM vertical floor monitors
3 Electro-Voice Dx46 120V speaker controllers
12 Electro-Voice CP4000S 120V power amps
7 Electro-Voice Q1212 120V power amps
2 Electro-Voice Xsub line array system packages
1 LM Cases 3/8″ ATA-Recessed Yamaha CL5 road case
2 Middle Atlantic SR-40-32 32″, 40-space swinging wall racks w/accessories
1 ProCo iRack portable audio player interface rack panel
2 SurgeX SX-1115-RT surge eliminators
1 TMB PRSEZTILTS EZ-Tilt console tipper
3 Whirlwind ENC2020 cables: Ethernet, Ethercon male to Ethercon male
1 Whirlwind ENC2S250 cable: Ethernet,
Ethercon male to Ethercon male
1 Whirlwind WD2 medium-capacity reel
Whirlwind W12-4 cables
1 Yamaha CL5 digital mixing console
2 Yamaha Rio3224-D digital stage
box w/Dante
6 Yamaha RI8-D racks w/Dante
3 Yamaha LA1L 18″ gooseneck console lights
List is edited from information supplied by Electro Acoustics, Inc.1 [/accordion_item]
[/accordion]