"Location, location, location" is the succinct and accurate core aphorism of the business of real estate. A situation less adaptable to pithiness, however, is one that's also faced by many houses of worship at a time when real estate has become more dear than ever: the need to make one's church building as attractive and accommodating as possible in order to build a congregation to the point where it could support a larger building.

Building Momentum Since 2005
Christ's Church of Winterville NC had been building its momentum since it was founded in 2005. However, the 280-seat church's building was located virtually in the center of its plot, leaving no real space to add onto the structure or expand the sanctuary from any direction without affecting the dynamic of that space. Complicating matters was that the sanctuary's interior was an acoustical tough nut to crack, at least for a church that enthusiastically embraces a contemporary style of worship. The rectangular room's concrete walls and metal-skinned roof created a highly reverberant environment. As a result, upgrades to the church's AVL systems tended to be of the Band-Aid variety, with small and hesitant fixes here and there over the years, done without any real strategic goal other than hoped-for continued growth that might eventually support a new and bigger facility.
John Crawford, CEO of Auburn AV, an AV integration company with offices in Greenville NC and Auburn AL, understood Christ's Church's quandary. "They really didn't have any room to maneuver, short of tearing the building down and starting over, which wasn't going to happen," he said. "There wasn't a true master plan."
Certified Church Consultant
A Certified Church Consultant, Crawford took an approach he often uses with house of worship (HOW) clients, where vision is often plentiful but funds are not. He proposed a high-end solution comprising top-of-the-line AVL components, but with a way of tactically phasing them in, after tactfully adapting the plan to the church's financial realities.
"You can come up with a $500,000 solution, even if the budget is only $40,000, if you plan it in stages, and then pick out what's most important and find ways to reuse what the church already has," he explained.
In the case of Christ's Church, they were able to pare the AVL budget down to about $200,000, out of an overall concept that was closer to $1 million, including architectural and structural renovations to the church building. And while they had to work around what was being done there by the general contractor and its subs over a more than five-month renovation period last year, they were able to prioritize the systems to work around the church's larger vision of contemporary-style worship. With that mode's emphasis on high-energy music, that usually means starting with the sound.
Making Loud Work
Auburn AV tackled the biggest problem first. The church's walls were staying put but they were able to overcome the flutter echoes, caused by parallel hard-surfaced walls that routinely smeared the sanctuary sound, by constructing new drywall sheathing over them that diminished reflections by slightly angling the new walls out of parallel. "They look nicer, too," said Crawford.
In addition, Auburn AV installed a new wall at the rear of the stage. That wall's shallow curve acts as a diffusor, channeling sound out of the space and avoiding reflections from the stage that could bounce off the rear wall, the one aspect of the structure that they couldn't meaningfully treat otherwise. "The overall strategy acoustically was, if there were any parallel surfaces, we found a way to do something about them," he said.
The large acoustical panels that do most of the heavy lifting for this were fabricated by Benton Brothers Solutions. Absorbent panels are also placed on the side walls on a plane with the PA speakers, to avoid reflections from them. And in the process of treating the church's acoustic problems, they kept aesthetics in mind. Crawford offered that the gentle curve of the rear stage wall actually acts as geometric foil for the Screen Innovations 16:9, 180-inch diagonal rear-projection screen placed there. "The sleeker-looking zero-edge version makes it look like a huge TV," he said, "so it kind of makes it all feel like a big, comfortable living room."
PA Challenge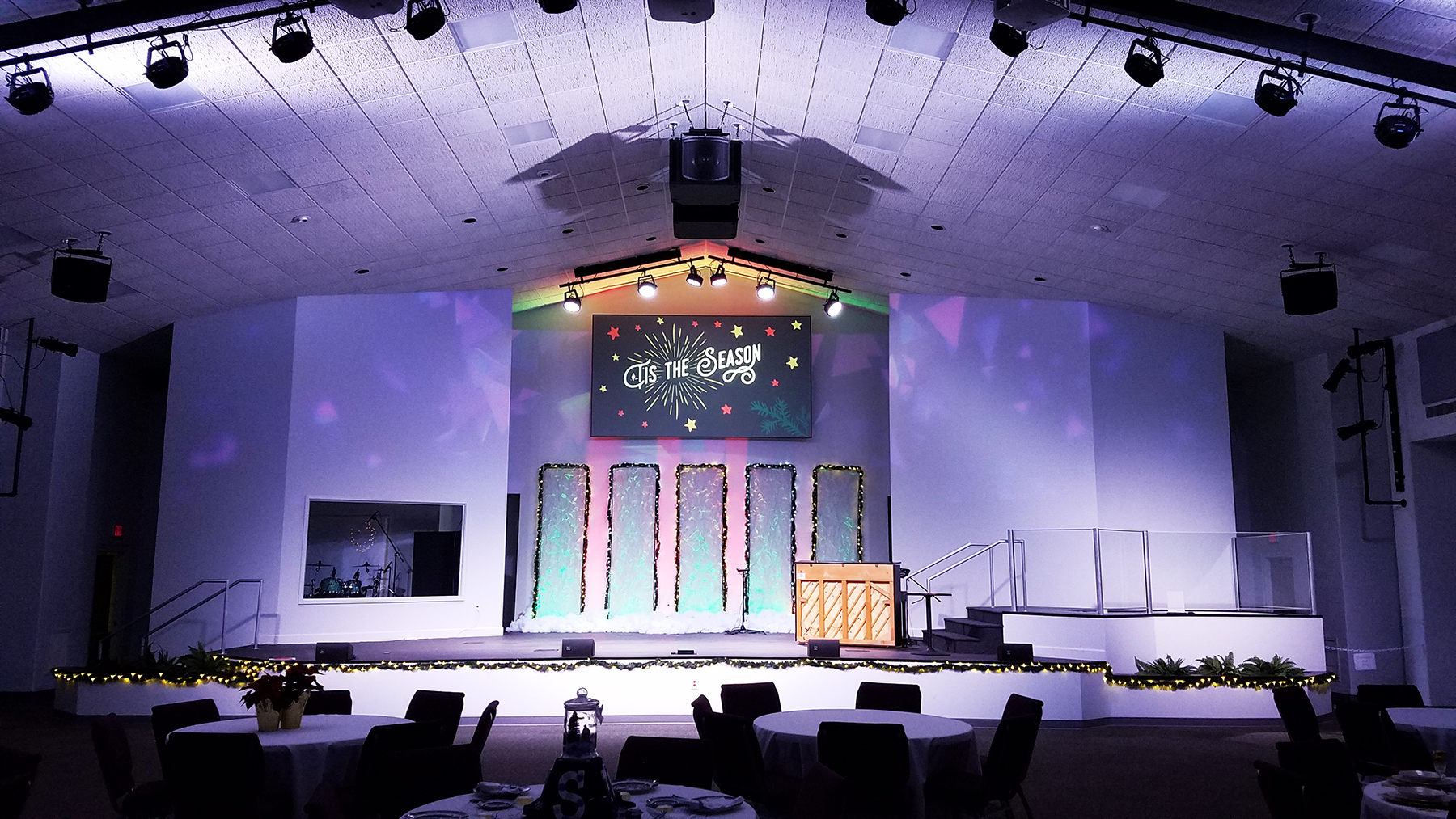 The PA system was another challenge. It has to sound coherent across a wide stage and be able to support a 5.1 mode, with rear arrays, that would allow the sanctuary to host a range of other activities, including film showings. The main array is comprised of three Fulcrum 15-inch speakers in an L-C-R speaker configuration, with the CX Series two-way loudspeakers serving as mains (left and right CX1595s (90°x45°) and a CX1526 (120°x60°) and CX896 (90°x60°) on center). A pair of Fulcrum US221-2 dual 21-inch direct-radiating subwoofers is flown in cardioid mode, to keep as much of the low-frequency energy on the seating area as possible. The main PA speakers are powered by Lab.gruppen E series amplifiers, as are the Electro-Voice 1062 speakers used as stage-lip fills and rear surround arrays. The fill speakers and the rear arrays are processed using a Symetrix Prism 16×16 DSP, with all audio transported over a Dante network.
"The sub array is an excellent match for the coverage and output level of the mains," explained Crawford. "We also redesigned the side walls with angles to eliminate parallel reflections, and we installed acoustic paneling to the rear, and to select areas of the side walls. This let us create a balance between life in the room for acoustic sources and the sound quality of the speaker system."
Speaker Processing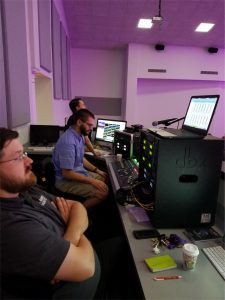 The side and rear speaker processing was calibrated to create a discrete 5.1 soundfield, one that is remarkably seamless as people walk through the room. "You don't get to do a surround system in most churches because they're usually not the right shape," said Crawford, who achieved a THX certification when his work also included high-end home theaters. "Here, we had a rectangular room, which is perfect for that type of application. It's a very cinematic type of geometry. And we were doing an L-C-R front array anyway."
The audio system can take input from an array of sources; in addition to those from the stage, the processor can also handle Blu-ray discs, using a J-Tech audio extractor to separate the surround channels of films, and even an HDMI input for an Xbox or other game console. "Not that you'd necessarily turn the sanctuary into a videogame arcade," Crawford said, "but there's an aspect of stewardship that says you try to create things that meet as many of a church's needs as you can, while doing so as cost-effectively as possible.
"Here, the church needed to make itself as attractive as possible to as many different kinds of people as possible," Crawford continued. "We made a sound system that does that: one that can give you movie nights, as well as very intelligible audio for speech and full-range sound for music. It's now a room that can be used three or four times a day for different things instead of a room that gets used once or twice a week for one thing."
"Our old downward-firing, ceiling-mounted speaker cluster would blast the center of the room while leaving quiet corners to which some of our older members gravitated," recalled Christ Church's Worship Minister Jordan Clark. "Now, sound levels are consistent throughout the room with no hot spots to avoid."
The system is also programmed so any member of the congregation can operate it, using one of several macros that Auburn AV programmers created on the Crestron CP3 processor that controls the sanctuary's AV systems. Crawford said that the Crestron controller acts as an intermediary step between the professional work surfaces for the AV systems, such as the Allen & Heath GLD-112 audio console installed as the front of house mixer, and the ability to make the AV systems feel accessible, and thus welcoming, for use by a broader range of congregation members.
The sanctuary's video system repurposes the three NEC 5K lumen projectors that had been in place, used now for environmental projection inside the sanctuary, coupled with two new Eiki HD30 8K projectors. These are stacked and used to show a single combined image, drawing content from two Blackmagic Design ATEM presentation switchers, with HDSDI-to-HDMI conversion built in. "One of the switchers runs the ProPresenter graphics on the main screen," said Crawford.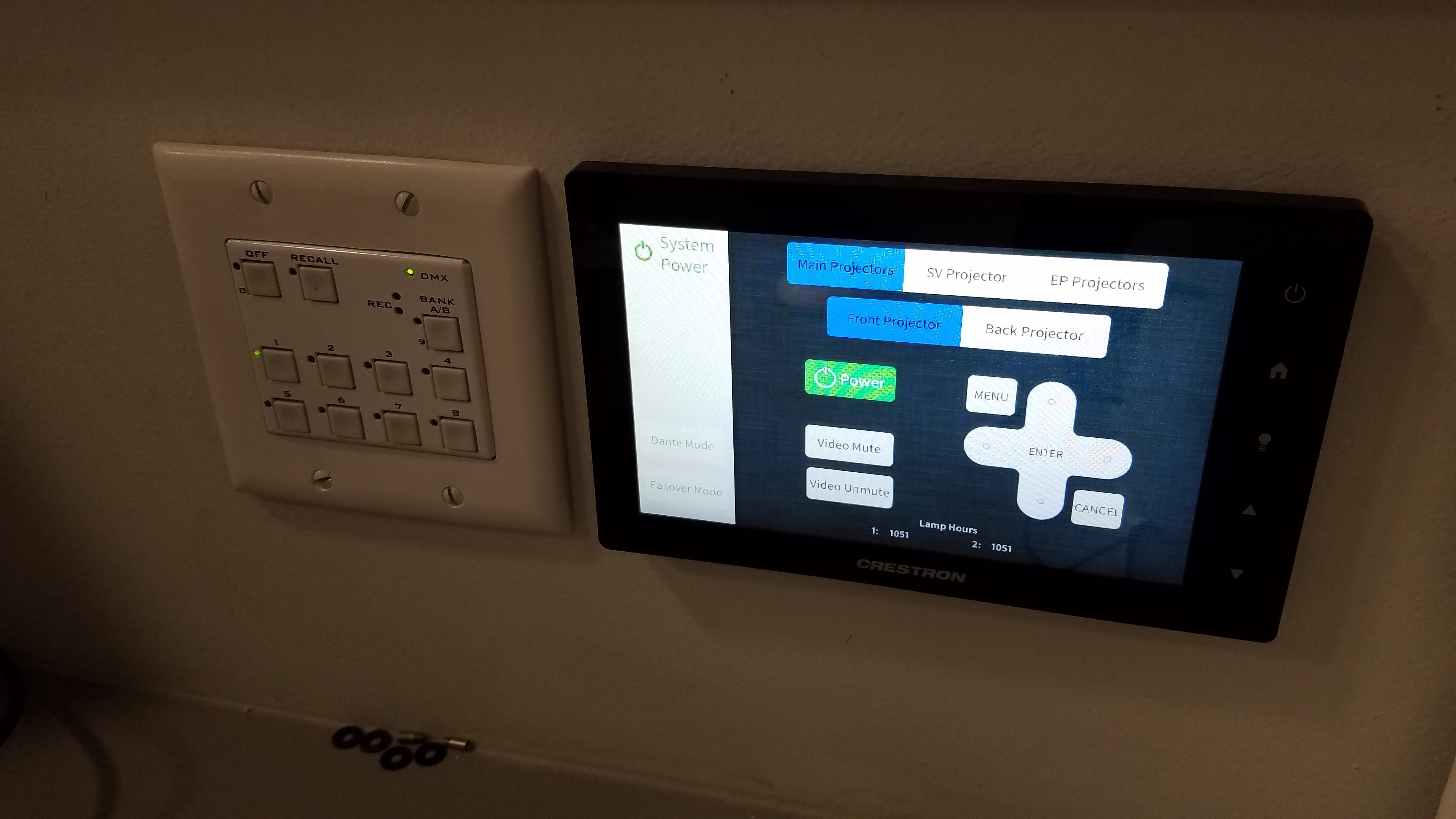 "The other switcher takes a split feed from the camera and from the other switcher, and that can create the content used in the lobby, cry room and the cafe and other video display monitors set up for overflow and other purposes, such as running video loops for digital signage. [The church reused its existing monitors that Auburn rehung using Chief mounts.] We use [several] Mac Mini computers to control the switchers."
Weakest Element
According to Crawford, lighting was perhaps the weakest leg of the church's AVL tripod. The budget allowed for a few new fixtures to be installed, such as a number of ETC S4 compact ellipsoidals and Elation SIXPAR 300 six-color fixtures, but most of the existing fluorescent and conventional theatrical lighting was left in place. What they were able to do, he said, was integrate it into a new lighting dimmer-control system, using Doug Fleenor Designs DMX8DIM CF/LED dimmer interfaces, and two ELM Video DMX 0-10-volt dimming decoders.
"Some of the existing lights can be made to dim completely to zero, but not all of them," Crawford explained. For those that cannot, Auburn employs one of the ELM video dimming decoders as the interface to dim each fixture as far as it can, and the second as a relay controller to completely turn power to the channel off once it reaches the maximum rheostatic level. But in keeping with the mandate to make the sanctuary's AVL accessible to a wider number of users, much of the lighting can be accessed via a Lightronics DMX preset master wall station, used as the interface for LSC Lighting's software-based Clarity lighting control system.
After nearly six months worshipping out of the church's fellowship hall, Christ Church's leadership and congregation were eager to get back into their familiar space. At least now, said Crawford, they won't have to think about leaving it until they're really ready for the next stage of the church's existence. "The church looks great now," he stated, "but as important, it also sounds great. They're getting a much better experience there all around."